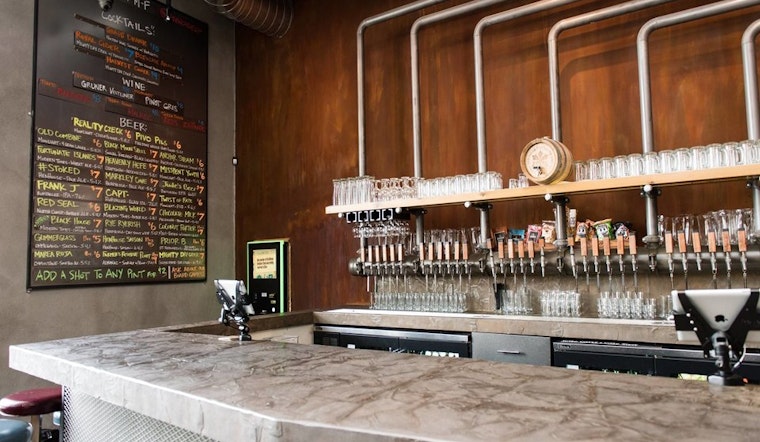 Published on July 12, 2015
Last night at approximately 8pm the Fire Department was called to the scene of Brewcade in the Castro to extinguish a fire that started inside the arcade bar in the wall shared by Brewcade and Hecho.
[Update, 7/14: Brewcade has swiftly fixed things up and it's back open.] 
Speaking with an employee of Brewcade who chose to remain anonymous, they told Hoodline that there were reports of a smokey smell inside the bar around 7:30pm before the fire department was ultimately called to put out the fire once smoke could be seen coming from the walls. They also told us that no one was injured in the fire and that it appears that the fire started in the walls.
Everyone inside Brewcade and the adjoining Hecho was evacuated from the building and neither business reopened after the fire was put out. At this time it does not appear that Hecho was damaged from the fire.
The damage inside the bar appears to be minimal as it did not spread far. The fire started near the front entry of the bar next to where the pinball machines were recently added. Hoodline reached out to Brewcade for comment about the damage and the anticipated reopening, but did not immediately hear back. 
A pile of debris from the fire could be seen outside Brewcade on the street.
As we get more information about the fire and the repairs necessary to reopen the bar, we will keep you updated. 
Update, 7/13: This morning, Brewcade released a statement noting that "radiant heat" from the stove at neighboring restaurant Hecho caused the fire, which originated in the wall shared by the two businesses . Though there's no specific word on the extent of the damage, Brewcade expects to reopen in two or three days. 
From the arcade bar's statement:
At approximately 7:30pm on Saturday, July 11, a fire broke out between Brewcade™, Blackbird's popular bar-arcade and sister location, and Hecho restaurant. Both locations share a wall at 2200 Market Street. 


No injuries were sustained and approximately 60 people from Brewcade™ were evacuated. After an inspection by the city Fire Marshall the cause of the fire was determined to be from "radiant heat from the Hecho stove inside the kitchen." This "radiant heat" caused the wood from the inside, adjoining wall to catch on fire. Further inspection and a second opinion from a city Arsonist Specialist was called off once the cause of the fire was determined to be, without a doubt, from Hecho's kitchen by the Fire Marshall.


Co-Owners of Brewcade™ Shawn Vergara and Tiffny Vergara Chung have issued the following statement: "This has been an unfortunate situation. However, we are glad that no one has been hurt. We are working with our neighbors at Hecho to make sure that this is an isolated situation. We thank everyone for their well wishes during this time."
Photos by Steve Bracco.