After a series of mysterious signs appeared in the window of the former Hotei Sushi at 1290 9th Ave., brothers Adar and Saadi Halil have dispelled the mystery and unveiled a new ice cream shop called Hometown Creamery. According to Adar, opening a business at 9th & Irving fulfilled a long-term aspiration.
"For the last five years, I've been working across the street over at Sunset Gym as a personal trainer, and I just love this neighborhood. Love it. This is our favorite part of San Francisco and it was just a dream to open up a business exactly on this street between these two intersections," said Adar, gesturing at pedestrians walking past. "We're very social people, so we love this neighborhood and the small town vibe," said Saadi.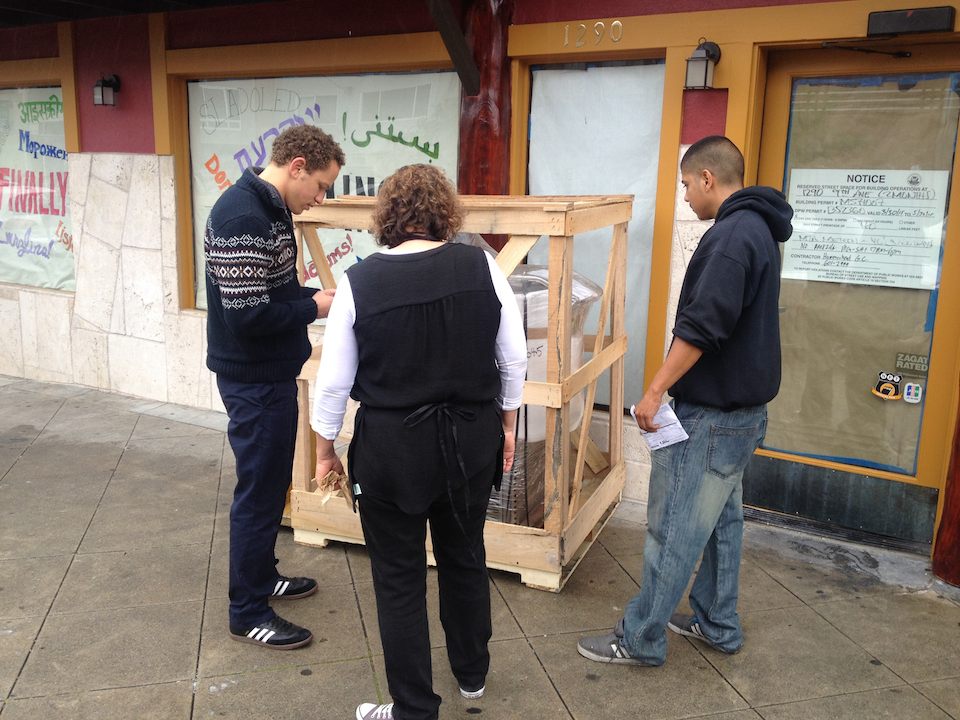 Saadi Halil inspects a cooler delivered on their opening day.
Initially, Saadi said he was skeptical of his brother's attachment to 9th & Irving. "I said, you can't just pick a street in San Francisco," he said. "We looked all over the city, the Mission, Cow Hollow, and then, just kind of by luck and chance and perseverance, we finally got this space." Construction crews began remodeling the space about three months ago; to generate buzz, the Halils rotated a series of somewhat cryptic banners in the front windows.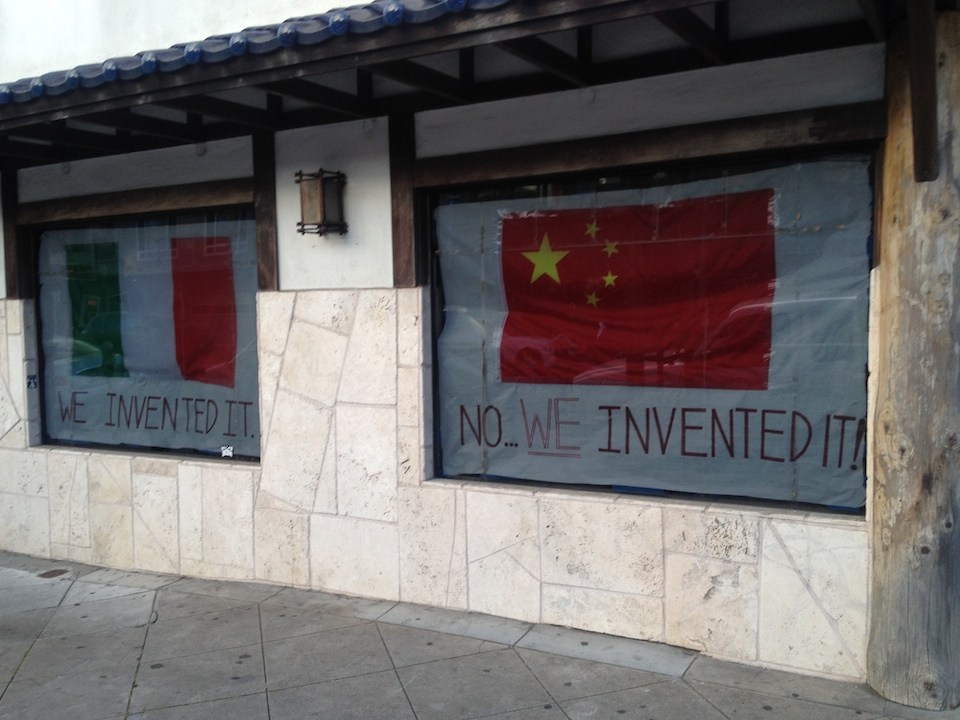 A series of banners started appearing in May to promote the new mystery tenant.
"We knew there'd be a lot of interest once we took down the banners," said Adar. "Because it's just the two of us, we didn't want to get totally slammed, so we just decided to open our doors and see what happens. A little down the road, we'll do a grand opening."
Adar said opening an ice cream shop was a natural fit. "My brother loves cooking in general and was just making phenomenal ice cream. It seemed like a really attractive business to be in, a fun thing to do, and it really fit in with this neighborhood." A recent law school grad, "people were shocked that I chose this route," he added. "When I was studying trademark law, it just seemed like a much more fun fulfilling thing to start a small business and develop it, instead of working on transactional legal stuff."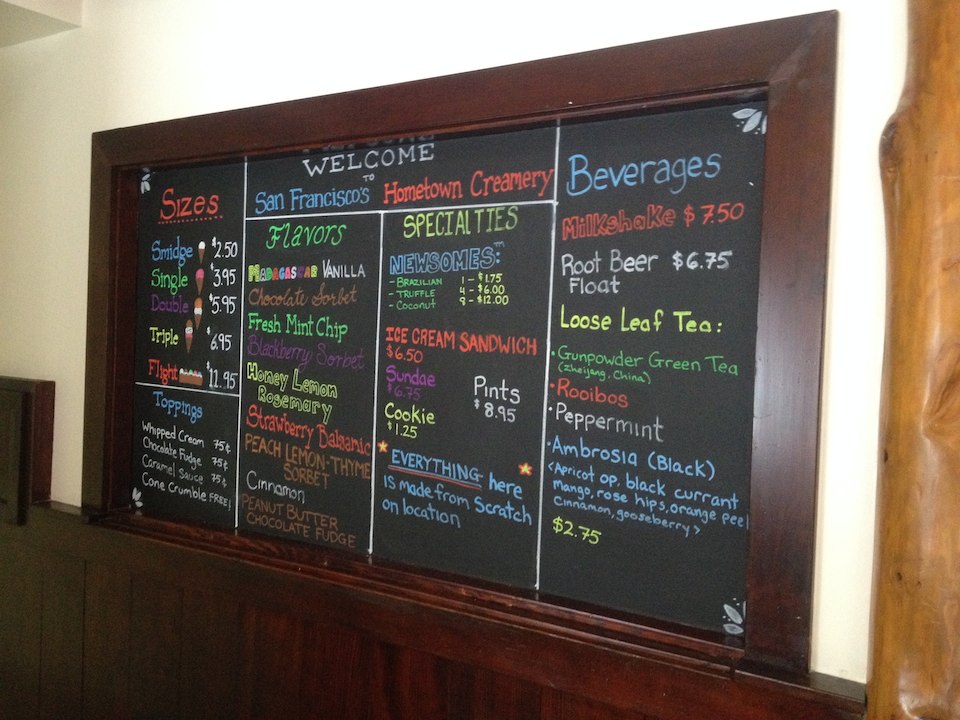 Saadi oversees product development for the company. "I just grew up cooking, everywhere I've traveled, always picking up on flavors and exploring. Ice cream was one of those ways that you can get really creative and try to bring a lot of flavors from around the world," he explained. "I can't think of anything else where you can make the best quality and still have it accessible to fourth graders or a royal prince. With ice cream, everyone can have the best quality."
The Halils make ice cream from scratch using milk, cream, eggs and sugar, a practice that sets them apart from other city creameries that purchase a pre-made vanilla base and add their own custom flavors and ingredients. "We decided to go through the process of getting a pasteurizer's license," said Saadi, which necessitated the creation of a special clean room.
"The process of pasteurizing is very time-consuming and expensive," said Saadi. "[State] inspectors will come in here every three months to check that we're pasteurizing properly, which is why we built a clean room that's technically a milk plant as well." Inside the clean room, shiny steel tanks and data recorders help manage pasteurization, which requires heating dairy products to specific temperatures for controlled periods of time.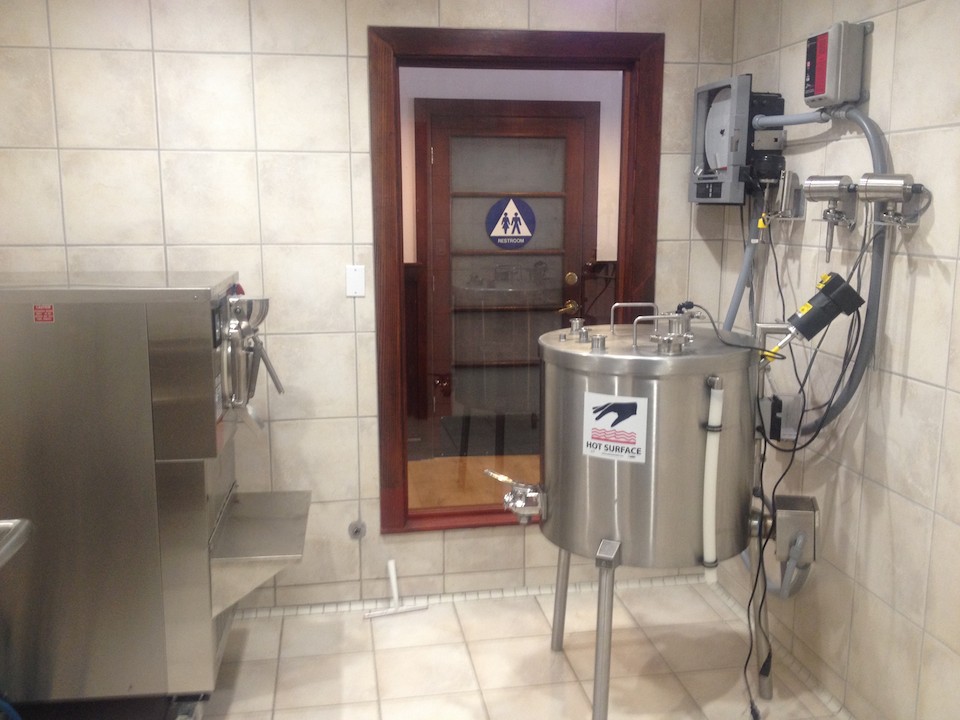 The temperature-controlled clean room.
When it came to renovating the 1400-square-foot space, "We wanted to change as little as possible and focus the limited resources we had on the quality of the product," said Adar. Several accents from Hotei remain: Saadi painted murals on Shōji screens that represent 10 different neighborhoods, and a former ceiling beam now serves as a counter facing the front windows. "The place feels a lot bigger than it is," said Adar.
For now, the menu offers about nine flavors, but Saadi has developed more than 100 recipes that will be rolled out over time. Wherever possible, Saadi said he uses seasonal and organic ingredients to create new tastes, and "I'm constantly creating more."
Adar said his favorite flavor is "chocolate peanut butter fudge, but overall, there are amazing flavors, so it's hard to pick one." Saadi said his preference really depends on the day. "There's a flavor inspired by something I had in Spain called turrón with candied orange peel, pistachio and almond. There's one I call 'Tea Time on the Thames' which is Earl Grey and lavender. It turned out really well, so I'm excited to bring that one out."
Hometown Creamery is located at 1290 9th Ave. and opens each day at noon. For more information about their new menu and hours, visit their Facebook page.