"The more stuff there is in Mid-Market, the better," says Matt Semmelhack, owner of Mercer Restaurant Group (AQ, The Hall, Mélange Market). Which helps explain why Semmelhack has no qualms about opening his latest project, Bon Marché, on the ground floor of the Twitter building, where it's surrounded by recently-opened restaurant/cocktail bar/brewery Dirty Water, soon-to-debut Mexican restaurant Cadillac Bar and Grill, and six-month-old grocery and retail complex The Market.
While Semmelhack naturally hopes to sell more lunch than his neighbors do, what he really wants is to hear people start saying, "Let's go to Mid-Market for lunch."
Semmelhack's focus on turning the neighborhood into a destination also helps explain the new eatery's concept, which he said takes cues from Paris' original Le Bon Marché and the Marais district. Le Bon Marché (meaning "good market" or "good deal" in French) was the world's first department store, and when it opened it offered "a lot of things for a lot of people," he said. Historically, the Marais' charming cobblestone streets have featured a host of amenities, like shoe stores, rotisseries, bakeries, as well as housing.
With the help of the open pathway between the Twitter building's historical and modern lobbies — an area Semmelhack refers to as "the alley" — Bon Marché will feel similar to a French market. In the front left corner, you'll find the sisters behind Tango & Foxtrot assembling bouquets and assisting clients with floral designs for upcoming events. On the right, you'll find a long bar, split into three distinct sections: raw bar, cocktail bar and brewery. While guests are more than welcome to order a cocktail at the brewery and vice versa, each space will marked by decor changes that provide distinct differences, giving patrons a good reason to return multiple times a week, Semmelhack said.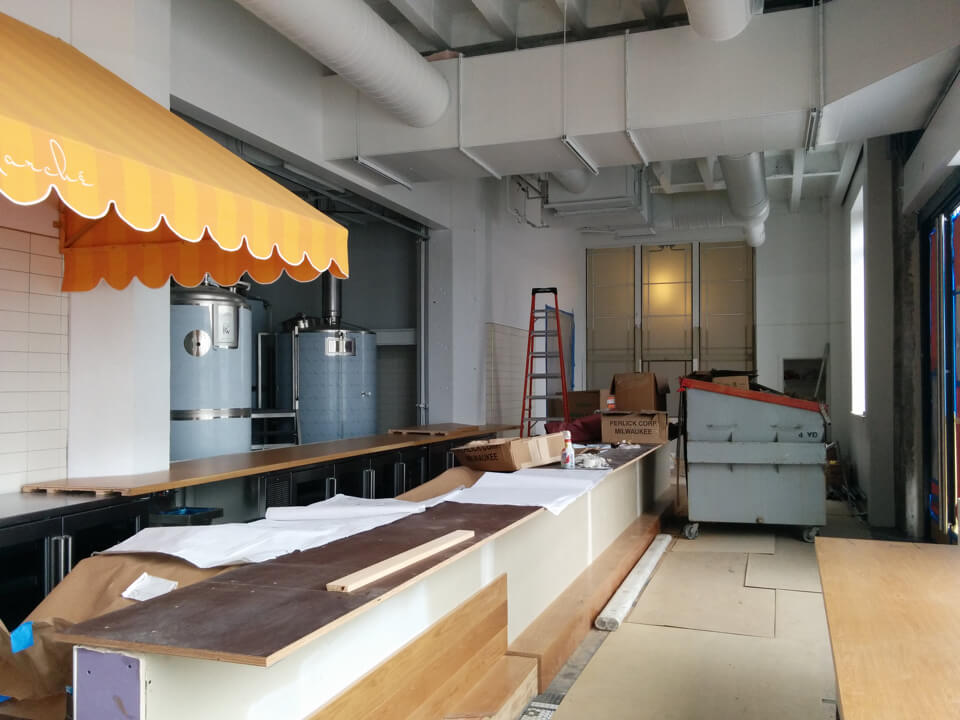 "The Alley," featuring the raw bar, brewery and cocktail bar. Behind the illuminated doorway is the building's historic lobby and The Market.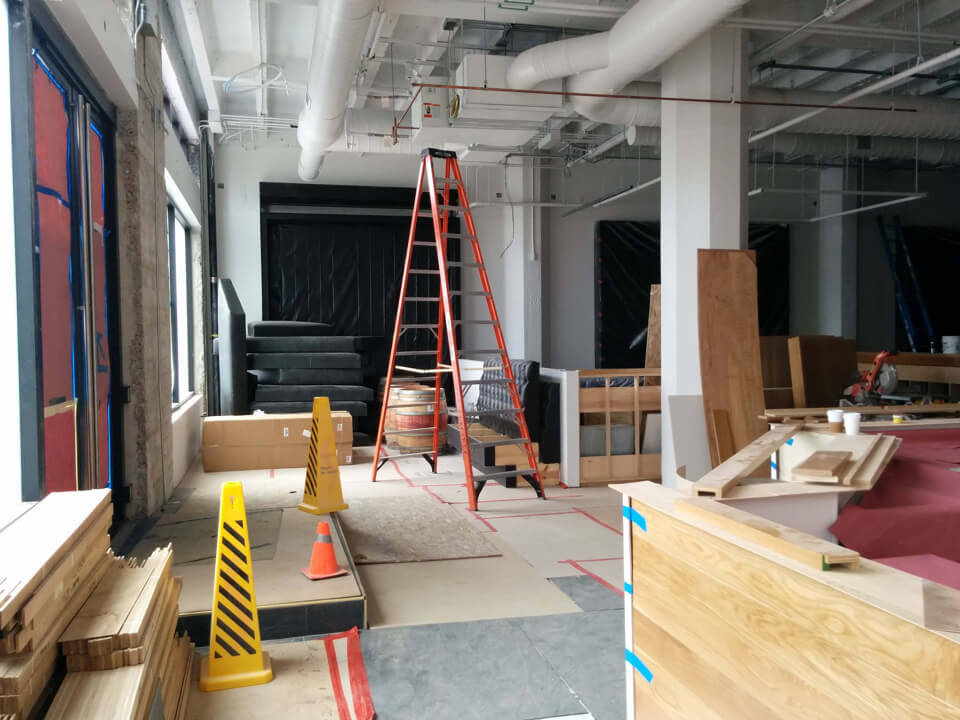 The left side of "The Alley," looking toward the building's modern lobby and Bon Marché's future flower market and dining rooms.
On the direct opposite side of the room, beyond the kitchen, you'll find another bar; this one serving wine, cheese and charcuterie (of the pâté variety). The separation between the front and back bars also allows employees and their bosses to dine at Bon Marché at the same time without seeing each other and feeling as though they haven't left the office, Semmelhack said.

For those looking for a formal dining experience, there are two dining rooms that will offer three menus: lunch, midday and dinner. Roughly half of the entrees are French favorites, like French onion soup and steak frites, done just the way you'd expect. The rest are fresh takes using seasonal, local ingredients and influences from California, Italian and Spanish cuisine. But you won't find anything on the menu that you wouldn't find in France, Semmelhack said.
Finally, tucked far in the back is Bon Marché's private dining room, with floor-to-ceiling windows facing the building's historical lobby. "Because the tech community loves open offices," Semmelhack jokes.
Semmelhack had hoped that Bon Marché would be ready to open its doors for Bastille Day, but while that didn't come to pass, the party will go on. Tomorrow, July 14th (5pm), Bon Marché is taking over Stevenson Alley at Market Square Plaza for an all-you-can-eat-and-drink Bastille Day bash. There will be a Parisian bar, oysters, French onion soup, baguettes and more, until supplies run out. Tickets to Bon Marché's debut are $40 on Sosh.
We'll be sure to keep you up-to-date on the eatery's official opening date, which is tentatively set for the first week of August. (Update: opening day is August 28th.)