Jeremy Fish is a man about town.
After moving to San Francisco in the mid-'90s to attend art school, Fish lived all around the city, most notably in the Sunset, the Richmond and the Lower Haight. Since settling in North Beach about 11 years ago, he's become a neighborhood fixture, and his artwork adorns many area businesses.
After graduating from The Art Institute in 1997, Fish starting working in print shops in what he describes as the "NorCal skateboard industry." He simultaneously built a name for himself as an independent artist, with the help of art and skate culture magazines such as Juxtapoz.
Since 2006, Fish has been making a living solely off his art. He's one of the most well-known artists to be affiliated with the Lower Haight's Upper Playground, where he has his own brand, Superfishal.
We caught up with Fish at North Beach's Caffe Trieste to chat about everything from art to local history, brain aneurysms to silly pink bunnies.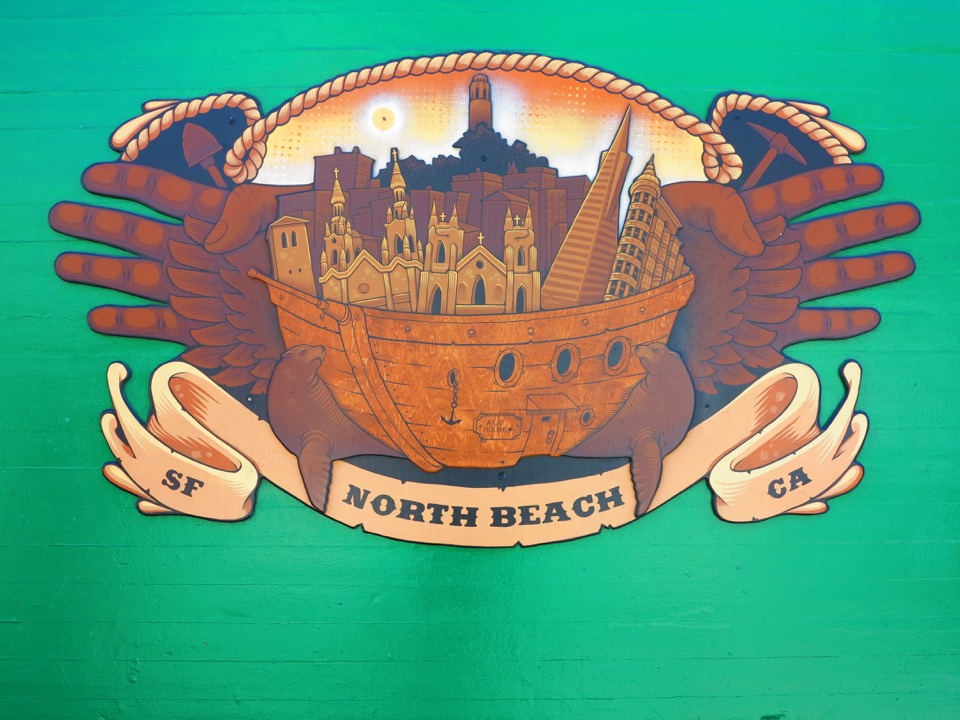 Why do you feel such a deep connection with North Beach?
"I'd say it's a two-part answer. The first part is that it was the first neighborhood I learned about when I moved here 21 years ago. I came here to go to the Art Institute, which is just down the street, and when I wasn't in class, I spent my time eating lunch at Golden Boy Pizza or sitting in the park. It was kind of my gateway neighborhood.
And even though I didn't live here—fuck, I didn't even know anyone that did for the better part of another decade—I just spent a lot of time here, because I was in school. After I graduated, I lived everywhere else other than here. But I'm Italian, so if I had family in town, we came to dinner here, or if I was on a date that I really wanted to go well, I'd bring them here. It was my go-to 'treat myself to a nice evening out' [neighborhood]. It was also always one of those places where I thought, 'Man, when I'm really killing it, I'm going to move over there.'
The other half of the attraction is the fact that it's not changing that much. It's probably changed less than any other neighborhood in the city in the last 20 years; it's the most similar to the way it was when I showed up. You could walk out your front door on any given day here, and it could be 1989, 1959, 2009, or 2019.
It has a very timeless feel to it. In San Francisco, and for that matter anywhere in California, what has a real timeless feel to it, other than a museum? It's timeless. It's really stuck in this bohemian, beatnik time warp. Even though a lot of those guys aren't around, there are still a few of them that are."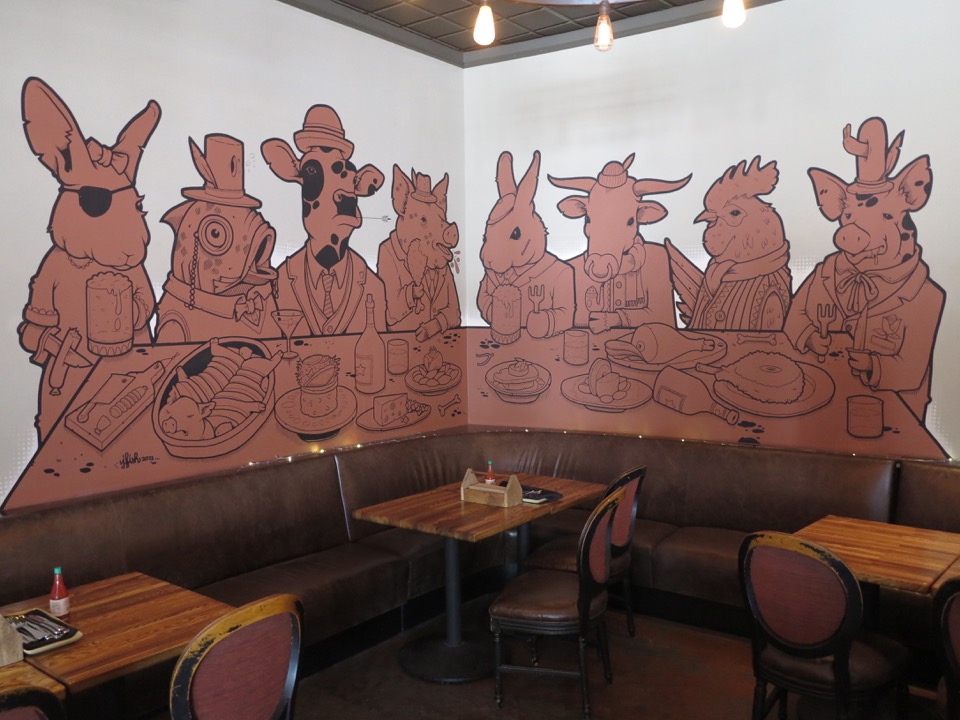 Fish did this mural at Broadway restaurant Naked Lunch in exchange for a big party for all his friends.
A lot of your work rotates around animals, and their connections with different places in the city. Which animal best represents this neighborhood, and why?
"I guess it depends on the day and how I'm feeling, but it's one of two things. One is the phoenix, because it's the symbol of the city, and to be quite honest, this was the first part of the city there was. Some of the first bars and restaurants were on this street. Grant Street, which was formerly known as Pollard, was one of the first thoroughfares of the city. This was the infancy of the city, and the phoenix signified fire and the earthquake and the way we were able to rebuild. The rest of the world viewed us as resilient after that tragedy.
I also sometimes use the grizzly bear to represent this neighborhood, because it's one of the first major established neighborhoods in the whole state, and that's the state's animal and the state's symbol. I see [North Beach] as one of the initial pillars of California history. Also, during the Gold Rush, there was a bar down the street called The Fierce Grizzly, which had a drunk bear chained up inside."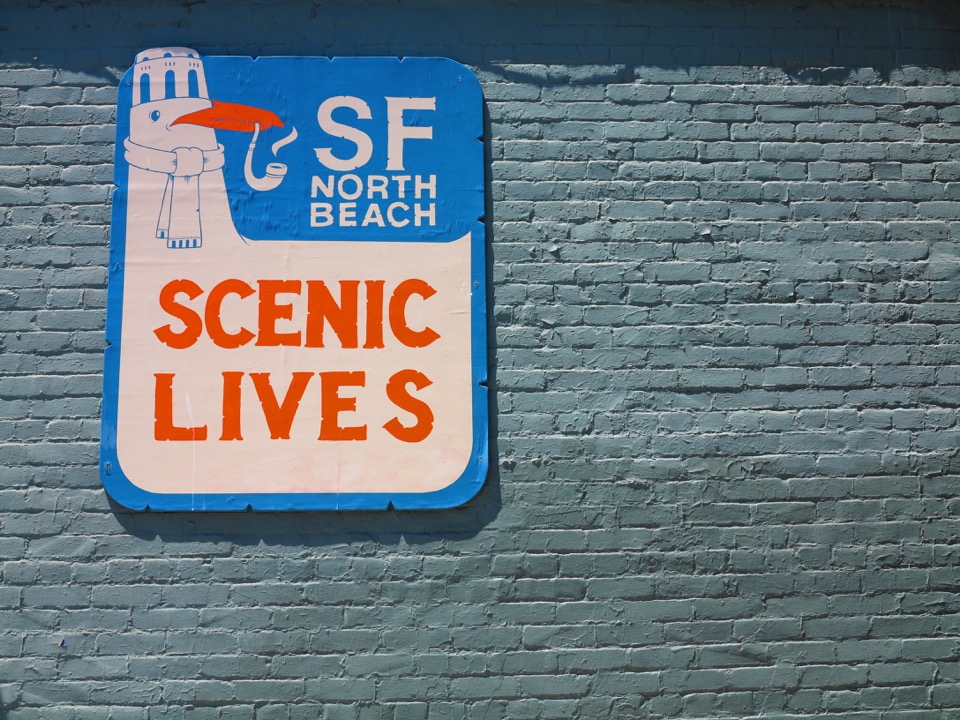 A Fish installation at the corner of Grant and Vallejo.
If North Beach and Lower Haight got in an argument, who would win?
"Fuck. Fist fight, or verbal argument?"
Both.
"Verbal argument: North Beach, no question. This is where all the poet laureates and last dregs of the beatniks are. Between the Art Institute and Diego Rivera and Ferlinghetti and City Lights, this is where the most culturally relevant people from San Francisco have come from. The things that the world knows best about us either happened in the Upper Haight, with Jerry and his buddies and their music, or they happened here in the neighborhood, with Lawrence and his poets and Kerouac and those kind of homies. 
The Lower Haight was, at one point, the center of heroin distribution on the West Coast. It was the headquarters of a lot of notorious crime families, and it's where the straight guy from The Village People sold crack from his garage, but I wouldn't say there's anybody there that's going to have the verbal capacity to win any sort of verbal argument against Ferlinghetti and his army.
Everybody here is older, you know what I mean? And if you've been sitting here in this neighborhood for a while, you've been sitting here. The Lower Haight, I still feel like there's a bunch of young bucks that would love to rip my head off, and over here, not as much. So verbal argument? This neighborhood, hands down. Fist fight? Definitely Lower Haight."
What do you think of the changes in the Lower Haight over the years?
"You can put a big coat of paint on it, you can put a bunch of fancy restaurants in there, you can open a Rickybobby, but people are still getting shot. It's still rough. I watched that project get flipped over, and rebuilt and repainted—actually, I watched all those projects around the Lower Haight get flipped over—and there's still a sketchy element there.
You don't walk down Divisadero and really see dudes doing hand-to-hand drug sales anymore. They moved a few blocks off. But the Lower Haight? The other day, I saw the gnarliest transaction go down, and I just thought, 'Holy shit, you can put a coat of paint on it, but you can't make the Lower Haight completely gentrified.'"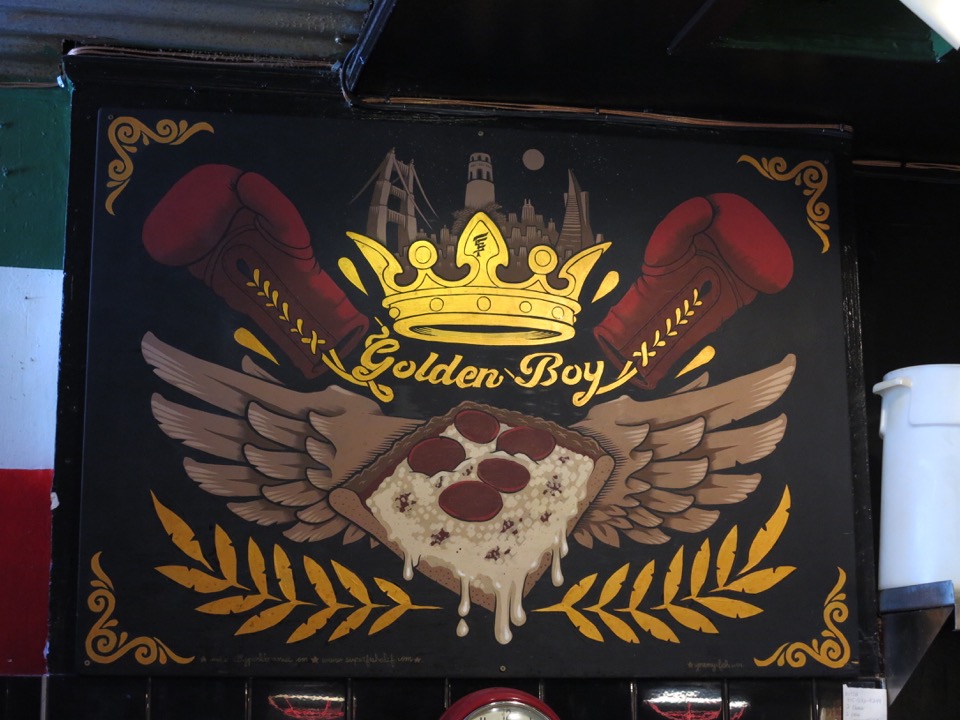 A Fish piece on the back wall of Golden Boy Pizza, on Green Street.
Late last year, you suffered a brain aneurysm that required surgery. How is your health today?
"I'm happy to talk about [brain aneurysms], because they're something that a lot of people have, and I think they're a lot more common than what the average person would ever even consider. It's the kind of thing that goes undetected until it kills you. It's really rare that you find one and sort it out before it becomes detrimental. I was really lucky: I don't exactly know how I knew it was there, but I knew something was wrong.
They identified it, then went in and did the procedure, where they stuffed the little thing full of coils so it stops growing. I had that done in November, two weeks after they found it. 
Then, at the end of April, I had the second procedure. They wait six months after they do the coiling, and the only way they can see if it was successful is if they go back up in there and look to see if it's still bleeding. So they went back in April to see if it was still bleeding and not only was it not bleeding, but the thing, fortunately for me, had healed over at the base of it, where it connects with your vein structure. So not only is it not growing, it's dormant at this point.
The thing they're concerned about, and the reason they'll go back and keep looking, is because if something like that heals, the blood pressure is still there, and it could form another one somewhere else in my head. But in the end, less than a year later, I'm more or less fine.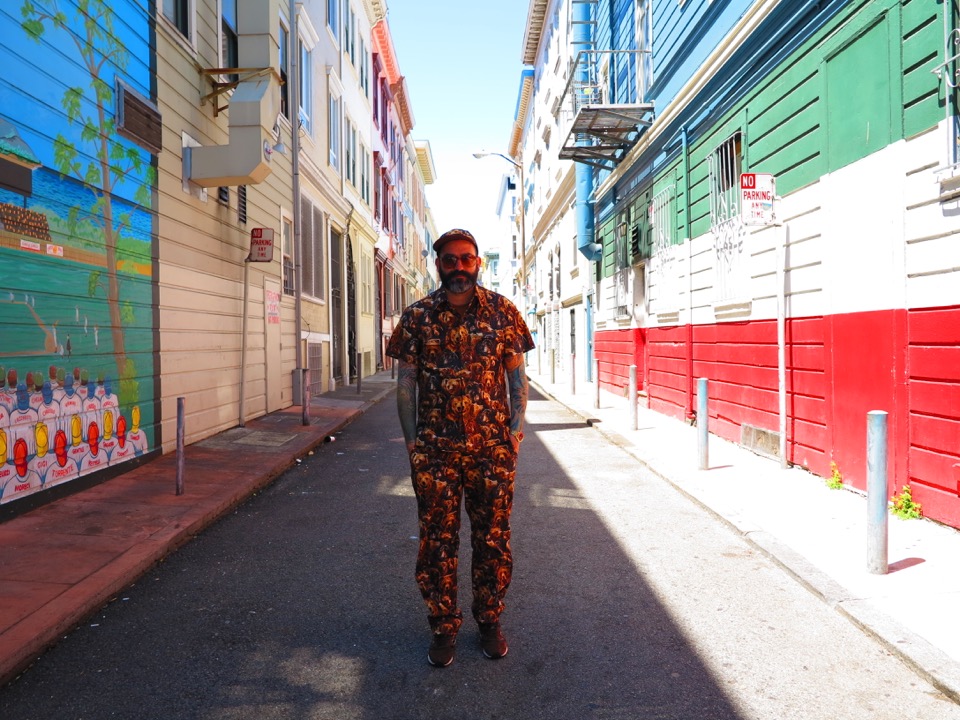 On a lighter note, could you give us an update on the project in which you raised $50,000 to install a bronzed Silly Pink Bunny at the new development on Laguna and Haight?
"I kind of have to slow my roll with the whole thing, because I can't have the statue finished before the building's finished. It will be ten feet tall, and cast in solid bronze. They raised the $50K in cooperation with the Lower Haight Business Association and The Haight Street Art Center, which is part of what's going to be built in that area. 
They've designated an area for it about 15 feet from where it used to live, on the Haight Street side going up the hill. From the blueprints I've seen, there's going to be an entrance that leads you into the whole area, with a park and everything. It's going to be really nice. But I can't finish the statue before they finish the building, or I have to pay storage on it.
At the moment, I've been working with [sculptor] Brin Berliner, who's finished the sculpt. We've got the sculpt scanned, and the next stage is to make a mold and cast it, which will probably happen in August or September. Their schedule is to have the building finished this fall, and I'm going to aim to have the statue finished around the same time.
They gave me a land grant for 75 years, so it's going to live on that corner for 75 years. If the people in charge of the property decide to get rid of it at that point, I'm going to have it in my will that it should be donated to Golden Gate Park."
In your opinion, what are some of the most important places in North Beach, and who are some of the most important people?
"Culturally, the most significant places in my opinion are Caffe Trieste, where we're sitting right now, as well as City Lights and the Coppola Building. Some of California and San Francisco's most relevant cultural contributions from happened within four blocks of where we're sitting right now.
Francis Ford Coppola did the final notes for The Godfather two tables away from where we're sitting right now. They edited Apocalypse Now in the editing studios on the roof of the Coppola Building, which is two blocks down the street. Kerouac and Ginsberg and Ferlinghetti produced and published some of their most important work a couple of blocks from here.
There are other things I'm probably forgetting, but in terms of the things that the world knows about this neighborhood, and where they were born, I'd say those locations are the most important."
And people? Perhaps some current figures?
"[Lawrence] Ferlinghetti is in his 90s, and still out and about. I'm not a very well-read dude and I'm not a huge poetry fan, but you can't take away what he created and the reputation that follows it, not to mention the number of people that moved here to be a part of what he created. There's still a holdover of some aging Beat poets that still do poetry readings in the neighborhood; that's still a real thing.
I think another one of the most currently relevant people is probably Ida [Giotta], the woman who owns and manages this coffee shop. Her family opened it in the '50s. This is a meeting place where everybody congregates, from the cops to the homeless guys to the crazy people. It's just one of those magnets in the neighborhood.
And there's also like a new breed, like people like Tony Gemignani, the guy who owns Tony's Pizza Napoletana. In a neighborhood full of your grandfather's Italian restaurants, where you're sitting on an old fettuccine alfredo for 10 dollars more than it should be, here comes a guy who's in his 30s, from California, internationally recognized for Italian food, and decided to open in this neighborhood. He's raised the bar as far as the quality of Italian food, putting the spotlight back on the cuisine in this neighborhood, not just the poetry and some of the other neat things.
Pete [Mrabe], who owns Don Pisto's and Chubby Noodle, has brought something that isn't Italian food. But he's also brought a younger vibe to the restaurants in this neighborhood, and I think that's really very important."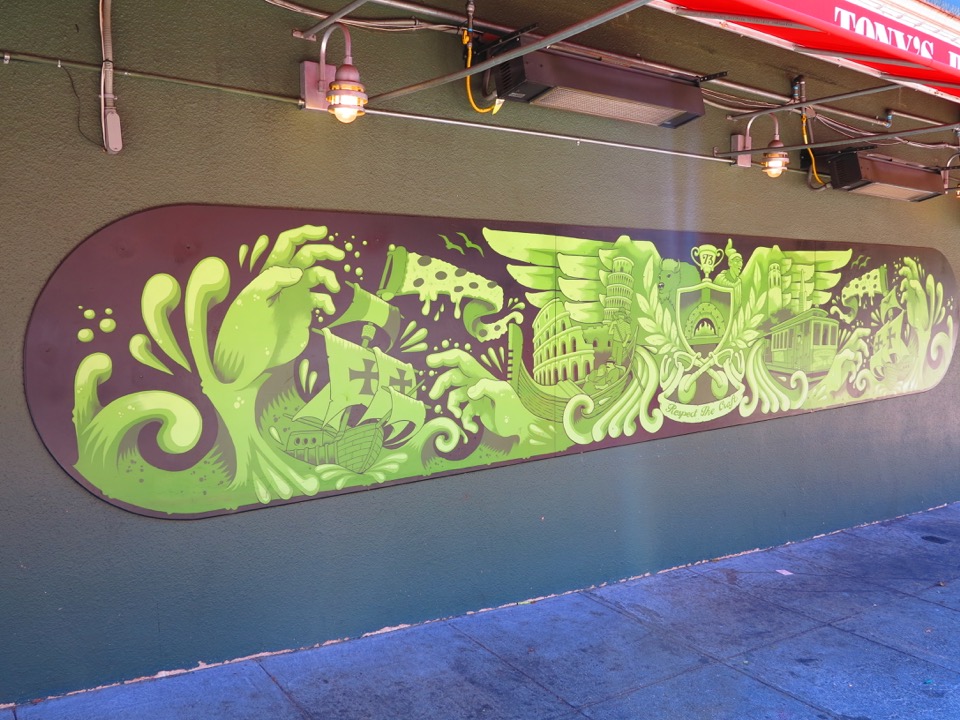 Fish's mural on the side of Tony's Pizza Napoletana.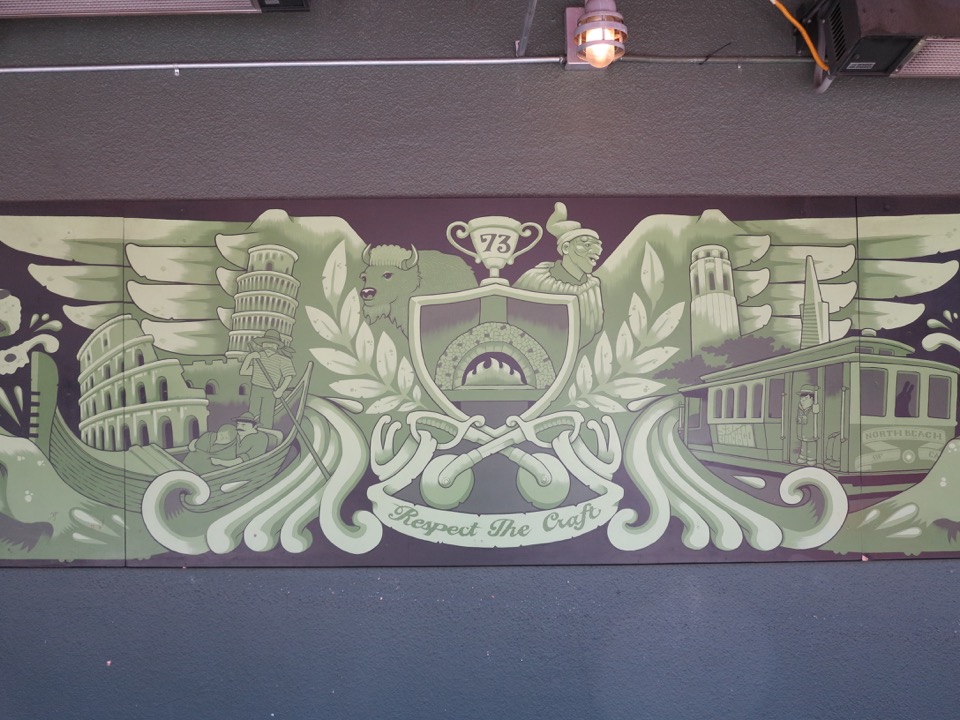 A detail from the Tony's mural. 
Any interesting projects on the horizon?
"Next month, I start as the first official artist-in-residence at San Francisco City Hall. It's in conjunction with a show I was invited to do in November that's being put on by the San Francisco Arts Commission for City Hall's 100th birthday. They've given me an office, and throughout the summer, I'll be working in City Hall creating a body of 100 drawings that are about City Hall, the history of the building, and the things that have happened there.
My main goal for the project is to engage the new San Franciscan. We're living in a time where, for the first time ever in the history of this city, people are moving here not because they love it, or they thought it was cool, or they were attracted to something that was going on here, but to get a good job. That's not a bad thing, and unlike a lot of people that have been here for a minute, I'm not mad about that.
I love living somewhere that has a progressive economy and that is creating new ways for humans to communicate. I mean this is a think-outside-the-box, progressive part of the country, and so the fact that this tech revolution is sort of turning this place inside out? I'm dealing with it, and I'm not mad about it. I understand that these are the repercussions of living somewhere this progressive.
The body of work is not only to remind people about how cool City Hall is, but more importantly, all of the things that make this place wonderful, and the things to be proud of. Even if you moved here to work at Twitter, and don't really care about Jerry Garcia or Lawrence Ferlinghetti, you should learn some shit about San Francisco.
Part of the City Hall project is that they're going to give me forty kiosks on Market Street to display these large-as-fuck drawings. My goal with that particular part of the project is [to do] some outreach, and make some drawings so basic and with such a straightforward narrative that the average kid who just moved here to get a tech job takes a second look at Coit Tower or North Beach or City Lights.
If you're just here to work at a job and don't really care about the cultural history of this place, I feel like my duty with this project is to remind you how special this city is, at this time where our City Hall is about to turn 100. Take a second look at it. Gain a greater respect for the place to which you just moved."