Published on July 15, 2015
(Yesterday, we wrote about the proposed transit changes that were discussed at Monday's SBRMBNA meeting. Today is part two of our meeting recap.)
At the regular monthly meeting of the South Beach Rincon Mission Bay Neighborhood Association (SBRMBNA) on Monday night, traffic congestion and proposed new bus lines were the two major topics. 
After Julie Kirschbaum, operations planning manager and scheduling manager for SFMTA's Transit Division, gave handouts of proposed new and altered bus routes, Camron Samii and Monica Georgopolous of the MTA's enforcement division addressed concerns about congestion and gridlock in SoMa.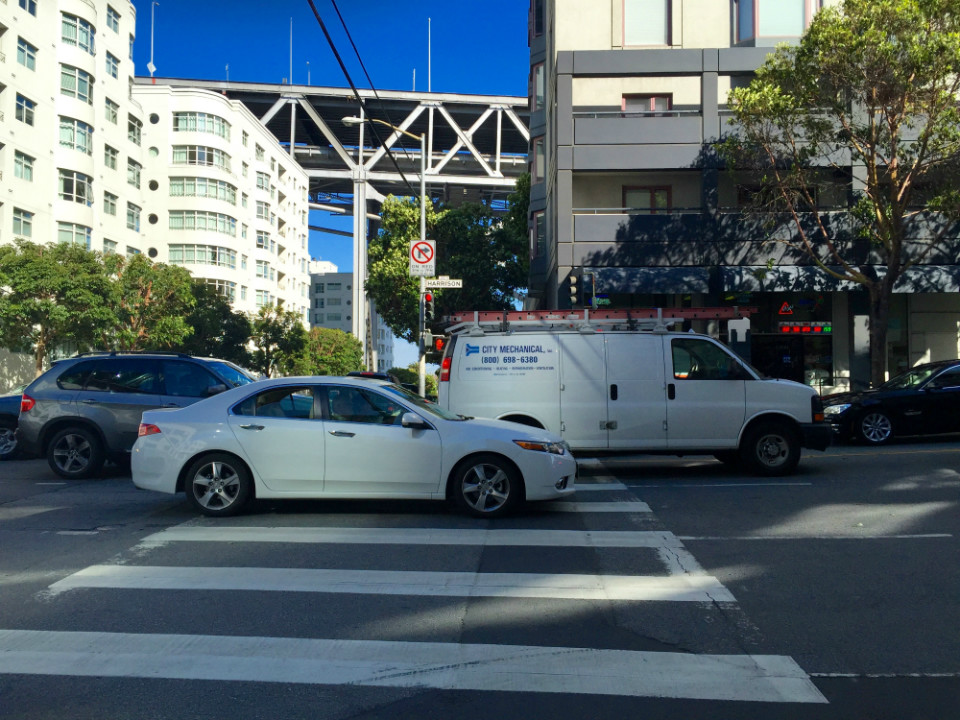 Samii said enforcement to prevent intersection blocking began in the 1970s, but it got a boost with a pilot program from July to September 2014, primarily in SoMa and with a focus on days when the San Francisco Giants play at home. The goal was to improve pedestrian safety, which is compromised when crosswalks are blocked, and to improve flow of traffic. That initiative yielded a roughly 82 percent reduction in intersection blocking and 53 percent reduction in crosswalk blocking, Samii said.
In December of 2014, another big push began in SoMa when Mayor Ed Lee instituted a Congestion Management Plan. That has led to huge increases in the number of citations by Parking Control Officers (PCOs). The chart below shows the number of citations for V2252BA, the code for blocking an intersection, and V22526B, which is blocking an intersection while turning.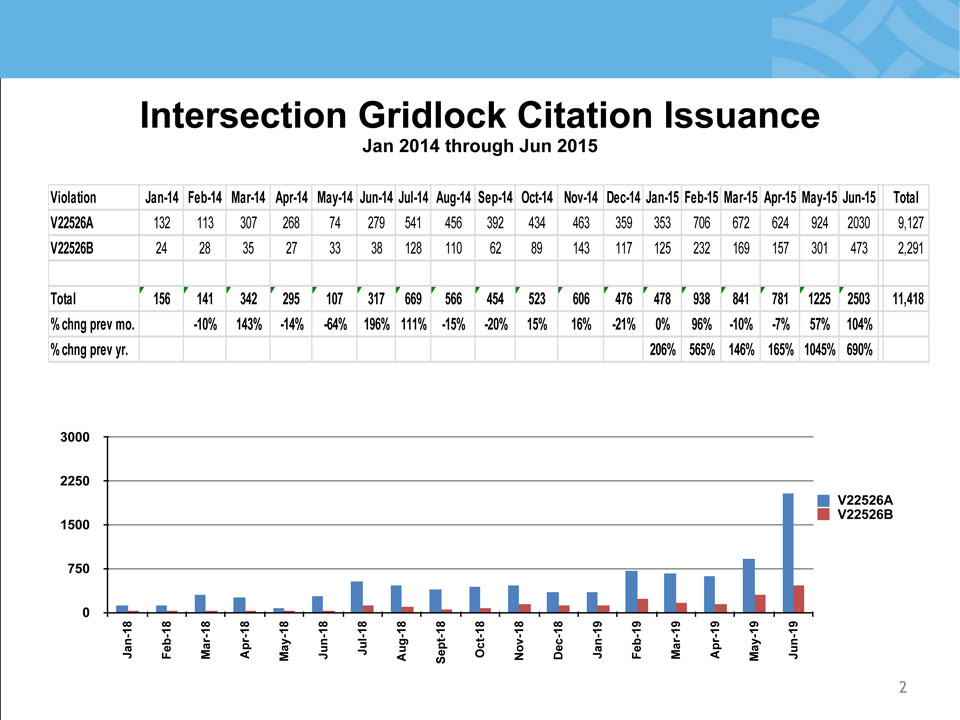 Charts: SFMTA
SFMTA officers can issue these as parking violations, and the fines are $106 for blocking an intersection and $110 for blocking an intersection while turning. The focus in SoMa is primarily during evening commute hours, and PCOs are encouraged to take photos of the offenders so the citation is more difficult to dispute, Samii said.
And in fact, most tickets are not given on-site: "The majority are drive-away citations," he said. "We don't want the officer to enter the intersection and compromise his or her safety." The officer has a hand-held device and enters a license plate number, and citation process takes a minute or less. The owner of the vehicle gets a citation roughly within five days in the mail, he added.
The focus of the enforcement effort is on the areas with the biggest bottlenecks; here are the top 10 locations where SFMTA is issuing citations: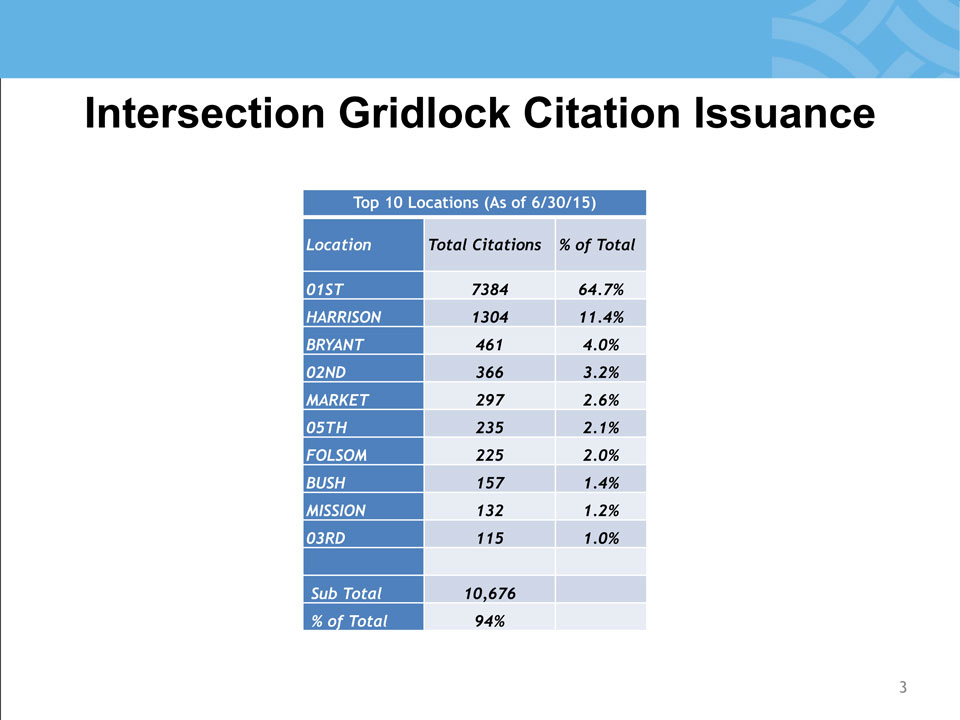 Samii also gave out a chart showing number of citations for double parking and blocking bike lanes, along with a line showing gridlock tickets. All three are on the upswing. Paul Rose, a spokesman for SFMTA, said in an email that it's too early to say whether the increased enforcement has had an effect on congestion. Samii said in the meeting that they plan to use cameras or do "spot check" counts of intersections to see how well they're doing.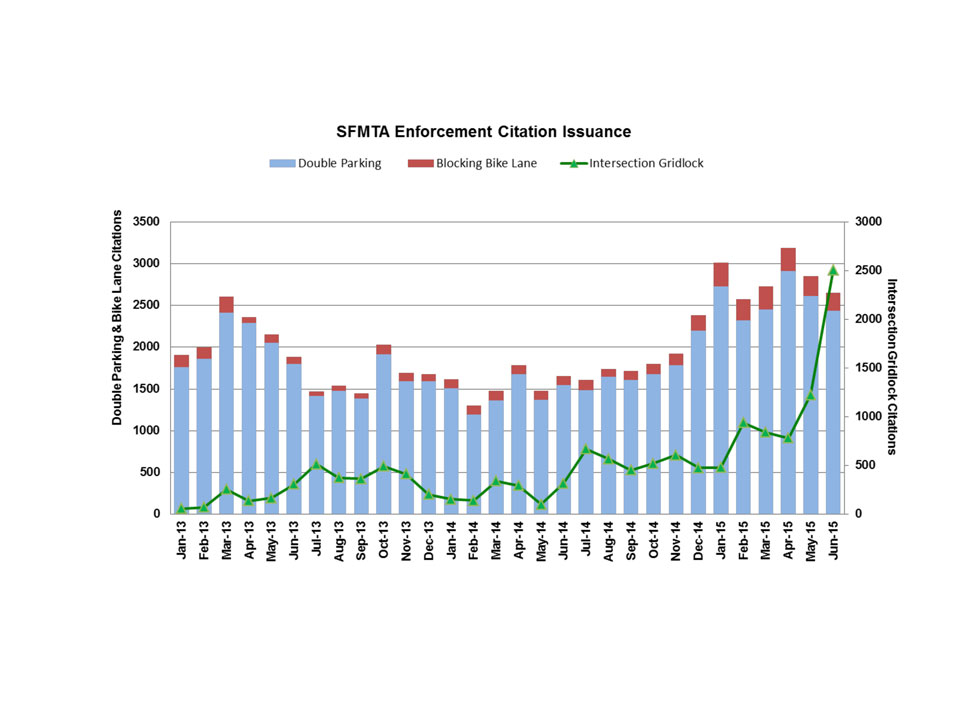 SFPD's Traffic Commander Ann Mannix, who was not at the meeting but talked to Hoodline about Don't Block the Box, said SFPD officers are involved in the initiative and issue citations as well. But they're moving violations, so they carry steeper fines ($263) and may go on a person's driving record. Since the end of November, she said, SFPD's Don't Block the Box enforcement has given about 5,000 tickets for blocking intersections and related offenses observed, including failing to yield, speeding, illegal turns and cell phone use.

"This is all complaint-driven," Cmmdr. Mannix said. "We're trying to ease congestion; we're trying to make it safer for everyone to get around. What good does it do you to block the entire intersection? You're not going to get there any faster. It does you no good."
Back at the SBRMBNA meeting, Monica Georgopolous, supervisor for SFMTA's enforcement division, talked about how SFMTA keeps traffic moving after ballgames and events by monitoring traffic flow and running the street lights to "flush out the traffic."
She said they always staff 21 PCOs on game days, but for other events such as concerts, AT&T Park management might request only 15. But SFMTA makes the ultimate decision on numbers.  "AT&T Park requests a certain number based on historical numbers," Samii said. "If we decide we need more, we'll do it."