In a crime and safety roundup this week, we mentioned that neighbors have expressed safety concerns over the intersection of Market, Noe, and 16th streets. The many comments from our readers, in addition to posts appearing on places like Nextdoor, demonstrate widespread scorn and include discussion about fixes to the complex intersections on Market Street in the Castro. 
Ongoing Problems

First, let's explore what's currently going on at the main intersections under scrutiny: Market/Noe/16th, Market/Sanchez/15th, and Market/Church/14th. According to an SFMTA analysis, from 2007 to 2012, there were 27 collisions involving vehicles and pedestrians, 32 vehicle/bicycle collisions, and 102 vehicle/vehicle collisions on Market Street between Octavia and Castro streets.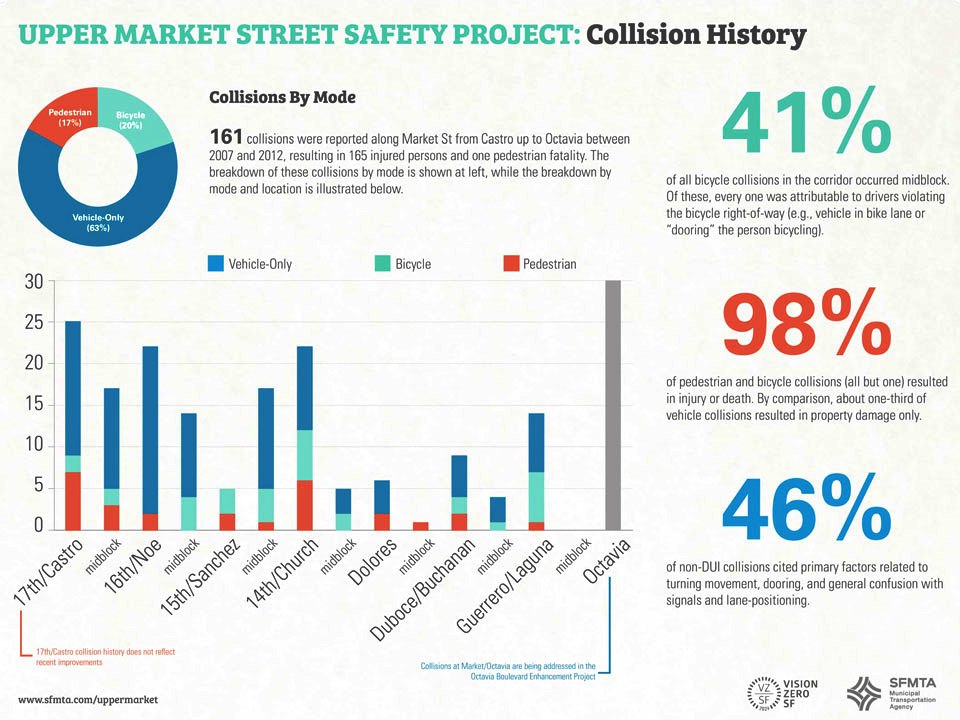 While opinions may vary on which intersection is the worst, they all tend to point to similar issues, including confusing traffic lights, pedestrian timing and safety issues, and congestion.

Some of our reader comments on these issues include:
"The problem at 16th and Noe and Market is a result of displacement of traffic flow from other 'redesigned' intersections" - Dave
"Pedestrians are forced to wait through two full light cycles to cross between the east and west sides of the intersection. Personally, as a pedestrian, cyclist, and occasional driver, I'd prefer to see pedestrians prioritized over cars." - shamelessly
"Many don't care about pedestrians on the crosswalk and just drive at you ... that intersection is very dangerous ... the traffic lights seems to be very badly synchronized." - TruthSerum
"What about the NW/SW corner of Church/14th which is now one lane for cars? Pedestrians regularly ignore the signal and cross, causing backups from cars wanting to turn right there. I have not once seen police there ticketing the pedestrians!" - Rob
Nextdoor users also recently raised concern:
"My wife and I are becoming increasingly concerned with pedestrians not realizing that they are actually standing in the street when waiting to cross." - Kirk
"It's such a busy corner there and very confusing for cars and pedestrians alike as to who has the right of way." - Mel
Solutions from local residents include redesigning lights, extending crosswalk times, rethinking the recently added "bulb-outs" at some intersections, and closing off some streets entirely to vehicles.
We reached out to District 8 Supervisor Scott Wiener, who briefly commented on the matter, and then directed us to Ben Jose, Public Relations Officer with the San Francisco Municipal Transportation Agency (SFMTA), for more information on solutions already planned, and possible future fixes as well.
Immediate Improvements Coming
As part of the SFMTA's Upper Market Street Safety Project, there are plans underway for fast solutions to alleviate some of the issues. All changes are based on suggestions from the 2009 Community Vision and Recommendations study, and the project will be funded primarily by developer impact fees in the Market/Octavia area.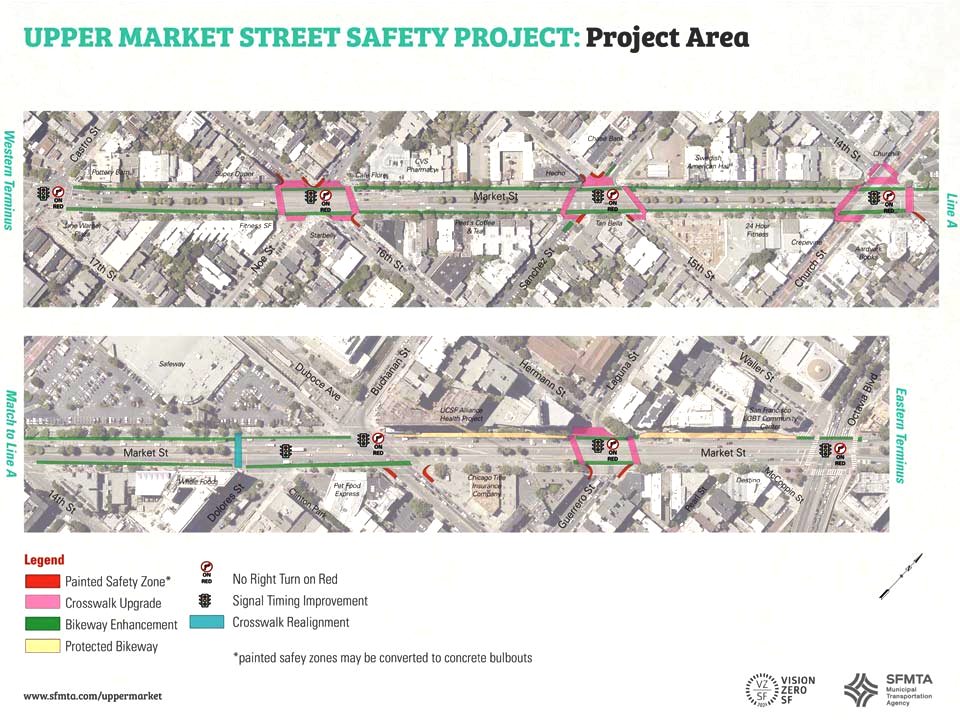 "There are street safety improvements on the way now, including more visible crosswalks, painted safety zones and No Right on Red restrictions," Jose told Hoodline. "These are set to be complete by fall 2015 and are examples of quick, cost-effective improvements we are making on the street now."
These quick changes are the first phase of the safety project, which is part of the city's Vision Zero initiative to eliminate all traffic deaths in San Francisco by 2024. This initial phase seems to be aimed primarily at pedestrian safety.

SFMTA went into more detail about initial phase improvements in an update email, which gave the following updates:
Paint crews are now in the process of upgrading crosswalks to a bolder, more visible design (called continental crosswalks).
The SFMTA is starting to install 10 painted safety zones, aimed at slowing down turning vehicles and improving visibility of pedestrians, at three Market Street intersections: 16th/Noe, 15th/Sanchez, and 14th/Church.

The No Right on Red restrictions will be implemented at both the Noe/Market/16th and Sanchez/Market/15th intersections.
As for adjusting crosswalk timing, both Wiener and Jose said that making crossing times longer would add to gridlock at each intersection.
Down The Road
Further into the future, there are additional plans set up in two stages:
Mid-term changes will focus on bicycle lane improvements, signal timing, and intersection guidelines.
Long-term changes involve crosswalk realignment, concrete "bulb-outs," and a parking protected bicycle lane.
Beyond the mid-term and long-term plans, the SFMTA aims to further engage the community to determine additional possibilities, such as turn restrictions, road closures, "bulb-out" enhancements, and intersection treatments.
What are your thoughts on the coming and proposed changes? Will they resolve issues with Upper Market's complicated six-way intersections?