Castro Community On Patrol (CCOP) has been a fixture in the neighborhood since its founding in 2006. The volunteer-driven group regularly patrols the Castro to increase safety and awareness. Last week, Hoodline accompanied a nighttime CCOP patrol to learn more about the organization and its efforts.
While a typical patrol has three to five people, our CCOP patrol took place on a special training night, with two patrol chiefs shadowing and observing the regular team of three patrollers. Here's our on-the-ground report of a night in the life of CCOP.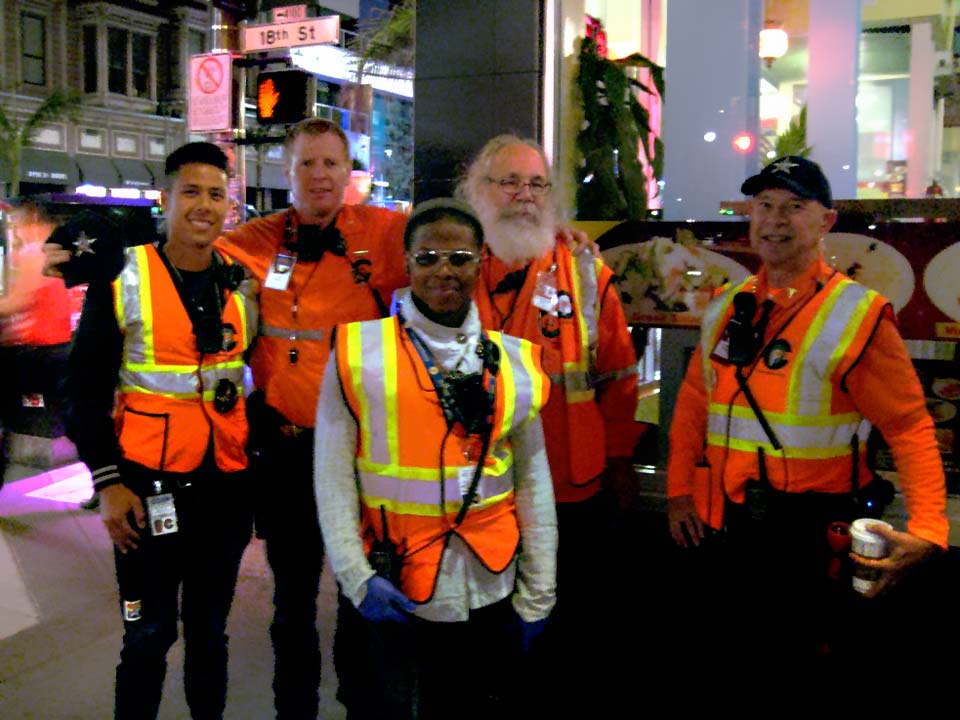 The three patrollers, Liem, Neil, and Charles, all have varying levels of experience. Liem, a CCOP staff administrator who's also training to become a senior patrol officer, has been involved with the group for a year. "I was the victim of a physical assault, and I want to help prevent that and give back," he says. Neil, an Alameda resident who's been involved for three years because he "has so many connections to the Castro," has been assigned on this patrol to document any interactions and events. Charles is new to CCOP, and is on his first patrol as a trainee. "I'm looking for something positive to be part of, and a way to make a safer place for youth," he says. 
Observing the patrol team are long-term CCOP members Greg and Brian. Greg, the current Chief of Patrol, was trained as a patrol officer in early 2007; Brian, the Deputy Chief of Patrol, came on in 2009. Both have been actively involved with the group since joining, and are two of the longest-running members. [Full disclosure: This reporter knows both Liem and Brian from San Francisco Frontrunners running club.]

As we begin the patrol, Greg explains the guidelines for patrollers. "First and foremost, we are observers, acting as the eyes and ears of the neighborhood. We stick together in our patrol, and never engage in a situation that could be dangerous. If needed, we'll withdraw, alert officers, and record anything that may be of value."
Patrols usually occur at night, with the occasional large daytime event. "We check parking lots, assist publicly intoxicated individuals, offer medical and other outreach help to homeless people, check in with merchants, and chat with visitors," Greg says. "Our patrols are intentionally random, so there's less potential for people to commit crime based on our patterns."
The CCOP was formed in response to a series of well-publicized 2006 assaults in and around the Castro, and receives financial sponsorship from Safety Awareness For Everyone (SAFE). "Many groups that are formed in response to incidents tend to fade away after a year," Greg says. "This is mainly due to people forgetting about the events and thinking that everything has been solved, so there's less of a sense of urgency. We began with over 150 volunteers and three teams each night. Now we are down to one team and far fewer volunteers. In order to survive, we have changed from being reactive to being proactive."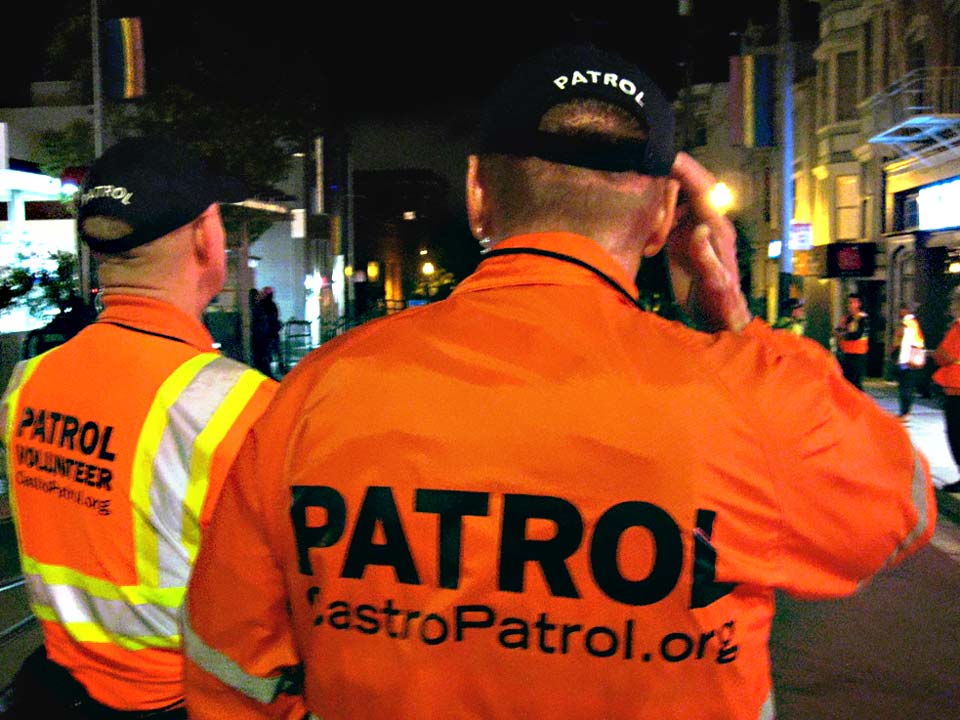 As the patrol walks along Castro Street, they stop to chat with a 10B officer hired by a related organization, Castro Cares. 10B officers help to provide a police presence, as many regular patrol cars are busy with immediate calls and emergencies. As they talk, a woman walking by stops to thank both the officer and CCOP for the work they do. "We get a mix of reactions from people. The majority are positive," Greg tells us. "It's encouraging to see our presence helping create that kind of environment."
Near the Castro Theatre area, the patrol stops to check on a man slumped over in a chair with his friend sitting with him. "Does your friend need any assistance?" they ask. They offer some advice on helping him sober up, one of many small interactions they'll have throughout the night. 

The potential patrol space is between 19th/Eureka and Duboce/Sanchez, with patrols taking a different path each time. "We walk through some residential areas each time, but the areas by the bars, clubs, and stores usually require a more watchful eye, especially between midnight and 2am when people tend to be out and possibly inebriated," says Brian. "Someone might need to go to a hospital, or be without their wallet or have no knowledge about the area."
Patrollers bring along giveaway items for the people they meet. "We give out pamphlets like the 'Clubber's Guide to Safety,' which give general tips on ways to keep things secure, avoiding drinks from strangers, and other lessons," Brian says. "We also give out safety whistles, which have very positive feedback."
Since beginning patrols, CCOP has given out over 85,000 whistles, but Greg acknowledges that their effectiveness has faded somewhat. "People seem to care less when they hear the whistle. We are trying to retrain people to be more alert and react in a helping way that doesn't endanger themselves, such as calling for help."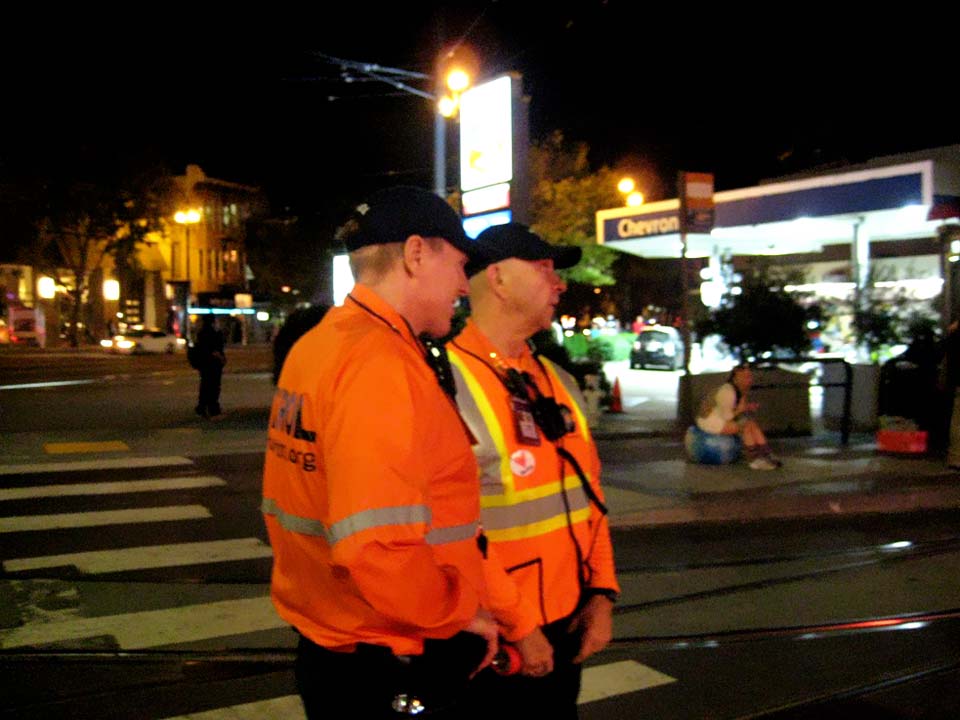 As the evening wears on, the patrol approaches a tent that's been set up along 16th Street near Pond. Liem, Neil, and Charles approach the group around the tent, informing them that they cannot have tents in the area. While some members of the group respond with agitation, the patrol remains calm, and the group begins to pack their things.
Each time the team approaches an individual or group, they first discuss the situation, to determine whether it's appropriate to engage them. For example, if someone is sitting in front of a building but there are no signs posted about loitering or trespassing, the patrol will let them be.
While safety concerns are paramount Greg says he actually feels "much safer on a patrol than I would walking out alone. While there is always potential for being in danger, we're always close together on our patrols, and we carry flashlights, identifying vests, radios, and cameras." As a result, CCOP has been able to operate injury-free since its founding. "We do insure our teams on patrol, in case anything happens," he adds.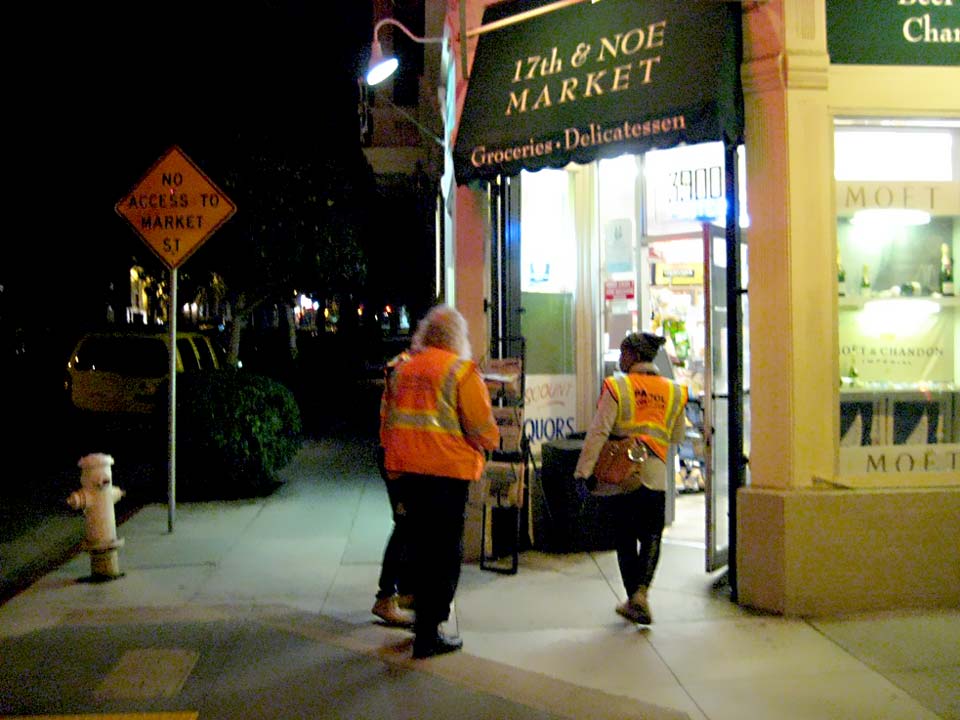 The patrol heads to Pond Street, where they make a note of a burnt-out streetlight to report to the city. Next, they visit a corner market to check in. Many of the Castro's merchants are now part of Castro Business Watch, a network of local businesses that was created under CCOP, with the help of the San Francisco Police Department and SAFE. "Our hope is that enough businesses join and take over a lot of what the Business Watch does, so it can become self-sustaining," Greg says.

After that, it's back to Castro Street, where the patrol checks on the Castro Muni stop. Turning up 18th Street, they examine the parking lot behind the Magnet building, finding the aftermath of an auto break-in. "This parking lot has a break-in practically every night we come through here, so it's very important to hide all items in your vehicle, so there is less temptation," Greg says, noting the numerous items in the car's dashboard, seats, and cupholders. The team records the incident and calls it in, then checks on the other cars in the lot, which appear to be fine.
As the patrol shift reaches its conclusion, the group moves towards the Eureka Valley Rec Center to check on the park, then heads up 19th Street near Diamond. There, they find a shoeless man sitting in a stairwell. Cautiously approaching the man, they ask if he needs any assistance; he does not respond, and continues rocking back and forth. After multiple attempts to get a response, they decide to call a police officer in to assist. As we wait for the officer, Greg helps the man put his shoes back on.
Two police officers arrive shortly and take over, with the CCOP team providing their account of the situation. The officers conclude that the man appears to be on some sort of substance, and discuss options for getting him medical assistance. "Most of our calls are for medical," Greg says. "Usually for very intoxicated people."

The CCOP aims to be an active participant in the Castro community. "Our outreach efforts include self-defense training, which we put on twice a year, and continued outreach to find volunteers for patrols," Greg explains. "We are hoping that younger people will bring on more volunteers and help with fresh ideas. There is a misconception that we are out to prevent 'fun.' We actually educate people on ways to play safer, and are fully behind people who come to the Castro for its vibrant nightlife."
CCOP is always looking for committed volunteers who are interested in the long-term safety of the Castro. You can learn more about volunteering and the organization in general at their website.