Onigilly, the Japanese healthy fast food that already had two FiDi locations, is opening its third at 455 Market St. (at First Street) and has plans to begin expansion in earnest. It'll move into the space in mid-September and expects to open two more stores within the year and begin a wholesale operation selling to grocery stores and markets.
Founder Koji Kanematsu, originally of Shimane, Japan, got the idea for Onigilly (pronounced oh-NEE-ghee-lee) when he came to the United States and couldn't find onigiri (pronounced oh-NEE-gee-ree), a rice and seaweed snack that's ubiquitous in his home country. "When I first came to the United States, I couldn't find onigiri, but there were a lot of sushi places," he said. "The Japanese eat sushi, but not every day—once a week or once a month. We don't eat sushi a lot, but we eat onigiri every day for breakfast, lunch or dinner. It's healthy and it's portable, like sandwiches." The Japanese eat 11 million pieces of onigiri per day, he said. (Ed. note: an earlier version of this story conflated "onigilly" and "onigiri.")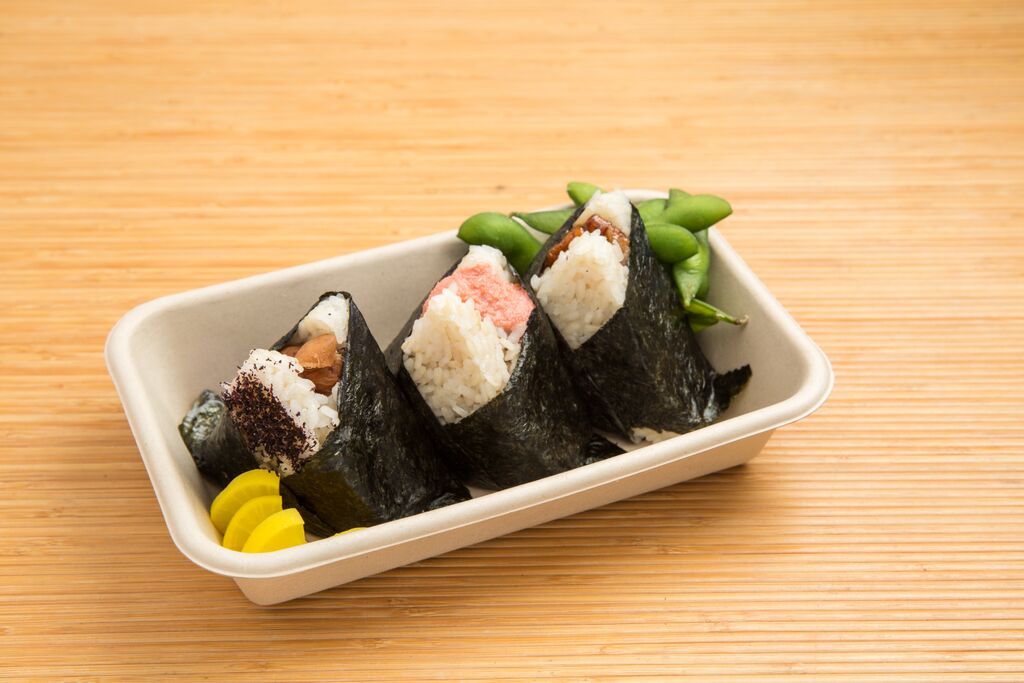 Edamame set with ume, tarako and unagi. Photo: Michelle Edmunds
Kanematsu got his start as part of the La Cocina food business incubator. He opened the first Onigilly at 343 Kearny St. in September 2012 and the second in 4 Embarcadero Center in September 2013. This new store will be take-out only, as is the Embarcadero Center location; the Kearny Street store has just a few tables. The average time per order is three minutes, so it's ideal for busy FiDi and SoMa office workers who want to grab it and get back to their keyboards ASAP.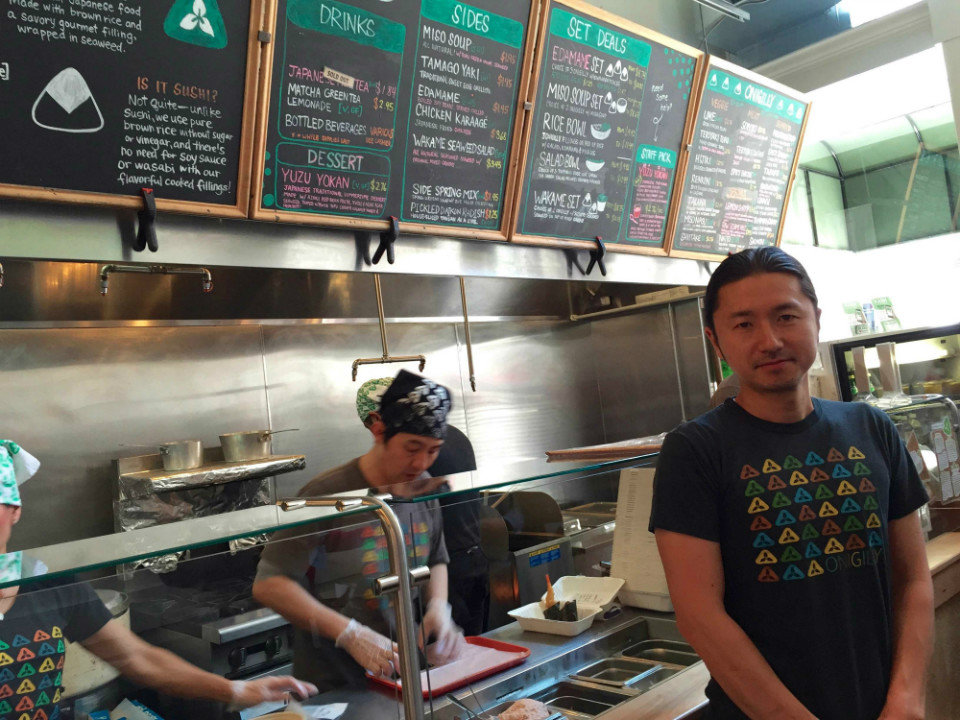 Koji Kanematsu. Photo: Geri Koeppel/Hoodline
The concept was a difficult sell at first, Kanematsu said, because people saw rice and seaweed and assumed it was the same as sushi. Onigiri doesn't have vinegar in the rice and doesn't use raw fish, so it's more shelf-stable, and it's made into a triangle to be eaten using the hands, like a sandwich. But now, he's seeing sales increasing about 40 percent every year since opening. "People taste it; they come again," he said, adding that some customers eat at Onigilly five days a week. It helps that it's lighter and healthier than, say, ramen or burgers.
Onigilly uses organic, partially milled brown rice—which looks and tastes like white rice—from California's Koda Farms. It also offers salad bowls for those who want to avoid carbs. All menu items are less than $4; most are less than $3, and you can get an entire meal with edamame and miso soup for less than $10. Kanematsu plans to lower the prices even more once he expands and has heftier purchasing power.
Kanematsu said once he has a central kitchen, he plans to open more stores and would like to go nationwide. (Right now, all onigiri is made at the Kearny Street location.)  He's also partnering with Fuji Foods to begin to offer wholesale, pre-packaged onigiri.
Look out for the 455 Market St. space to debut next month, and keep your eyes open for more Onigilly locations as expansion begins in earnest.