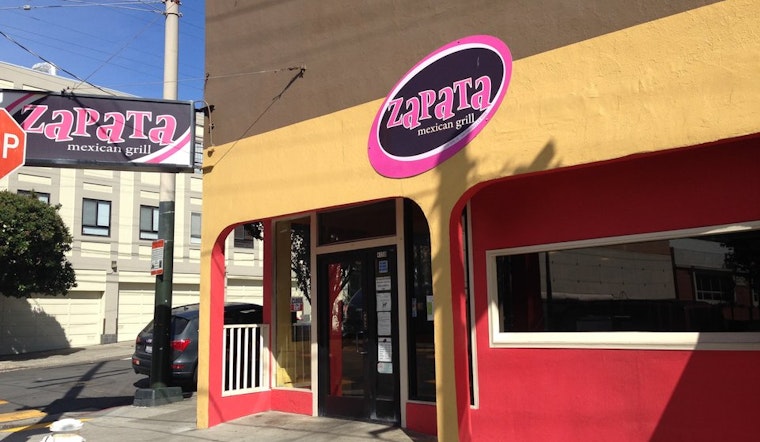 Published on September 05, 2015
After 22 years in the Castro, longtime Mexican Restaurant Zapata Mexican Grill (4150 18th St.) announced on its Facebook page yesterday, after months of negotiating with landlord Les Natali, that it will be closing its doors on Oct. 15th.
To our Castro neighbors and all our valued customers:

It's time to say adios, goodbye, until we meet again! Unfortunately our landlord has decided not to renew our lease, so we will be closing our doors permanently on October 15. Since we're encouraging our staff to take advantage of new employment opportunities we'll adjust our hours as our last day approaches. For now we will be open from 11am-10pm Monday-Saturday. Check Facebook or give us a call for updates.
This may not come as a surprise to many, as it had been rumored for a long time that Natali would not be renewing Zapata's lease. Owner Jorge Perez tells Hoodline, "this was somewhat expected as we have been operating with 1-year-at-a-time lease extensions for the past few years."
Perez told us that Zapata would like to stay in the Castro, a place that they have called home since 1993. Currently they are looking around the neighborhood to see what their options are and if they will be able to move. One option being considered is 544 Castro St., the former home of Dante's Table, which closed in May.
As for what Natali plans to do with Zapata's space, Perez was unsure.
"We're not sure of Mr. Natali's plans for the building but as far as we know there is no new business moving in right away," Perez told us.
According to Perez, Natali bought the building sometime around 2004-2005 in order to take control of the former Pendulum bar before turning it into what is now Toad Hall.
Natali offered Zapata a short three month extension, but Perez could not agree to those terms because of the high costs of doing business. There are many licenses and fees that need to be paid to the city at the start of the year, Perez told us, and in order to recoup those costs a business needs an assurance that they will be able to stay open.
Hoodline caught up with Natali today while walking around the Castro and asked him what his plans are now that Zapata will be closing. Natali had no details except to say that "an announcement will come soon."
This will only add to the multiple Natali-owned spaces that remain vacant. With one of the most notable being the long-closed The Patio Cafe. We also asked Natali about the reason for the stall in opening Hamburger Mary's; he told us that they are still looking for a chef.
The announcement of Zapata's closure marks the third restaurant this week to be shutting its doors in the Castro. Earlier this week we found out that Pesce will be serving its last meal September 13th, and just yesterday Chili Pies announced that Sunday will be its last day on Church Street.
With Zapata's closure, you're left with four local options to get your Mexican fix: La Tortilla, Tacos Club, Tacorgasmico and Hecho.
We'll keep you updated with any new information about Zapata's plans to move, and what's going to happen with the vacated space.