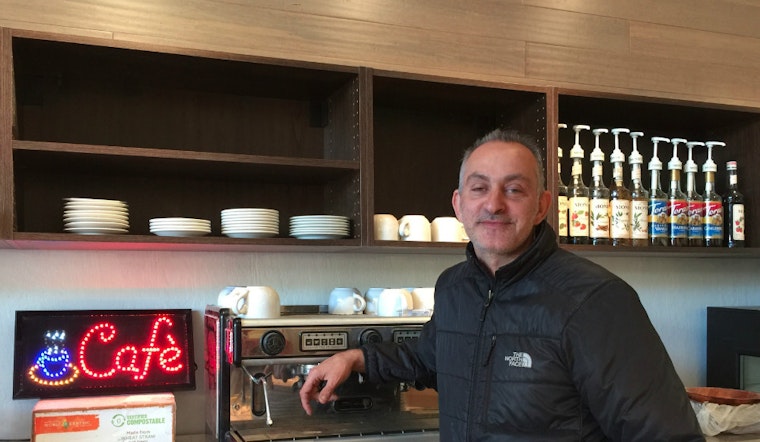 Published on September 30, 2015
Ideale Restaurant & Bar owner Maurizio Bruschi and manager Giuseppe Terminiello are joining forces as co-owners in a new venture, Piccolo Forno, which means "little oven" in Italian. It's expected to open in a few weeks in the former Justa Bite space at 725 Columbus Ave. We stopped in Tuesday to find out more.
Piccolo Forno will offer "a little bit of everything," Terminiello says, from a slice of pizza to a quick salad to lasagna. Menu details are still being worked out, but it'll be similar to an Italian rosticceria, with high-quality food that's fast and affordable. It'll offer food to go, and have about 28 seats inside and three or four sidewalk tables.
"This neighborhood was missing something," Terminiello says. He and Bruschi say they're opening the new venture for friends, out of a desire to "make it feel like there's a lot more heart in North Beach." Their vision is a place where neighbors can stop in for an espresso and conversation, have a light lunch or share plates of pasta at night. Hours are expected to be 10am–10pm, until they gauge neighborhood demand.
The interior is still in buildout, but the clean, contemporary design will feature wood floors, domed hanging light fixtures and white manufactured stone counters, with cherry-red metal stools and chairs to provide visual pop. There's no liquor license, but Terminiello says they plan to apply for one.
Ideale (1309 Grant Ave.), which opened in 1993, has become a neighborhood favorite, serving dishes such as saltimbocca, ravioli with fresh ricotta and organic spinach, and homemade pappardelle in lamb ragu. If you're a fan, keep an eye out for the debut of the Ideale crew's Piccolo Forno this fall.