Johnny Davis knows a lot about bartending in San Francisco. Having worked in the city since 1995, he's done stints behind many of SF's most well-known bars, including Molotov's, Toronado, Doc's Clock, Zeitgeist, and several others. These days, he's a partner at both the Mission's Benders Bar & Grill (806 South Van Ness Ave.) and the Tenderloin's Emperor Norton's Boozeland (510 Larkin St.) We sat down with him at Boozeland to get his take on what it's like serving drinks in our ever-changing city. 
Where are you from and how did you get here?
I was born in Texas, San Antonio. But I was raised on the West Coast, a West Coast kid. School age in Portland, Oregon, and then once they kicked me out of school, kind of 17 to 24, I spent in Seattle, Washington. I started bartending in Seattle when I was 22. Moved down here a couple years later, and started kicking it around this town.
I bartended at a number of different joints around this city, starting in 1995. I started at Toronado in the Lower Haight, in the first week of '95. Went on to work at Zeitgeist for a bit, Shotwell 59 in the Mission, worked at Amnesia for a minute ... Sorry, I should have thought out my timeline for a minute.
The first time you became a partner at a bar was at Benders in the Mission. When was that?
That was 2003. Me and my partners bought the old Sacrifice on 19th and South Van Ness in the Mission, and turned it into a nice little neighborhood rock n' roll bar. Been there for 12 years as of last month, so we're really happy about that.
When did you open Emperor Norton's Boozeland?
Just over two years ago. It's been a project for almost three. It took us a lot longer to get open than we had originally anticipated, so the doors have been open for about two years and two months at this point.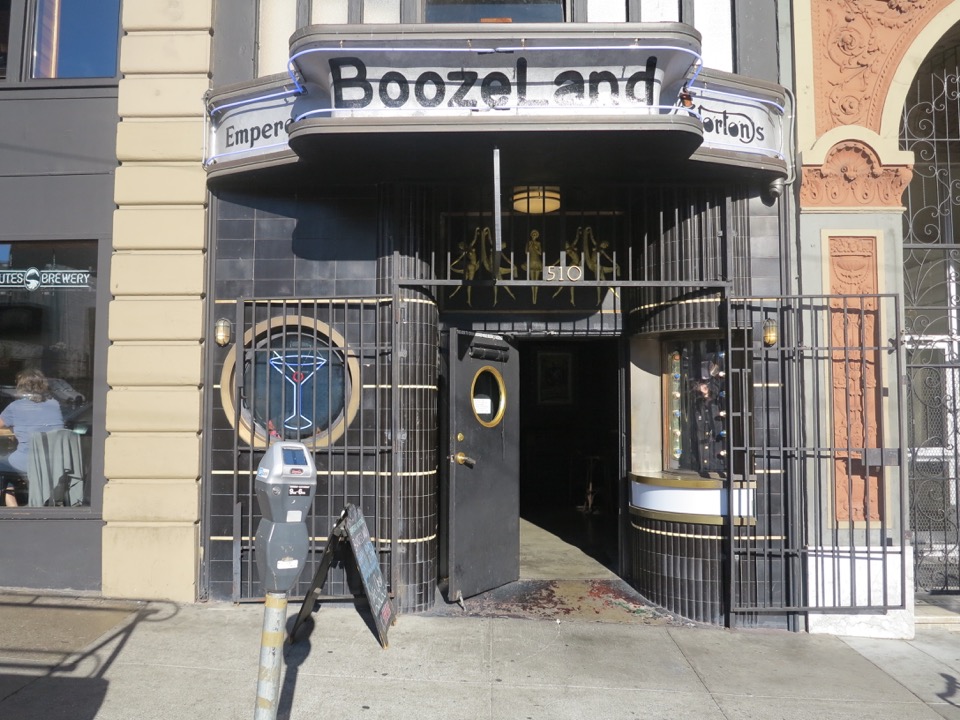 What's it like running a bar at this location?
What's really funny about this location is that I used to drink here even before I moved to San Francisco. Around '92, I'd come down from Seattle and hang out with friends, and a buddy of mine's girlfriend actually bartended at the old Jack's Deco, here at 510 Larkin. They had a great late-night happy hour, so me and my friends would hang out here when we were visiting. I never, ever thought that someday I would own this space, or even bartend in the Tenderloin, to be honest with you.
Tell us about the difference between the Tenderloin in the mid-'90s and now.
The Tenderloin in the mid-'90s was real scary, ya know? Definitely a lot more folks who were down on their luck, or kind of street denizens. It was a little more sketchy. You really had to worry about getting held up and people jumping you. There are definitely parts of the neighborhood that are worse than others, so some of that's never changed. But for the most part, it's gotten quite a bit more cleaned up, if you will.
Do you ever have to address the sketchiness factor in the bar?
Oh, absolutely. We ask people to leave if they're not customers or if they're making people feel awkward or not comfortable. We don't allow anything other than hanging out and having a good time in here, so if you are coming in here trying to do some other business, then you are not welcome. We end up addressing it pretty much on a weekly basis, not really daily. We're in a better part of the Tenderloin.
How do you go about creating a certain 'vibe' in a brand new bar?
That's a good question. Well, my partners and I all have a pretty good idea of what we're after, what we'd like to do and the type of bars we like to drink in. But there's kind of a large discrepancy between Bender's and Boozeland, just due to the fact that when we were rebuilding Boozeland, we had to replace pretty much everything in the space. The plumbing, the electricity, the floors, the walls: everything was pretty shot, more so than we thought coming in. It's definitely a nicer space than we had anticipated—definitely on the higher end of bars that I ever thought I'd be part of. But it pretty much just boils down to a space that we'd like to hang out in, a place where we feel people would be comfortable and not pretentious.
How do you fight pretentiousness and promote that laid-back culture in a place?
Well, one key factor is the jukebox. The jukebox very much determines what kind of bar the bar is, you know? That's why I feel that the Internet jukebox kind of sucks the soul out of a space. They don't let the people that run the bar set the tone for the environment of the bar.
That's interesting. 
People that come into a bar with an Internet jukebox can pretty much play Miley Cyrus, or The Cure, or whatever they want. They could play reggae, which would make me roll over in my grave in my bar. So yeah, that's pretty much what it boils down to. I feel that it helps a lot in setting the tone or the environment of a bar.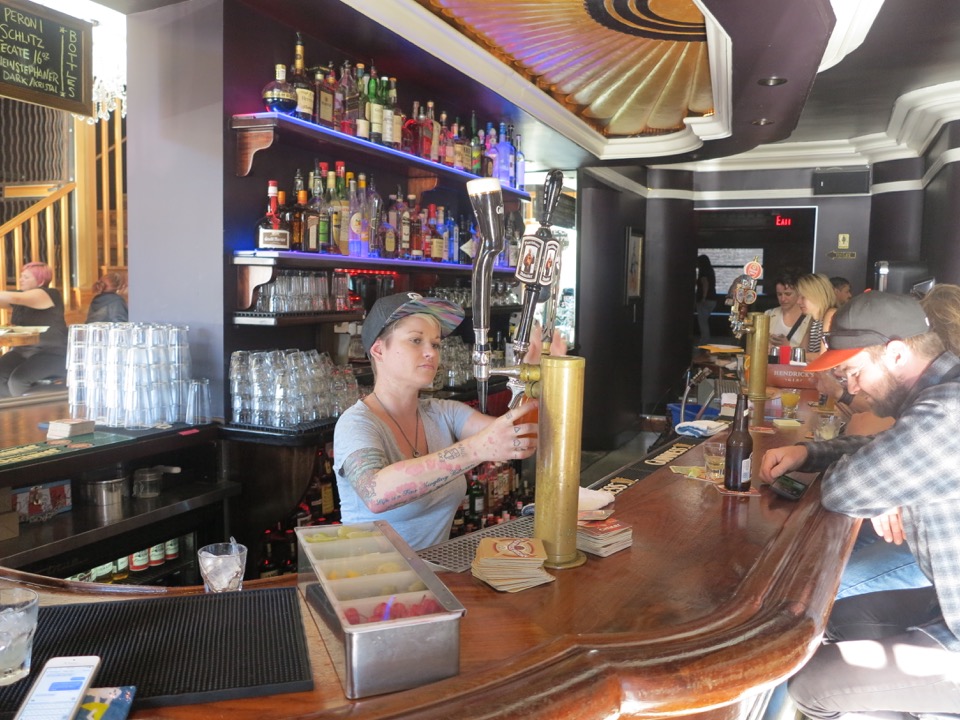 Boozeland bartender Courtney Price pouring a cold one.
What's the difference between the drinking culture in the Mission and the drinking culture here in the Tenderloin?
I feel like the Mission drinking culture is a very social scene. A lot of younger kids living out there, a lot of younger folks. They really make it a point to connect with people and go out with people and bar-hop with people. The Tenderloin isn't really that way. It's more of a place where you can kind of show up and wander around, and your friends that you bump into, you hang out with. You don't necessarily make a night of it; it can kind of turn into a night on its own. It's more of a full-time drinker's neighborhood down here. 
What's the greatest threat to enjoyable nightlife in San Francisco right now?
Waiting ten minutes to get a drink. That's a buzzkill for me. I think places where it takes six minutes, eight minutes for a bartender to complete a round of drinks because you're putting 14 things in two different drinks, it can be more time-consuming. Whereas if you're drinking someplace where you come in and get your nice short, sweet cocktail or a beer and a shot or something that's readily available, not something you necessarily have to put a ton of effort into, it kind of makes for an easier night out drinking, in my personal opinion. 
What makes a good bartender great? What are you looking for as you staff your bars?
Someone who's friendly and can hold their alcohol. 
Well, that was easy. Who are your favorite kinds of customers?
Folks that like to drink.
Let's say Benders and Zeitgeist got in a fight. Who would win?
Zeitgeist has more staff.
What's the allure of a 'dive bar?' Why do people who can spend more still choose to go to a dive bar over a different kind of establishment?
I think a dive bar offers a certain kind of anonymity for people. You can just kind of blend in, and not necessarily make a scene or be part of a crowd. That's why I go to dive bars, anyway. They're just nice places to go have a good time, in my opinion. Places where they're not going to throw you out because you spilled your drink. You can turn the jukebox up and have a good time if you want.
And what's the future of the dive bar in San Francisco?
Well, the dive bar is fleeting in San Francisco. Not many of them left. It's nice to see some folks kind of embracing it. When folks come in and take over a bar, they inevitably have to remodel the space and change some things. Usually, it's not for the better, but it's nice to see some folks embracing the dive-bar aesthetics and kind of keeping things the way they were in a lot of places. You know, you can rebuild a bar and still keep that same kind of ethics and ethos. Sure, it's not that same 30-year-old dive bar, it's now a dive bar that was remodeled and smells like fresh paint, but that all comes in time.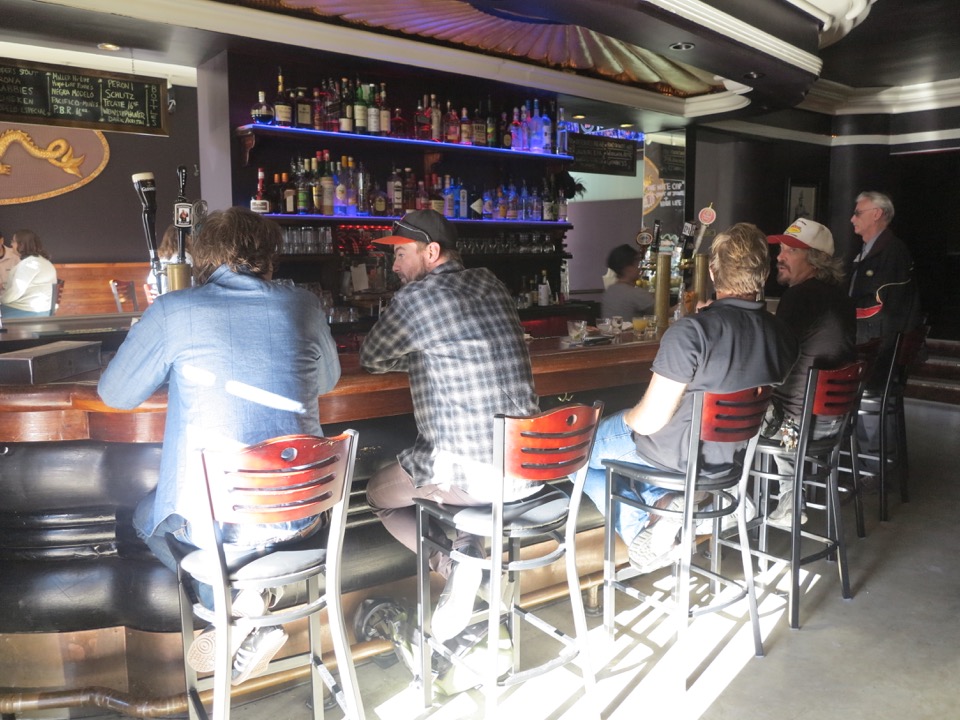 Having been a bartender in the city for over two decades, how would you say the job has changed?
You don't know nearly as many of the regulars, or nearly as many of the folks you serve, it seems to me. I would think after two decades, I would know more of the folks, but this city is changing. The climate in this city now means a lot of those folks that used to live here aren't able to live here any longer. So I suppose that instead of having more and more regulars over the course of the years, I'm getting newer and newer regulars.
But I don't know if it's changed drastically, as most bartenders would say. Things are just always in constant change. You can't close the door behind yourself. This is still a great town, this is still a great drinking town. There are lots of awesome spots out there, and it's got a really good cool community for that. I don't know if it's changed that much, but a lot of great, old bars are gone.
For more Tapping In with local bartenders, get to know Patrick Connolly of the Independent, Giday and Nebiat of Waziema, Michael Wieck of Bar 821, Caleb McGehee of Nopa, Chris Libby of Madrone, Jared Schmidt of Absinthe,  Racquel of The Page, Remy Nelson of Mojo, Andy Mott of Royal Exchange, Martin Kraenkel of Molotov's, Brendan Heath of Whiskey Thieves, Pete Spanier of Hemlock Tavern and Meaghan Johnson of Fly Bar.