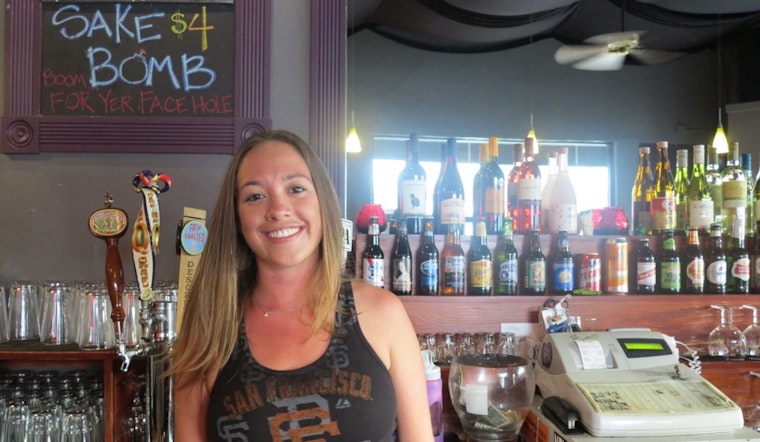 Published on September 11, 2015
Fly Bar has been a neighborhood institution since it first opened its doors over 15 years ago. Since then, Divisadero Street has transformed enormously, but the bar has maintained its staunch loyal following. We caught up with Meaghan Johnson, one of Fly's most popular bartenders, to find out more about what has kept people coming back over the years.
Where are you from, and how did you get here?
"I'm originally from Salt Lake City, Utah. I ran to San Francisco when I was 18, to go to the University of San Francisco. I started there in 2003, graduated in 2007, and never left the neighborhood, so I just moved down the street to Fly Bar, basically."
How do you think this bar has changed over the years?
"This bar hasn't changed a whole lot, which is kind of the great thing about it. It's been very much the same for the last 15 years, and that's really nice in a neighborhood that's had so much change. The clientele's changed: a lot of new people, a lot of younger crowds, and more students are coming to Divisadero than they had before. But we've also maintained the same regulars, the same old-school crowd. That hasn't changed."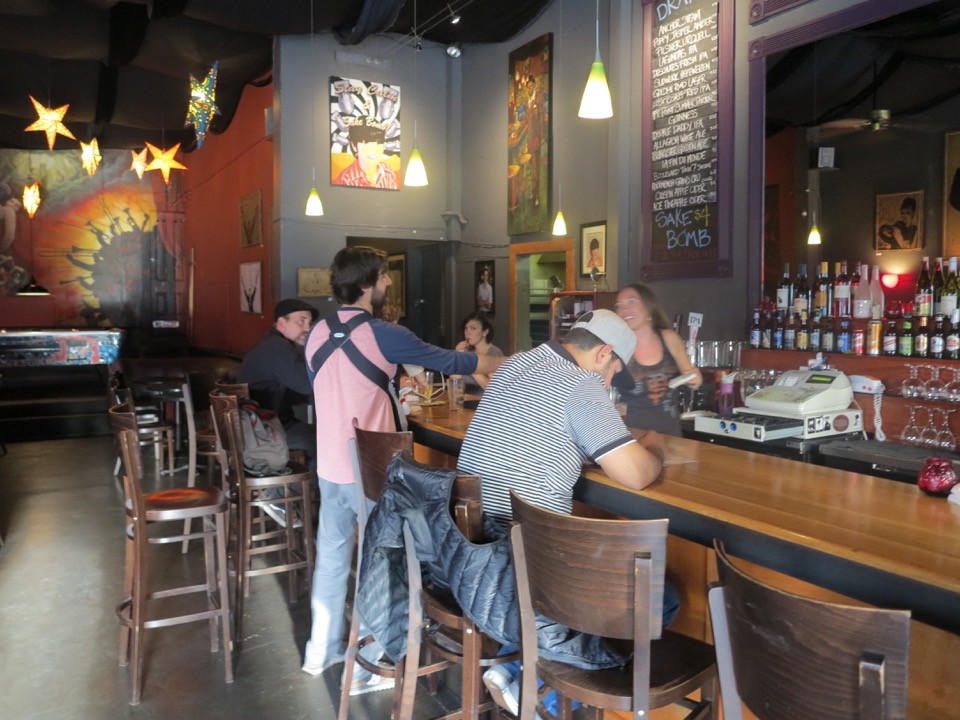 Fly Bar only serves beer and wine. How do you think that affects the general scene here?
"I think it keeps it more social, less rowdy. It's definitely more about the atmosphere and people than about getting drunk, you know? It's a really good beer bar; we like to switch our beers up all the time, and we have people always interested in what's new and what we're rotating. One of our biggest things has always been sake bombs."
Tell us about those.
"We've done them since we've opened, I believe. We do a small glass of cider, and then a shot of sake. People come here for that, and it's a really unique thing—I've never seen it anywhere else, where people do sake bombs with cider and sake. Even people that have never been here ask for it. So that's always a lot of fun, to get people into the mix; it's a good social thing to do to get people talking at the bar."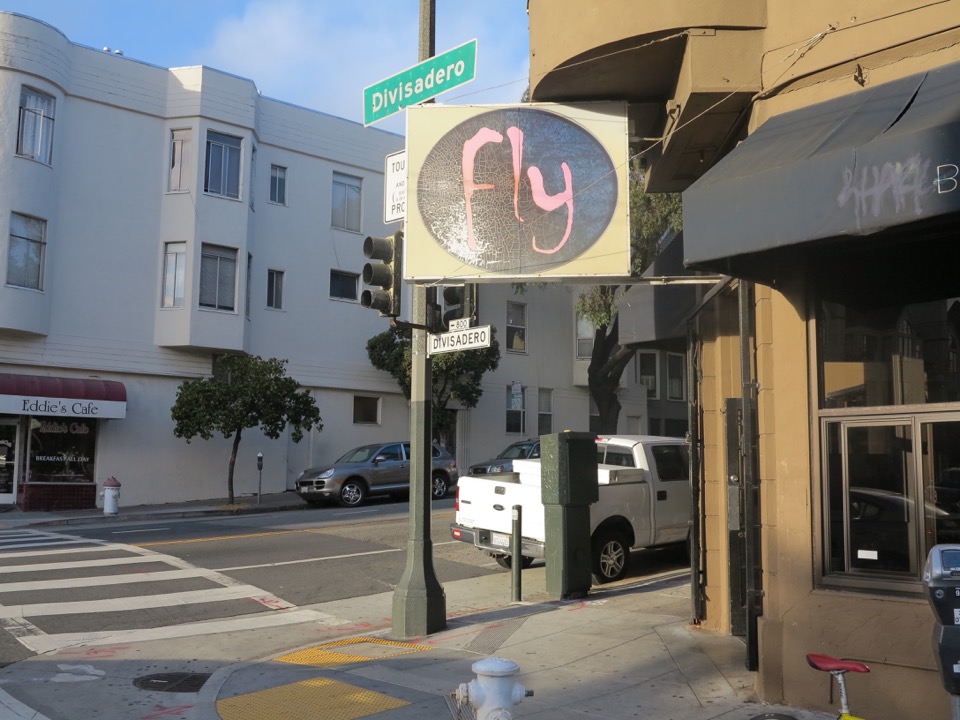 Outside of working here, what do you do?
"I'm very much a neighborhood rat. [Laughs.] I visit all the local bars and cafes; I spend a lot of time at the park. I love going down to the de Young Museum ... but I'm very much a neighborhood rat. We roll around to the different parklets and hang out with the entire neighborhood."
Any hobbies?
"I like to think of myself as very crafty. I'm into gardening and crafts; I'm always just gluing stuff to other stuff. I wouldn't say necessarily very artistic, but very crafty. I like to take classes at Workshop up the street. They've got really cool crafts classes. I've done the terrarium one, the sewing one ... I like to just make things for people."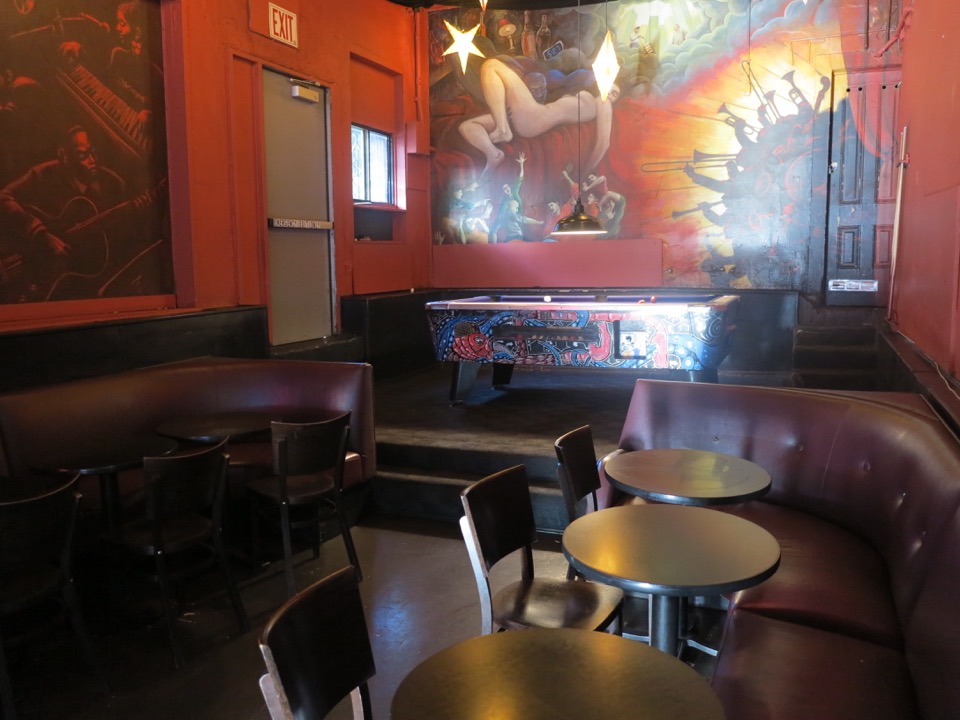 Your regulars are very loyal to Fly Bar. What do you think it is that keeps them coming back? 

"I'd say that number one is our charming staff. [Laughs.] I mean, our staff is so great. When I first started here, I was really surprised that people had been here for five, six plus years. I thought that was really strange, especially for a service job, but now I get it. I've been here for six-and-a-half years.
The biggest part is the Fly family. Our staff are family, our regulars are part of the family, and I think it's really unique. We all hang out, even outside of work. I think that's what brings people back. We're all here, we're all like-minded, we all have the same goal of being really friendly and retaining and keeping our loyal customers. That's really important to us, to make sure we keep them coming back. We know everyone's name and we know what everyone drinks, and I think that's really unique, especially with the way the city is growing like it is. It's kind of a special little gem."
How do you think the Divisadero clientele differs from Fly's other location in the Tenderloin?
"Our Divisadero clientele is definitely unique. You know, they've been around for so long, and we have the same ones coming back. We've got The Mayor, CB ..."
Tell us more about 'The Mayor.'
"CB has been in the neighborhood for over 30 years. He's the self-proclaimed 'Mayor of Divisadero.' He's one of our favorite regulars, and he always watches over us. He checks in every day.
"When Fly Bar started, he knew a lot of the people that were here originally, and he kind of brought peace to the neighborhood and to our new establishment. It was because of him we got all the people that were living here and the new clientele. He's quite the character."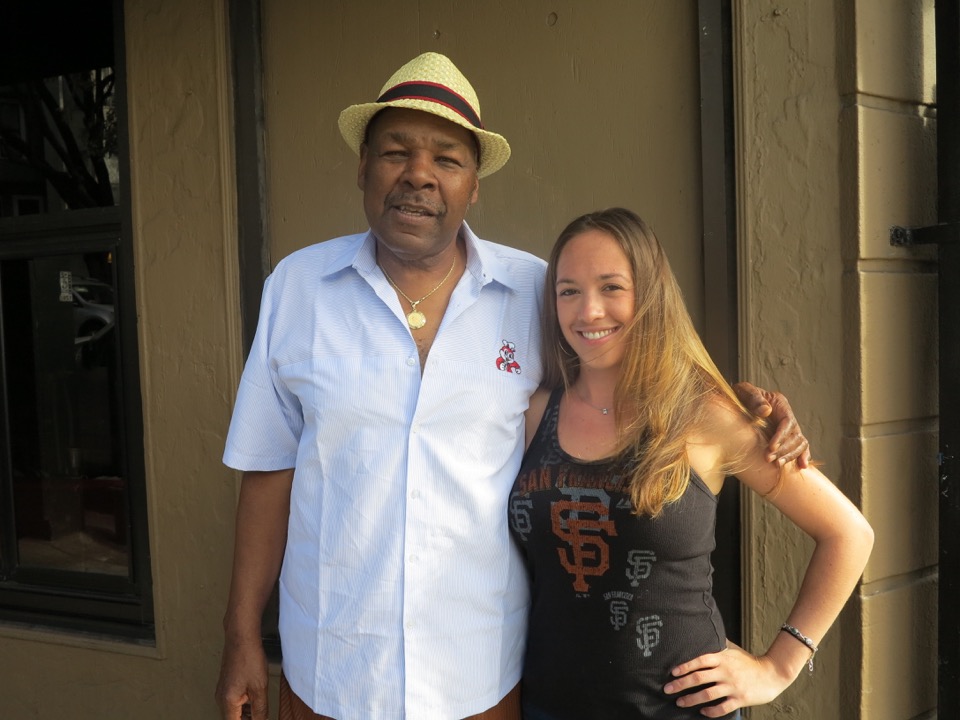 Meaghan with CB.
What's your favorite kind of customer in general?
"Somebody who's friendly and interested in what we're doing, what we're changing up. I like pleasant, talkative people. People that are willing to talk to the people next to them. I really appreciate when customers don't just sit on their phones the whole time, because this is a really social, neighborhood bar. I really like when customers will say hello to the person next to them, and ask them what's new and talk about where they live, and what's their experience in the city."
For more Tapping In with local bartenders, get to know Patrick Connolly of the Independent, Giday and Nebiat of Waziema, Michael Wieck of Bar 821, Caleb McGehee of Nopa, Chris Libby of Madrone, Racquel of The Page, Remy Nelson of Mojo, Andy Mott of Royal Exchange, Martin Kraenkel of Molotov's, Brendan Heath of Whiskey Thieves, and Pete Spanier of Hemlock Tavern.