Cafe Terminus, named for its location at the FiDi end of the California Street cable car line, is a neighborhood bar located in a neighborhood where few of its patrons actually live. Amidst the towering buildings of the Financial District, the folks behind the bar aim to promote a friendly atmosphere that caters to the many different types of people who work downtown.
We caught up with bartender Tim Gapchenko, one of Terminus's most well-liked employees, to learn a little more about what it's like to work there.
Where are you from, and how did you get here?
"Kind of a long story. I'm actually from Central Asia, born and raised there. Once things got unstable, my parents decided to move, and ended up in California."
What country?
"Uzbekistan. Moved to Sacramento, grew up in Sacramento, then missed the life of a big city and moved to San Francisco and never looked back."
What's your background working in restaurants and bars?
"I started off as a bartender in a very shady dive bar in Sacramento, and slowly moved into fine dining. In San Francisco I did primarily fine dining, Michelin-star restaurants. I worked for Nancy Oakes at Boulevard for some time; I got the bulk of my experience there. Then I started getting into the mixology scene and opened a few bars: one in the Fillmore district, one downtown."
Which bars?
"In the Fillmore, I was on the opening team at Palmer's Tavern. I opened up Martin Yan's M.Y. China; we did the Asian-Inspired cocktails there. Recently, I worked at The Rotunda at Neiman Marcus, which is more focused on wine, rather than spirits. I've worked here [at Terminus] for the past year and a half."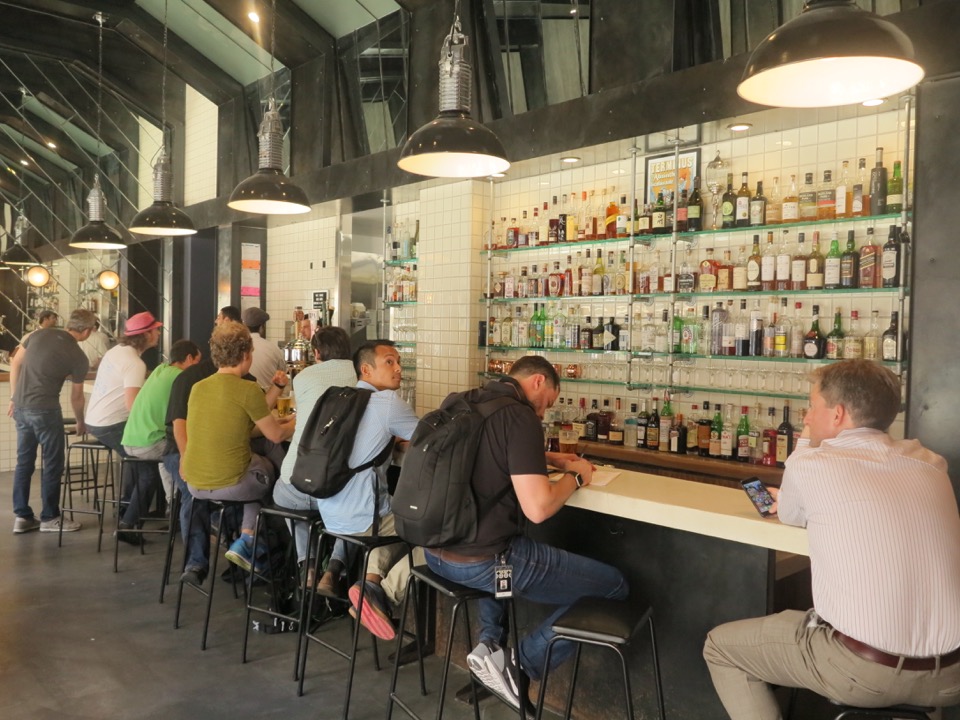 Having worked downtown for some time, have you noticed a shift in the clientele?
"Absolutely."
Describe the new clientele, versus the old.
"Younger, bolder, a little more direct. You can definitely tell the nature of the old San Francisco, the three-piece suit guys, versus someone that moved from Middle America and came into the big city but doesn't exactly know how to behave themselves yet. Someone who's trying to make a spot for themselves, so they're going to be a little brash, I guess. But eventually, once you see the same people and they kind of settle in, they kind of fit themselves in and it's very hard to distinguish them from the older crowd."
Other than businesspeople, who else is drinking at bars in the FiDi?
"We have a variety of other people who work in the area, whether it be at the bars or restaurants or some other organization that's basically supporting the big banks that are around here. Generally, we get more of the guys in suits around 4 or 5pm.
As the night progresses, we get a plethora of people: tourists, because we're so close to the Ferry Building; people that work in the hotels; people that work in the restaurants nearby. They all come here. We have a really good location next to the BART, so before they hop on, we bring them in here. It's a spectrum of people."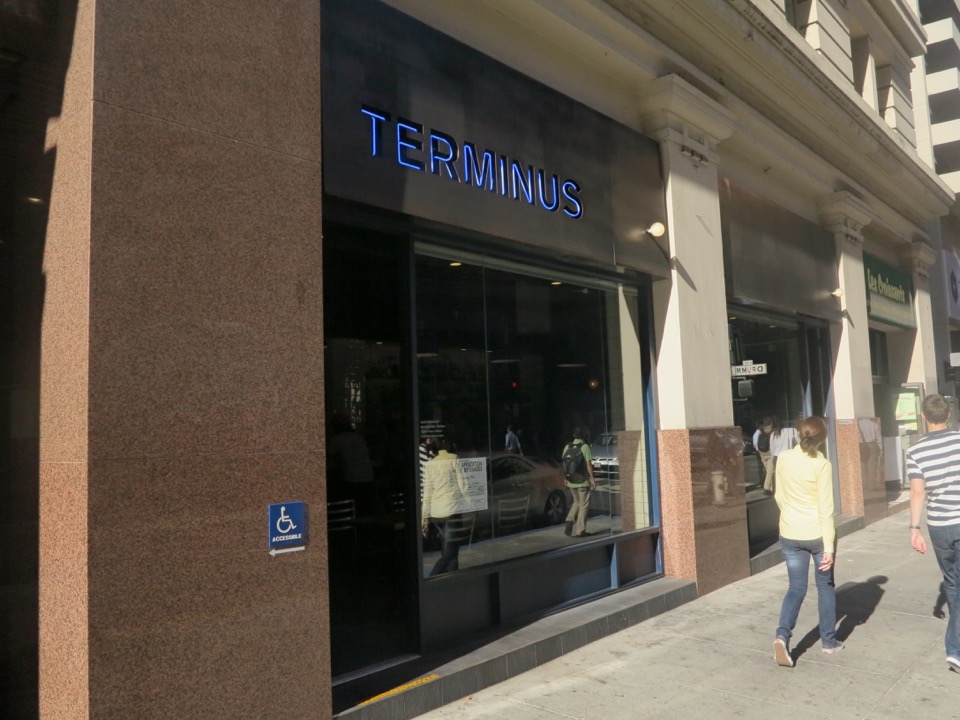 What's the difference between businesspeople and the other clientele?
"Nothing. We try to create an environment where when you're here, whether you make $30,000 or $1,000,000 a year, you're here to have a good time and relax. We do promote interaction between other people, not just the group you came with, and that seems to be working."
What's your favorite liquor to work with?
"It's very difficult to pick a favorite liquor, because I work and appreciate them all. There's a type of liquor for every drink, so I can't necessarily say that I prefer this over that.
However, having said that, I am partial to bourbon. I'm a big fan of bourbon; I like the variety. It can go from something very smooth, with notes of vanilla and butterscotch, to something very heavy, with a lot of ethanol on the nose, a lot of leather, there's a lot of wood. There's definitely a big spectrum of flavors involved in it, and it's a very wonderful product to work with."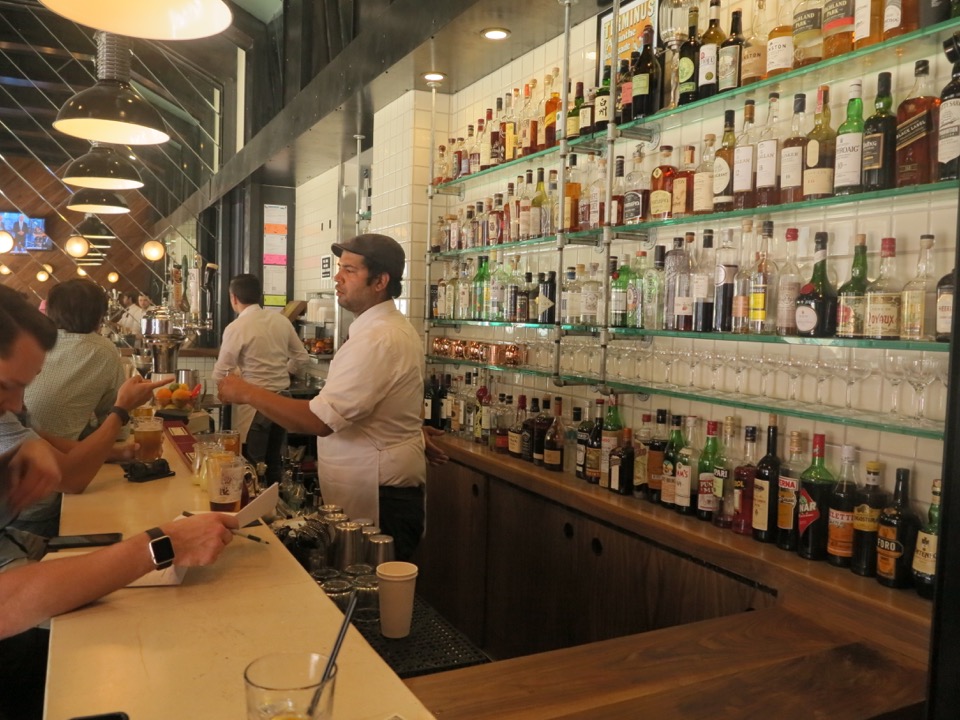 Tim (background) at work with fellow bartender Will Herrera.
Why do you think Terminus is so popular?
"We have a concept that a lot of people have forgotten recently. A lot of bartenders strive to be better at what they do from a technical aspect, and we do that as well. However, we do not forget that it's a hospitality industry, and we have to make people feel welcome. We have a lot of repeat customers. We have a lot of people we know by their first name, and we know what they drink.
We try to make people feel welcome. If they've had a hard week, they can come in here, and whether they spend five minutes with us or an hour with us, I want to make them relaxed and forget about their workday, whether it was good or bad. So a simple, 'Hello, how are you, I know what you drink and here's your drink, how was your day,' and remember the events that we talked about the day before. They're family; we're one big family. There are people who come in here that I spend more time with than my actual family, so I want to make the best of it and make them feel welcome."
For more Tapping In with local bartenders, get to know Patrick Connolly of the Independent, Giday and Nebiat of Waziema, Michael Wieck of Bar 821, Caleb McGehee of Nopa, Jared Schmidt of Absinthe, Chris Libby of Madrone, Racquel of The Page, Remy Nelson of Mojo, Andy Mott of Royal Exchange, Martin Kraenkel of Molotov's, Brendan Heath of Whiskey Thieves, Pete Spanier of Hemlock Tavern, and Meaghan Johnson of Fly Bar.