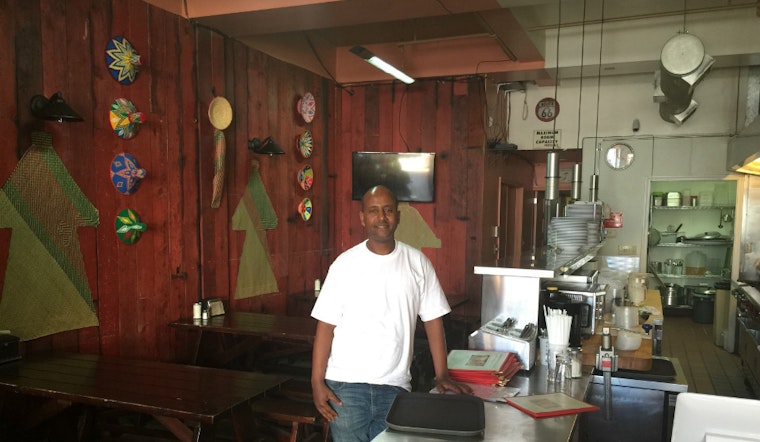 Published on September 21, 2015
East African restaurant Massawa, which closed in the Upper Haight in 2010 so that Haight Street Market could expand, has risen again—this time, in North Beach. Massawa reopened this past Saturday, Sept. 19th, in the former HRD Smokin' Grill space at 532 Green St.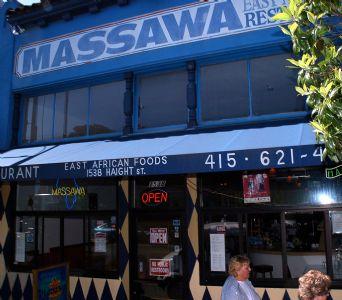 Massawa's former Haight location. (Photo: Jim L./Yelp)
Back in 2010, owner Asmerom Ghebrmicael spoke out to the SF Weekly when he lost his lease, saying the city was trying to help him relocate, but "times are tough ... All the Haight is miserable. Haight Street used to be a nice place, with a lot of tourists. But no more." Now, after five years, he's finally found a new home.
Ghebrmicael was not on-site on when we stopped in Saturday, but manager Teshome Fedai warmly welcomed us for a chat.
Fedai said that since closing the original Massawa, which he took over in 2000, Ghebrmicael opened and has been running MLK Cafe and Restaurant in Oakland. Meanwhile, he continued to look for a space to reopen Massawa, which had been in business since 1986.
"North Beach is a very populous area," Fedai said. "Lots of tourists and visitors ... This area is good to create a unique kind of food," to give some variety to an area saturated with Italian restaurants.
This new location has a casual interior, with wood-paneled walls adorned with colorful African baskets and picnic-table seating for about 50. There's no liquor, but Fedai said the hope is to get a beer and wine license and sell drinks, like the traditional Ethiopian honey wine known as tej.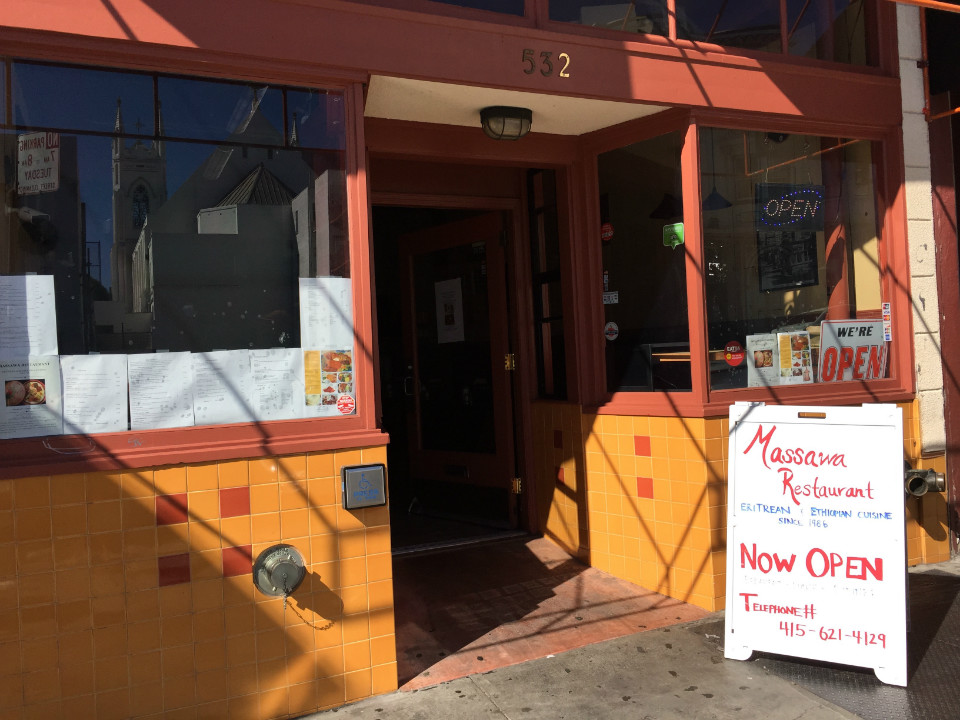 "It's very hard to compete with existing businesses" without selling alcohol, Fedai said, noting that he's aware of the restrictions on new licenses in North Beach. (In fact, HRD's proprietors told District 3 Supervisor Julie Christensen, who is trying to get neighborhood liquor legislation relaxed, that their inability to serve beer and wine is why their business failed.) 
Without booze, Massawa is trying to compete by keeping long hours (10am–11pm daily) and serving a variety of dishes, including some traditionally American and Italian fare.
The heart of the menu is a long list of Eritrean/Ethiopian dishes, both vegetarian ($11.99–$14) and carnivorous ($13-$15). Options include shiro, a spiced chick pea dish; alicha, a potato/carrot mixture; lentils with berbere sauce and spices; kelwa or tibsi, which is beef or chicken sautéed in tesmi (spiced clarified butter) with a blend of spices, onion, tomatoes, bell pepper and garlic; and spiced seafood dishes. Everything is served with injera, a spongy, slightly sour flatbread used to scoop up the food.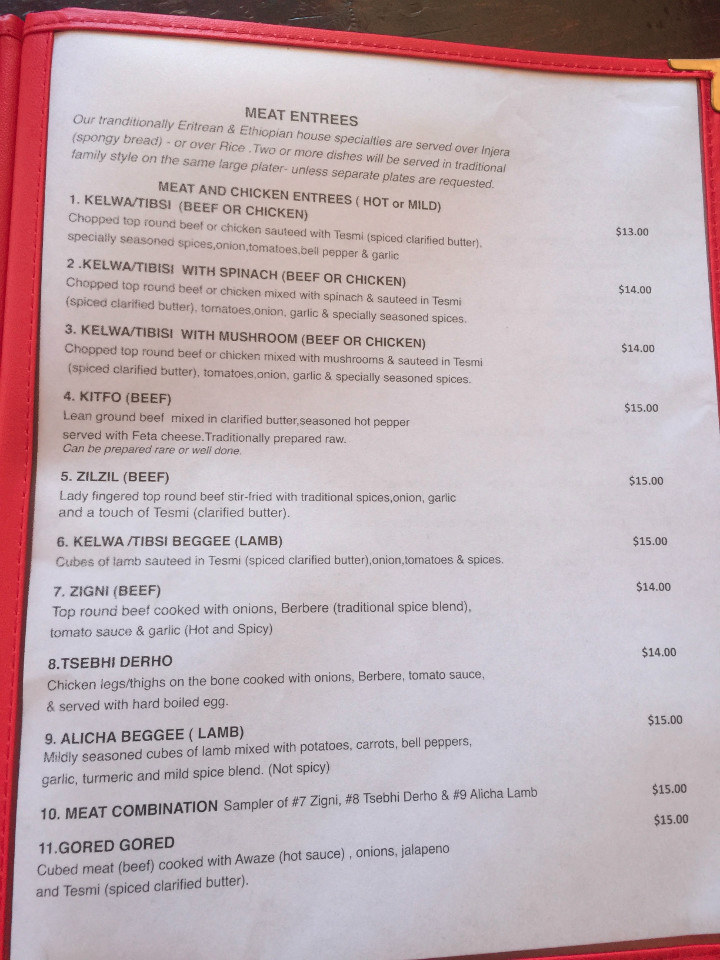 For breakfast, Massawa will serve both American and East African food ($9–$12). On the American side, look for French toast, pancakes, hash browns, eggs, bacon, sausage, omelets, a frittata and, interestingly, a sardine or tuna salad.
East African specialties (served mild or spicy) include shehaniful, a fava bean dish with tomatoes, onions, jalapeños, feta cheese, olive oil and yogurt; meselahful, a similar dish that adds sliced hard-boiled eggs; khicha fitfit, pieces of injera mixed and cooked with tesme and berbere and topped with yogurt; and more.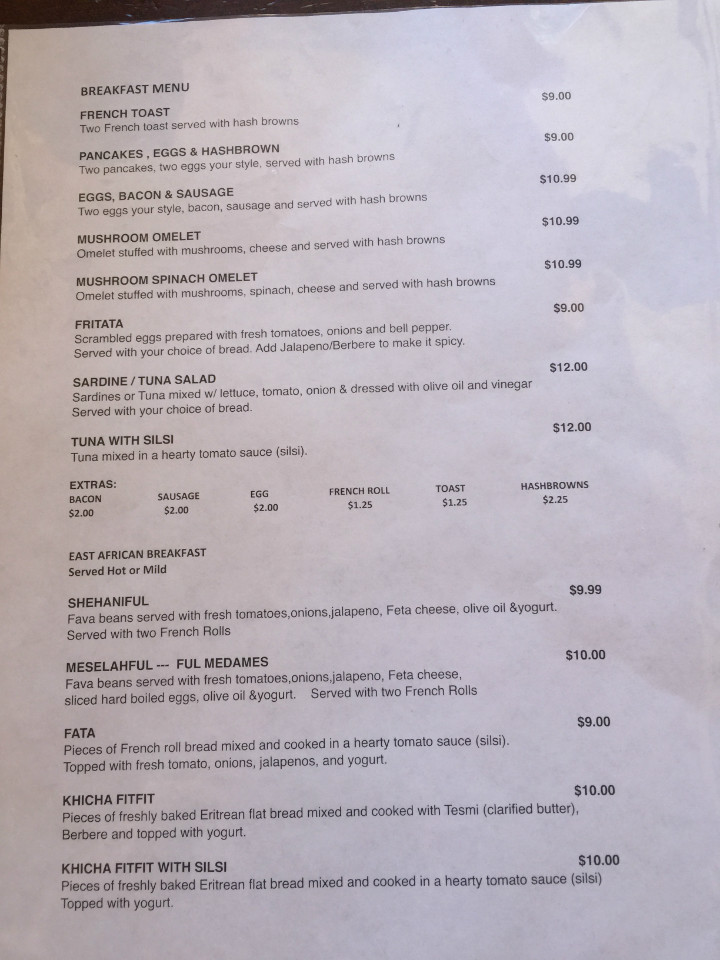 For those who don't want to sample the African food, Massawa also serves salads, burgers, sandwiches, French fries, onion rings, buffalo wings, chicken tenders and even pasta ($4.75–$12). "We grew up eating pasta because Eritrea was a colony of Italy," Fedai said. Massawa, a city on the Red Sea, was the original capital city of Eritrea, until it was moved to Asmara in 1897.

Look for Massawa's Facebook page and website to be up soon.