Last night marked the second meeting of "Affordable Divis," a group of local residents who gathered to discuss concerns around two large-scale residential developments planned for Divisadero Street.
The meeting, organized by long-time Alamo Square resident and activist Dean Preston, saw a diverse crowd of 35 or so neighborhood residents. The mix included people who had lived in the neighborhood for eight months, and others who'd been here 30 years. Several members from the North of the Panhandle Neighborhood Association, the Alamo Square Neighborhood Association and the Haight Ashbury Neighborhood Council were in attendance, as well as aides Conor Johnston and Vallie Brown from Supervisor Breed's office.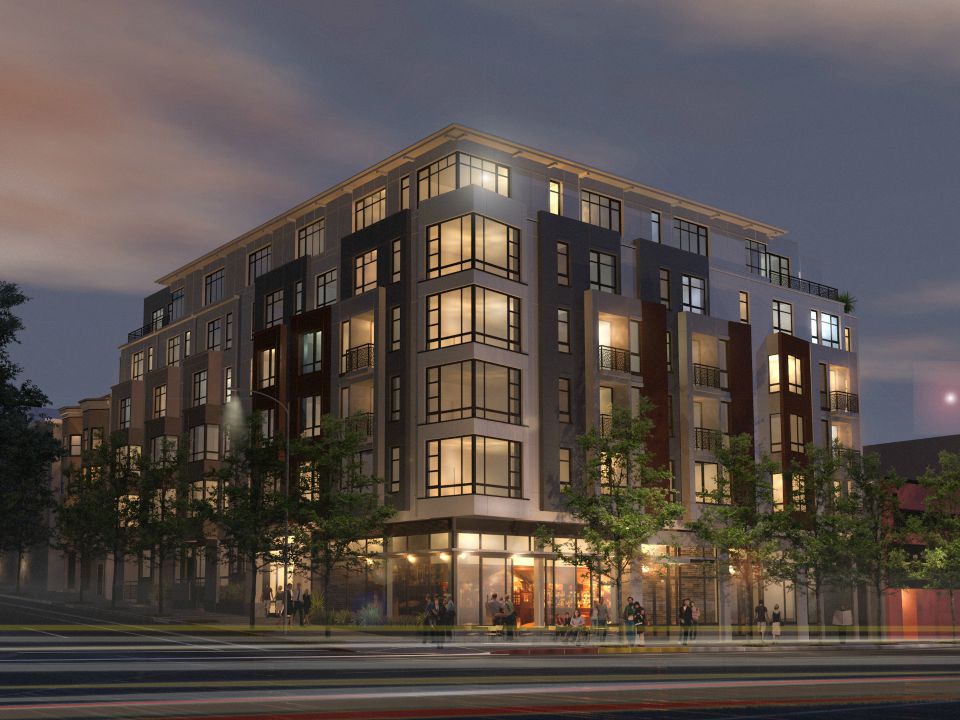 Rendering: Forum Design 
The first development up for discussion last night was 650 Divisadero St. If you'll recall, initial renderings of the apartment building showed a 16-unit building that preserved the Mission-style aesthetics of the street-facing storefronts. However after a re-zoning plan put forth by Supervisor Breed allowed for a denser build on the plot of land, the developers went back to the drawing table and returned with a new plan: a 60-unit building that would require demolishing the current building on the lot. Twelve percent of the available units would be reserved for below-market-rate housing. 
The second development under discussion was 400 Divisadero St. The proposed building, still in very early stages, will require demolition of Touchless Car Wash and construction of 158 units of housing.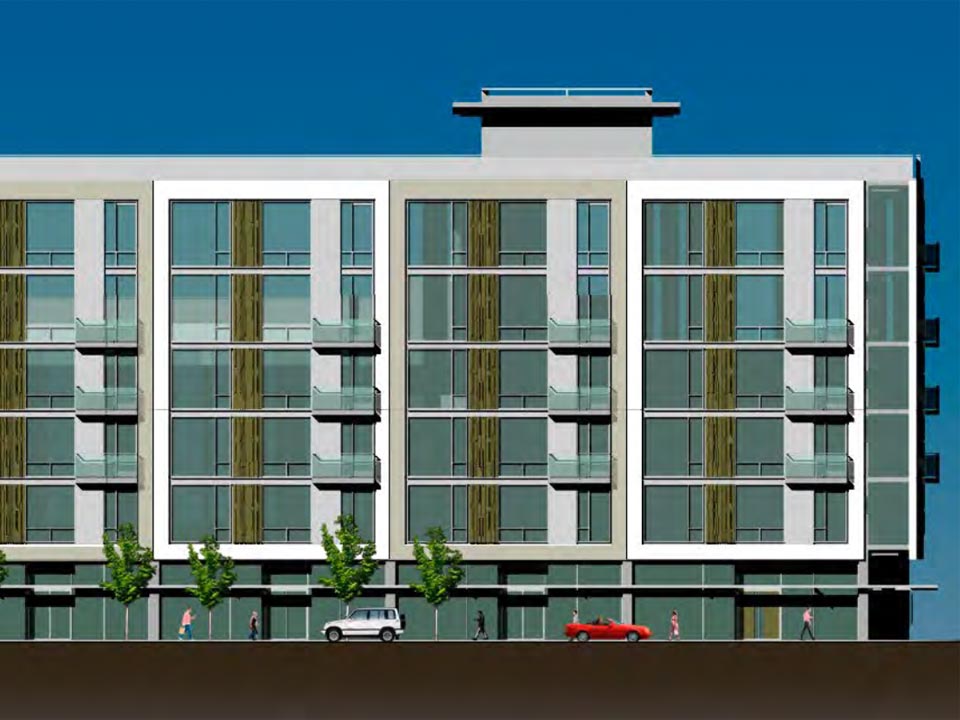 Rendering: Solomon Cordwell Buenz
While the first Affordable Divis meeting focused on airing neighbors' concerns regarding these large-scale market-rate developments, last night's meeting focused on identifying the group's goals and creating a plan of action. The tone of the meeting often turned to frustration (one resident complained that "people in the neighborhood have been cut out of this conversation"), but there was also can-do attitude afoot. Many in the group had fought against the development of the Harding Theater into condominiums, the building of a Burger King where Madrone stands today, and even a Domino's and a Blockbuster that once tried to open on Divisadero. 

"You have to lobby for what you want, and this neighborhood has done that," said one resident. "It's not a doom and gloom situation, it's not just the politicians. We're a community." 
Some pushed for a comprehensive plan for the entire corridor, eliminating the need to battle these developments on a project-by-project basis. "You can kill yourself going to meeting after meeting," said one neighbor, and Preston noted that the group had a lot of work ahead of it. But he also highlighted the importance of taking a stance on large-scale development on Divisadero now. "If we don't do anything about this, well it's just the tip of the iceberg," he said. "This is prime target for a wave of real estate development. It will fundamentally change the nature of this street."
After much discussion, the goals for these new developments were identified as follows:
Stop displacement
Keep Divisadero affordable
Community notification and input 
Neighborhood-appropriate design
Safety for pedestrians, cyclists, transit riders and kids
Preserve and construct open space
Improve transit service through the corridor
Create ongoing community plan for addressing developments
Reverse Supervisor Breed's zoning of Divisadero as a Neighborhood Commercial Transit District
On this last point, the group asked Brown and Johnston from Breed's office to find out whether she would be willing to repeal the zoning she put into play, while the community develops a plan for the corridor. A meeting to develop this community plan will take place sometime next month.
In the meantime, volunteers from the meeting will be doing community outreach at both 400 and 650 Divisadero to educate neighbors who may not be aware that the development is happening. (People interested in volunteering should email affordabledivis [at] gmail [dot] com.)
While fostering affordable housing development and preventing displacement may seem challenging in light of the city's current housing climate, Preston says it's possible. "Way more difficult things have been done in this city by a group a quarter of this size," he told the room, eliciting a round of applause. "What we do tonight and in the follow-up is to really clarify these demands."