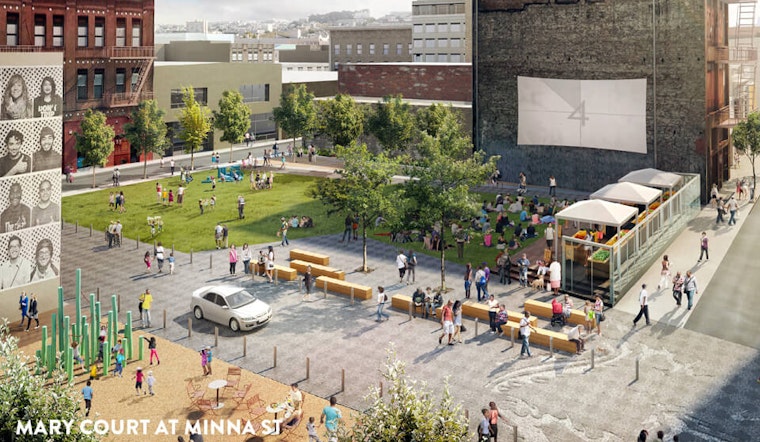 Published on November 09, 2015
District 6 Supervisor Jane Kim announced today that Forest City has signed an agreement to make 40 percent of the residential units in its 5M Project affordable, up from the planned 33 percent.
The development, which has been in the works for the past seven years, seeks to turn five buildings and surface parking lots on four acres of land (owned by the San Francisco Chronicle) on Fifth, Mission and Howard streets, into three towers (ranging from 31 feet to 450 feet tall) for office, residential and retail use.
"40 is the new 30 when it comes to affordable housing whether you're building on public or private land," Supervisor Kim said in a press release, which highlights the fact that this is the first time a developer has agreed to build 40 percent affordable units on private land. "I support development in San Francisco but we have to build for San Franciscans. When the majority of San Franciscans qualify for affordable housing, that is who we should be building for and not just market-rate luxury housing."
With this new development agreement, 241 of 601 units will be offered below-market-rate, which is up from the 212 units the developer previously agreed to provide. Affordable units will include 87 onsite for middle-income households; 71 in the Tenderloin Neighborhood Development Corporation's Eddy & Taylor Family Apartments (with 25 percent of the units allocated for applicants earning 25 percent area median income (AMI) and 75 percent earning 50 percent of the AMI); as well as land and funding to build 83 units of senior housing at 967 Mission St. for people earning 50 percent of the AMI.
The Chronicle also notes that the development's planned parking will be reduced from 463 to 331 spaces.
The agreement follows a heated public hearing in September regarding the project's environmental review, and an appeal filed weeks ago by the South of Market Action Committee, South of Market Community Action Network and Friends of Boeddeker Park. The Examiner reports that while Supervisor Kim originally signed that appeal, Forest City now has her support. The South of Market Community Action Network still opposes the development, the group's executive director told the Chronicle yesterday.
The full Board of Supervisors is expected to vote on the project Nov. 17th.