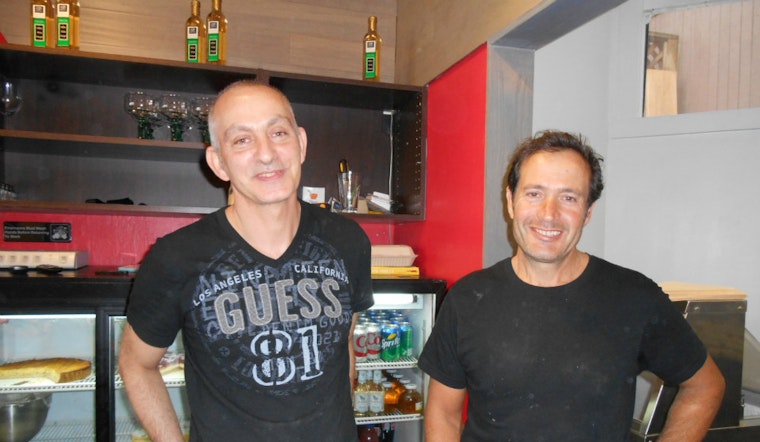 Published on November 03, 2015
Piccolo Forno (Italian for "little oven") opened at 725 Columbus Ave. on October 28th, bringing a casual, modern Italian eatery to the neighborhood.
As we previously reported, the building's landlord, Luciano Repetto, approached Maurizio Bruschi, owner of Ideale (1309 Grant Ave.), and his friend and co-worker of 15 years, Giuseppe Terminiello, to open a restaurant in the former Justa Bite space. Piccolo Forno is designed to add a bit of colorful Roman ambience to what had previously been a drab strip of Columbus Avenue.

The restaurant is the latest in a series of new spots on northern Columbus: The Italian Homemade Company is already bringing more foot traffic to the area for its homemade pastas and Italian sandwiches, and the forthcoming Rialto Mercato, from Da Flora owner Flora Gaspare, will offer Italian ingredients and wines.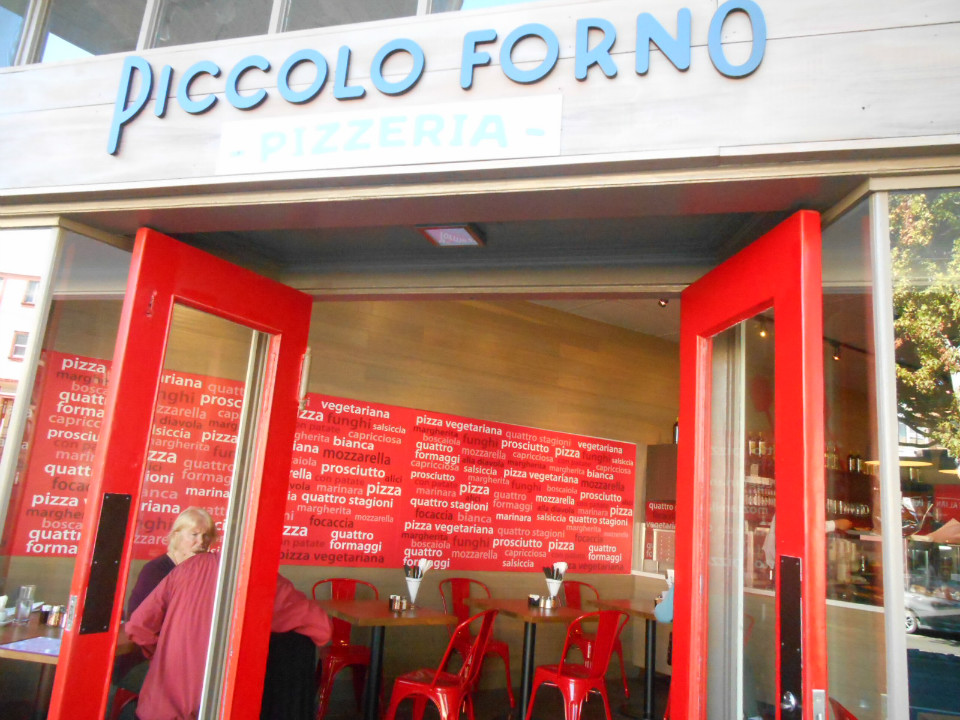 Piccolo Forno offers approachable Italian standards like pizza, calzones, and lasagna. "We're here for people who are waiting for the bus or going to work and can stop in to grab a croissant or Italian doughnut and an espresso," Terminiello says. "Then for lunch or dinner, or for taking out, we'll offer lots of salads, changing antipasti which we'll display for people to choose … maybe a sliced zucchini with balsamico, or eggplant. And Roman favorites like pasta carbonara and bucatini."
Piccolo Forno doesn't yet have its namesake "little oven," but when it's installed, the pizza menu will expand to include individual thin-crust pizzas along with the pies by the slice ($4.50) they serve now. A rib-sticking lasagna costs $14 and a filling suppli alla Romana (pan-fried rice ball with cheese and meat sauce) is $3.75. 
For dessert, the restaurant offers several little Italian sweets to accompany a cup of coffee at about $1 apiece, along with creamy imported Italian gelati ($3.50–$6). House-made tiramisu and Torta Caprese (a chocolate hazelnut torte) are two of the desserts that will grace the menu.
Hours will be 10am–10pm daily once the oven arrives, but the restaurant will be closed today and next Tuesday. The hope is to also offer beer and wine in the near future, "because who doesn't want a beer with a hot slice of pizza?" asks Terminiello.