From 4-8pm this Friday, The Hall is celebrating its first anniversary at 1028 Market St. While the event will be a joyous occasion—channeling a one-year-old's birthday party, with balloon animals, face painting and live music—it also serves as a reminder that the venue, like childhood, is only temporary.
Developers Tidewater Capital and War Horse turned heads last summer when they announced that they were turning the former Hollywood Billiards space, which had been empty for seven years, into a temporary urban dining hall while they navigated the city's development planning process. While the idea of a marketplace for meals was nothing new, the concept of activating a space destined for demolition was an unusual one.
1028 Market St. in 2009. (Photo: Google Maps)
Since its opening last October, The Hall has been buzzing noon and night. But more importantly, it's become a multifaceted community space, said Craig Young, founder and managing principal of Tidewater Capital.
The Hall's community manager, Ilana Lipset, has been working closely with neighbors to make the former eyesore a boon for the entire community, not just hungry office workers in the surrounding buildings. Local artists have used the space for free art exhibitions; nonprofits are invited to host happy hours once or twice a month, with a portion of sales at the bar benefiting their organizations; and there's free live music featuring a local band every Tuesday, she said.
Vendors are also benefiting from the project. The Hall worked with the small-business incubator La Cocina to bring in El Pípila, a catering business featuring Guanajuato cuisine, while The Whole Beast has done so well that it's currently working to expand its meaty operation into a second stall. The Hall even has an alumnus: Fine & Rare graduated to its own brick-and-mortar over the summer.
With that said, no one has forgotten that The Hall is a temporary space, and could close as soon as next summer. In its place, plans to construct 186 rental units over 10,000 square feet of retail space are currently moving through the environmental review process. The latest design has been well-received by Planning Department designers, the Chronicle's architecture critic and community members who've reviewed the plans during their recent public information sessions, he said.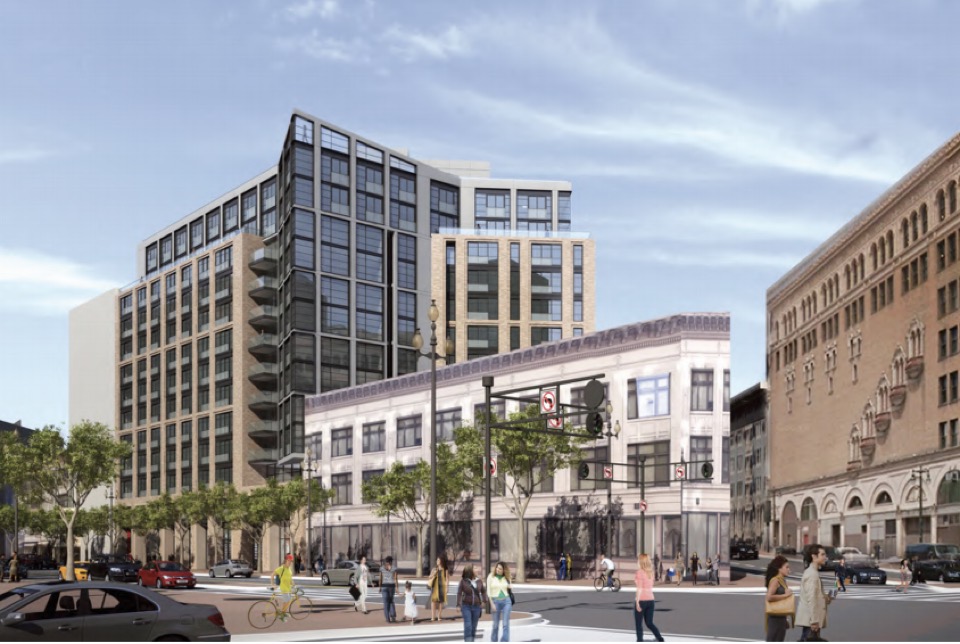 The latest design for the proposed 1028 Market St. housing development. (Rendering: Tidewater Capital)
"It's going to be sad to see it go," Young said of The Hall, but in the long term, what the neighborhood needs is housing—along with active ground-floor retail space, he added.
But that doesn't mean The Hall can't return once the proposed development is complete, or move into another site nearby. Planning the food emporium's next phase is a top priority, Young said, and they'd like to keep it in Mid-Market if possible. The venture's own success has caused one complication, though: it's so popular that a number of similar food hall concepts are in the works, and will likely come to fruition before their development opens.
As the Hall team continues to explore options, they're encouraging community members share their ideas. "We are open to input and suggestions, and want people to reach out," Young said, joking that they actually do answer their phone — (415) 935-1639.
Young also encourages locals to stop by The Hall this Friday evening to help celebrate its first year, or on Wednesday, Nov. 18th at 9am to learn more about the proposed housing development over breakfast.