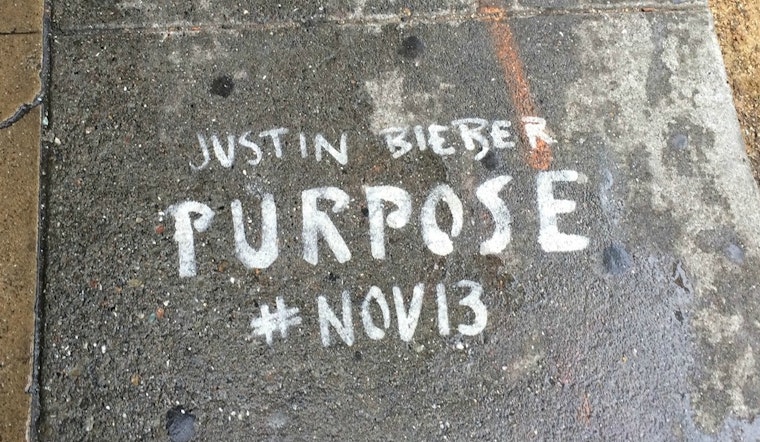 Published on December 28, 2015
As we first reported in November, guerrilla advertising for Justin Bieber has had the Department of Public Works cleaning up spray-painted sidewalks throughout the city. We inquired with the City Attorney's office earlier this month, and this morning, Dennis Herrera announced in a press release that he's demanding full cooperation from Justin Bieber's record label and distribution company to compensate San Francisco for the cleanup, which has some worried taxpayers would have to pay for the damage.
In a letter to Def Jam Records and Universal Music Group, Herrera called the graffiti "illegal and actionable," and vowed to "aggressively pursue all available penalties and costs from those responsible for lawless marketing tactics that intend to financially benefit your respective companies."
"Far more infuriating to the San Franciscans I hear from is commercially-sponsored graffiti vandalism," wrote Herrera, referencing other corporate graffiti that has taken place throughout the city. Early this year, Lyft launched a hopscotch-style campaign, once again spray painted on sidewalks. Arcade Fire promoted their album Reflektor by spray painting sidewalks in 2013. And in 2010, Zynga glued fake $25,000 bills all over the sidewalks of San Francisco, causing a nightmare for Public Works' cleanup crews. The City Attorney's office eventually reached a $45,000 settlement with the responsible party: Davis Elen Advertising of Los Angeles.
"This prohibited marketing practice illegally exploits our City's walkable neighborhoods and robust tourism; intentionally creates visual distractions that pose risks to pedestrians on busy rights of way; and irresponsibly tells our youth that likeminded lawlessness and contempt for public property are condoned and encouraged by its beneficiaries—including Mr. Bieber and the record labels that produce and promote him," stated Herrera.
Public Works director Mohammed Nuru also responded in strong opposition to this type of guerrilla advertising. "Our sidewalks in San Francisco are not canvasses for corporate advertising, and we have made that clear. Yet these guerrilla marketers believe they are above the law when it comes to blighting our city and we will take a strong stand against them," he said. "The definition of graffiti is tagging someone else's property without permission, and they certainly did not have our permission to do this to our sidewalks."
This latest burst of graffiti-style advertising comes at a time when the city is looking at ways to further penalize companies who participate in it. After this latest example, Herrera plans to "substantially enhance civil penalties" for these crimes, with the help of San Francisco Supervisor Aaron Peskin.
"Graffiti abatement and prevention are important aspects of protecting the quality of life in San Francisco neighborhoods," stated Supervisor Peskin. "Unfortunately, current penalties for 'guerrilla marketing' graffiti seem to reflect an acceptable cost of doing business by irresponsible companies competing for consumers' attention. It's clear that we need to enact tougher penalties to more effectively discourage this practice."
We reached out to Bieber's record label and distribution company earlier this month for comment, but have yet to hear back.