Yesterday evening, the Board of Supervisors' Land Use And Transportation Committee voted 2-1 to support the so-called Bike Yield Law, which would require the SFPD to treat cyclists stopping at stop signs as the lowest traffic enforcement priority. The "law" is actually an amendment to the Administrative Code, and is designed to "promote safety, tolerance and harmony among all users of city streets."
Under current law, it's illegal for cyclists to yield at stop signs—they must stop at each stop sign, adhering to the same laws as cars. Despite this, many cyclists do not stop at stop signs along popular routes such as the Wiggle, choosing instead to yield to any oncoming traffic and/or pedestrians. A recent hike in enforcement of the bike law by SFPD's Park Station drew major protests from local cyclists, leading to this recent legislative effort.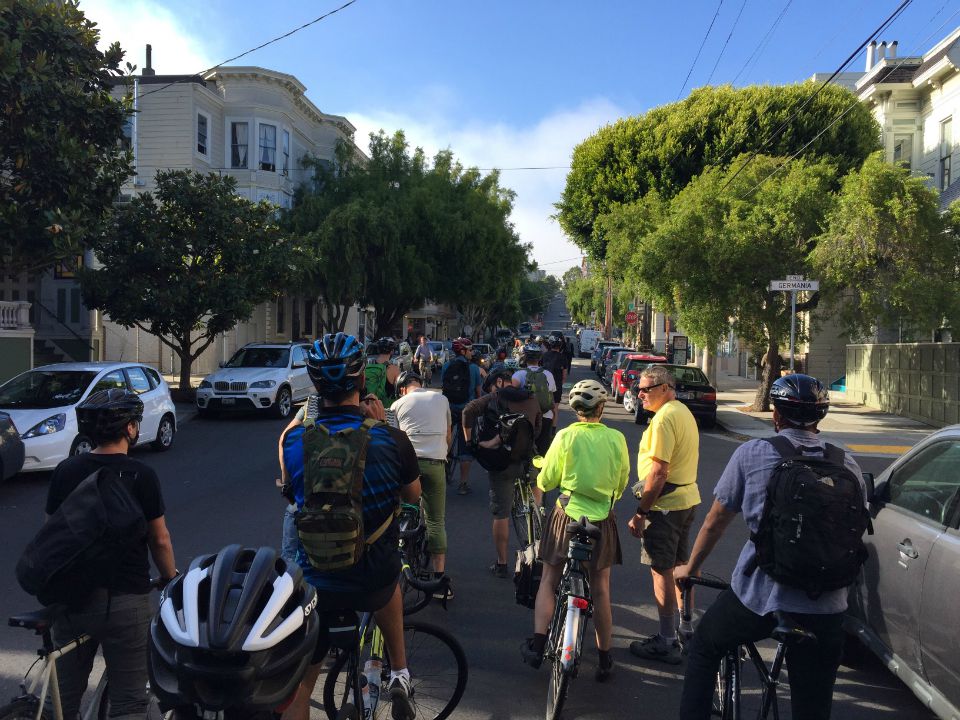 A Wiggle "Stop-In" in July. (Photo: Nuala Sawyer/Hoodline)
Cycling advocates were pleased by today's decision. "Safer streets and smart enforcement shouldn't be controversial ideas," San Francisco Bicycle Coalition communications director Chris Cassidy told us. "I relished seeing the public turn out so strong in support of SF's Bike Yield Law, and hope that our elected officials took note."
District 8 Supervisor Scott Wiener, who is on the Land Use Committee, voted in favor of the decision. "When people engage in reckless, dangerous behavior, they should get ticketed, but you should not be ticketing cyclists who are not doing anything to endanger anyone else," he said at the meeting. "This legislation is simply putting us on record, saying that this kind of enforcement on slow, cautious rolling stops where no one's safety is being violated should be a low-level priority." 
On the Land Use committee, Wiener was joined in his support by District 11 Supervisor John Avalos; District 10 Supervisor Malia Cohen was the dissenting vote, which could spell problems for defeating a mayoral veto, which Mayor Lee has already indicated he would enact. The next (and potentially final) step for the Bike Yield Law is a vote by the full Board of Supervisors next week. (We contacted Cohen's office for comment, but have yet to hear back.) Update, 4:30pm: "We as a City have committed to a Vision Zero policy and I have serious concerns that this ordinance is at odds with that policy," Cohen told us. "This ordinance also stands to create confusion and an even greater misunderstanding between cyclists, drivers and pedestrians. I am however, open to exploring the idea of a pilot program on the Wiggle and other high trafficked intersections so we can have an opportunity to identify what works for everyone before moving forward with full implementation."
Though she's not on the committee, District 5 Supervisor London Breed, whose district includes the Wiggle, stopped in to voice her support for the law. "No one has a problem with crackdowns that are fair—when people are putting other people in danger," she said. "But I personally witnessed crackdowns that were unfair and unjust, targeting people who were clearly biking safely."
"This is some 1950s law that is totally outdated," she said. "Mayor Ed Lee disagrees with this, but I think he's wrong. This is something we need to do."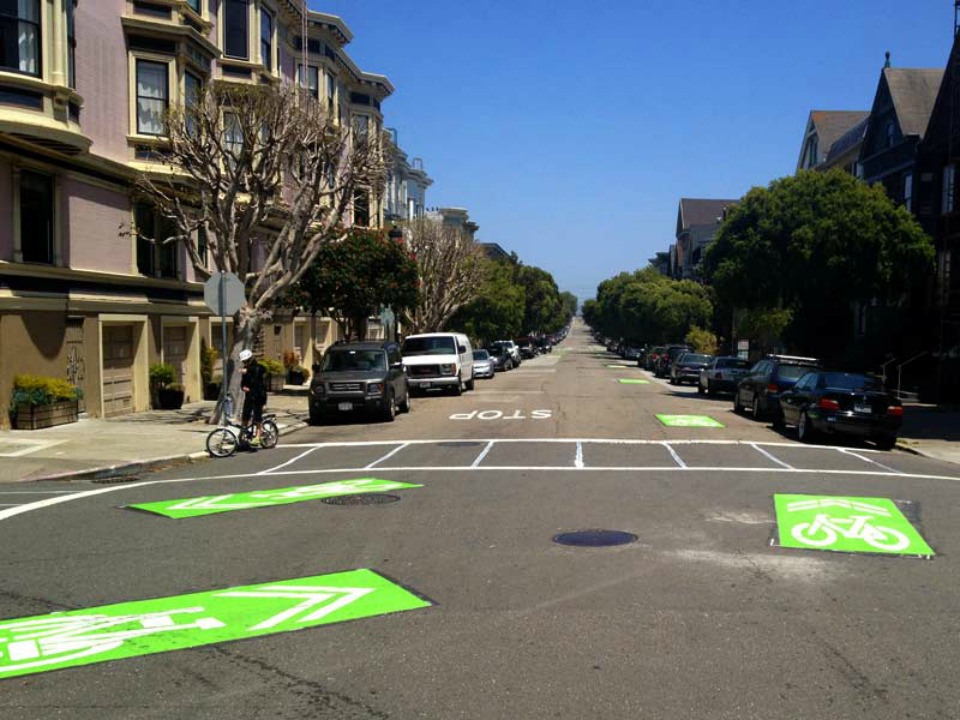 Sharrows line the Wiggle in the Lower Haight. (Photo: Andrew Dudley/Hoodline)
As Lee does not support the amendment, it will require eight Supervisors to pass the full vote. Wiener, Avalos, London Breed, David Campos, Jane Kim, and Eric Mar are all in favor, but it appears from yesterday's vote that Cohen, previously seen as a swing vote, is not. 
The vote yesterday resulted in a "positive recommendation," meaning that when it goes to the full board for a vote, it will have the official backing of the Land Use and Transportation Committee. In addition to deprioritizing stop sign enforcement, the amendment would require SFPD to issue reports every quarter covering traffic enforcement, injuries and fatalities. 
KQED recently reported that 114 police hours were spent on bicycle enforcement during a two-day crackdown on the Wiggle in August. The data was collected via public records collected by a private citizen, which also showed zero enforcement hours logged at Market and Octavia, considered one of the city's most dangerous intersections for cyclists. After a few months' hiatus, ticketing was reintroduced in full force along the Wiggle route last week. 
At yesterday's meeting, the Department of Public Health (DPH) presented an analysis of police report data on the subject of cycling and traffic. According to their presentation, cyclists account for 10 percent of traffic deaths annually, averaging three to four per year. Over 80 percent of cyclist-involved injuries involve a car and a cyclist, and seven percent involve cyclists and a pedestrian.
But DPH noted their data can only be taken so far, as this type of policy change has not been well-studied. "There's a relatively high uncertainty on how [the amendment] will impact cyclists and other road users," said a representative during the hearing.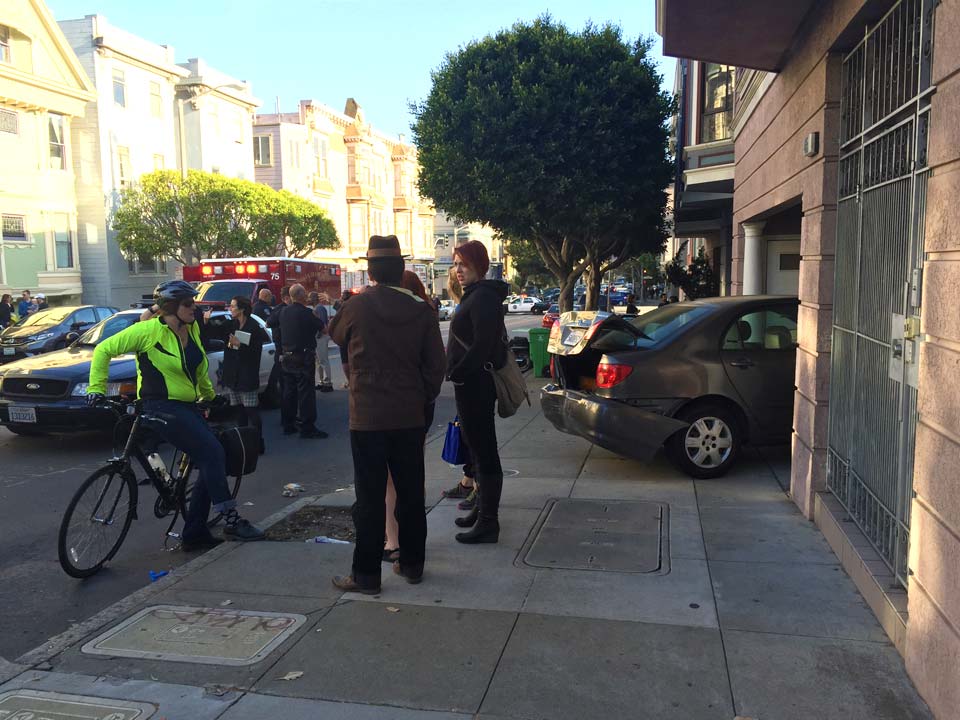 Aftermath of a hit and run along the Wiggle in April. (Photo: Nuala Sawyer/Hoodline)

Commenters at yesterday's meeting, who waited four hours to speak, gave perspectives from both sides of the issue, though the vast majority were in favor of the amendment. 
"The most important thing to riding safety is that I ride predictably, and that other users on the road know what to expect from me," said Hayes Valley resident Sacha Ielmorini. "Right now, cars and pedestrians expect cyclists to roll through a stop sign if they have the right-of-way. If I stop, I often have to wave cars through."
"Cars are predictable in two ways: they're flatulent, and they're deadly," said another commenter, drawing laughter and applause from the crowd. 
Members of the public who spoke against the law were largely people with disabilities. "If you want to increase the disability community, this is the way to do it," said Bruce Oka, who uses a wheelchair. 
The amendment is expected to go up for a vote in front of the entire Board at its December 15th meeting.