You may not expect to find an "off the beaten path" feel at the intersection of Geary and Fillmore, but The Social Study's combination daytime cafe, nighttime beer and wine bar, and all-day music spot make the blink-and-you-missed-it business a neighborhood destination.
In our latest installment of Tapping In, we caught up with Social Study owner/bartender Harmony Fraga to learn a little bit more about what makes this Fillmore favorite tick.
Where are you from and how did you get here?
I was born in Oakland and lived in the East bay most of my life. I've been in San Francisco for about 15 years. I was working at a restaurant in the East Bay and they closed. They had some transfers available so I transferred to San Francisco. Never looked back; been a city girl ever since.
Where else have you worked in the city?
I started at a place called Max's on The Square in Union Square, kind of a small chain. Then I went to Farmer Brown, where I was a bartender for almost a decade—I became the bar manager there. I went to Locanda after that, a couple other bars here and there, and then I came here.
How long has The Social Study been in business?
We'll have been here for four years in January. We opened January 12th, 2012.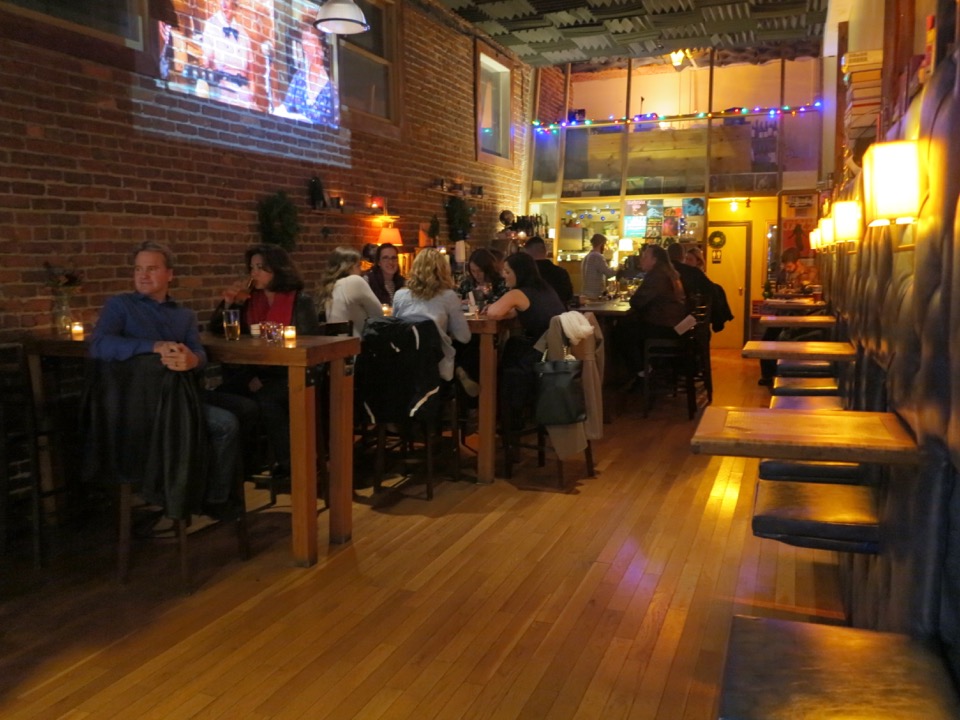 What was the concept you had in mind when you opened this place?
Well, it changed a bit from the original idea. I was working for Farmer Brown, and we were going to partner up and open this spot. For whatever reason, the universe kind of wiggled its way into being in my hands.
I just love the space, I thought it was super cozy. It's kind of a weird location, even though it's on a main thoroughfare. I could just envision bringing a homey, cozy environment to the space, where people want to study, work, listen to good music, watch movies. So the name came up after months of trying to figure out what the name would be. It's a play on words.
In my family's home growing up my grandmother had a little study, and there were lots of books and a record player. We would go there and have snacks and talk and read books. It was a social hub but yet it was also engulfed in music and literature and all these cool other things. So I thought that was a cool play on words. There's also of course the subject, Social Studies, which is about community and politics.
So I thought it would be cool to open a place here because at the time there wasn't a whole lot going on on this side of Fillmore. Now you are seeing all these new places springing up and you are seeing new life, which is great, but at that time you were taking a chance down here. I wanted it to be a day to night place, where people come during the day to work, use the WiFi, and have snacks. Then, it would shift into this night space where we have DJs and movies.
How do you feel you add to the cultural landscape of the Fillmore?
When I moved into this neighborhood, I wanted to make sure to pay close attention to the history of the neighborhood, it being so rich in culture and music. I feel that these few blocks had been neglected in terms of businesses for a while. I kind of wanted to bring that sense of history in terms of paying homage to the music and culture but also wanted to modernize it a bit so the younger generations could also appreciate that music, but with a modern twist. That's why we have DJs that play all genres of hip-hop, funk, soul and R&B. We also try to encompass that culture in the movies we play.
Do you have music here every night?
We always have music play here, day and night. Music is the focal piece of our business. Live music is Thursdays, Fridays and Saturdays, usually DJs, although we do have some vocal performers as well.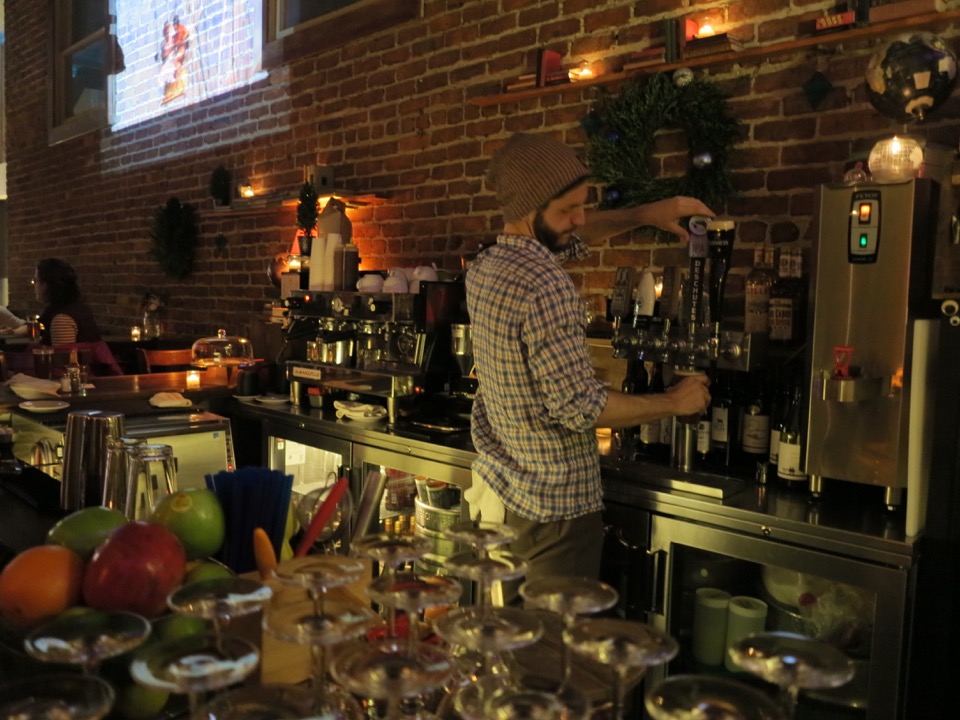 What's the most important role played by a bartender?
To be a bartender, you obviously want to give great service to your guests and what I always  tell people when I'm training them here is that you're holding the space for people, you're creating a mood, an environment, a scene. Your job is to not only serve your guest a drink or food, but also to create an experience. So here the bartender is responsible for paying attention to the music, for paying attention to what's showing on the wall, and then also serving the guests promptly and warmly with a good-quality product.
So a good bartender is a person that's good at creating an experience?
Well, yes, especially here, that's important. Also, when I say 'bartending' here, it's a little different because we have a beer and wine license. I've tried to make the menu a little more creative by taking my experience bartending in the past and blending it with what we do here. Since we aren't allowed to serve hard alcohol, we work with soju, sake, and we do homemade sangrias. We do interesting cocktails with beer and wine, and I've tried to be creative with that. The most important thing for the other bartenders here and myself is to expose people to things other than hard alcohol that they can have fun with. 
What are some challenges and benefits to being a beer and wine bar?
The challenge is that many people are looking for a cocktail with hard alcohol, and sometimes instantaneously want to turn away and walk out the door. But I think one of our biggest draws is ambience and the location itself. It's so inviting that I think people are drawn to at least stick around for one drink. Usually people are repeat customers that come back because they make friends and they meet great, interesting people. At the same time, I think that it's a bonus that we don't have hard alcohol: people aren't necessarily getting so trashed and they maintain this nice buzz if they want to. It's kind of cool that we don't have to deal with a lot of crazy drunk people that are causing problems, it always maintains this cool level of fun.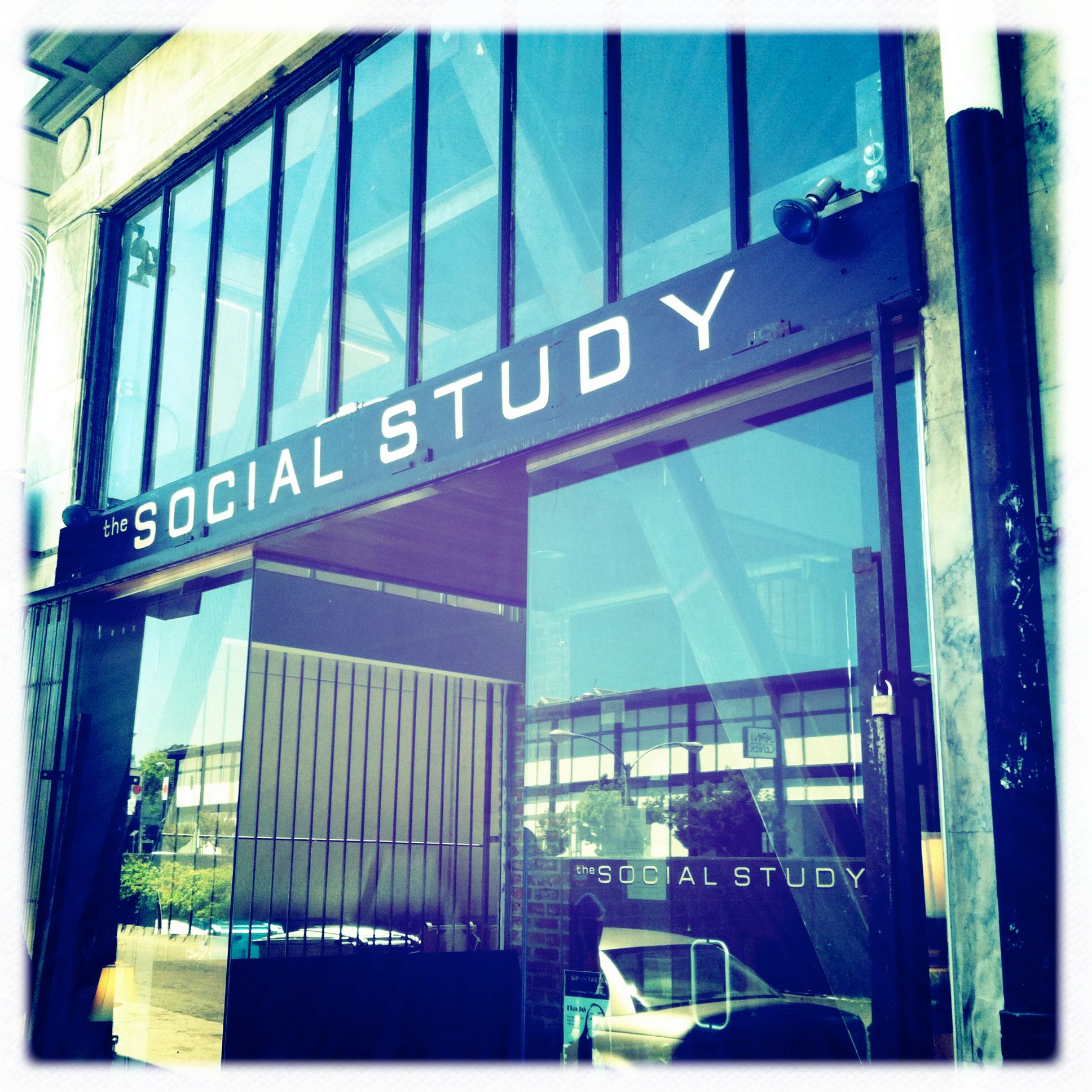 Photo via Facebook
Any plans for the future?
In the future I definitely plan on owning at least two more businesses in the Bay Area. I'd love to repeat this and refine it and do something in Oakland, like a Social Study East kind of thing. I think that Oakland could really use something like this out there. Also, my dream is still to open a full bar in San Francisco, so that's definitely on the horizon.
A full bar at this location?
No, not in this space. People have asked why I don't make it a full bar and a) having a liquor license for a full bar is crazy expensive and b) I really like this place in terms of vibe and what it is. It doesn't get too crazy, it just maintains this cool vibe. Bringing in hard alcohol would just change the dynamic of the space. Visualizing the future, I know exactly what I want my bar to be: bigger and more accommodating to that hard alcohol setting. 
Finally, what's your take on the change the neighborhood has seen in the four years you've been here?
It's inspiring in a lot of ways, but I also tread lightly around it because people really need to respect the history of this neighborhood, and not just move in here and think they're taking over. I think most of the businesses have done that and we're seeing a lot of increased foot traffic and we're getting a lot of publicity about this neighborhood now because wonderful businesses like State Bird Provisions and The Progress and Wise Sons Deli are opening up, and places that came before us like Brooklyn Circus and Fat Angel.  Over all, I'm inspired by everything. It's a good look, as long as people respect the history with the idea of wanting to modernize the neighborhood, but not just muscling your way in.
---
For more Tapping In with local bartenders, get to know Patrick Connolly of the Independent, Giday and Nebiat of Waziema, Michael Wieck of Bar 821, Caleb McGehee of Nopa, Chris Libby of Madrone, Jared Schmidt of Absinthe,  Racquel of The Page, Remy Nelson of Mojo, Andy Mott of Royal Exchange, Martin Kraenkel of Molotov's, Brendan Heath of Whiskey Thieves, Pete Spanier of Hemlock Tavern, Meaghan Johnson of Fly Bar, Tim Gapchenko of Cafe Terminus, Johnny Davis of Emperor Norton's Boozeland, Kundan Baidwan of Zam Zam and John Pringle of Doc Rickett's.