Last August, we first reported that Alamo Square Park might be shut down completely for renovations to its irrigation system, restrooms, and more. After some initial struggles, the Recreation and Parks Department has finally found a contractor for the job. Beginning in April, the entire park will be closed for nine months. 
The Recreation and Parks Department has been planning this renovation for four years, but fundraising and the search for a contractor have slowed down the process. Last summer, the project finally went out to bid, but only two contracting companies responded—and the lowest bid was $300K over the planned $1.9 million budget.
So Recreation and Parks went back to the drawing board, changing the plan from a split renovation (like the recent makeover of Dolores Park) to a full park closure, and sent the project out to bid again. This time, five bids came back, two of them within budget. A final selection will be made in February.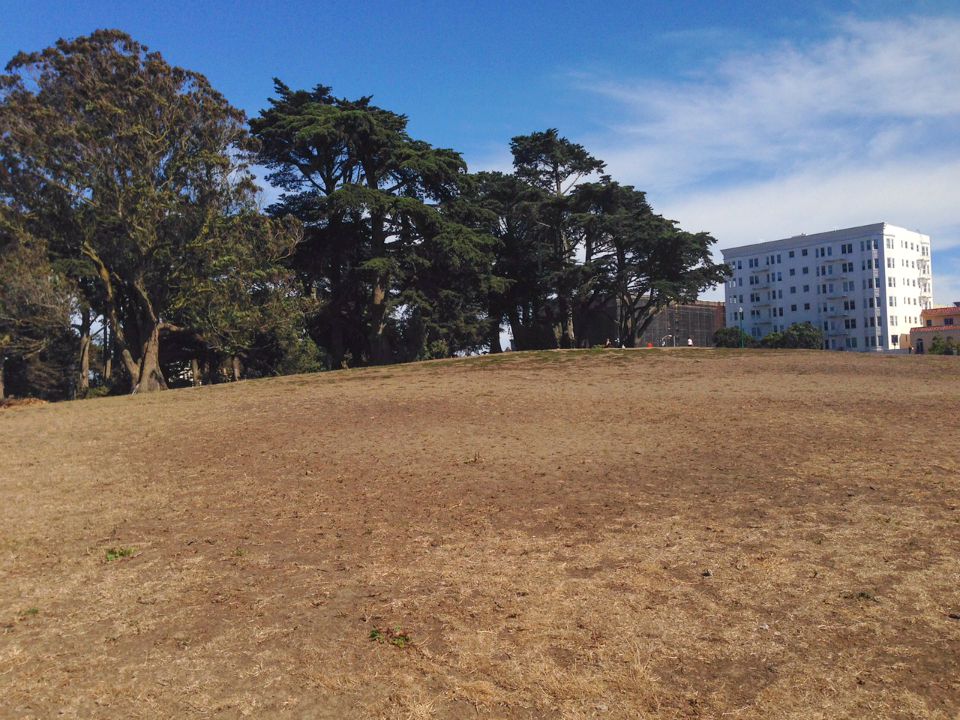 Photo: Hoodline
The full park closure helped seal the deal in terms of sticking to the budget, but it does mean that the neighborhood will lose the park's amenities for the better part of a year. The park's entire perimeter will be fenced off, blocking access to the tennis courts, dog play area and the view of the Painted Ladies. 
Despite this, the Alamo Square Neighborhood Association (ASNA) approves of the plan. 
"The ASNA has been working closely with the Recreation and Parks Department for three years on this project as it moved through the planning and review processes," the organization's president, Lisa Zahner, told us. "In the end, Rec and Park convinced us that a full-park closure was the best way to bring the project within the budget, and to ensure that the park was closed for the shortest period of time."
"While the construction will inevitably be inconvenient for the neighborhood, in the long term, the replacement of the irrigation system, the re-sodding of certain sections of the park, and the brand new ADA-accessible bathroom will result in a better park for the community," Zahner continued. "In the meantime, ASNA is negotiating the removal of tree stumps and the restoration of all of the lawns. Related to this project, we are also working with Rec and Park on planting trees and landscaping the park entrances."
More details on the renovation, including the exact closure date, will become available in the coming weeks. We'll keep you updated as plans develop.