On Thursday morning, a video filmed at a homeless encampment on San Bruno Avenue caused quite the stir on social media. Posted to the page Vanishingsf, the video shows SF Public Works employees cleaning the sidewalk—where many homeless people, seemingly more than in prior weeks, are living in tents and other ad hoc shelters.
The post reports that city workers were confiscating tents, despite the winter storm expected to roll in the following day. The post also noted that homeless residents on Division Street, which also boasts a number of tents and other dwellings, were packing up their belongings as well, as "they must have been threatened already."
Locals concerned about the welfare of the homeless people living in the encampments set up a GoFundMe page to purchase new tents for anyone who had theirs confiscated. As of this writing, the campaign has raised more than $13,500. 

In response to SF Weekly's inquiry into the situation, SF Public Works spokesperson Rachel Gordon said the cleaning was "routine" and no tents were "taken down" that day. Echoing that sentiment, an SF Weekly reader going by the name "LOCAL" added a comment stating, "DPW cleans on 13th/Division *every* Thursday morning. I go past it once a week on my way to work. This isn't some big conspiracy."
So what exactly does "routine" mean for Public Works? "The hotspot crews start the workday around 4:30 a.m. and wrap up around 11 a.m. The 13th/Division route is part of the regular rounds," Gordon told Hoodline via email. "There is not an exact time a particular location will be addressed. In December, the hotspot crews addressed cleanliness issues at about 750 encampments ... some of them were visited multiple times."
As for reports of the department's employees detaining tents, Gordon said, "Our crews do not dismantle tents, unless they're abandoned, and then we may, to clean the area. We do ask people to move belongings from the sidewalk when we need to get in there to clean."
There is also a process for reclaiming items picked up by Public Works, she said.
Items picked up by Public Works crews are bagged and tagged. We will not bag wet or moldy clothing, wet or moldy bedrolls or food items (or anything else with health concerns). Those items are disposed of right away. The tag on the bagged items includes:

Date and time of the pickup

Name of the owner (if known)

Brief description of the contents

SFPD badge number (if SFPD was involved)

Bags are taken to the DPW storage yard at Marin & Kansas streets, where the tagged information is logged and the bags are stored.  If a shopping chart was picked up as well, it will be given to a cart retrieval company for return to the retailer.  The owner of the bagged items has 90 days to reclaim their items; the cart cannot be reclaimed.


To reclaim items: The storage yard is open Tuesday through Saturday, 9am to 3pm. There is a guard at the gate that will help people locate their items. Before going to the yard be prepared to provide the following information. Without this information, the DPW employees may not be able to help.

Date and time of the pickup

SFPD badge number (if one was provided)
Given some neighbors' concern for their welfare and belongings, we talked to some residents of the 13th/Division homeless encampment to see how these routine cleanings have impacted them.
The first two homeless residents we spoke with, at the corner of Division and Harrison, said Public Works cleans the area every day, but tackles different portions of the stretch each time. Accompanied by SFPD officers, the cleaners tell people they have to move. If you don't, they may detain your property, one of the women said. She's had never had property taken, but two people she knows have.
While she knows how to get detained property back—go to Public Works' office, describe the item, sign a form and generally they'll give it back, she explained—she doesn't think most people in the encampment know how. And even if they do, most probably don't want to go there.
On the opposite corner, another homeless man described a similar situation: Public Works comes every day, focusing on different sections each time. While he said it felt like he and the other campers were being "moved around," even though they have nowhere else to go, he said the cleaning is great for getting rid of trash. There are no trash cans or restrooms in the area, and it can get messy even when you try to keep it clean, he said.
Further down Division just past the Potrero Avenue intersection, we met David and his mother. They explained that they've been living on Division for the past three weeks, and except for a Public Works employee taking their trash and giving them a fresh trash bag on their first day there, their block hasn't been cleaned at all.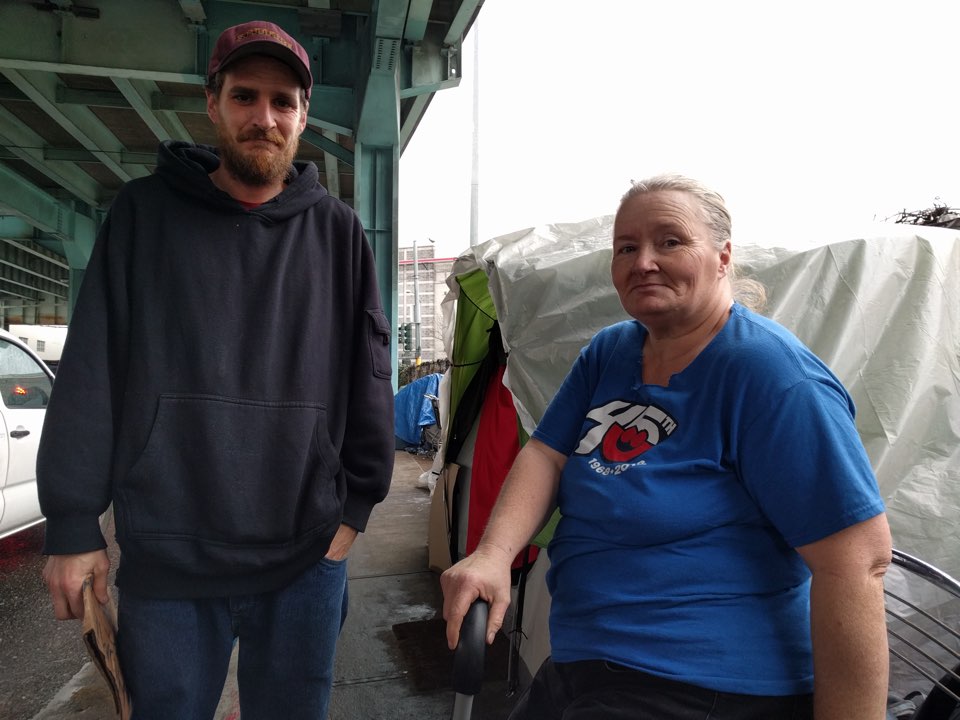 Before they landed on Division earlier this month, David and his mother had been camping for about three months at Ninth & Bryant, they said. But about three weeks ago, SFPD officers came by and said they had to go, because of the Super Bowl. If they didn't go, they'd be arrested. The two briefly moved to Dore Alley, but it was full of others pushed out of their former location, so they moved to Division.
While they said Division is much less windy, it's also more dangerous than their previous location. During the day, the biggest hazard is the traffic; at night, it's other homeless people.
David's mother said that he is eligible for a bed in the city's shelter program, but she is not, so he won't be going. Anything could happen to her in the night if she's camping alone. She and her son are hoping to get into the Navigation Center instead, but every time they speak with someone from the program, they hear it'll be another three months or so.
"Everybody thinks that homeless people are crazy, that they're drug addicts," David's mother said. "That's not true. I've met a lot of nice people here with nothing but the shirt on their backs."
"And people who will take the shirt off your back," she added.