After being evicted in 2013 from its space at Haight and Cole streets, the Homeless Youth Alliance (HYA) has finally made some progress in its arduous search for a new space to call home, which has seen the organization working out of a volunteer's dining room for the past two years.
In that time, the street-based youth services organization has applied to and been rejected from over 150 rentable spaces around the Haight. Now, it's finally found a home for its administrative offices: the building formerly occupied by medical marijuana dispensary the Vapor Room, in the Lower Haight. The HYA has applied for a change-of-use permit to convert it to nonprofit office space.

"It's not ideal," said Mary Howe, executive director of HYA. "It's not in the Upper Haight, which is where our target population is. We'll have our computers and our files set up, but still, 100 percent of our work will be done on the street."
HYA's former space at 1696 Haight Street. (Photo: Amy Stephenson/Hoodline)
The HYA's real estate odyssey began on Christmas Day of 2013, when it lost the lease to its former combined drop-in center and administrative office at 1696 Haight. But despite being homeless itself, the organization has continued to work with upwards of 250 at-risk youth on a daily basis, through direct street outreach, snack and clothing distribution, and needle exchange programming.
For the past two years, HYA has set up its 14-person staff in an unusual location: the dining room of Haight resident and HYA volunteer Kathleen Ryan. (The staff rotates through, so only a handful are present at any one time.)
Ryan made her three-bedroom home available to Howe's team back in 2013, when she learned that the organization would be unable to locate a new office space. "I did it knowing that we'd be totally fine for a year," said Ryan, whose two college-aged children were part of her decision-making process."There were no other options."
"[Ryan] is a saint," said Howe. "To me, that proves that we are in no way going to compromise any [potential space] that we're going to rent. Never has a homeless kid come and knocked at her door, or found out where we are. I've said this to everywhere that we've applied to: in no way am I trying to open a drop-in space. I just want an office for the staff."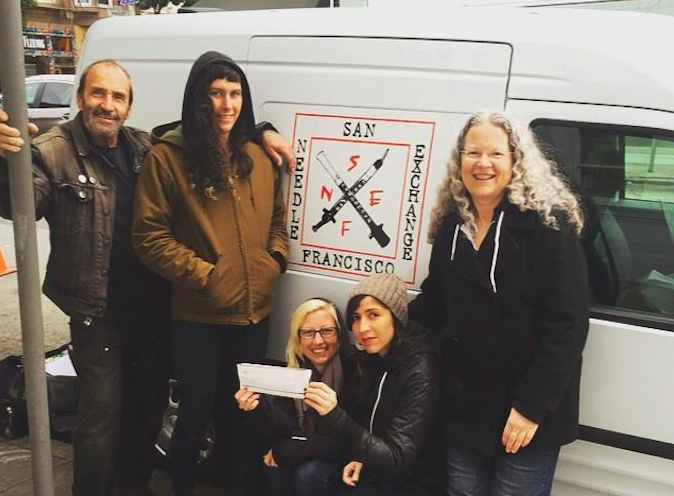 Kathleen Ryan (right) with HYA members. (Photo: HYA/Facebook)
Currently, there are five computers set up in Ryan's dining room, and Howe has her desk in Ryan's bedroom. In addition to Ryan's home, HYA's belongings are spread across three storage units, adding to the inefficiency.
"When the neighborhood becomes your office, it's much more difficult," said Howe. "It's much more work running a homeless organization when you're running to the storage units and getting enough stuff for the week and then figuring out how much to load in the van. If you forget something, then you have to run all the way back to get it."
"I definitely feel like for the staff, it's a huge step because we feel somewhat more legitimate, and have our own space somewhere not in a private residence where people live," Howe added. "That feels really important to us."

HYA moving out of her dining room is actually "a mixed blessing," said Ryan, who's been nicknamed "Dr. Awesome" by the youth that HYA serves. "It's been really nice, to be honest. I haven't suffered at all. It was just the right thing to do, and I'm super glad that I did it."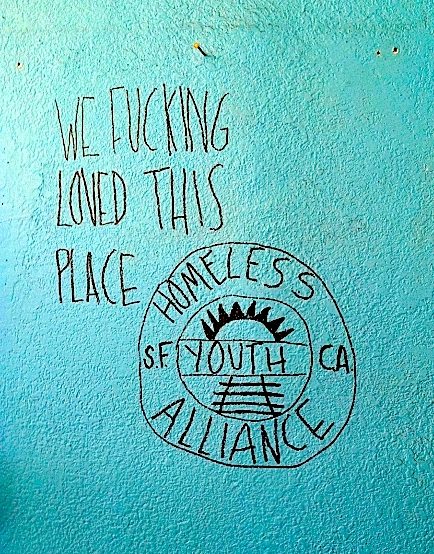 Graffiti left by the HYA on their last day in their former space. (Photo: HYA/Facebook)
But while the HYA is happy to have office space, the staff still longs for its former drop-in center, which provided youth with bathrooms, showers, and a kitchen, not to mention private offices where they could receive counseling and individualized support.
"I mean, [the new space] is just an office, right? It's not like it's gonna have any impact," said Howe, who says she hasn't given up on the hope of finding a separate drop-in space, preferably in the Upper Haight.
"[My house] has at least kept the organization's feet on the ground," Ryan agreed. "But the kids deserve more than what we can do outdoors."