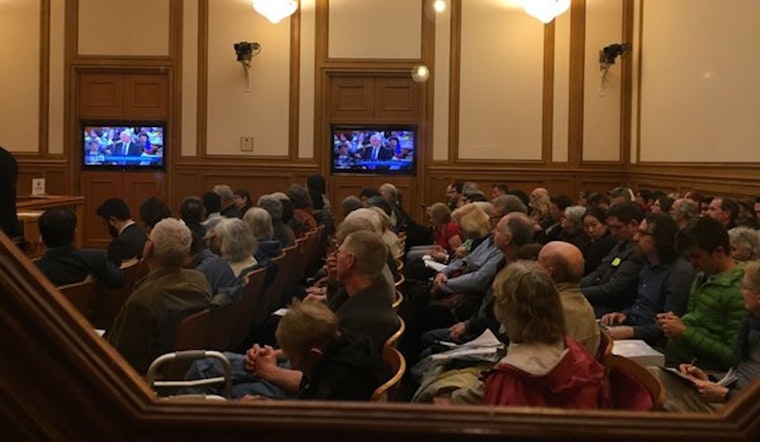 Published on January 29, 2016
After a nine-hour hearing, the Planning Commission voted last night to postpone an official vote on the proposed Affordable Housing Bonus Program until February 25th.
If the AHBP is approved, developers would be able to build taller, denser structures, in exchange for setting aside 30 percent of units for very low-, low- and moderate-income residents. According to City estimates, the program will create 3,000 units of low-income housing, and 2,000 units for people with moderate incomes.
Scores of opponents packed City Hall's Room 400 and an overflow room for the marathon hearing, which started at noon and lasted until after 9pm.
#StopBonusPlan rally before #AHBP @sfplanning mtg pic.twitter.com/ul5RlITQKp

— Steve Rhodes (@tigerbeat) January 28, 2016
The proposed changes to zoning regulations have sparked a backlash among many of the city's housing activists and neighborhood associations. Detractors say the AHBP will reduce rent-controlled housing stock, dramatically change neighborhood character, further congest a strained Muni system and displace small businesses on a wide scale.
Planning staff answered a series of questions posed by Commissioners about some of the most contentious aspects of the AHBP, starting with a proposed amendment by Supervisor London Breed that would exclude rent-controlled properties from the bonus program. The initial version of the amendment stated that Planning needed to complete a 12-month study of rent-controlled housing stock with residents and activists before voting on policy recommendations.
This is the kind of thing you're up against if you're pro AHBP...seen on Frederick st. pic.twitter.com/NM7dHBmsWr

— G. Dewar (@njudah) January 28, 2016
"We've removed all of that language," said Conor Johnston, a legislative aide in Breed's office, adding that Breed's intent is to amend the legislation "so there is a permanent ban." He told Planning officials that although Breed hasn't taken an official position on the legislation, "the issue of protecting rent-controlled units is incredibly important to her."
To make the language clearer, Breed's office revised it again. "That amendment will say that the AHBP cannot be applied to a project or property where there are rent-controlled units," said Johnston. "That is the measure she will introduce."
Although Breed's office distributed the revised amendment before the hearing, no one brought a hard copy to the session, a fact that was referenced repeatedly by commissioners and AHBP opponents, largely comprised of neighborhood associations, homeowners and tenants' rights activists.
The hearing's public comment period was largely dominated by AHBP opponents, many of whom expressed concerns that the proposed changes would eliminate neighborhood notifications and public reviews for new projects. Mistrust of the Planning Department was a thread that connected many speakers, several of whom insisted that the AHBP will lead to widespread redevelopment, or "block-busting," as one speaker described it.
Others complained about a lack of transparency, asserting that Planning has been collaborating on the plan with developers for two years, without significant community input. "I don't believe that any of the working groups kept detailed minutes," responded AHBP Program Manager Kearstin Dischinger, "but we've put online the comments and questions we've received."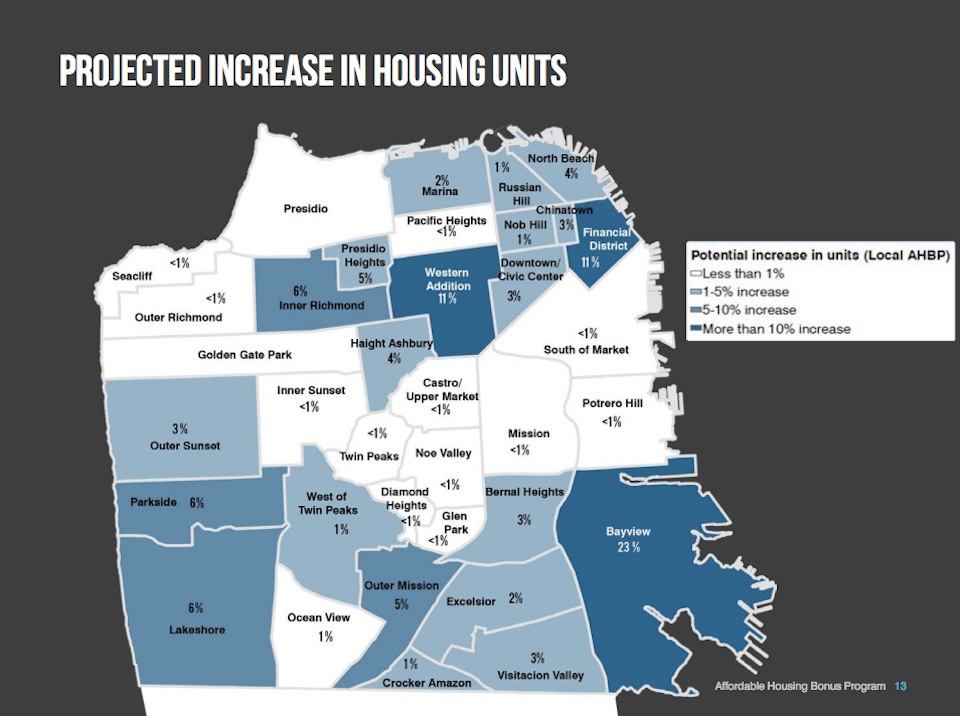 Projected increase in AHBP units, by neighborhood (via SF Planning Commission)
Planning commissioners offered their own assessments of the AHBP, with several noting that they hadn't received a copy of Breed's revised amendment before at the hearing, and that staff had waited until last Saturday to ask for a continuance.
During their discussion, some commissioners directly questioned Planning staff about many of the reservations expressed by the AHBP's opponents. "Ellis Act buildings should never be allowed," said Commission Vice President Dennis Richards, who asked staff to consider creating new maps that clearly identified rent-controlled properties as ineligible for the program.
As far as excluding rent-controlled properties from the AHBP, "we don't have to wait for Breed's legislation," Richards said. "We can take that out." He also suggested keeping Planning's current project approval process, to ensure that neighbors could still register their concerns via discretionary reviews and that developers would still need to obtain conditional use permits in certain cases.
"I don't have all the information at the time I need it, including the more open discussion with Supervisor Breed about what protection of rent-controlled units really means," said Commissioner Kathrin Moore. "I don't feel I have have that confidence." She also expressed concerns that changes to the project approval process outlined in the AHBP would dilute Planning's authority, a reservation that was echoed by Commissioner Cindy Wu.
Planning Commission President Rodney Fong also said he's "not comfortable with excluding certain districts," even though the AHBP wouldn't apply to districts that don't regulate residential density by lot area, such as the Mission.
Although Planning staff had asked to continue the matter until April 7th, several commissioners said more public comment was appropriate. The commission voted 4-2 to continue the item on the AHBP, deferring a vote until February 25th.