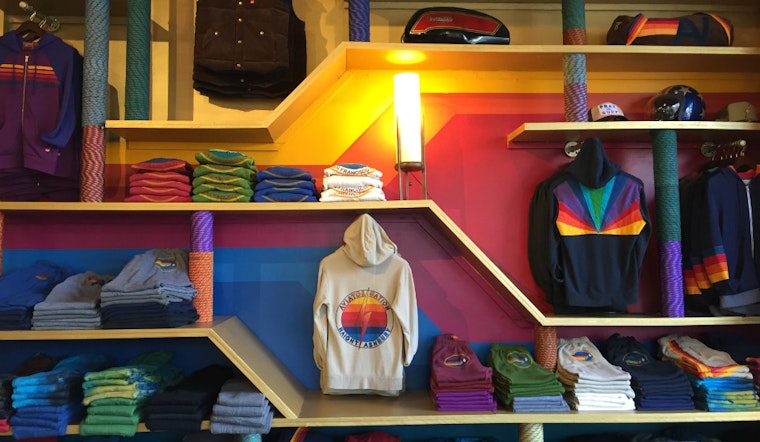 Published on January 25, 2016
It's been 10 months since surf lifestyle store Aviator Nation took over the former Haight Ashbury Vintage space on the southwest corner of Haight & Ashbury. Now that they've had a chance to settle in, we sat down with the brand's San Francisco director (and former pro surfer) Julie Cox to learn about the store's look, its series of free concerts, and how they're liking life in the Haight.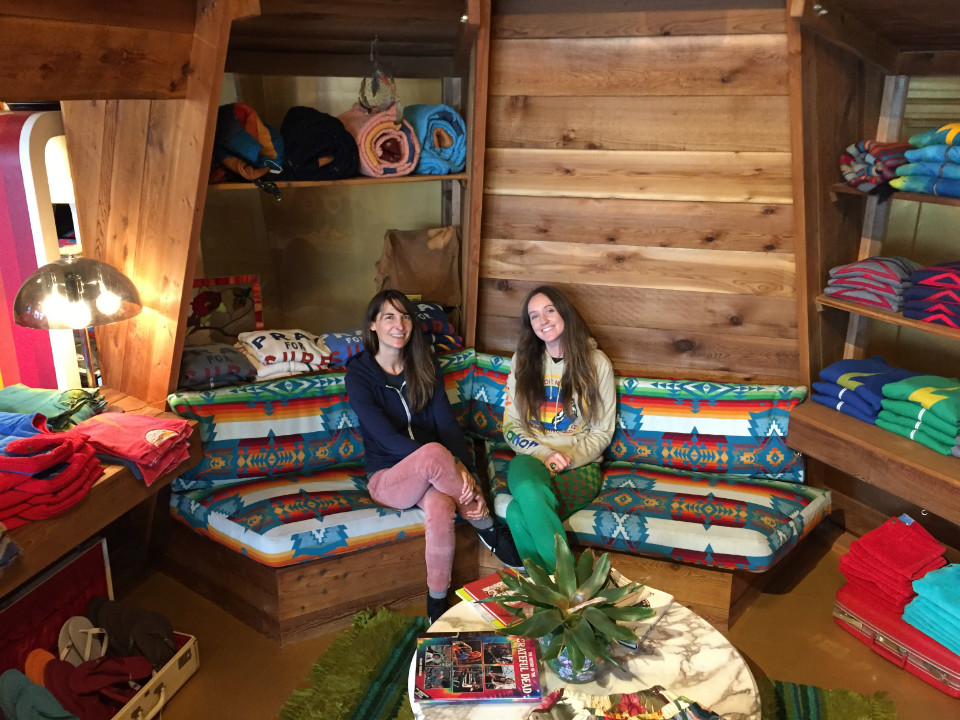 SF director Julie Cox (left) and employee Sarah Biggart in the store's teepee.
For the uninitiated, Aviator Nation is a Los Angeles-based, '70s-inspired maker of high-end tees, sweats, hoodies, and accessories for kids and adults. All the pieces revolve around surfing culture, with tees starting at about $75. Aviator Nation products are sold at at other retailers like Bloomingdales, but the Haight Street shop is unique because of its wide selection (including a clearance section).
The company was founded in 2006 by Paige Mycoskie, a lover of vintage sweats who taught herself how to sew in her downtime while working at a surf shop. These days, Aviator Nation's clothes are made by hand at a small SoCal factory, owned by Mycoskie, that employs about 30 people.
"[Our products] use a tri-blend fabric with a special wash that gives it a super-soft, vintage feel—but it's all new stuff, made with high-quality materials," Cox told us. "Most pieces have details that are hand-stitched or embroidered, and some pieces are even reversible. We also do lots of screenprinting."
"People always get addicted once they have their first [Aviator Nation] piece," she said.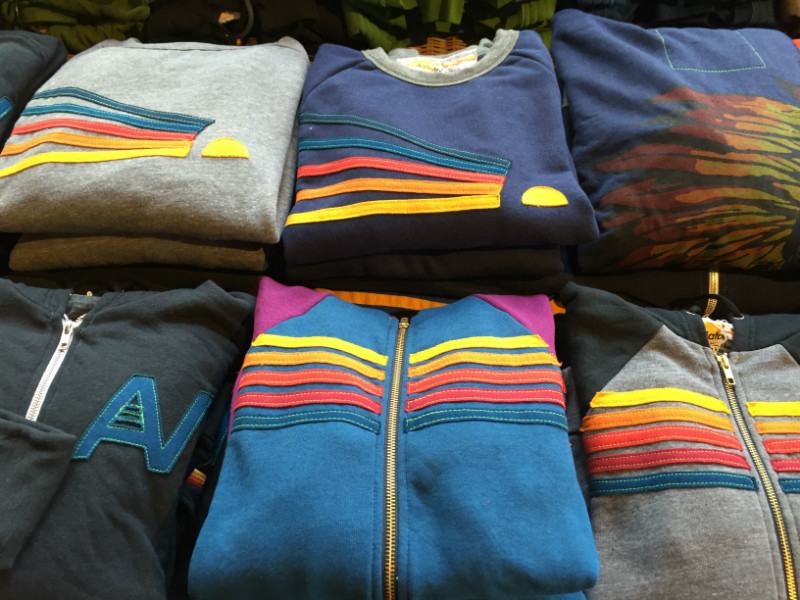 For the SF store, the company's fourth and its first outside of Southern California, Mycoskie chose the corner location to "pay homage to the area and the vibe," Cox explained.
"We love the easygoing vibe down here," Cox told us. "It's not like the Financial District, or other neighborhoods where it's more fast-paced. I love the little shops, the little goodies in the neighborhood for us to feel a part of. It's always entertaining, there's always something going on."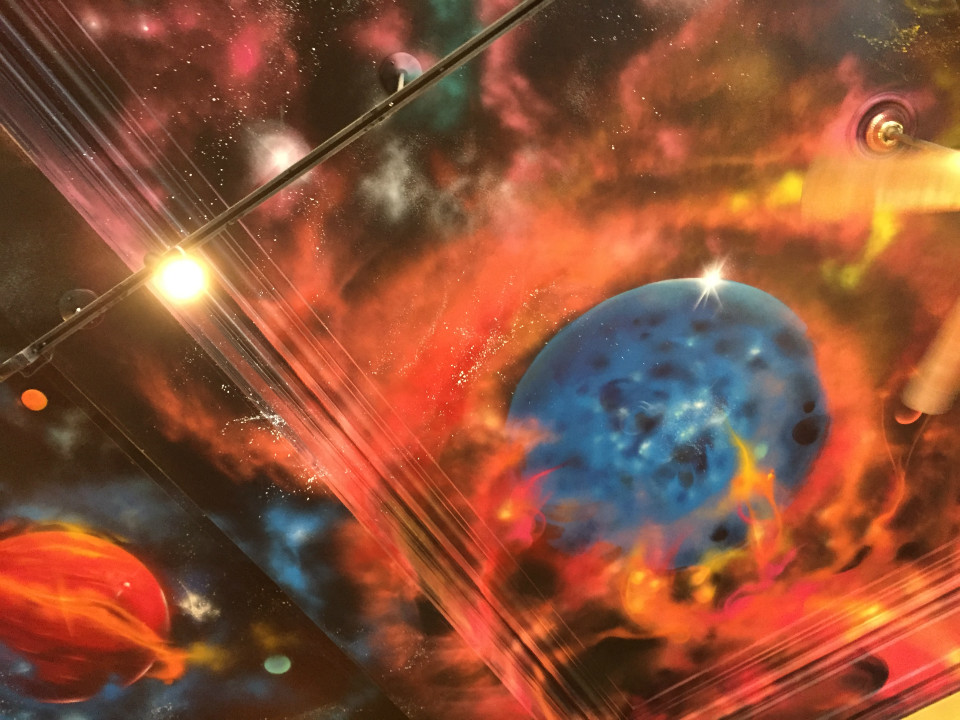 Ceiling art by Christina Angelina.
The interior of the Haight Street shop was hand-crafted by Mycoskie and Cox to encompass both the feel of the brand and the feel of the neighborhood. Cox and her colleague Sarah Biggart said they enjoyed having the opportunity to have a say in the store's look. "The build-out was really fun for us," Cox said. "We got to put some sweat equity in the place, as opposed to a corporate build-out."   
The changes to the space included a hand-painted ceiling by local artists Christina Angelina and Alex Pesante, a teepee, and a stage. There's also a pool table and an old Pac-Man game that are free to use. "[Mycoskie] wants people to leave in a better mood than when they came in," Cox said. "It's not just about buying things."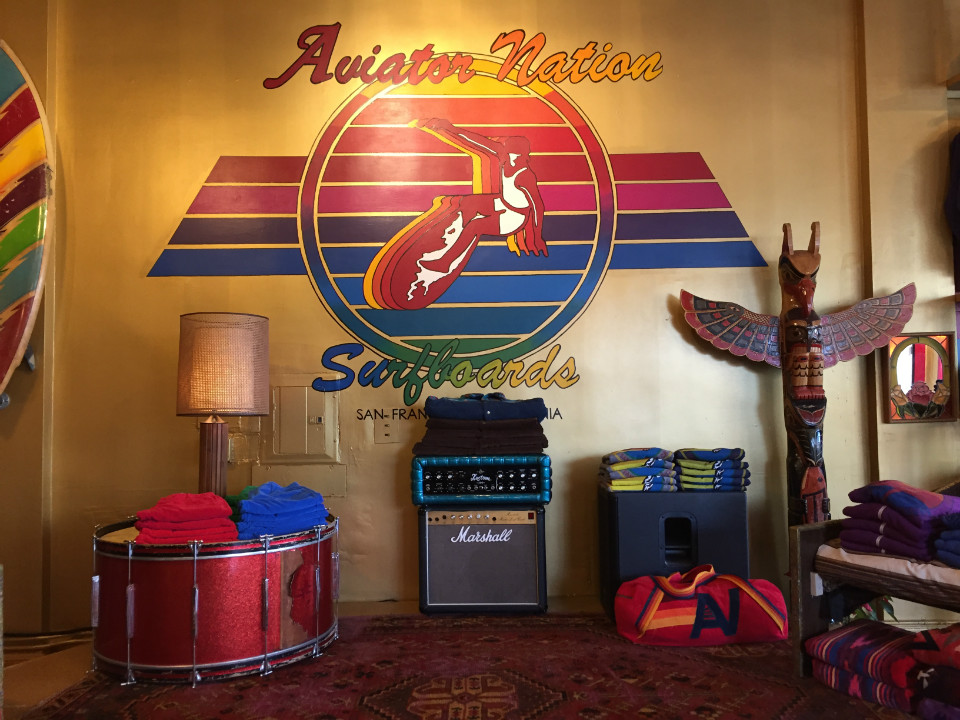 Aviator Nation's stage doubles as a display space.
The stage is for Aviator Nation's monthly first-Thursday concerts, which it hosts at the three other stores as well. The store kicked off the series when First Thursdays relaunched in the Haight, and has been at it ever since. About 50-80 people have attended each event, Cox said, but "it still feels intimate ... you get to just chill right here with the band." 
The last band to play at the store was Not Dracula, which is fronted by Taylor Martinez, a clerk at Haight Street Market. Cox said it was the biggest turnout for an Aviator Nation show yet. Upcoming shows are announced on Aviator Nation's Facebook page, where you can RSVP.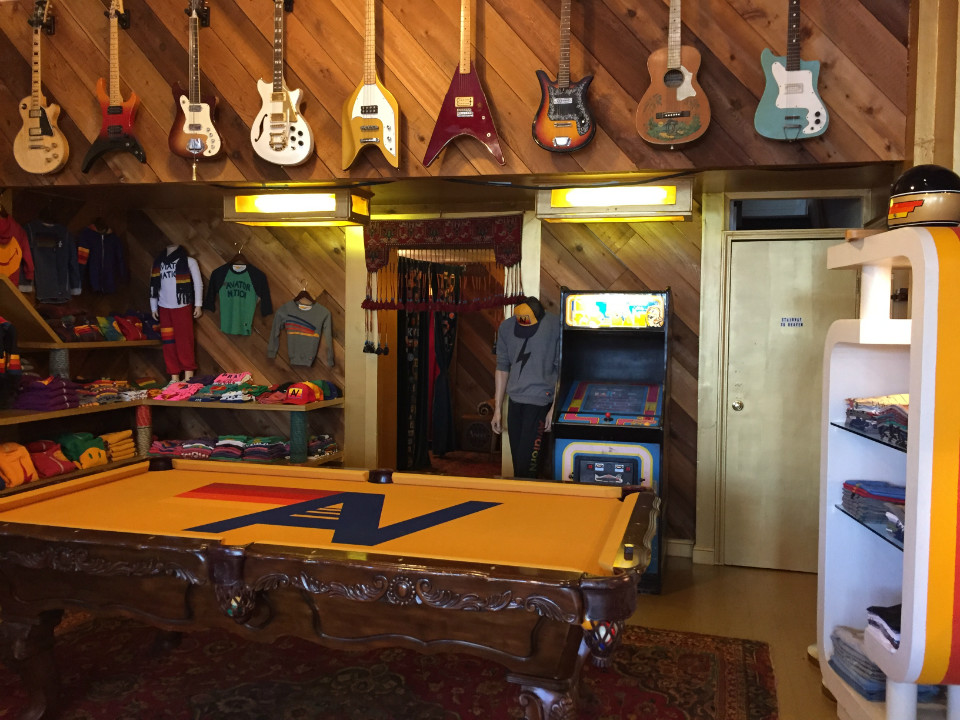 The shop has also recently started hosting a morning yoga class in the space on the first Saturday of the month, which is donation-based and open to all. Aviator Nation brings in an instructor, and the staff participates as well. (They're currently trying to gauge interest, so if you want to join, drop by and give them your email address.)
"We sell sweats, so, if we can get people wearing sweats and lingering a little, great," said Cox. "We look forward to building more community and getting to know everybody."