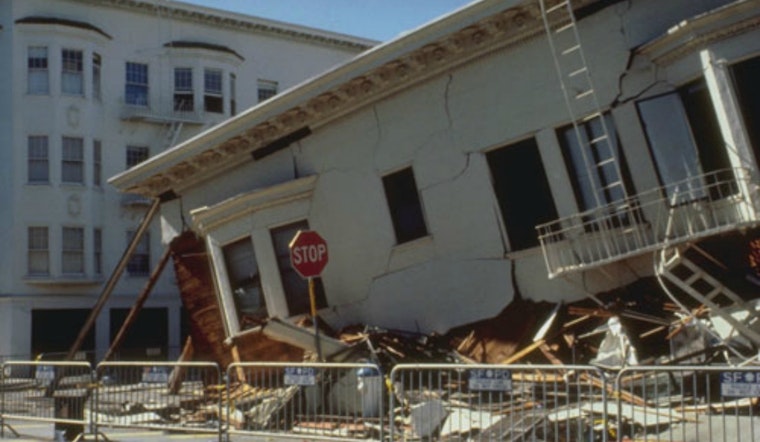 Published on February 28, 2016
The rents on some small businesses and tenants have been going up for a reason that might surprise you. 
Landlords who get older buildings retrofitted against earthquakes can pass all of the costs on to their tenants over 20 years, including interest. 
Other cities are taking a different approach. Los Angeles recently approved legislation that has landlords paying half, for example.
Here, the retrofit rules are set by a mandatory soft-story retrofit law that passed in 2013, that is closely shaped by decades of legislation on earthquake safety — and tenants rights. 
We've been covering various businesses that have mentioned retrofit costs as a factor when they've closed recently, including Merch, Tantrum, and Bean There. 

In Bean There's case, the retrofit closure helped give the landlord a chance to quietly go find another tenant who could pay more. 
Here's a closer look at how the rules were designed, and how they've been working out for 5,000 or so buildings that will be getting these retrofits. 
The Big Earthquake Safety Problem 
It has been more than a couple decades since the city had a notably damaging earthquake, but the occasional tremor is enough to keep most people wary of the real risk in the region.  
According to the U.S. Geological Survey, there is a 63% chance that an earthquake with a magnitude of at least 6.7 hitting the Bay Area by 2038. Following the 1989 Loma Prieta earthquake, which killed 63 people and caused over five billion dollars in damage, the city, as directed by the Community Action Plan for Seismic Safety (CAPSS), has been working to improve San Francisco's preparedness for a future disaster.
"What you ended up have happening in 1989, you saw several buildings collapsing: soft story buildings," said Patrick Otinelli, an earthquake expert and San Francisco's Chief Resilience Officer.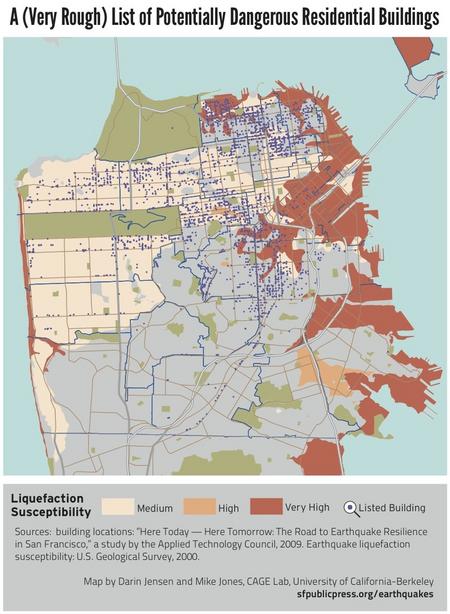 "If you look at [Loma Prieta], look at the stresses we saw happening on San Francisco at that time," Otellini said.
"You had the height of the AIDS crisis, you had crack cocaine on our streets, you had the first big wave of the homeless epidemic. These are things that are comparable to things that we are facing now. And then you throw an earthquake on top of that. It really can turn a city upside down."
By 2020, approximately 120,000 San Franciscans — 15 percent of the city's population — will live in a building that falls under this soft-story retrofit program, according to Otellini.
"If these buildings fall down in an earthquake, the new buildings aren't subject to rent control," Otellini said. "We look at the crisis that we have now, but it would be exponentially exacerbated by an earthquake."
Given the design vulnerabilities and the rent control significance of soft-story buildings in San Francisco, the need for these seismic retrofits is evident. Yet, when it comes to seismic regulations, most of these buildings predate modern municipal building codes.
"Essentially, the building codes were changed in the late 1970s, early 1980s, to become the foundation of what we consider to be modern seismic codes," said Otellini. "The problem is a large majority of [San Francisco's] buildings were built before those codes."
The Latest Solutions
The 2013 retrofit law is proactively trying to strengthen soft-story buildings with three or more stories and five or more units: wood-framed buildings, built before 1978, that have large openings — such as storefront windows or garages — at the ground-floor level and usually residential units above.
These structures can be especially susceptible to damage and collapse during earthquakes. They're also some of the defining, mixed-used types of buildings across city neighborhoods. 
So there's broad agreement that the retrofits should happen. But although they might occupy the same building, property owners and tenants are affected by these retrofits differently.
Property owners are bound to stipulations in their leases, and tenants are bound to capital improvement pass-through laws administered by the Rent Board.
The cost of retrofitting these old buildings, which upgrade a building's lateral stiffness and strength, was initially estimated to cost between 50,000 and 130,000 dollars; however, these mandatory retrofits can exceed a quarter of a million dollars.

Even with the opportunity to file for financial hardship, there is uncertainty as to how these retrofit pass-throughs are affecting San Franciscans already struggling to pay rent.
San Francisco's Rent Board oversees the 100 percent pass-through component of these mandatory seismic retrofits to tenants. Building owners initially pay for the retrofit, but are permitted to recoup those expenses by gradually raising tenants' rents over a 20-year period.
According to Christina Varner, acting deputy director of the San Francisco Rent Board, even though the mandatory soft-story seismic retrofit didn't go into effect until 2013, these kinds of capital improvement pass-throughs are rooted in decades-old city policy.
In 2000, Proposition H was passed by city voters to stop landlords from passing on costs from many major capital improvements. However, the city was sued over the constitutionality of the prop and the matter went to court. Eventually, compromise legislation was proposed by Supervisor Ammiano, giving San Francisco its present day pass-through guidelines.
Instead of blocking pass-through costs, its main effect was to extend the payment time up to 20 years.
"Because of all this history, I think the nature of the relationships between the landlord and tenant community here is just really different than other jurisdiction," said Varner, when we asked about Los Angeles' recent 50-50 cost-sharing legislation, where tenants and landlords will split the cost of mandatory seismic retrofits.
"When you look at Los Angeles, which is doing a 50-50 pass-through right now," Otellini told us, "they don't have anything on the books that already addresses this. Since we had previous seismic ordinances, if you change the wording in the retrofit ordinance, it basically opens Pandora's box and then all these other programs are impacted by it."
The pass-throughs of these mandatory soft-story seismic retrofits from landlord to tenant can be no more than a 10 percent rent increase (of the tenant's base rent) for the first year. The following year, the landlord can phase in the remainder amount, which will be the amount that the tenant will pay for the next 19 years.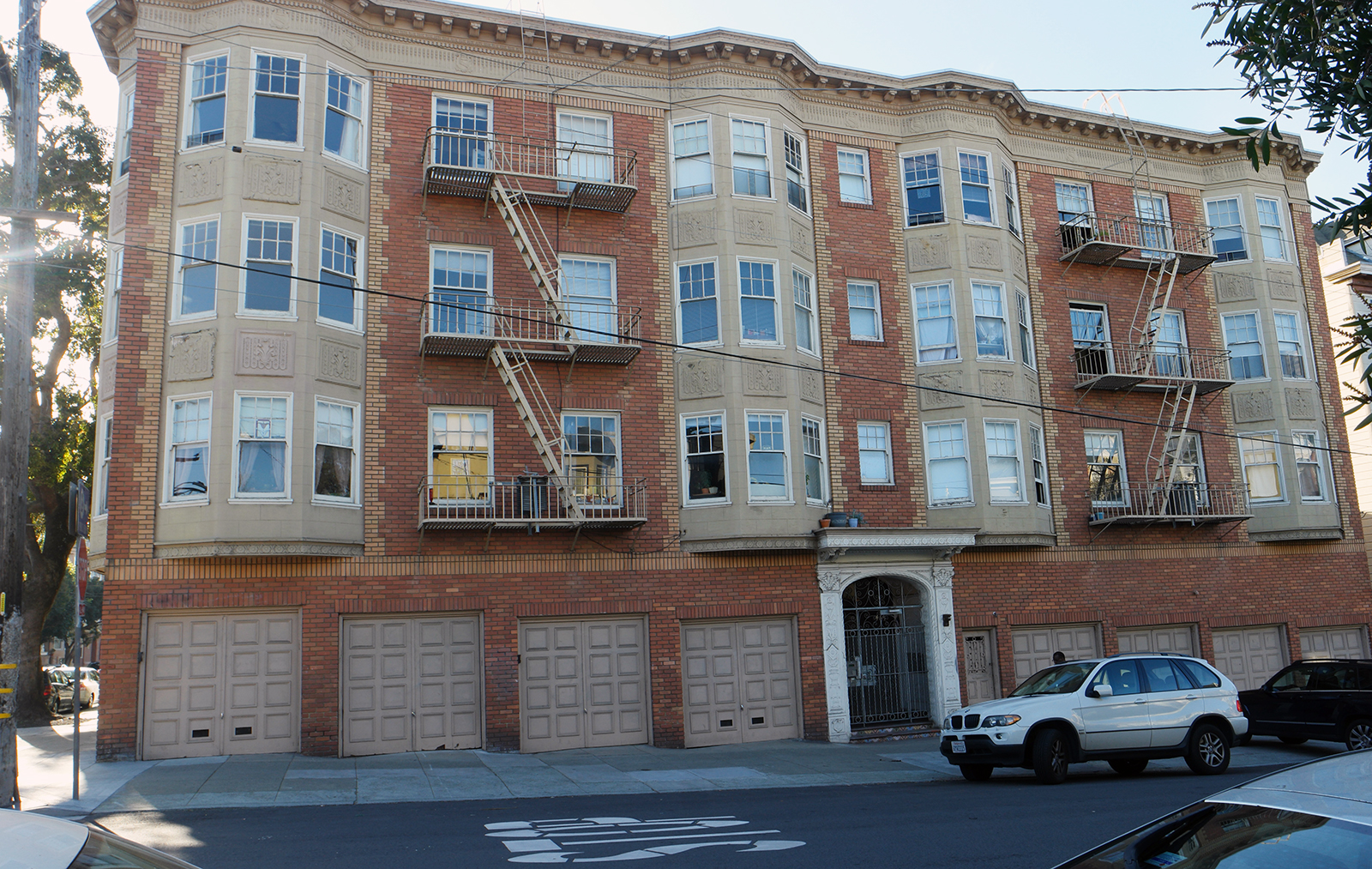 "The capital improvement rent increase does not become part of the base rent," explained Varner. "For purposes of 3-day notice, non-payment of rent issue for eviction, yes, that's part of the rent, but it doesn't become part of the base rent. When you're calculating an annual allowable increase, the capital improvement is not part of that."
The law went into effect in 2013, and there's a tiered system of building types that will need to be completed by specific dates. Schools and hospitals have been going first, but some structures won't need retrofits until 2020 (and any building owner that doesn't meet these deadlines gets fined, for starters).
More Tenant Problems To Come?
Understanding that these 100 percent pass-throughs might be a burden to some San Franciscans, the city implemented thresholds in order to qualify for hardship. It also included a fair-compensation framework for if tenants aren't able to have access to their garages, parking spaces, or laundry facilities.
"I encourage both landlords and tenants to call us if they have questions: it is confusing and the filings are enormous," said Varner, of the more than 5,000 buildings that fall under the mandatory soft-story retrofit program.
"Certainly the pass through is a major way that's gonna impact tenants," said Tommi Avicolli Mecca, director of counseling programs at the Housing Rights Committee of San Francisco.
"I personally have a problem with pass-throughs because the landlord benefits from the seismic retrofit, because their building is worth more," Mecca said. "Yes, the tenant gets to live in a safer building, that's for sure, but it seems to me that the landlord benefits a hell of a lot more and should have to bear the cost."
According to Mecca, people have yet to really come into his office regarding these pass-throughs; however, he is expecting to see an influx of concerned tenants in the coming years.
"My concern," said Constance Stamas, a resident of the Upper Haight, "is I guess it just feels really unfair that it's passed on 100 percent to the tenants."
"I take it very seriously that things do need to be retrofit, and I sort of don't mind paying what I can, but I'm already maxed out on my rent," said Stamas, who thinks that she would qualify for financial hardship.
"I feel like it's the owner's property, and that's what we're paying rent for: to live in a safe space. I think it's really gonna hurt a lot of people who are already on the fringes."