Market Street is closed at Seventh Street due to a collision which, according to witnesses, saw a driver hit a disabled woman in a wheelchair.
The vehicle, a white Ford sedan, bears the official seal of the City and County of San Francisco. An SFPD officer told us he believed the car was heading northbound on Seventh Street when it attempted to make a left turn onto Market Struck and struck the woman, and possibly the man who was pushing the wheelchair.
The vehicle remained on the scene, and police are investigating. Both victims were transferred to the hospital with what one officer said were non-life-threatening injuries.
Muni is being rerouted around the area.
UPDATE: #FMarket, 7, and 9 all re-routed around Market between 7th and 8th due to non-Muni collision.

— SFMTA (@sfmta_muni) February 5, 2016
Update: According to this map of the new turn restrictions enacted along Market Street between Third and Eighth streets in August, a left turn from the red transit-only lane on Seventh should be restricted except for Muni buses and taxis, and include explicit signage. However, there's no signage reflecting that restriction on the Seventh and Market corner. We're checking with the SFMTA for clarification.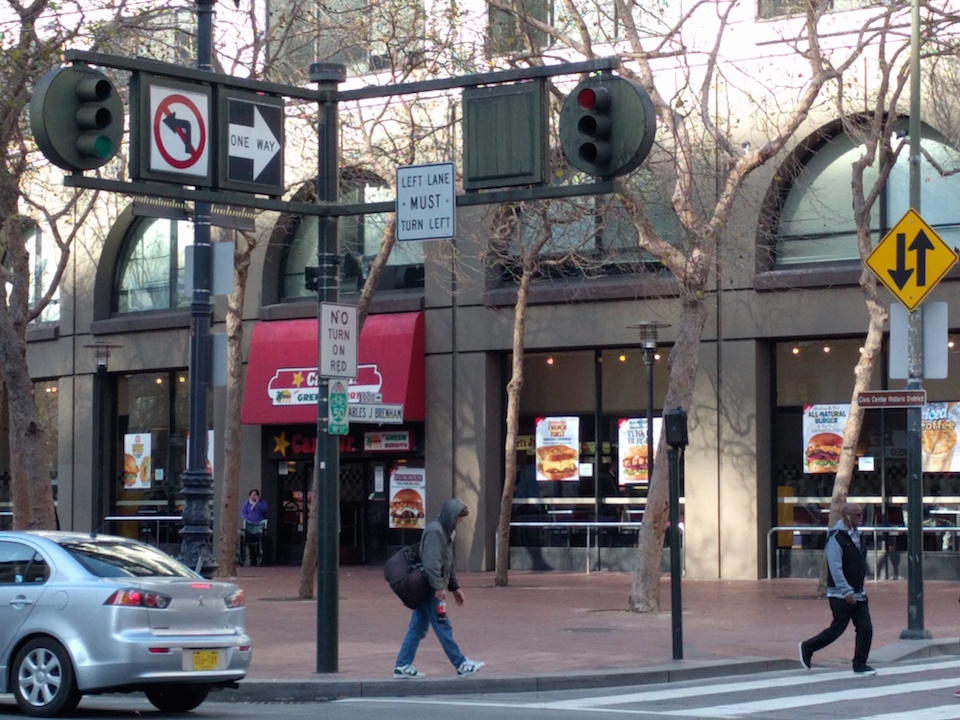 Update: SFMTA's Ben Jose confirms that the left-turn lane at Seventh and Market is restricted to commercial vehicles, transit, taxis, and bikes only. The signage indicating that restriction is located on Seventh Street south of Market, before the turn.
UPDATE: Delay at Market and 7th has cleared. All routes have resumed regular service in both directions.

— SFMTA (@sfmta_muni) February 5, 2016
Update, 2/7: The victim, 38 year-old Thu Phan of Berkeley, has passed away, according to SF Gate. 
Update, 2/10: According to SF Gate, SFPD spokesman Albie Esparza states that the left turn was a legal move for the vehicle because of its exempt license plate. 
Thu Phan, who was born with osteogenesis imperfecta, is remembered by friends and family as a leader in the disabled community. She was a UC Berkeley alumna and Department of Labor employee who was heading to work at the time of the incident. 
Thanks to tipster Bo M.