A new restaurant is in the works at 989 Mission St.—a 3,800-square-foot storefront, just off Sixth Street—and one big clue indicates that it may be the future home of a new location of Burma Superstar.
Over the past few months, the storefront has been in use by 5 Months Gallery. On Facebook, the pop-up art gallery explains that the space was donated to them by Burma Superstar Restaurants until March 31st.
What does Burma Superstar plan to do with the space next? We're reached out, but they have yet to spill the beans. Update, 3/29: Burma Superstar spokesperson Irene Cho confirms that the restaurant chain is planning something new for this location. "We are currently in negotiations for the space to operate, but are not sure what will go in that space," she said.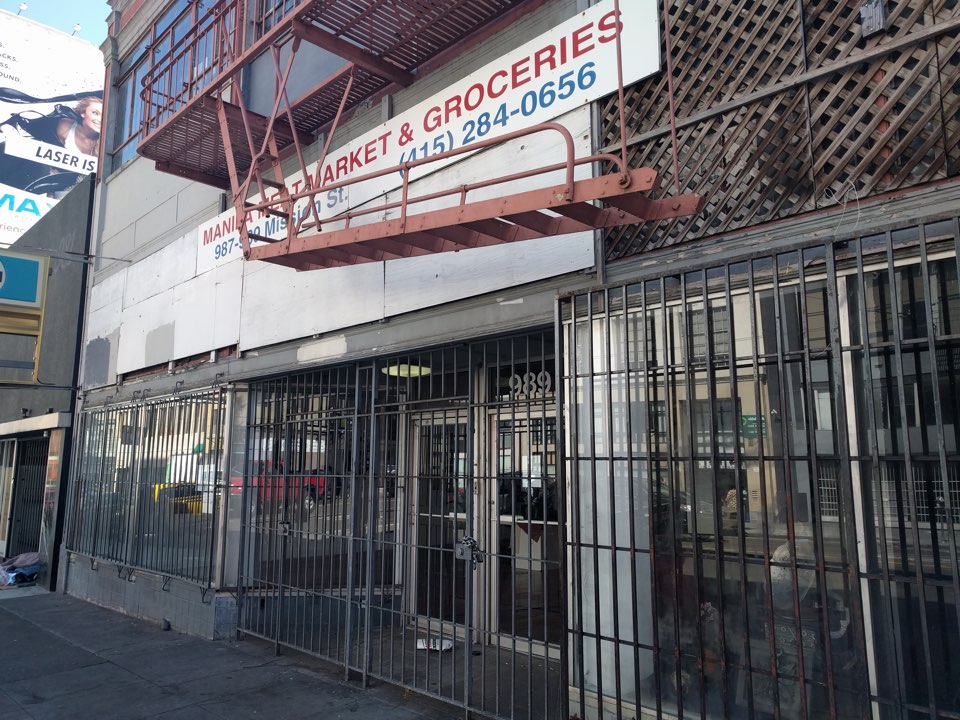 989 Mission St. (Photo: Brittany Hopkins/Hoodline)
Since owners Desmond Htunlin and Jocelyn Lee took over the long-running Clement Street Burmese restaurant in 2001, they've been on a mission to refresh and expand the brand, leading to new locations in the East Bay and most recently, the trendy spinoff Burma Love, on Valencia Street.
As a result, it isn't hard to imagine the chain of mega-popular Burmese restaurants doing well in Mid-Market, steps from the many tech offices and co-working spaces sprouting in the area—including the upcoming Covo, set to open right next door.

Regardless of which concept Burma Superstar decides to run with, it does look as though the forthcoming restaurant will be high-end. A building permit for the site, submitted to the city on March 15th, lists a contact from the interior design firm Mister Important, which has outfitted the likes of Chambers Eat+Drink, Gitane and Monroe, as well as a slew of hotels, casinos, clubs and restaurants in SoCal, Las Vegas and Dubai.
Burma Superstar's website also provides some general hints at what any new location would offer. "In all of our restaurants, you will find a commonality centered on our core menu of dishes and the desire for strong customer satisfaction. You may find differences in setting, personality, and variation in specialty dishes. However, our goal of providing value and quality remains firm in each of our restaurants. In every aroma, bite, and warmth you feel from our staff, we hope you experience the culture, hospitality, and people of Burma."
Meaning, if our hunch is correct, there's a good chance the beloved tea-leaf salad will be on the menu.
We'll let you know as soon as we hear back from the folks at Burma Superstar.
Stay tuned for further updates as we learn more about Burma Superstar's plans for this space.