With plenty of vacant storefronts to be had, someone's always thinking up a new way to sling food and beverages to the crowds South of Market. Here's our latest snapshot of which eateries are saying goodbye to the neighborhood, and what's moving in next.
Farewell, Triptych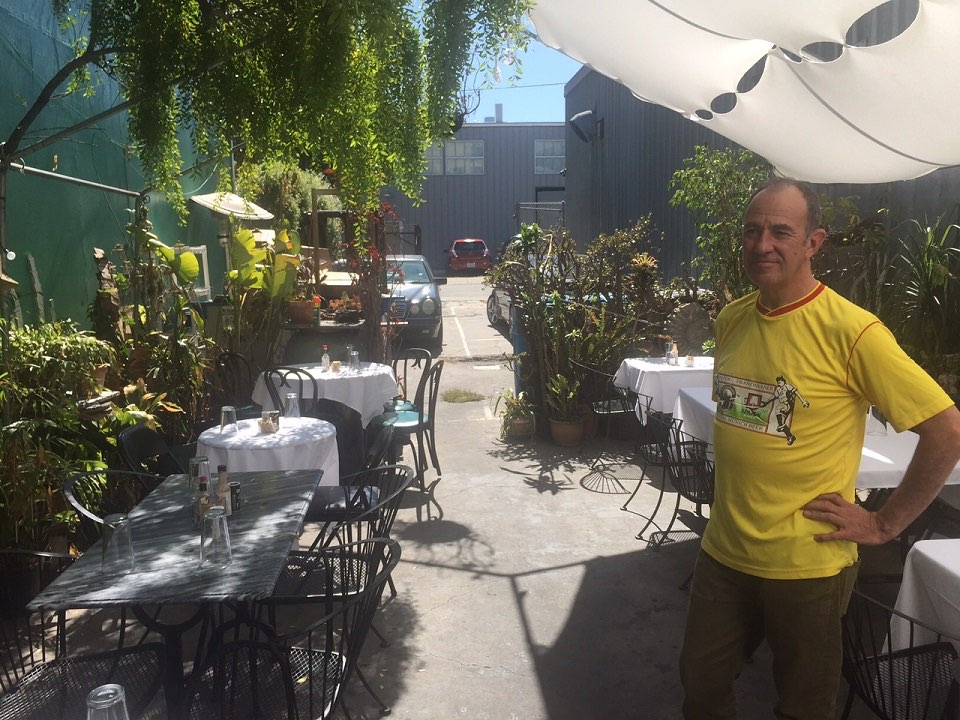 Owner David Kittredge on Triptych's outdoor patio. (Photos: Blair Czarecki/Hoodline)
After 11 years, it looks like restaurant and art gallery Triptych has quietly slipped out of 1155 Folsom St. Its space is currently up for lease, and as Tablehopper noted yesterday, it's also been hit with a liquor license suspension by the ABC, likely due to tax issues.
A note on the door, presumably from owner David Kittredge, bids the neighborhood farewell, stating: "Thanks for all your support over the years. The staff and myself will sorely miss you..."
When we last spoke with Kittredge in September, he was hoping for a renewed lease that would allow his cozy, nearly 12-year-old restaurant to remain in place.  "I have my hopes high, but with this area, I don't know what's going to happen," he told us. "I'll roll with the changes, but it's harder for a small businessperson now in SoMa."
We've reached out to Kittredge, and will keep you posted on the next moves for both him and the space.
Peet's Coffee Targets 10th & Mission, Rincon Center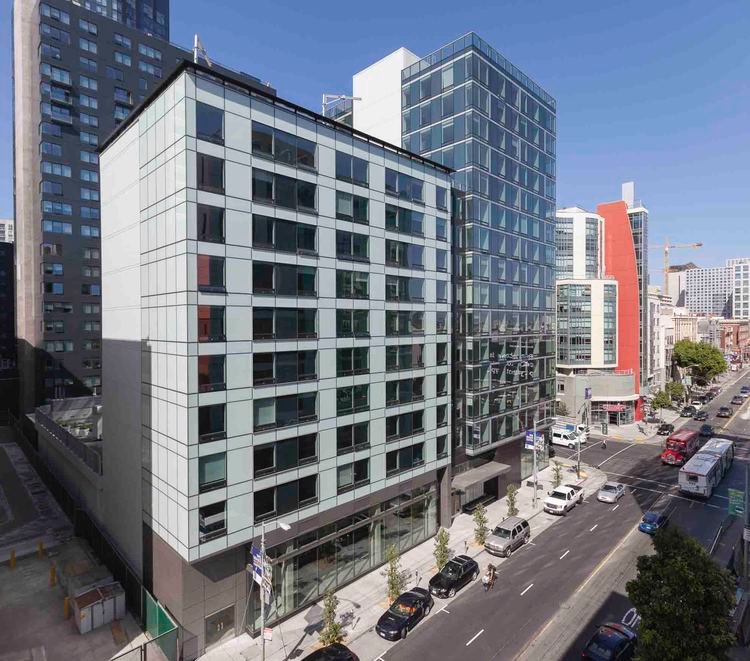 Photo: Perry Architects, Inc.
According to Planning Department files, Peet's Coffee & Tea is preparing to take over the brand-new 2,500 square foot ground-floor retail space at 1400 Mission—the 15-story, 100 percent affordable housing building at the corner of 10th and Mission.
If that's the case, Peet's will be competing with quite a few coffee purveyors in the area. Cumaica is located directly across the street at 10th & Mission, and Allstar Cafe, Paramo, and the brand-new Coffee Cultures all have a presence at Ninth & Mission. There's also a Blue Bottle just up the block, on the 10th Street side of the Twitter building, and the cafe at The Market, also in the building.
Another Planning file indicates that Peet's plans to give the Starbucks at 201 Spear St. a run for its money by moving into one of the vacant storefronts in the Rincon Center (121 Spear St.), less than a block away.
The company declined to confirm either of these "potential locations," so we'll keep our eyes peeled for more clues. 
The Organic Coup Bringing Organic Fried Chicken To Rincon Center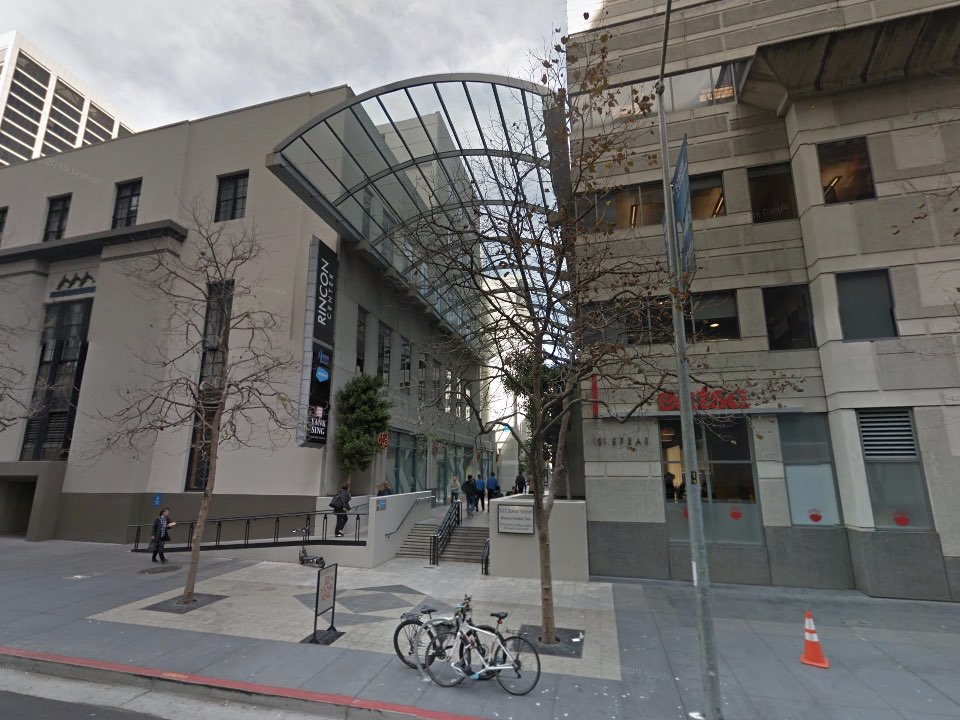 Rincon Center's Spear Street entrance. (Photo: Google Maps)
Prepare yourselves, fried chicken fanatics. "America's first organic fast food" joint, The Organic Coup, is also coming to the Rincon Center this spring. As Inside Scoop notes, the company launched in Pleasanton less than six months ago, with a focus on 100 percent organic fried chicken sandwiches, wraps and salads.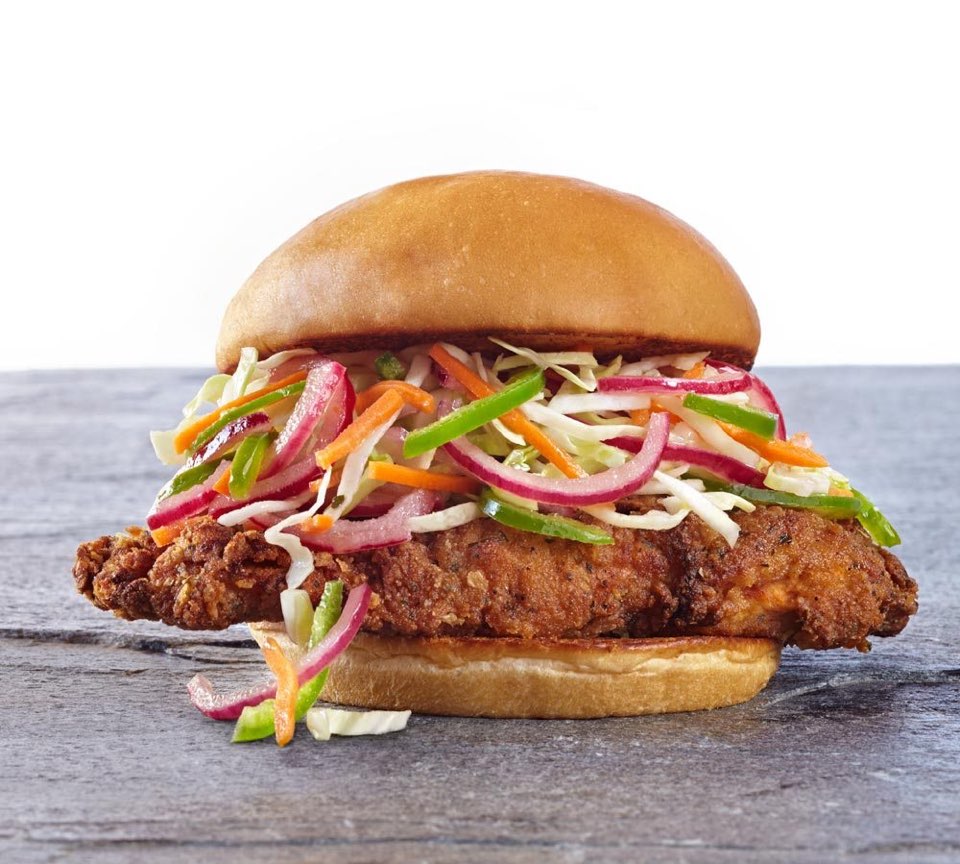 The signature fried chicken sandwich. (Photo: The Organic Coup/Facebook)
Organic Coup is now aiming to launch its San Francisco outpost in mid-April in the former Cicil's Cafe space, and plans to add a vegan Hodo Soy burger to the menu when it does.
The Educated Palate Launches Pastry Pop-Up
#educatedpalate #GrabnGo chocolate croissant! 1 hour pic.twitter.com/IbkdpYKVZb

— EP Cafe (@EPCafePastries) March 17, 2016
City College of San Francisco's culinary arts program has been working for months to open a student-run cafe on Mission at Fourth Street, right around the corner from the college's student-run restaurant, The Educated Palate.
While the cafe isn't open for business just yet, the students of the baking and pastry program are now in the kitchen daily, whipping up fresh-baked goods and selling them via pop-up.
To get your hands on one of their warm creations, check @EPCafePastries on Twitter for the sweet of the day and exact sale time, then head over to The Educated Palate to snag a treat.
'Chicks and Love Pizza' To Take Over Former Rainbow Grocery Cafe
The cafe, before it recently shuttered. (Photo: Google Maps)
It's well-known that grocery shopping on an empty stomach often leads to an empty wallet. Thanks to Chicks and Love Pizza, that'll soon be a non-issue for Rainbow Grocery shoppers.
The East Bay-born pizza company is taking over the cooperative's tiny outdoor cafe at 13th and Division, according to Inside Scoop.
Unlike the all-vegetarian grocer, Chicks and Love will sell a few personal-sized flatbread pizzas with meat on them. But that hasn't seemed to raise any eyebrows among Rainbow staff, the owners have said. If all goes well, Chicks and Love's pizza ovens will warm up the space come May.
Covo's Cafe & Taproom To Launch This June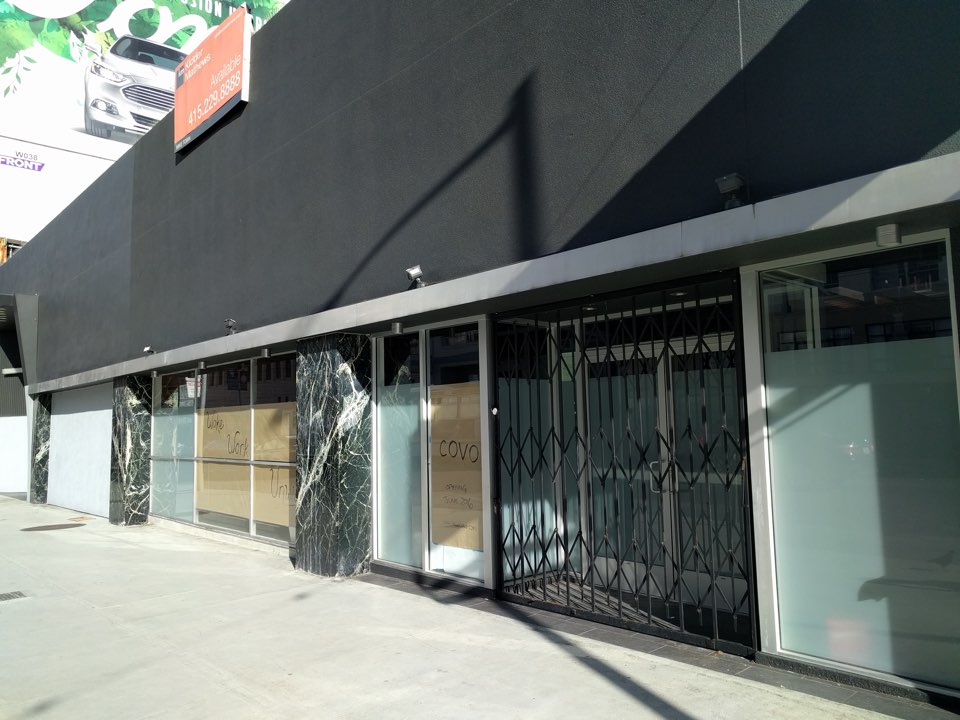 Photo: Brittany Hopkins/Hoodline
After years of vacancy, 981 Mission—just off the corner of Sixth Street—will soon come alive as the as the coworking space Covo. But perhaps even more importantly to neighbors, it will feature a public cafe and bar.
As Inside Scoop reported last fall, the owners have tapped Matt Semmelhack of Mercer Restaurant Group (also behind SoMa's AQ, Bon Marche, and the upcoming Fénix) to serve Highwire Coffee and light snacks during the day, and a high-end beverage selection at night.
According to signs posted in the windows and a banner on its website, Covo is on track to launch this June, so expect the cafe to arrive sometime around then as well.
We're always sniffing out what's coming next, so keep an eye on Hoodline for even more updates from the neighborhood's food and beverage scene. Got info on something closing or coming to SoMa? Send us a tip.