For Castro residents, the trash containers along 16th Street at Market have been a problem for many years, attracting garbage and homeless encampments. 
"We are trying to find solutions to clean up that side street," said Juan Romo, the new owner of the Castro Republic, the forthcoming restaurant in the former SliderBar/Ovok space on that corner. "There's lots of drugs and homeless activity, not to mention the trash that develops on our doorsteps."

Right now, Romo plans on making a few changes out on the street—starting with the trash cans. "My plan is to first replace the unattractive plywood trash containers that are currently there with one solid attractive container," he told us. The new trash container is expected to be installed tomorrow. 

SF Public Works representative Rachel Gordon said that her department also had a permit inspector out to the intersection last week, to assess the situation. The trash structures on the sidewalk "are permitted," she said, "but we need to make sure that the garbage is properly stowed." A member of Public Works' Outreach and Enforcement Team has been assigned to work with Castro Republic to "ensure compliance ... we are prepared to issue citations if the rules aren't followed."
But Romo isn't the only one concerned about the encampments at 16th and Market. Last year, the Castro/Upper Market CBD launched Castro Cares, a collaborative effort with the city, the SFPD, the Patrol Special Police, and the Department of Public Health, with the goal of addressing quality-of-life issues and homelessness through outreach in the Castro. 
According to the Castro CBD's executive director, Andrea Aiello, Castro Cares spent two weeks attempting to counsel homeless people in the area and encourage them to move to the city's new shelter at Pier 80, where they can sleep indoors and have access to services. Ultimately, they were able to convince three people to make the move.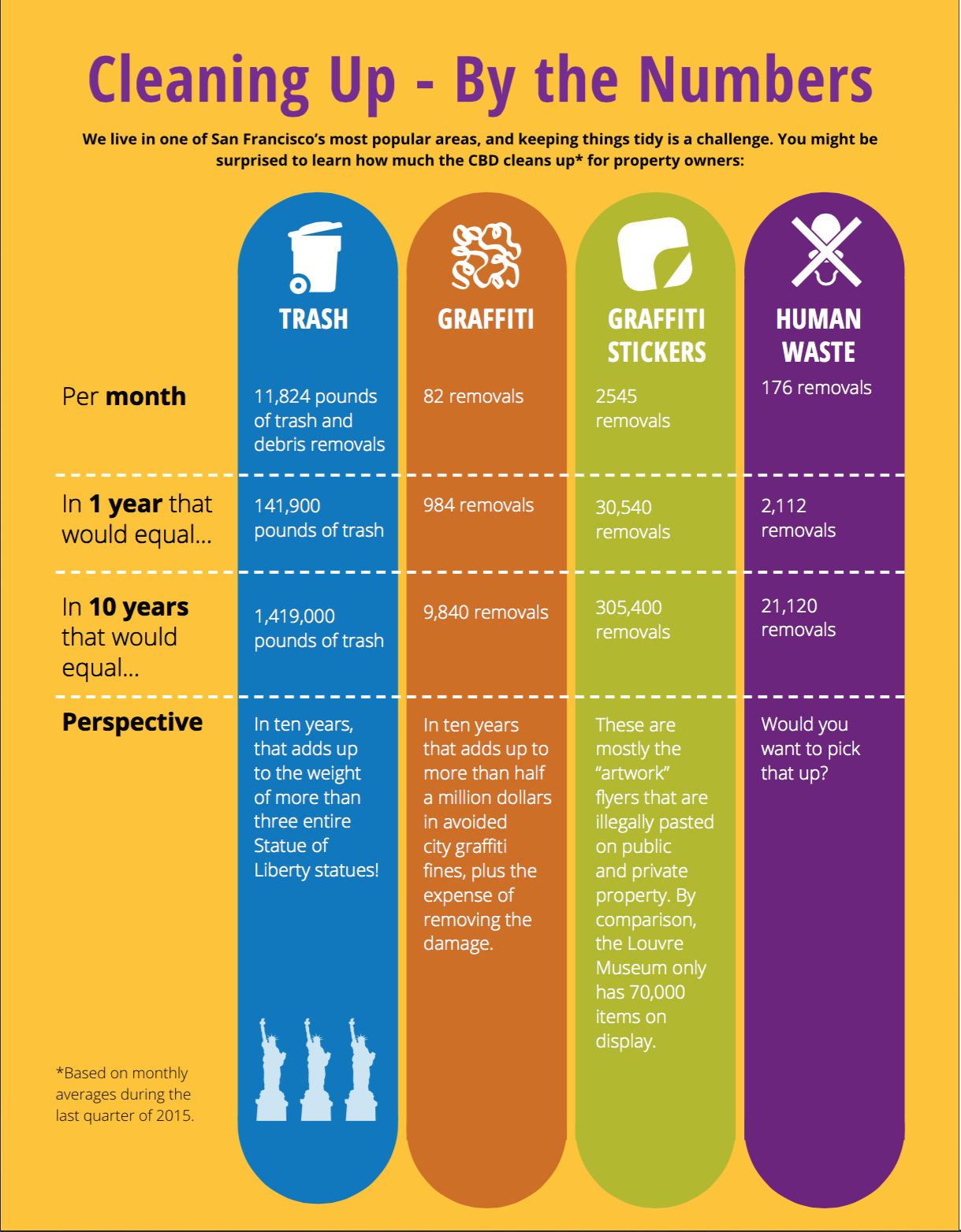 CBD cleanup numbers in the Castro. (Image: Castro CBD 2014-15 Annual Report)
Along with offering people a connection to a variety of city services—from medical care to finding shelter beds—outreach workers also try to lend an ear, listening to what people are going through and found them on the streets.
One Homeless Outreach Team (HOT) member recently spent time talking to an individual who had just lost a close friend, and was traumatized by the incident, Aiello said. While the individual wasn't ready for services just yet, the HOT team member was there to listen, and assure them they'd be there whenever they were ready.
But while the Castro Cares team aims to exercise compassion and "provide services," Aiello also notes that "we have to provide enforcement and hold the line on some people ... we get the word out that you can't keep having bad behavior in the public realm. The situation on 16th Street is a trying situation, but we are doing both: helping those ready to accept help, but also enforcing the law, getting people to pack up and move along if they are breaking the law and don't want to accept help." 
Castro Cares has a funded Patrol Special Officer who goes by the 16th Street location six days a week, often multiple times a day, getting people on the street to pack up and move along.
"I know the problem seems insurmountable, but without Castro Cares, there would be no one at all trying to help those at risk and needing help," Aiello said. "Those six-day-a-week walkthroughs by a Patrol Special Officer, waking people up, advising them they need to move along, assisting SFPD, and circling back an hour later to do the same would [otherwise] not be happening."
At last week's Castro Merchants meeting, homelessness and quality-of-life issues were the main topic of discussion. But Castro Merchants president Daniel Bergerac told us that "until the leadership in San Francisco and the citizenry decide to make some strong decisions on how to deal with this, there is not a whole lot that is going to change." (This morning's news that Mayor Ed Lee plans to crack down on homeless encampments citywide, which came after interviews for this story were conducted, may potentially have an impact.) 
In attendance at the meeting were many members of SFPD, District 8 Supervisor Scott Wiener, HOT, HOPE and the District Attorney's office, who were there to listen and respond to local merchants' issues. According to Bergerac, "the message was loud and clear": people are very frustrated, and looking for a response from the city.

"For far too long, there have been no ramifications for street behavior," Bergerac told us. Setting up camps, defecating on the street and drug use have been allowed, and until the laws are enforced, Bergerac believes that the encampments "will only be a merry-go-round," with people continually being pushed a few blocks away.
The Castro is in the same district as the Mission, where the majority of police presence is allocated. Bergerac tell us that SFPD has committed to having a beat cop in the neighborhood, but he still wonders: "How long will that continue?"