Since 2005, Old Skool Cafe has been providing Bayview with a 1920s-1940s supper club experience, complete with live music and a Southern-inspired menu. But what makes this restaurant truly unique is its staff: from the servers to the kitchen staff to the management, Old Skool is run by the youth of the Bayview community. 
The cafe's founder is Teresa Goines, who previously worked as a juvenile corrections officer. In 2004, after the gang prevention program she ran lost its funding, she decided to find a new avenue to support the troubled youth she worked with, most of whom hailed from the Potrero Hill projects, Sunnydale, the Fillmore, Chinatown, and Bayview. Many had done stints in juvenile facilities or in jail.
Teresa Goines.
Her work as a corrections officer gave Goines a unique perspective on the kids she aimed to help. "A lot of programs help people who are coming out of incarceration, but they often don't understand the perspective of the person that has become institutionalized," she told us. "You have years where everything is done for you and your days are in order, minute by minute, and coming out of that situation and just trying to do daily things becomes intimidating for that person." 
After talking to a number of youth, she realized what they needed most was jobs—and the skills to apply for and keep them. "Having felonies, a lot of them didn't even know how to approach applying for a job, going into an interview and landing the gig. Some of them were intimidating people when they walked in the door, and losing the employer's interest. I have young people that didn't even know what an employer was when they were filling out an application."
Though Goines had no prior culinary experience, she decided that a restaurant would be her best bet. "We needed to have a business that would allow us to make our own money, so that we didn't have to depend on anyone else. I thought to myself, 'Where do people spend money even when times are rough?' Well, people go out to eat, and for entertainment."
"Even in podunk towns, all over the world, it's the one business that is everywhere, whether it's a cafe or coffee shop," she continued. "And it's a place where a young person could obtain transferable skills. It's not just a job training program, but actual employment on their resume. That way, they can continue to get employment wherever they go."
The backbone of the cafe is its young employees, who range in age from 16 to 22. But Goines is also supported by an adult staff: managing director Lisa Litsey, executive chef Francis Rubio, chefs Kevin Tucker and Iesha Smith, general manager Yaku Moton-Spruill and life coach Jennifer Marshall. That allows her to offer a 10-week paid training program, in which youth learn intensive job skills. The final assignment is to submit an application to Old Skool for employment, going through the interview process to land the job. 
While youth can apply to be hosts, servers, kitchen staff or management, Goines decided to add a little excitement to the program by also allowing them to audition to perform live music for guests. She bridges the gap between formerly incarcerated youth and non-at-risk youth by hosting open auditions, where they can all jam together. 
Jeremiah Rushing.
One of Old Skool's success stories is 22-year-old Jeremiah Rushing, who's been working there since he was 19 and freshly released from county jail. "I had to figure out something. It wasn't juvenile hall anymore. You think county jail is nothing, but then you go in, and it definitely doesn't feel the same." 
Referred to Old Skool by his parole officer, Rushing initially struggled to complete the cafe's 10-week training program. "At the end, you're supposed to take a test, and I am a horrible test taker. I just couldn't pass." But the staff didn't give up on him, taking him on as an apprentice until he was able to finally complete the test. "It took me 2-4 months to get it, but I finally ended up prevailing and passing that test," he told us. "They kept pushing me to complete the steps to work here, and I was stubborn, but I kept doing it."
These days, Rushing is off probation, has paid off all his debt, has his own place to live, and recently completed his second year at City College. He's working with a community partner, 100% College Prep, to tour four-year colleges for a potential transfer, and has already been offered some scholarships.
His dream is to attend Stanford. "I went to check out Stanford recently with a friend, and I just felt like me and that school need each other," he said. "It's interesting, because I never used to think about school or going to a prestigious college, but that's where I want to end up."
Old Skool Cafe's staff poses on a workday in a community garden.
Goines hopes that her work with teens like Rushing can help break the cycle of gang violence in neighborhoods like Bayview, which often starts in childhood. In her former gang prevention program, "a lot of young men had a grandfather or dad that have been incarcerated, and some even had babies that they would dress in gang colors. You are born into it—all of your family is gang-affiliated, and you are taught that the only way to survive is by selling drugs. It's normal, so how are you supposed to know differently? And you also feel like you are turning your back on your family if you say 'No, I don't want be in the gang.'"
A program like Old Skool's can make all the difference for at-risk youth. "It's a term that none of us really like to say, 'at risk,' but it's the term we use," she said. "It means at risk of incarceration, dropping out of school or staying in poverty. At risk of not having an education. At risk of dying before the age of 18. At risk of not living a life that I believe they were meant to live, full of joy and fulfilling their dreams, purpose and opportunities."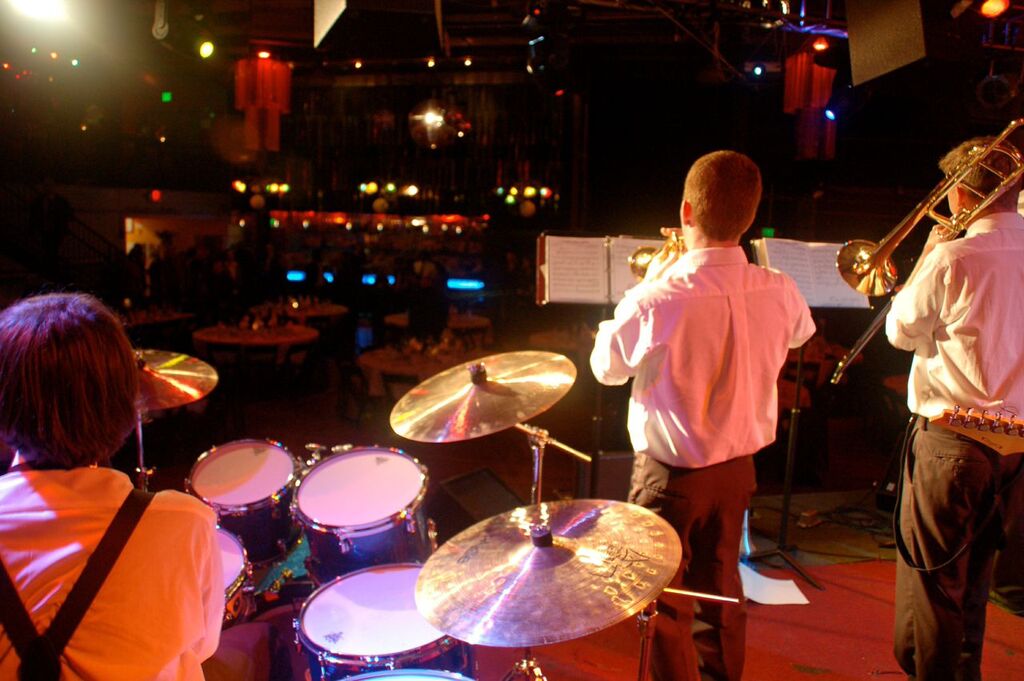 Old Skool Cafe youth performing during supper. (Photo: Courtesy of Old Skool Cafe)
In the long term, Goines hopes to replicate the Old Skool model elsewhere. "I do want to open another Old Skool, but it's intimidating, because it's intense work. It's running a restaurant and investing in these young people's lives for the long haul."
She hopes her model will go national and even international, shaking up the approach to addressing at-risk urban youth. "All the money that is spent on incarcerating young people is ridiculous," she said. "In San Francisco, it's $100,000 to incarcerate a young person for a year. For a quarter of that, we can train them, provide counseling and mentorship, and employ them. That's my heart and passion. Helping young people heal at the core, versus punishing them for things that were born into."
Old Skool Cafe is located at 1429 Mendell St. It's open Thursday through Saturday from 5:30pm-9:30pm, as well as for private events.