For many Bay Area residents, "going to the beach" means a trip to San Francisco's western edge. On overcast days, dog walkers, surfers, joggers and others have the four miles of coastline south of the Cliff House to themselves; when it's warm and sunny, regulars are joined by pleasure-seekers looking to dip a toe or watch the sunset.
But while Ocean Beach is a beautiful place, it's also a dangerous one. Several times each year, swimmers and surfers have to be rescued from the water, where waves regularly top three feet and temperatures average 56 degrees, even in July. Tides force the San Francisco Bay to return a sixth of its volume to the Pacific twice a day, creating rip currents that can flow away from shore "as fast as eight feet per second," according to the National Oceanic and Atmospheric Administration.
Last weekend, Wayne Ausa and Grisham Duran, both 16, were swept out to sea while wading with three other friends at Ocean Beach. According to reports, Ausa and Duran, who are believed to have drowned, were likely caught in a rip current.
"The problem with Ocean Beach is the Bay sucking large amounts of water in and out, all day long, which creates really big rip currents, plus the sand fluctuation," explains Rob Aschero, general manager of Ocean Beach's Wise Surfboards. 
Because the heavy surf at Ocean Beach has created sandbars offshore, incoming waves are forced into a large trough along the shoreline. As the water flows back to sea between two sandbars, it creates a rip current.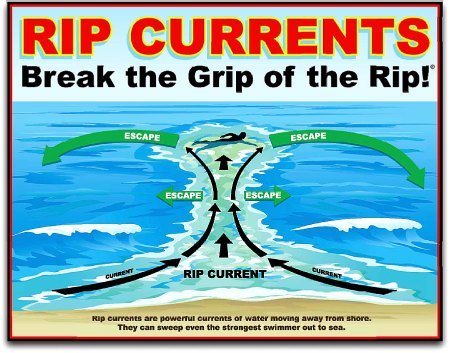 Graphic: National Weather Service
"If you have no knowledge of how to see [rip currents] or what to do when you're in one, the chances of getting in trouble increase suddenly," said Aschero. Education is the main problem: "It's not part of the culture in the Bay Area to go to the beach on a continuous basis."
Pls help the families of 2 #Vallejo teens swept away 4/16 @ #OceanBeach #SF GoFund https://t.co/urSOnQzskS https://t.co/lpeRdH9QTJ

— Eric Mar (@ericmar415) April 20, 2016
To get out of a rip current, swimmers should swim parallel to shore to escape the current, then paddle back to shore once they've broken free. As long as a swimmer knows what to do, has enough energy and can suppress a panic response, the odds are in their favor. If not, they'll be in need of rescue. 
During the summer, the National Park Service regularly assigns lifeguards to Ocean Beach. District 1 Supervisor Eric Mar has proposed adding patrols whenever there's warm weather that attracts large crowds. He also wants to step up education, warning visitors of the beach's dangers. On May 12th, Mar will discuss beach safety in a Board of Supervisors hearing.
But even adding lifeguards in the off-season may not be enough to keep everyone safe. "The reality is, it's a big beach to try to monitor, even with two lifeguards on duty," said Aschero. "There would never be enough funding to properly secure such a large stretch of beach" year-round.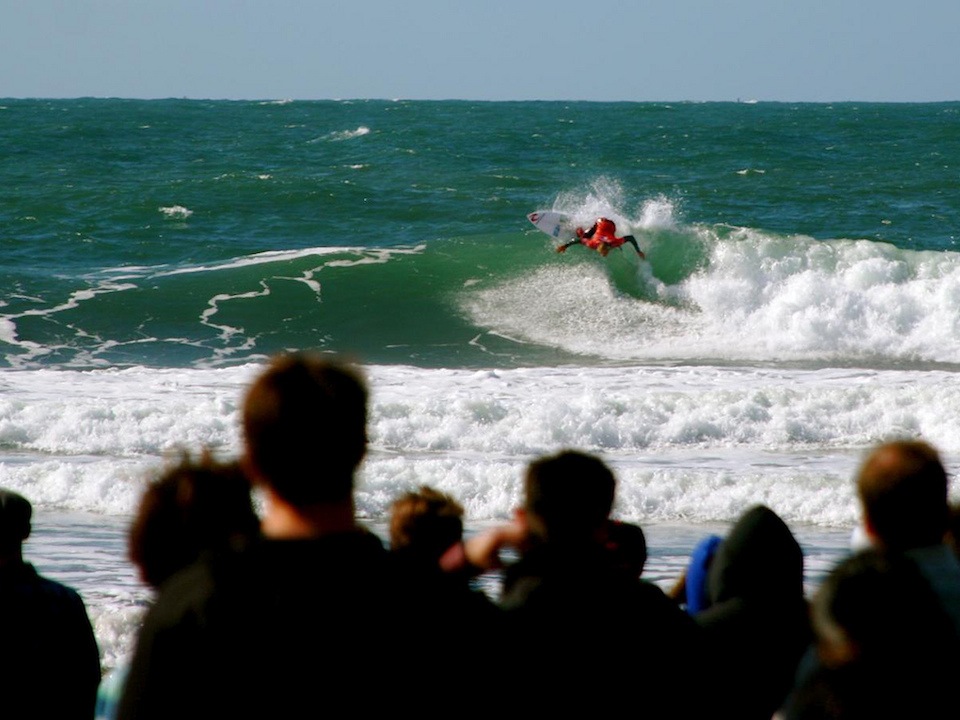 Photo: Rod Cuthbert/Flickr
Surfing
"We recommend that people without any experience go to Pacifica if they want to learn how to surf," Aschero said. Surfing instructors tell newbies never to surf alone, but "everybody does it," so as a matter of policy, Aschero doesn't rent equipment, lest it give novices a false sense of security.
He recommended that surfers always use the ankle leash that anchors them to their boards, since the waves and currents at Ocean Beach can give even very experienced surfers a run for their money. "There's a lot of people who surf who can't get themselves in," he said.
Despite a handful of shark sightings in years past, Aschero said sharks aren't an active concern for most boarders. "If you're afraid of sharks, you're not going to surf," he said. "You know you're entering their element, but no one talks themselves out of going into the water because of them."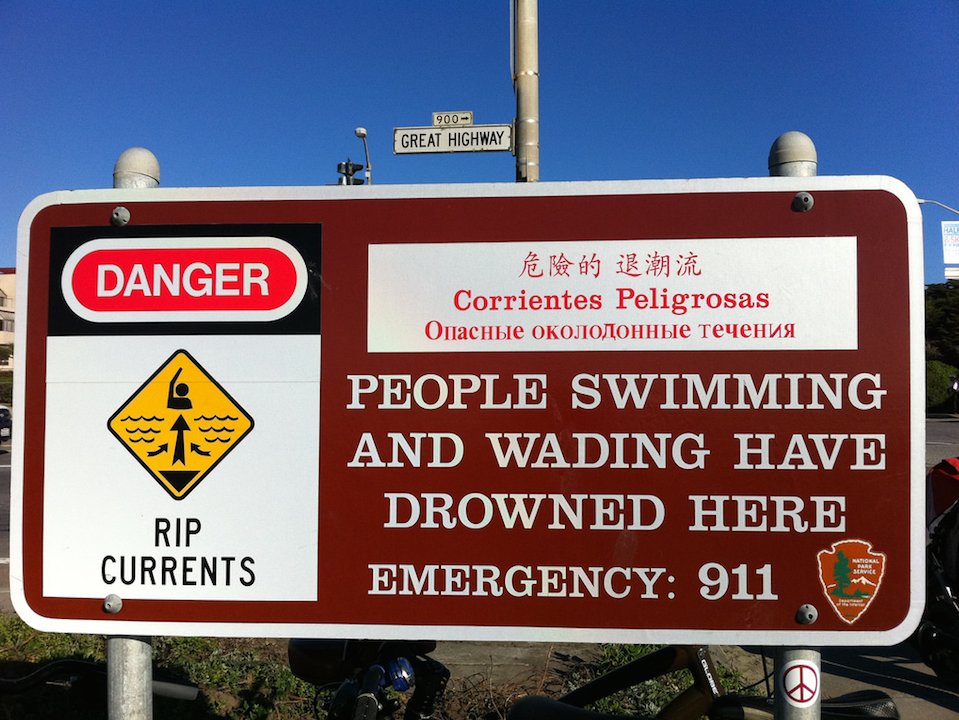 Photo: Wayan Vota/Flickr
Swimming/Wading
Most of those who are rescued or lost at Ocean Beach are swimmers and waders. The National Park Service, which manages the beach, has posted signs warning that "people swimming and wading have drowned here," but many visitors ignore them.
"Unless you're an ocean swimmer, there's no point," Aschero said, noting that Aquatic Park, Crissy Field, Baker Beach and other spots are much safer by comparison. He's especially adamant that "no children should be in the water at all for any reason at Ocean Beach," unless the entire family is wearing wetsuits and the parents are certified lifeguards. "There's no safe way to wade out here."
Dogs
"If you want to take your dog swimming, there are safer places," said Aschero. Ultimately, it depends on a dog's swimming ability and the owner's best judgment. "You know your dog best," he said, adding that some water-loving breeds, like Labradors, may be capable of handling themselves well.
In general, Aschero urges those who don't know what they're doing to steer clear of getting in. "If you're not aware and educated about the water, Ocean Beach should be a no-go," he said.