Houses in the Sunset have million-dollar values and plenty of architectural charm, but there's one element most lack: a green front yard.
Typically, fogbelt homes are fronted by a few square yards that are planted with a small hedge, or in same cases, left to grow weeds. Most homes' concrete driveways extend to their property lines, diverting water to an overtaxed sewer system. The extra paving may create room for additional parking, but each square foot of concrete diverts 12 gallons of rainwater per year into storm drains.
In 2014, District 4 Supervisor Katy Tang, the SF Public Utilities Commission (SFPUC), the Surfrider Foundation and Friends of The Urban Forest launched the Front Yard Ambassador Program (FYAP). The project, which only covers the Outer Sunset, uses city funds to subsidize the cost of tearing out concrete and planting yards with drought-resistant plants.
If participants can organize five households on a single block, each paying a sidewalk landscaping permit fee of $100, FYAP will cover the cost of removing concrete and buying plants and mulch.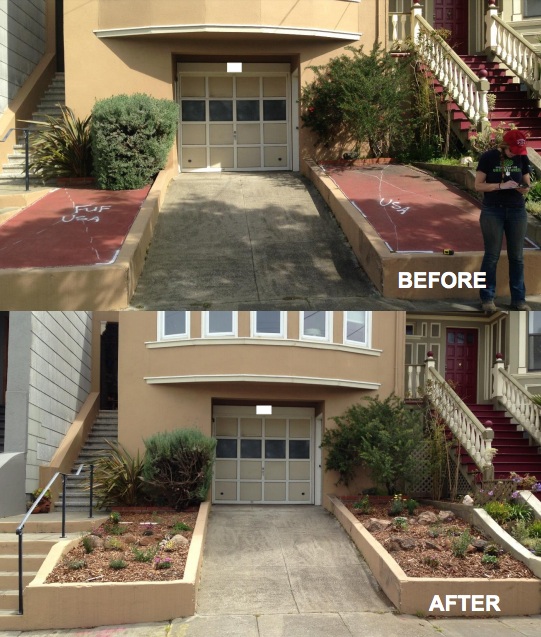 "Depending on size and scope," FYAP estimates that the work is worth "roughly $1,500 per yard," according to an outreach letter that applicants are encouraged to share with neighbors. Since the program launched, FYAP estimates that 7,035 square feet of concrete have been removed, diverting 84,420 gallons of water from the sewer system each year.
In an update to her Facebook page, Tang said FYAP removed more than 1,000 square feet of concrete during its spring planting. Volunteers planted five gardens on 30th Avenue, and seven gardens on 47th Avenue.

FYAP estimates that paved yards cover 160 of the Sunset's 2,300 acres, or 7 percent. Converting 25 percent of that area into permeable landscape would prevent 20 million gallons of water from flowing into San Francisco's sewers.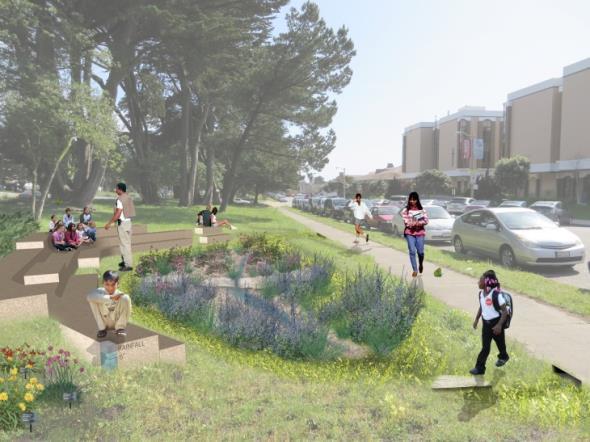 As part of a citywide sewer improvement program, SFPUC is also planting rain gardens as part of the Sunset Boulevard Greenway project. The project will add drought-resistant native plants along Sunset Boulevard between Irving and Taraval, to "improve stormwater management for more than 20 acres of paved surfaces."
According to the project description, the work will also create tiered rain gardens and a learning lab, which will give people a chance to learn more about green infrastructure projects. It's slated to be completed before the end of 2016.
Outer Sunset homeowners who'd like to create their own slice of Eden should act fast: FYAP is only accepting applications for its fall planting through May 31st. Application forms are available in both English and Chinese.