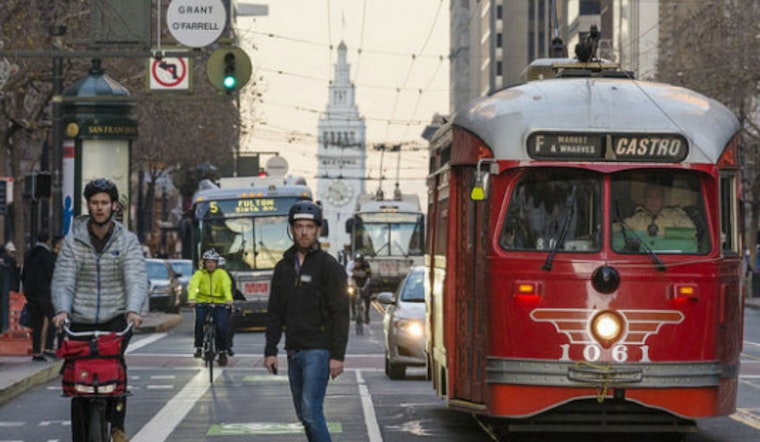 Published on May 06, 2016
This month, the San Francisco Transit Riders Union, a transit-focused grassroots advocacy and improvement organization, announced 30X30, its ambitious new efficiency benchmark for public transit in the city.
30X30's primary argument is that any part of San Francisco should be accessible via Muni in 30 minutes or less by the year 2030. According to the project's preliminary website, "Muni is the slowest major urban transit system in the nation," running at an average of 8.1 miles per hour.
"While it's a lofty goal, for riders, it's entirely reasonable. The city simply isn't that large," said Reed Martin, a board member of the SFTRU. "Paris's Line 14 subway, which runs about the same length as Geary Street, takes 12 minutes end-to-end, with a train every 60-120 seconds, all day. That's 400 percent faster than the 38-Geary."
Martin, who's also been in the news of late for his side project Revolutionize Haight, explained that 30X30 is still in its early stages—fundraising, doing community outreach to build traction, and getting feedback. But he claims that the recipe for faster service is actually simple.
"Fundamentally, the three cornerstones of how we get to 30X30 are increasing speed, frequency, and reliability," he said. That "means different approaches for different lines—everything from red carpet lanes, allowing buses to cruise past traffic, to subway expansion, enabling truly high-speed trains just below the surface."
Martin said that his hope for 30X30 is to gain enough traction with citizens to affect change at the city level, holding the city accountable for a real, substantive goal instead of the inch-by-inch incremental changes it's pushed forward in the past.
"San Francisco is the only major city in America without a full-time professional watchdog advocating for better public transit," said Andy Bosselman, SFTRU spokesperson and volunteer. "And that's what we've set out to change."
To make that happen, the SFTRU is currently fundraising with a goal of $100,000, which they'll use to help hire permanent, full-time support for the organization. Right now, "we're not a consistent voice of transit riders, because we have no paid staff," said Bosselman.

Martin encourages anyone who's interested in helping improve Muni to get involved. "We're just kicking off the conversation about this vision," he said. "We're looking for riders to join us and advocate for the best approaches on the lines they ride the most."