If you're not already sitting down, take a seat. Or if you're standing on Muni, you should at least consider grabbing onto the handrail. Biking? Put your phone away and mind the tracks on 17th Street.
Because between June 15th and the end of July, no fewer than 10 restaurants and retail businesses have closed or are set to close in the Castro. 
In addition to Books Inc. shuttering on June 15th, Good Feet, Karizma, It's All About You Salon, and Frame 123 have all recently closed, with A&G Merch planning to close up shop on July 17th and Entour saying goodbye at the end of the month.
Ike's has decided to move in with Market Street's Sweet Inspiration, while H Cafe told Hoodline yesterday that it'll be closing in three weeks to make way for a new restaurant. Did we mention that Church Street Flowers will be leaving at the end of July?
Here's our breakdown of what seems to be going on in the neighborhood.
Consolidating Locations
Books, Inc.: While the Castro's location of Books Inc. is gone, the store is continuing operations out of its Opera Plaza location, as well as its other Bay Area locations. Michael Tucker, Books Inc.'s CEO, previously told us that it wasn't financially feasible for the bookstore to sign another five-year lease in the Castro. So for the time being, 2275 Market St. will remain vacant.

Church Street Flowers: Though co-owner Rachel Friesen wasn't able to comment on whether the florist had the chance to renew the lease at its namesake location, you'll still be able to find a smaller outpost of the flower boutique in the Castro's newly opened Myriad marketplace. It also has a 950 Battery St. location. We don't yet know what will be going into 212 Church St.

New Tenants On The Way
Frame 123: The picture framing shop closed on July 2nd, shifting operations to its other location at 1530 Union St. But Hyde Street gallery Art Attack SF will be moving into Frame 123's vacated Castro location in the not too distant future—more to come on that later.
H Cafe: While its owner hasn't shared many details, H Cafe is opening a new restaurant concept in its 3801 17th St. location, and construction is already underway. We'll follow up with more information once we hear more.
Karizma: Here's a snippet of the goodbye note the owners, located at 213 Church St., Martin Luther-ed to their door on June 2nd:
"Due to the renovation request by our landlord, we have to move out [of] this location for now. Thank you for your 21 years [of] support to our business and it has been our great pleasure to service you and this has brought us so many precious moments! We will be sure to serve you again in about two months and still in this neighborhood!"
We reached out to Karizma's owners, Momo and Tom, and Tom was able to tell us that he hopes to open back up in the same location in a few weeks. However, he was not able to tell us what kind of renovations are taking place, or if there will be any changes to Karizma's rent or lease. We'll continue to follow this story and update if we learn more. 
Reshuffling Empty Storefronts
Entour: Earlier this week, we heard that Entour, the men's clothing store that's been in the Castro since 2006, will be permanently closing, and its neighbor Max Muscle will be moving into Entour's adjacent, smaller space as soon as August 1st.
Hoodline inquired about a possible new tenant for the soon-to-be-vacant Max Muscle space at the prime corner of 16th and Market, but "no lease has been signed for a new tenant yet," property owner Larry Bennett told us.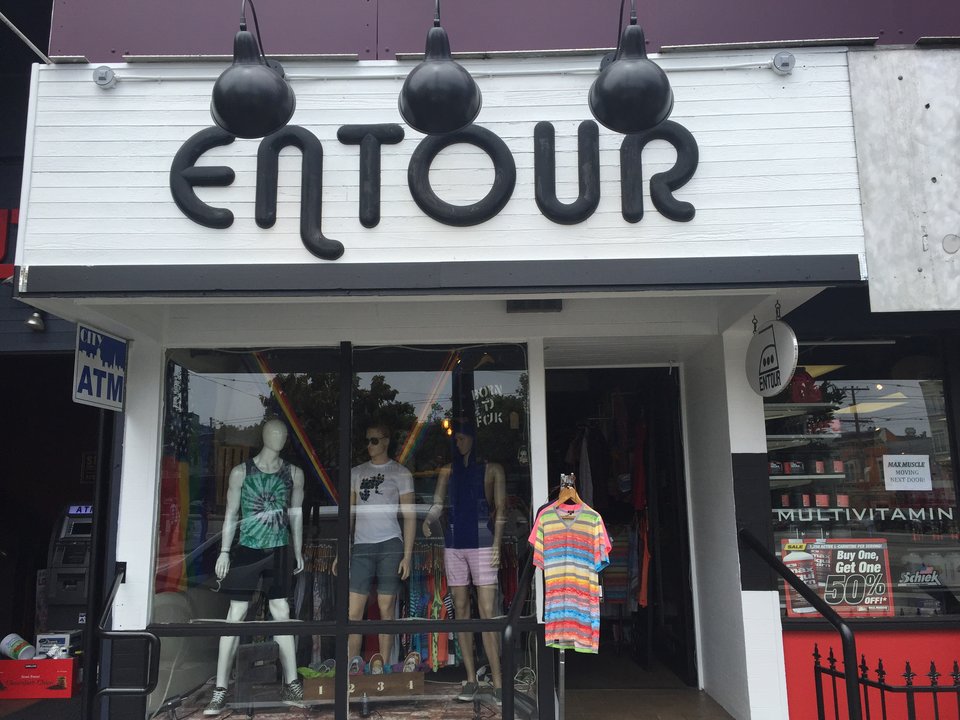 Ike's: With its five-year lease at 3489 16th St. ending in August, with no option to renew, Ike's Place has decided to bunk with Sweet Inspiration at 2239 Market St. for the time being. Even though the new sandwich-and-sweets collaboration is housed just a block and a half away from Ike's current location on 16th, the latter space, which was the shop's first permanent location, will be vacated at the end of the month. We don't yet know what will take its place. 
Retail Mysteries
A&G Merch: The Castro's very own taste of Brooklyn-inspired interior design is closing because the store's manager, Scott Denardo, wants to be closer to his family in Los Angeles. Back in May, Denardo told us that the end of the store's lease in July coincided with his own desire to move things south. We'll keep our eyes on this prime Market Street space to see what might come in next.
We were unable to get comments or details from 18th Street's It's All About You Salon and Market Street's Good Feet, and we don't know what's planned for those spaces.
When One Door Closes, Another Opens
With so many local businesses going through trying times, we decided to reach out to Daniel Bergerac, president of the Castro Merchants, to get some explanation.
"San Francisco is a hard city for successfully operating a small business," said Bergerac, who compared it to eating soup with a fork. "With over-taxation and regulations, coupled with unrealistic landlords, at a certain point, it becomes impossible to operate."  
Bergerac said the issue of business closures isn't unique to the Castro; there are numerous empty storefronts around San Francisco.
However, he also reminds locals that the neighborhood is still welcoming many new and forthcoming businesses to the area, including Dog Eared Books, Nomica, Le Marais Bakery, Castro Fountain, Finn Town, GoHealth Urgent Care, and Myriad Marketplace.
"I think retailing is changing fast," admitted Bergerac, "but I don't think the neighborhood is sad at all.  I see a vibrant, busy, changing neighborhood.  We definitely have some challenges, but overall, I think the Castro is doing better than many neighborhoods."
Grab Your Burrito: Is Zapata's Next?
As we reported last year, beloved 23-year-old taqueria Zapata Mexican Grill struggled to get a lease extension from landlord Les Natali. As things stand, it can only stay in its 18th Street space until October 31st of this year.
In April 2015, the Castro/Eureka Valley Neighborhood Association, the Castro Community Benefit District, and the Castro Merchants wrote a joint letter to Natali, asking for him to give Zapata's owner a 10-year lease extension at its current location. Although Natali reportedly didn't respond directly to the letter, Bergerac claimed that just last month, Natali said that he would be contacting Zapata's owner, Jorge Perez, about a possible extension.
We were unable to get comment from Natali, but we did hear back from Perez, who told us he received a letter from Natali stating that he's open to the possibility of a limited lease extension. In the past, Perez said that these extensions were only for three to six months; his taqueria has been working on one-year lease extensions for the past three years, not knowing what the next year will bring.
"I am open to having a new long-term lease," Perez said, "but can no longer work with these limited extensions."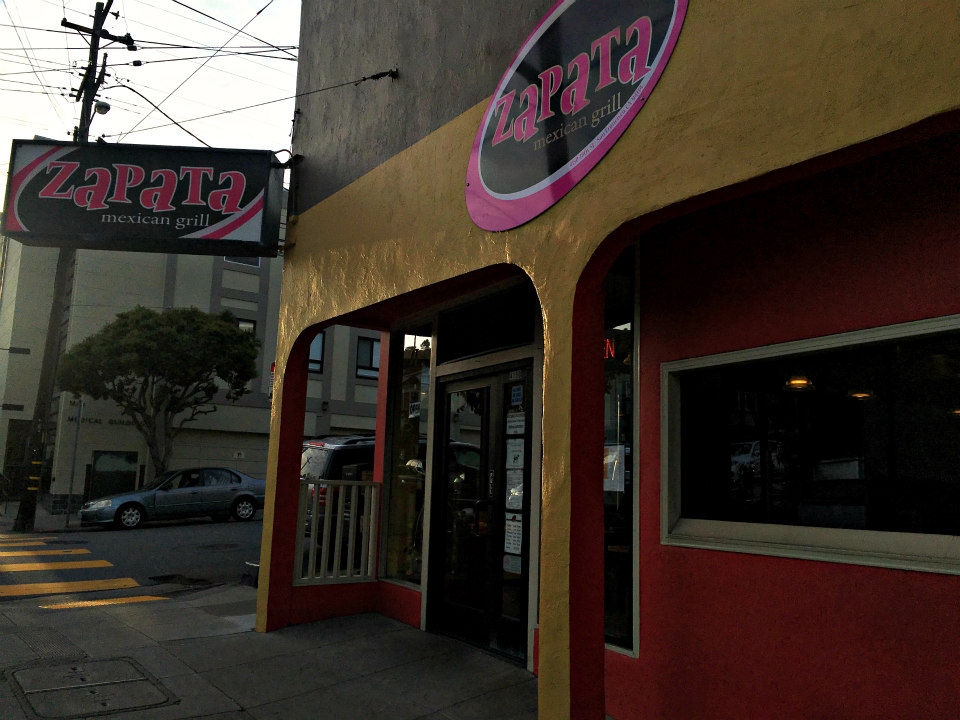 Perez's lawyer responded to Natali on July 1st, stating that a minimum three-year lease extension is necessary for the restaurant owner to consider staying. "Unfortunately, any less is just not a realistic option anymore for Zapata." Perez has yet to hear back from Natali.

"Losing Zapata will be a huge disappointment for everyone," wrote Bergerac, "and it will be a sad day if Zapata closes. I say 'if,' because I'm hoping a mutually beneficial, long-term lease deal can be worked out between the parties."
As always, we'll continue to follow the comings and goings of Castro businesses. If you see any 'for lease' or 'coming soon' signs going up around the neighborhood, feel free to shoot us a tip!