Fix-It Team SF, the organization created by Mayor Lee to address quality-of-life issues, held its first community meeting for the Inner Sunset earlier this week. The team's director, Sandra Zuniga, and her staff were on hand to hear from residents about their specific concerns for the neighborhood.
The Inner Sunset is the second stop for the Fix-It Team, and one of five pilot neighborhoods that it will focus on over the next several months. Based on the data she currently has, Zuniga said this first phase will focus on a small area of the neighborhood, from Nancy Pelosi Drive in Golden Gate Park up to Kirkham Street, and from 2nd Avenue to 15th Avenue. Zuniga said the smaller footprint is needed to be more effective.
The Fix-It program is the result of a May 2016 executive directive by Mayor Lee to deal with neighborhood safety and cleanliness concerns. "The mayor wanted neighbors and residents to feel safe in their neighborhoods and in their homes," Zuniga explained.  "All residents are entitled to clean, well maintained public spaces and facilities, such as parks, public spaces, libraries, and streets."
The program relies on the collaboration of different city agencies in order to resolve ongoing issues like potholes, graffiti, street lights, tree maintenance, litter and vandalism. The mayor "wanted city agencies to address quality-of-life concerns," Zuniga said, "but he wanted to do it in a comprehensive way, so there [are] multiple agencies working together."
By working collaboratively, the team will be able to avail itself of many different resources, and avoid the backlog of 311 requests. Members of many of the Fix-It Team's participating agencies also were present at the meeting, including the Department of Public Health and the police department.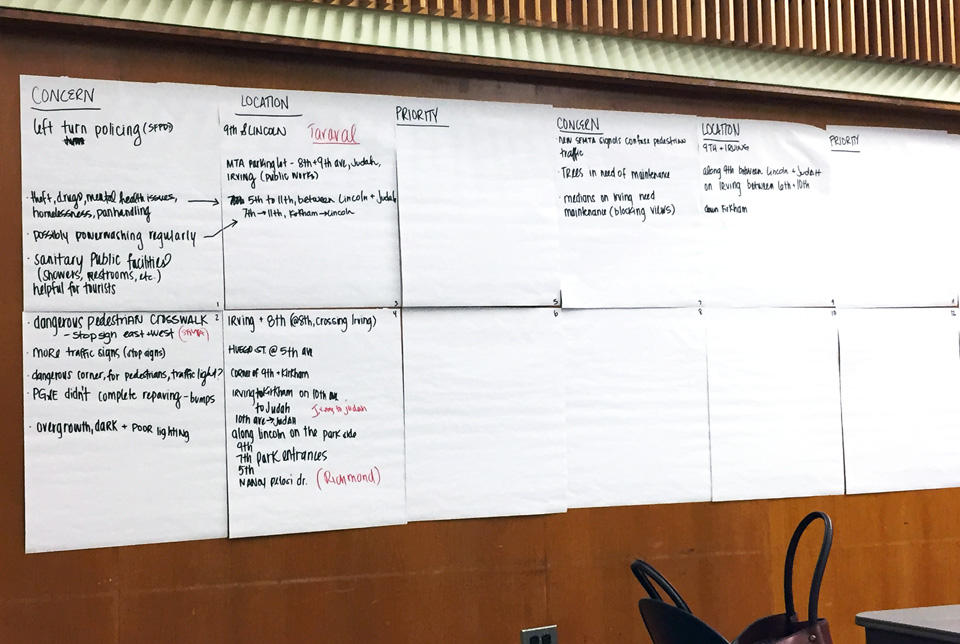 One of the biggest topics raised was the issue of homelessness, and how to deal with related concerns of theft, human waste, vagrancy, panhandling and mental illness. "I'm not talking about criminalizing homeless people," one participant said, but she knows one particular individual who "has mental health issues ... she needs some help."
"We have resources," Zuniga responded. "That's why I want to know where we should devote our resources ... We're not criminalizing anyone.  If there is a way we can provide assistance, we'll do it."
"We are doing more proactive outreach when we go into a neighborhood for Fix-It," Zuniga added, noting that the Fix-It Team includes members from the Department of Public Health's Behavioral Health Services and Community Health Equity and Promotion (formerly HIV Prevention) teams. "We have somebody who's licensed and very caring, and I think this is a great opportunity to offer services to folks."
The problem of human waste on the streets and in parking lots was another topic raised, and attributed in part to a lack of public restrooms. In addition to the homeless, one participant said the lack of restrooms affects tourists and the general public as well. "I can't tell you how often I get asked 'Where is the nearest bathroom?'" she said.
Although creating a public restroom might not be an issue that the Fix-It Team can resolve immediately, Zuniga did add it to the "bike rack" list of long-term issues that came up during the meeting.
Other issues that came up involved street safety. One man asked that more policing be done at 9th Avenue and Lincoln, to curtail illegal left-hand turns. Another attendee wanted to know if it was possible to have more police monitoring of Hugo Street. "People come down from Laguna Honda and they want to make a left [onto] Lincoln Way, and you can't make a left from 7th Avenue, so everybody cuts over and just speeds down."
The crosswalk at Irving Street and 8th Avenue was noted as a dangerous intersection. "People coming down Irving Street do not stop," one participant said. "It's a safety issue. I used to work at that corner and we saw accidents and [near] accidents all the time."
Zuniga said that a new, brighter crosswalk could be added for increased visibility. She explained that because the crosswalk would cross the Muni tracks, it might take a little longer to get done, possibly 2-3 months, but she would have it completed.  
Another safety concern dealt with the sidewalk on the park side of Lincoln Way. "The sidewalks are narrow, there's a lot of overgrowth, it's dark," said one attendee. "It's not safe for walking." One participant noted that all of the park entrances on Lincoln Way from 5th Avenue to 9th Avenue were "under-lit" and "very dangerous."
These conditions were also acknowledged as contributing to the 'smash-and-grab' car break-ins that are common in the area.
As the neighborhood engagement portion of the meeting came to a close, the topic returned to the issues of homelessness and mental health. "That's definitely an area where I see a lot of work can be done through Fix-It on a long-term basis," Zuniga said, "because we're seeing such a change in who's out there on the street and what their needs are."
She said that she knows there is a lot of work to be done. "We're trying to strategize our outreach. We're going to places where we can help people."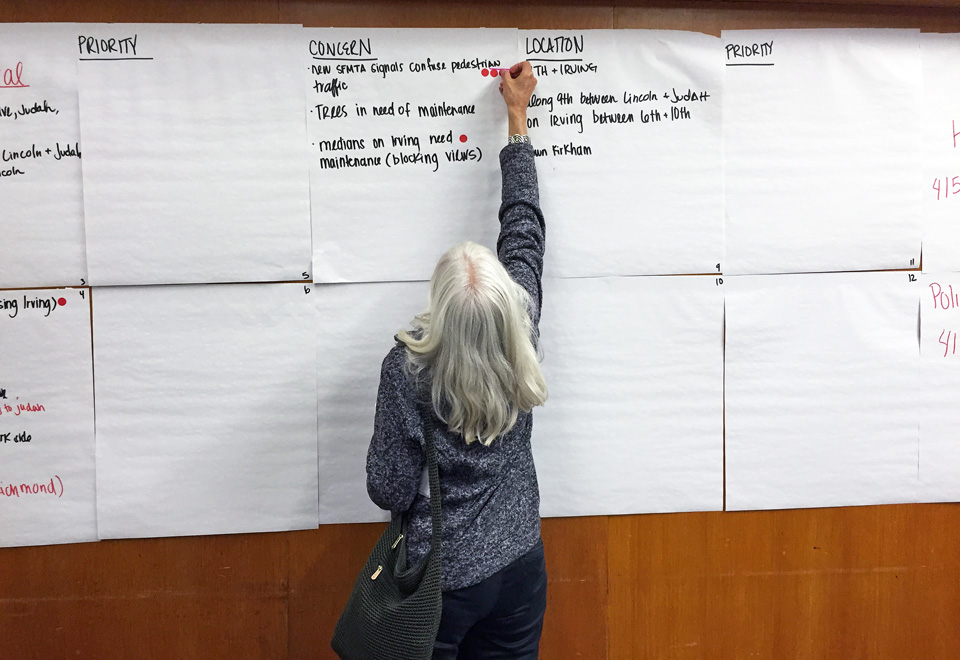 Over the course of the meeting, residents' concerns were written in marker on large papers at the front of the room. After a short question-and-answer session, participants were encouraged to mark their top concerns and priorities with red stickers.
Zuniga also encouraged community members to reach out to her at any time. "[We are] all working together to help each other on an agency level, but we definitely need the community to work with us, too."
The next phase in the process is a Fix-It Team community walk in the neighborhood on Tuesday, August 16th Wednesday, August 10th. Zuniga said it will begin at 9th Avenue and Lincoln Way at 6pm.