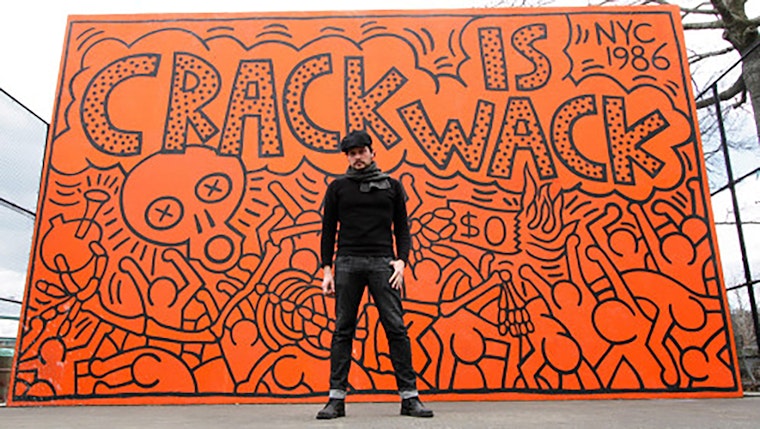 Published on August 30, 2016
Wander through the streets of New York City long enough and you'll eventually cross paths with photographer Daniel Albanese. He'll likely be looking through the lens of a camera, awkwardly contorting his body in an effort to frame the perfect shot.
Influenced by his background in Anthropology, Albanese has traversed the wildly diverse landscape of New York City for years. Through his photographs, which are posted on his blog, TheDustyRebel, he is able to document the "creative and rebellious fringes of urbanity" ― anything from street art to buskers to everyday city living. In this interview, Albanese talks about some of his most memorable experiences as an ever-curious NYC-based photographer:
1. What inspired you to start documenting New York City through photographs via your blog, TheDustyRebel?
I grew up just outside of the city, and have been fascinated with it since I was a kid. My friends and I would sneak in all the time, of course. I was drawn to the creative and rebellious energy I found on its streets, and loved that people came here to shake off social norms and to live life as they wanted. I pretty much do now what I did then: people watch and wander around for hours.
In college I studied anthropology, which was perfectly suited for my inquisitive personality. But I also have an intense desire to create art. I had studied photography in high school, but it wasn't until we had high quality digital cameras that I could really throw my energy into it as an art. Before then, it was just too expensive. For me, photography is a perfect medium that satisfies both my curiosity about people and desire to create, non-stop.
2. You must come across a lot of interesting things in a big city like New York. What has been your favorite captured moment so far?
Oh, that's a tough one! I go out shooting every day, and have documented hundreds of incredible artists and fascinating people over the years. But there are a few interactions that have really stayed with me. One was with a homeless man named Brian. I thought I was done shooting for the day and threw on my headphones. As I was walking down an alley in Chinatown, a homeless man began talking to me. At first, I assumed he wanted money, but when I removed my headphones he said, "will you take my picture?" Afterwards he got really happy and told me his name. I've had several people stop me over the years, mostly homeless. I'm not sure why they do. They never ask to see the photo. Perhaps it feels good to have someone acknowledge their existence.

3. Any missed photo opps?
One of the reason I never leave the house without a camera is because I dread those missed shots! Anyways, there is one that I always regret missing. It was a cold winter day and I missed this great shot of a nun throwing a snowball at a kid coming out of Mass. It was such a beautiful and playful moment.
4. What - if anything - do you take away from talking to strangers and learning about their stories?
To my mother's dismay, I've always loved talking to strangers. Since I can remember, I've had a deep curiosity about other people. My photography allows me to meet thousands of people, and find out more about who they are, how they live and what motivates them. I've spent a decade or so documenting dozens of various subcultures; street artists, buskers, political activists, historical reenactors, cosplayers, pigeon people, and so on. They're all such fascinating people! I could honestly go for hours talking about the people I've photographed.

5. How does a typical day go for you when you're out taking photographs?
First off, I prefer to go out alone. I don't like to be distracted when I'm shooting. Plus, I have a really bad habit of just disappearing if I see something interesting. I also don't listen to music while I walk around because I want to hear everything around me. As a street photographer, I use all of my senses to feel out the city. For me, hearing my environment is essential to knowing what's happening around me.

Generally, my day consists of a lot of walking. Some days, I focus on street art, which means I'm wandering around a lot, primarily focusing on areas I know artists like to hit up. Other times, when I'm working on portraits, like for my "Random Strangers" series, I'll spend hours in the parks. Same when I'm working on "People with Pigeons"—a series I started in 2010, documenting people who hang out and befriend feral pigeons.
6. If Brandon Stanton from Humans of New York (HONY) happened to approach you, what would your blurb/quote under your portrait be? (What's your story?)
That's funny. [laughs] A few times while I've been shooting, I've been asked if I'm the Humans of New York guy. I always joke, "No, he's the nice one." But, to be serious. I've met and photographed him a few times. He's a super nice guy. In fact, a few of our subjects overlap. Although, I think for the most part, we focus on very different kinds of people here in New York.
7. What is the best part about the work that you do?
Capturing an ever-changing city I love, and the people who make it one of the most unique places in the world.
All photos via Daniel Albanese | TheDustyRebel
Follow TheDustyRebel on:
Instagram | Facebook | Twitter