Nickies Bar has anchored the eastern end of the Lower Haight drinking corridor since the late 1940s, and is still going strong today. With a truly varied clientele consisting of locals, sports fans, and regular barflies, the place is certainly not without character, and has given many folks nights to remember (or not).
Manager Sean O'Donovan started working there about six years ago, and has been managing the place for the past three years. In fact, it turns out that the owner of Nickies grew up just a mile from where he's from back in Ireland, a point O'Donovan said got him a leg up in the interviewing process.
Nickies is known for its comprehensive sports programming, and with football season just underway, we thought it would be good to catch up with O'Donovan and shoot the breeze with him on such topics as running a sports bar, managing rowdy clientele, and how his bar compares to watering holes across the pond.
Where are you from and how did you get here?
I am from County Clare, Ireland and I wound up here about 11 years ago kind of by accident with a bunch of friends, and I stayed. I left a few times, but always found my way back. You tend to get trapped here. It's a great city.
How did you come to be the manager of Nickies?
I had been here for three years at the time and the previous manager—the wonderful Alexis—moved off back across the pond and they asked me and Shannon, another bartender at the time, if we wanted to take the job. That was about a year and a half ago. Shannon has since moved on, so I've been running this place by myself since this summer. 
Tell us a little bit about the history of the bar. 
It's been here since '48. It started off as Nickies Barbecue, so it's always been Nickies and it's been continuously open since then. It went through a reggae phase, it was a dancehall place, it was a dirty dive bar where they used to have a big smoking area downstairs ... I hear these amazing stories of the old days where people would sneak downstairs and do what-not. But it's been an Irish sports bar for about eight years now. We only got our liquor license about six years ago, so we are getting to where we want to be.
What are the biggest challenges associated with running a popular sports bar?
Everything we do revolves around sports. We've got a constant, steady stream of locals that are here no matter what who just love this bar. But as far as scheduling and everything else is concerned, it's all sports. We're planning months and months and months ahead for whether the Giants do well, whether the Warriors do well. We're also a Broncos bar—[fans] love this place—then there's the World Cup, the Olympics ... that's what allows us to run the bar for the neighborhood the rest of the time.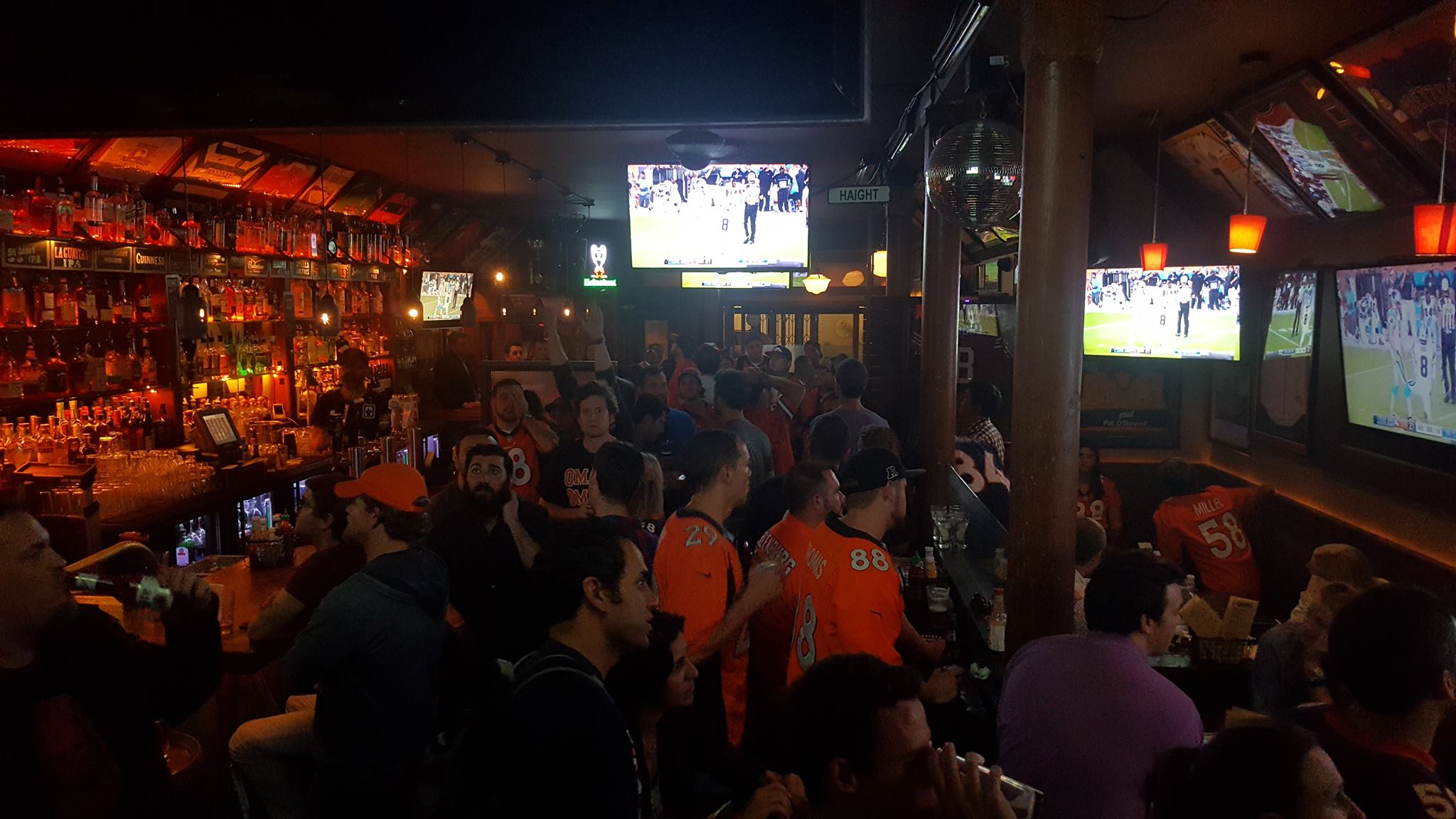 Football is a pretty aggressive sport, and fans of opposing teams can get rowdy. How do you manage all of that in a packed bar?
We're always trying to appeal to fans of all teams, but we've also got a great core base of Broncos fans, Niners fans, New England fans ... so often the challenge is to accommodate all of them on busy days with multiple games at different times, trying to find different spots for everyone and keep them happy. We love the camaraderie between different groups, but you also kind of have to separate them and keep them in line. A lot of times you'll find the 'alpha' in the group and enlist him to keep his people in line. 
Also, since we run the place with a relatively small staff, you have to find that same one person in the group to run all their food and drink orders, rather than going to each person individually. It just keeps everyone happier.

What's your favorite part about managing a bar in the Lower Haight?
Well I also live in the Lower Haight, so it's like my living room. My friends visit me here, if I'm meeting someone, I'll meet them down here. People know where to find me, and a lot of people feel the same way about this place. It's just second nature to them and that's what we want to create here.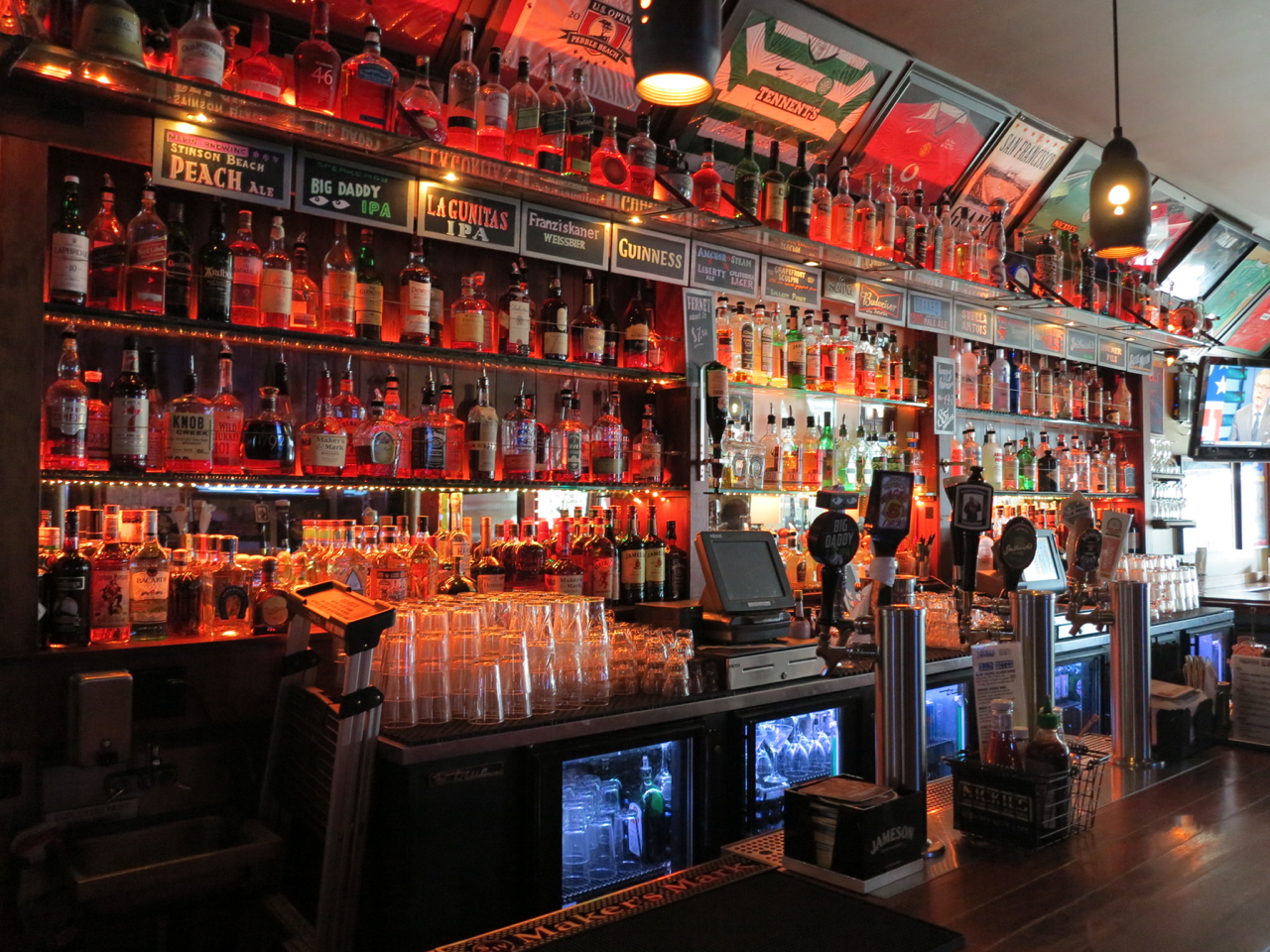 How does this bar compare to an 'Irish bar' in Ireland?
Well, there definitely wouldn't be a disco ball <laughs>. There's also a lot more liquor than you'd find back home. In terms of decor and feel of the bar, this would be a 'classy Irish bar' back home. But in terms of 'the craic'—which basically means a drunken good time—that's what we have here and that's what makes this place alive. The craic is good here. It's got that good Irish feeling.
For more Tapping In with local bartenders, get to know Patrick Connolly of The Independent, Giday and Nebiat of Waziema, Michael Wieck of Bar 821, Caleb McGehee of Nopa, Chris Libby of Madrone, Jared Schmidt of Absinthe, Racquel of The Page, Remy Nelson of Mojo, Andy Mott of Royal Exchange, Martin Kraenkel of Molotov's, Brendan Heath of Whiskey Thieves, Pete Spanier of Hemlock Tavern, Meaghan Johnson of Fly Bar, Tim Gapchenko of Cafe Terminus, Johnny Davis of Emperor Norton's Boozeland, Kundan Baidwan of Zam Zam, John Pringle of Doc Rickett's, Harmony Fraga of The Social Study, Chris O'Brien of Outerlands, Daniel Kutch of Maven, Ben Mansell of 540 Club, and Arnold Prien of Final Final.