By
Hoodline
- Published on October 29, 2016.
"San Francisco summer" was cut tragically short this year, and our October surprise has instead been plenty of rain—great for the drought, but not so great for lifting spirits.
So we polled Hoodline's hardworking crew of neighborhood editors to recommend the best bars in their neighborhoods for a well-deserved drink in a cozy atmosphere. Here are the spots to hit when you want to curl up by the fire, sip on something strong, and let your cares melt away. 
Bayview
Gratta Wines' dimly lit and intimate Bayview tasting room (5273 3rd St.) features several homemade wines created by area resident Barbara Gratta. If you're looking for a nice place to mix and mingle with your neighbors, then this is the place to be. Every Thursday, they do a pairing special with a Bayview-based restaurant, and the prices are reasonable. —Meaghan Mitchell, Bayview/Fillmore neighborhood editor
Castro 
"Weather" the rain has you dwelling on what could have been or reveling in schadenfreude, Twin Peaks Tavern's (401 Castro St.) big glass windows provide the perfect vantage point to take in all that the seasonal wetness has to offer. Ideally located next to the bus stop, Castro Station, and F-line, why not just order a classic cocktail, nestle into one of the bar's cushioned seats, and see where the night (read: afternoon) takes you. —Shane Downing, Castro neighborhood editor
Cole Valley
Why get wet waiting for the N-Judah or one of the many buses that passes through Cole Valley? Pop into the recently renovated Finnegan's Wake (937 Cole St.) to feed the jukebox, enjoy an adult beverage, and listen to the pitter-patter of raindrops on the skylight over the pool table. —Walter Thompson, Inner Sunset/Cole Valley neighborhood editor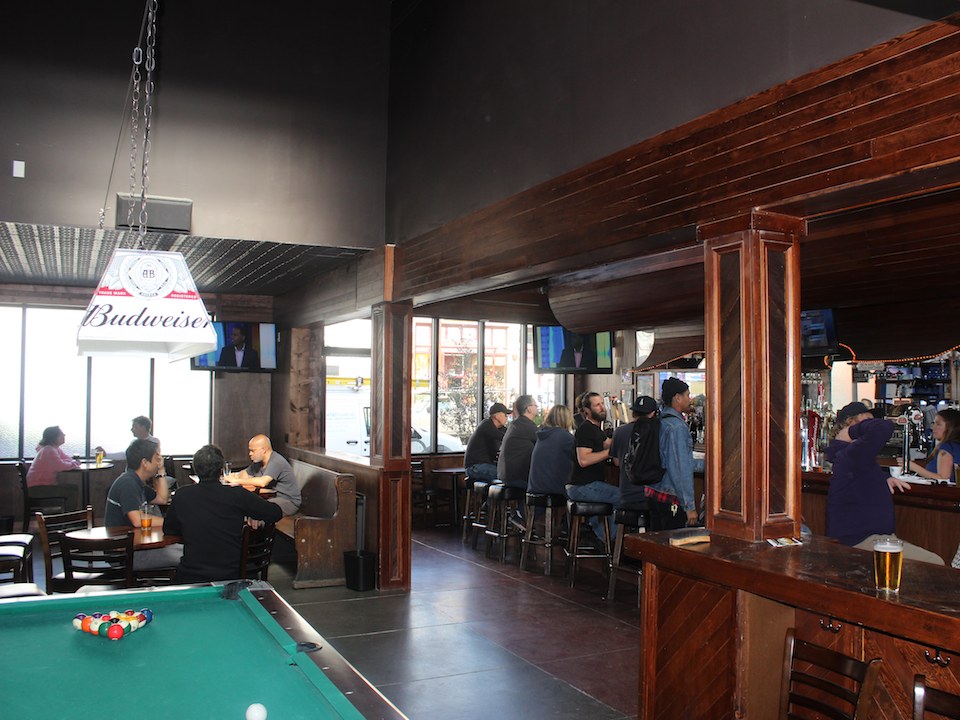 Divisadero
If a wood-paneled room clad with taxidermy, woodsy tapestries, and paintings of long-dead English royalty isn't the perfect place to weather a storm on Divisadero, then we don't know what is. Dry in the rain and warm in the winter, The Page (298 Divisadero St) never fails to deliver as cozy haunt with strong beer and an excellent selection of whiskey. —Stephen Jackson, Divisadero neighborhood editor
Duboce Triangle
Make yourself at home (but keep your pants on) at The Residence (718 14th St.) during Duboce Triangle's next rain shower. Sure, the plush Victorian-style decor and eccentric upholstery might remind you of the home of an Elizabethan spinster, but the delectable cocktail menu translates nicely into a lengthy visit, and the dim lighting is forgiving of even the most rain-soaked of patrons. —Shane Downing, Castro neighborhood editor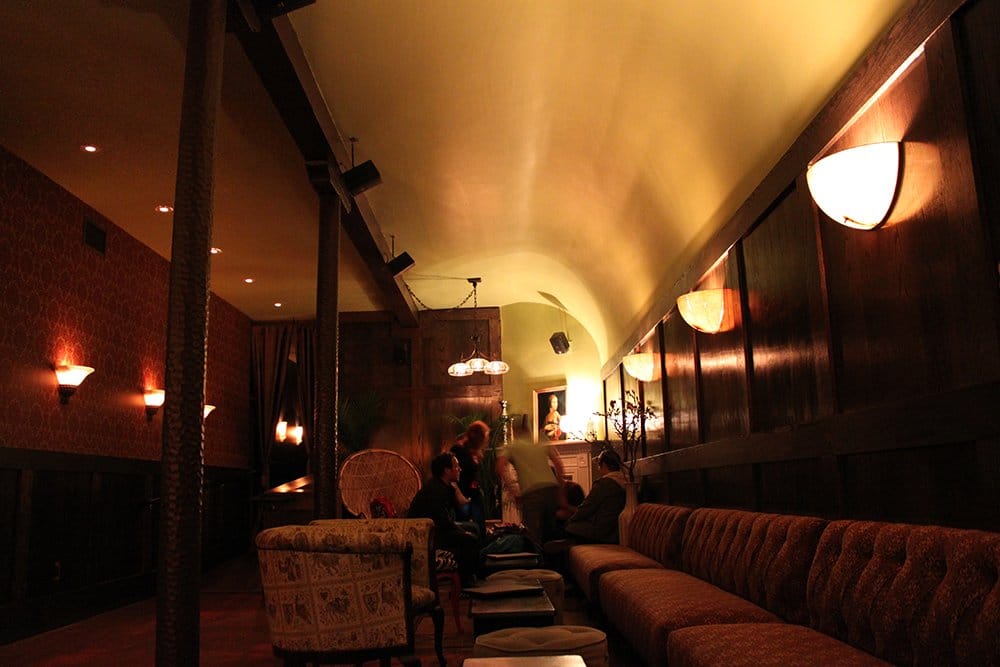 Excelsior
Step off of Mission Street into Rocks Den (4431 Mission St.) to forget your troubles in a modern man cave. The bar features televisions for sports fans, a free pool table, and a snug back room decked out with tasteful wallpaper, a fireplace and sofas for lounging. Check in on different days for special deals, like Wine and Whiskey Wednesdays. —Will Carruthers, Ingleside/Excelsior neighborhood editor
Fillmore
For a cozy evening, 1300 on Fillmore (1300 Fillmore St.) is a comfortable spot full of swanky couches and chairs, with a wall covered in historic classic Fillmore neighborhood photos. They offer a great happy hour on weekdays from 5:30-7:30 pm and all night long on Thursdays, with cornmeal fried oysters, fried chicken sliders, and Southern-inspired cocktails starting at $5. —Meaghan Mitchell, Bayview/Fillmore neighborhood editor
Hayes Valley
If you've always wanted to combine a bookstore and a bar, then Two Sisters Bar and Books (579 Hayes St.) is your new haunt. Sidle up to a stool, get yourself an artisan cocktail (they particularly know their way around whiskey and gin), borrow a book from their shelves, and watch the hours dissolve. —Amy Stephenson, Upper Haight neighborhood editor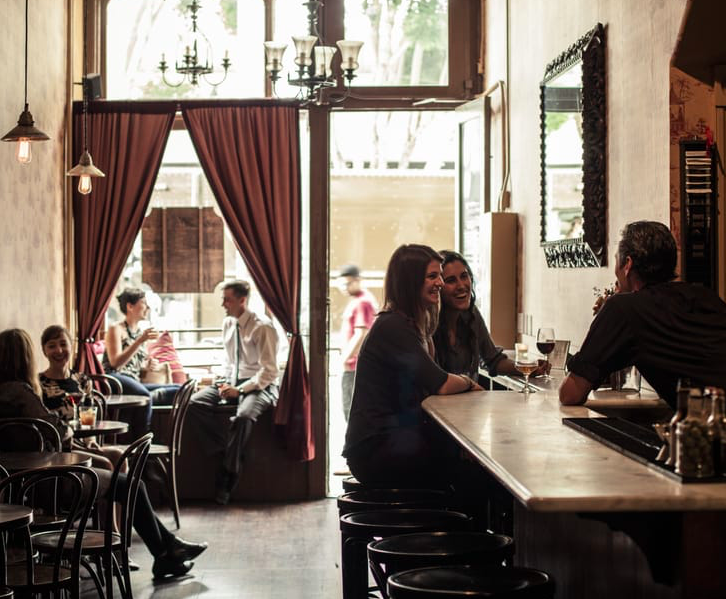 Inner Richmond
Nothing will serve you better on a rainy afternoon than a proper pub. Quiet and unpretentious, The Bitter End (441 Clement St.) sports a fireplace, deep benches, chipped varnish and darts. It's also got a full roster of pub snacks waiting on your beck and call, for when that third Guinness turns into supper. —Camden Avery, Upper Haight neighborhood editor and Richmond writer
Inner Sunset
Just like love, sometimes the bar you're looking for is right in front of you. With a working hearth, overstuffed couches and a diverse mix of UCSF students and neighborhood regulars, Fireside Bar (603 Irving St.) is the perfect place to warm up before climbing aboard the N-Judah that stops right outside its front door. —Walter Thompson, Inner Sunset/Cole Valley neighborhood editor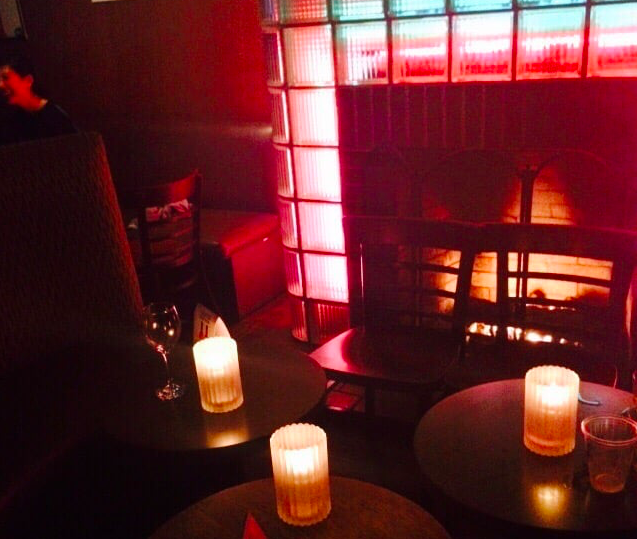 Lower Haight
Noc Noc (557 Haight St.), short for "Nocturnal Nocturne," is known for its craft beer selection, sake on tap, and its funky wall paintings and artifacts hanging from the ceiling. The three-decade-old bar is probably one of the few drinking establishments in the city that doesn't have a TV. Take a seat at one of nooks throughout the space, which the original designer purposely made to maximize privacy, so you can actually carry on a conversation with friends while you imbibe. Oh yeah, there's also a fireplace. —Alisa Scerrato, neighborhood editor
Mission
The Wooden Nickel (1900 Folsom St.) is one of the coziest bars in the Mission. The all-female-owned dive bar features a pool table; a jukebox with an eclectic mix of music, from The Cure to Led Zeppelin; and an affordable beer and shot special. What's most notable is their fresh fruit "painkillers," made from a blend of gold rum, orange juice, pineapple, and coconut topped with a dash of nutmeg. I know what you're thinking: "Cold day, cold drink?" But seriously, bartender Joe Lee got this recipe from the Soggy Dollar Bar in the British Virgin Islands in 1971, and drinking even one of these drinks makes you feel like you've suddenly been transported to a tropical island. —Alisa Scerrato, neighborhood editor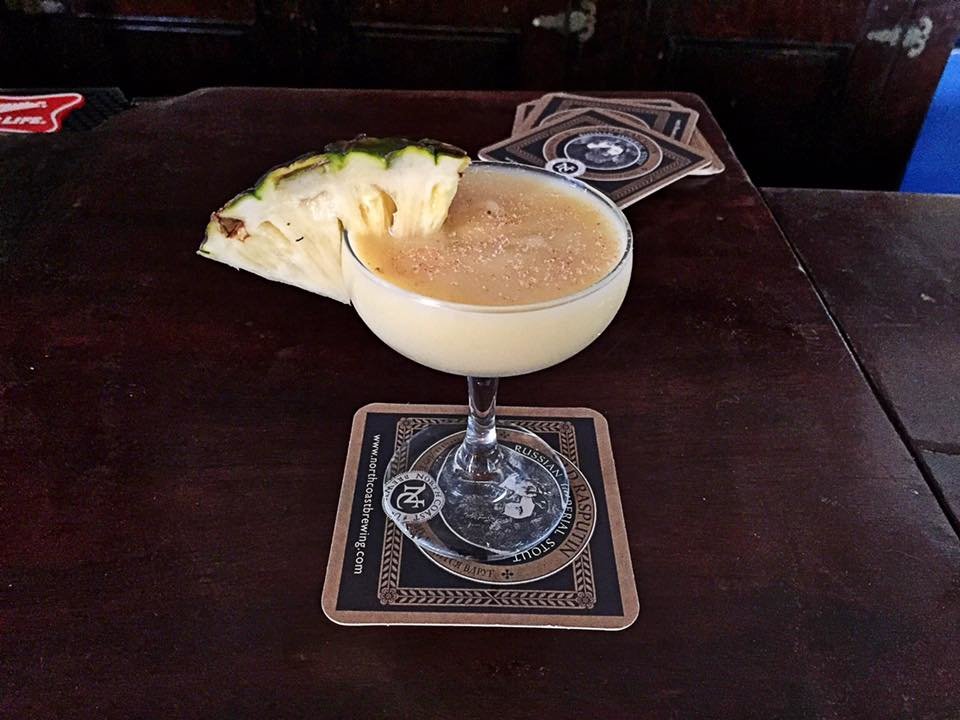 Outer Sunset
Baby, it's cold outside, especially if you live in the Outer Sunset. If you need a reprieve from the fog, duck into the recently resurrected Riptide (3639 Taraval St.) a few blocks from Ocean Beach. With small bar tables and comfortable red sofas scattered around a cozy lodge interior, this is the perfect place to enjoy lazy chats over local brews and hot toddies. —Fiona Lee, Outer Sunset neighborhood editor
North Beach
Inclement weather got you down? Pop on over to Sweeties Art Bar (475 Francisco St.) for a stiff drink and warm conversation with the locals. The pool table is free, and they'll even make you a pizza if you're so inclined. Don't forget to rub the Buddha statue at the entrance for good luck. —Nathan Falstreau, North Beach neighborhood editor
SoMa
For a cozy bar experience just off the beaten path of the Folsom corridor, Driftwood (1225 Folsom St.) makes a nice getaway with its low lighting, comfy couches, flickering faux-fireplace, and strong whiskey drinks. Just be sure to warn your date about the enormous wooden penis sculpture displayed in the bathroom, a holdover from the space's past as a leather bar. —Allie Pape, San Francisco editor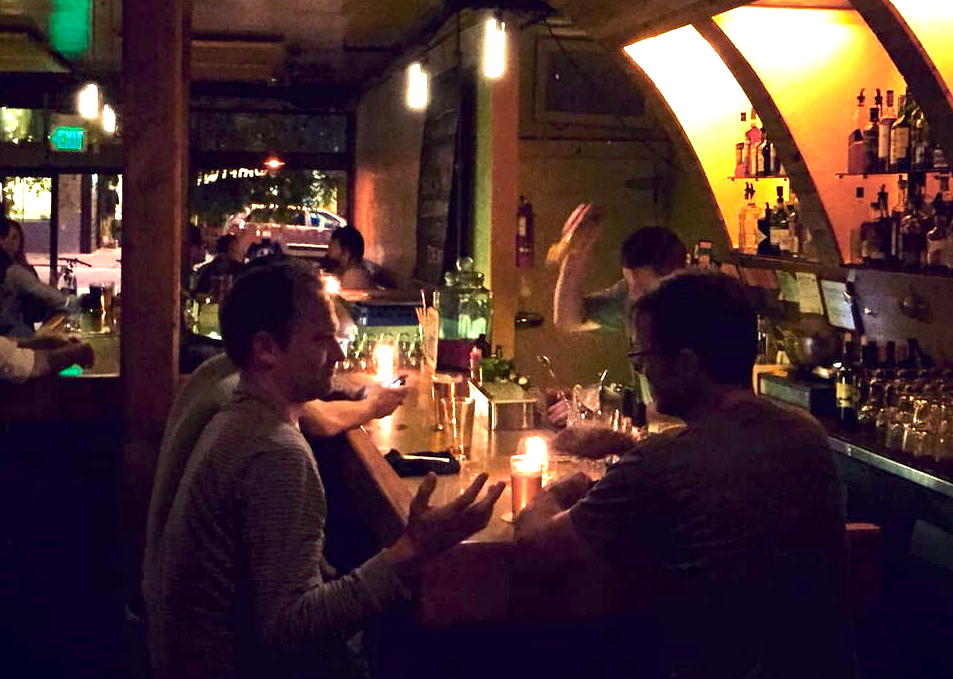 Tenderloin
If you find yourself caught in the rain in the Tenderloin this weekend, Emperor Norton's Boozeland's (510 Larkin St.) faux fireplace won't do much to warm you up. But their $5 beverages, pool table, shuffle board and furry four-legged patrons will get the job done just fine. —Brittany Hopkins, Tenderloin neighborhood editor
Upper Haight
The legendary Zam Zam (1633 Haight St.) is your place to stave off impending winter blues in the Upper Haight. Always dark, always lovely, the worn-velvet-and-brass vibe is the perfect invitation for a glass of Scotch or a hot toddy. —Camden Avery, Upper Haight neighborhood editor
Don't see your favorite neighborhood listed here? We're still looking for writers and editors to expand to more neighborhoods across the city. Or share your preferred cozy watering hole in the comments.