672 drains have already been adopted by San Francisco residents who want to help reduce flooding.
Through the Adopt a Drain program, launched in October, residents can adopt one or more drains to help keep it free of leaves and debris. On adoptadrain.sfwater.org, potential adopters can see a map of all the San Francisco drains up for adoption. They can also see which of the city's drains have already been adopted, and whether they have been given a name.
In 2015 several San Francisco agencies partnered with volunteers from Code for San Francisco to develop a web application to launch Adopt a Drain. Today, contributors are able to work on the project through Github. Adopt a Drain is based on Boston's Adopt a Hydrant, for which Code for America provided development support several years ago.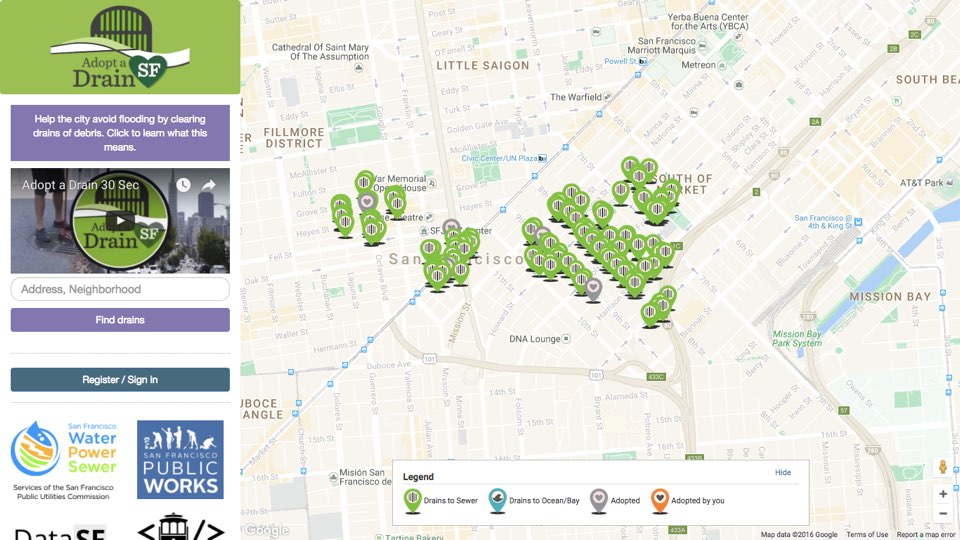 The city currently has more than 25,000 drains. Adoptees have been named Dwayne the Drain, The Great Leaf Catcher, Peter's Drain, Go With The Flow, Sink Hole and Puuurple Drainnnn.
The San Francisco Public Utilities Commission (SFPUC) operates and maintains these catch basins and storm drains, which collect and treat sanitary sewage surface runoff. Last year, city crews also deep-cleaned more than 9,000 catch basins.
Catch basins are the main entryway for stormwater and street runoff into a combined sewer system for treatment, while storm drains carry water directly to the Bay and ocean with minimal treatment.
Once they are signed up, drain adopters receive email notifications when large storms are expected, so they can get their equipment ready in time. SFPUC is currently looking into also offering the option of receiving text messages.
It's best to clear the drain before it starts raining, so flooding can be prevented. "It's a small action that people can take that helps everyone," Jean Marie Walsh, communications manager at SFPUC, said.
Cleared drains also help to make it easier to walk on the sidewalk, especially for the elderly and small children. "Many adopters have already been cleaning the drain before they adopted it," Walsh noted.
Safety tips say that an adopter should never try to lift the drain grate by themselves, and they should clear the drain from the sidewalk, not the street. It's also recommended to wear reflective clothing and gloves to stay safe, and to be careful of sharp objects. When cleaning the drain, adopters can use a rake, shovel or broom.
If an adopter finds medical waste, needles, construction debris, or toxic materials it can be reported by calling 311. If the drain is too dirty or too hard to clear or if there's some other problem with the drain adopters are advised to call the same number.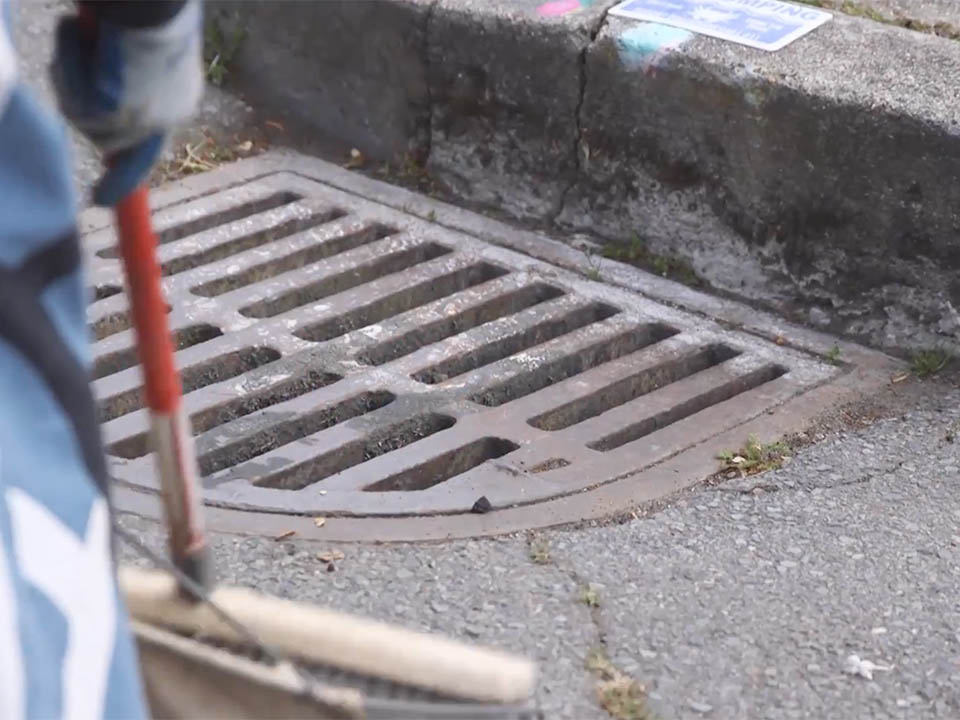 In October, the program hosted an event with 55 drain volunteers, where adopters received free gloves and other supplies. The next volunteer get-together will be in December; SFPUC will invite adopters via email. During the event, volunteers will also receive bright yellow safety vests, Walsh said.

Other cities, like Berkeley and Oakland, have already launched similar initiatives, while Vancouver, San Mateo, Los Angeles and more cities have reached out to San Francisco to see how Adopt a Drain works, Walsh said.