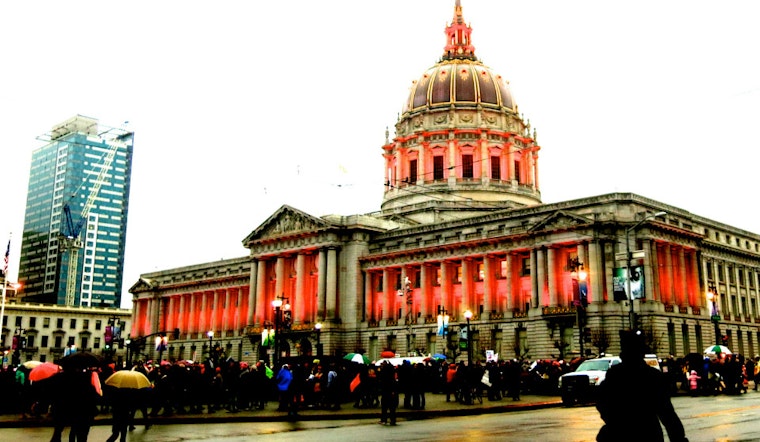 Published on January 31, 2017
San Francisco is making good on its promise to stand up to President Trump's policies.
This morning, San Francisco City Attorney Dennis Herrera filed a federal lawsuit against President Trump and his administration, alleging that his recent executive order, which threatened to withhold funding from sanctuary cities, exceeds the president's power and violates the Constitution. 
The suit comes as cities across the nation vow to defy Trump's order and remain so-called "sanctuaries," where undocumented people who are in the country illegally have certain practical protections, such as the assurance that local police forces will not hand them over to federal immigration officials solely because they are undocumented.
In a press conference alongside Mayor Ed Lee this morning, Herrera called the administration's stated plan to deprive "sanctuary jurisdictions" of federal grants "un-American" and unlawful. 
Herrera says Trump's executive order on sanctuary cities is 'not only unconstitutional, it's un-American' pic.twitter.com/s7uBZ4xCCz

— Evan Sernoffsky (@EvanSernoffsky) January 31, 2017
"President Trump does not appear to understand the Constitution and the limits it imposes on executive powers," Herrera said today. "The Constitution gives local and state governments the power to make decisions in the best interests of our residents. President Trump's executive order seeks to interfere with those powers."
"No president can commandeer the local police force and turn it into the deportation arm of the federal government," he continued. 
According to a press release issued by Herrera's office, the lawsuit "requests a finding that San Francisco complies with applicable federal law, and seeks to prevent the federal government from cutting funds to San Francisco." It continued:
"The Trump administration falsely believes that sanctuary cities harbor criminals and make communities unsafe. To the contrary, any persons who is booked in San Francisco has their fingerprints sent to the federal government. If the federal government has a criminal warrant for that person, San Francisco complies with that.  Moreover, sanctuary cities have less crime, fewer people in poverty and lower unemployment than other counties."
The full text of the lawsuit can be found here.