In the food deserts of East and West Oakland, where a significant number of residents live more than a mile from a supermarket, a local nonprofit has come up with a way to get high-quality, low-cost fruits and vegetables straight from farmers into neighborhood corner stores.
The Healthy Retail Network by Mandela Marketplace has been operating for about a decade, putting a variety of fruits and vegetables into ten corner stores and seven regular produce stands. The stores in the network offer the produce on a consignment basis, paying only for what they sell.
Mandela Marketplace program and policy manager Trisha Chakrabarti said the program has proven popular, and after years in West Oakland, recently added three stores in East Oakland, an area with limited food accessibility.
Over three months last year, the group conducted a survey of customers buying produce at the stores. While the full results of the survey haven't been released, Chakrabarti said the seven West Oakland shops had eighty fruit and vegetable customers in one day.
"That's eighty people who either wouldn't have bought fruits or vegetables or would have traveled really far to get them," Chakrabarti said.
Produce is mainly sourced from farmers in the Salinas and Watsonville area of Monterey County, former farm workers now leasing land who are often short on capital. Through grant funding, Mandela is able to offer them assistance in the form of no-interest loans that are paid back in fruits and vegetables.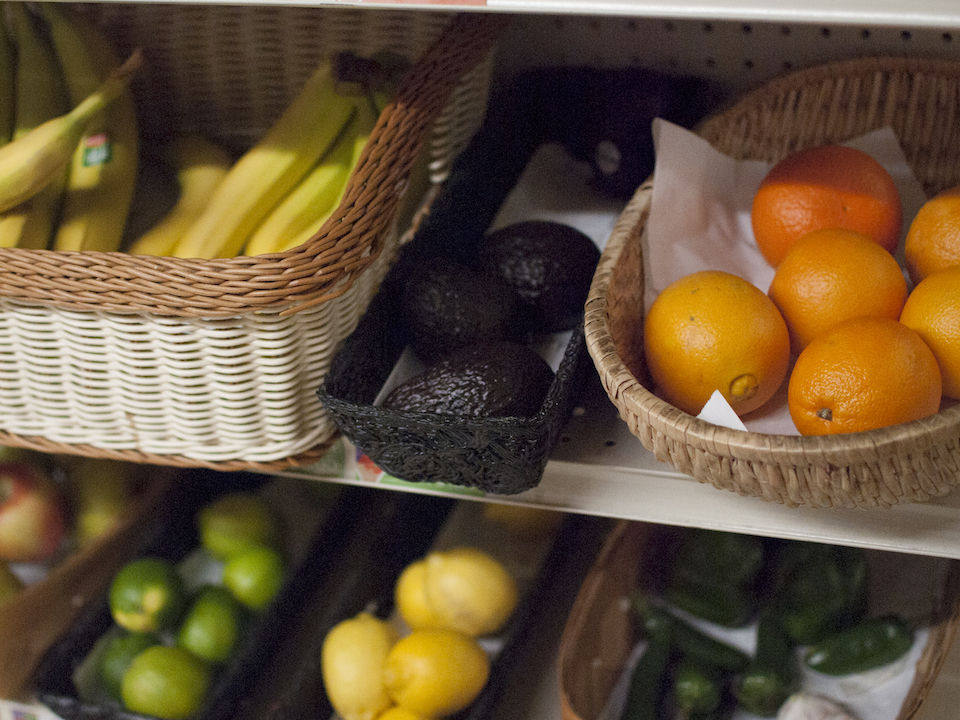 More than $70,000 has been lent through the fund in the last three years, according to Mandela. 
The majority of produce comes from those farmers, but some out-of-season fruit is provided through a distributor in the Jack London Square area, Chakrabarti said.
Produce is dropped off at the corner stores on Tuesdays and Fridays. On Sunday afternoon, the Sav-Mor market at 14th and Peralta had bananas, avocados, oranges, limes, jalapeño peppers and tomatoes available.
The produce stands are popular as well, Chakrabarti said. Mandela operates five weekly and two monthly in convenient locations such as senior centers and schools, where parents can pick up fresh produce while dropping their kids off. Through grants, Mandela is able to offer to a discount for customers paying with CalFresh, the state's food stamps program.
The network has grown significantly since the first produce stand opened over 10 years ago, and they are not done trying to address food accessibility issues in Oakland.
The Mandela Foods Cooperative, a Mandela Marketplace partner, is seeking to expand into the neighboring corner location across from the West Oakland BART station soon to be vacated by the 99 Cents Only store.