As a major storm moves through the Bay Area, city crews are rushing to deal with multiple reports of downed trees, some on vehicles, buildings or blocking lanes of traffic.
At 166 Brookdale Ave. near McLaren Park, two families have been displaced after a large tree fell into their homes at around 7:30am this morning:
166 Brookdale UPDATE 2 families total of 7 displaced no injury city services Red Cross DBI SFFD assisting 0801 Hrs pic.twitter.com/QKcLYZSlp9

— San Francisco Fire (@sffdpio) January 8, 2017
In the Lower Haight, tipster Curtis H. noted a downed tree on Fell Street:
Full grown tree down on Fell street around 7:30am. Between Scott and Divisadero. Someone's brand new Porsche unharmed! No people or cars were hurt. Just a tree blocking the whole sidewalk. Two fire trucks arrived 20 min later and are already removing.
No injuries were reported, per the SFFD.
AVOID AREA 1126 FELL ST A LARGE TREE FELL ON PARKED VEHICLE AND BLOCKING SIDEWALK. NO INJURY 07:46 HRS EXPECT TRAFFIC DELAYS FOR 1 hr. pic.twitter.com/jpEX26S0Ml

— San Francisco Fire (@sffdpio) January 8, 2017
CBS reports that a homeless man was trapped under a fallen tree in Golden Gate Park this morning. A gardener who was checking trees in the area of Beach Chalet "heard someone screaming for help," according to San Francisco Fire Battalion Chief Steve Bokura.
Crews managed to free the man shortly before 9am, and though he was uninjured by the tree, he's been taken to the hospital to be treated for hypothermia.
UPDATE TO BEACH CHALET..PATIENT IS OUT FROM UNDER THE TREE AND APPEARS OK 08:52 pic.twitter.com/21mh9Pw9uQ

— San Francisco Fire (@sffdpio) January 8, 2017
A slew of fallen trees have been reported by SFFD over the course of the day, including:
At 619 Mt. Vernon Ave., where a tree fell into an attic (no injuries).
At 1350 Turk St. (at Fillmore), where a fallen tree blocked a lane of traffic (9:30am).
At 19th Avenue at Wawona, where a fallen tree blocked the northbound bike lane (9:31am).

On Bernal Heights Boulevard, where the road was closed to traffic after a tree fell across the road (9:38am).
This tree just fell down across the road in front of us, bernal heights blvd at Ellsworth @Bernalwood be careful in the storm! pic.twitter.com/jbASo047XX

— Sparkly Pinecone (@sparklypine) January 8, 2017
At Church and Cumberland, adjacent to Dolores Park (9:41am).
At 20th and Guerrero (10:14am).
At Pine & Leavenworth, where traffic was affected (10:16am).
At 2198 Funston Ave., where a tree fell into a building, with no injuries reported (11:37am).
On Bryant west of Seventh Street, where a fallen tree crushed a vehicle and blocked a lane of traffic (12:24pm). 
In the Mission, fallen trees have been reported at 20th & Guerrero, 19th & Dolores, and 20th & Valencia.
20TH and Valencia T-07at work pic.twitter.com/glE0V70yYI

— San Francisco Fire (@sffdpio) January 8, 2017
All lanes of traffic were blocked by a fallen tree at 19th Avenue and Crossover Drive (at Lincoln) this morning at around 10:30am, and they remain closed as of 1:30pm.
Update: Both northbound and southbound directions of 19th Avenue are closed for traffic at this time. #CAflood #CAStorm #SF

— San Francisco DEM (@SF_emergency) January 8, 2017
Collapsed scaffolding on the former Donut World building at Market Street at Seventh has traffic closed in both directions of the street at 2pm, with no injuries reported. Muni buses are rerouting around the intersection.
Scaffolding falls from top of building on 7th & Market in #SanFrancisco @kron4news pic.twitter.com/W5IXsGlw7N

— Lydia Pantazes (@LydiaPantazes) January 8, 2017
ATTN: #SFMuni lines re-routing around Market and 7th St. due to a road closure for storm-related safety precautions.

— SFMTA (@sfmta_muni) January 8, 2017
7th at Market remains closed as crews continue to mitigate this scaffolding incident. Expect delays in area pic.twitter.com/w4MebfCDkV

— San Francisco Fire (@sffdpio) January 9, 2017
Collapsed scaffolding had also been reported at 3560 California St. and at Market & Fell (no injuries reported). 

Tipster Zach L. wrote in about the latter incident:
You guys know how the Little Griddle at 10th and Market has been closed for renovations for months and months and they never seem to do any construction work and that "we'll be back" sign is just there taunting us as the construction barriers get tagged with fresh graffiti every other day? Yeah, they seem to have suffered a slight setback: the scaffolding fell down in the storm.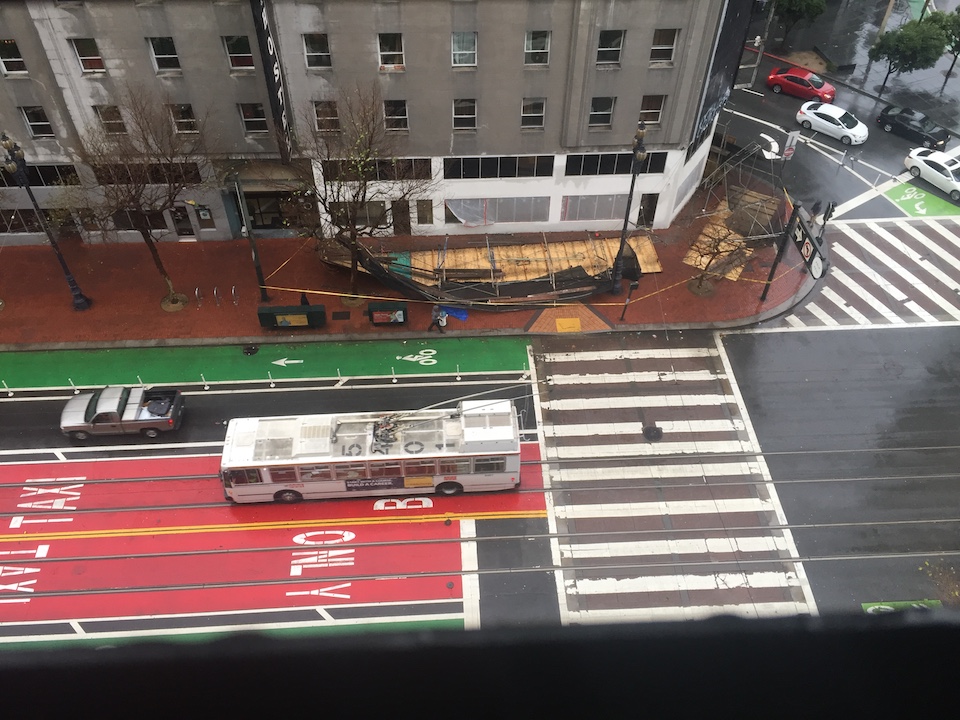 DPW crews cleared a fallen tree on Richland Bridge (over San Jose Avenue) earlier this morning.
Our arborists have been out all night & into the morning handling tree emergencies. This big branch fell onto Richland Bridge. No injuries. pic.twitter.com/s3AV9LgmGa

— SF Public Works (@sfpublicworks) January 8, 2017
Tipser Ruth C. wrote in to note another tree down at Union and Hyde: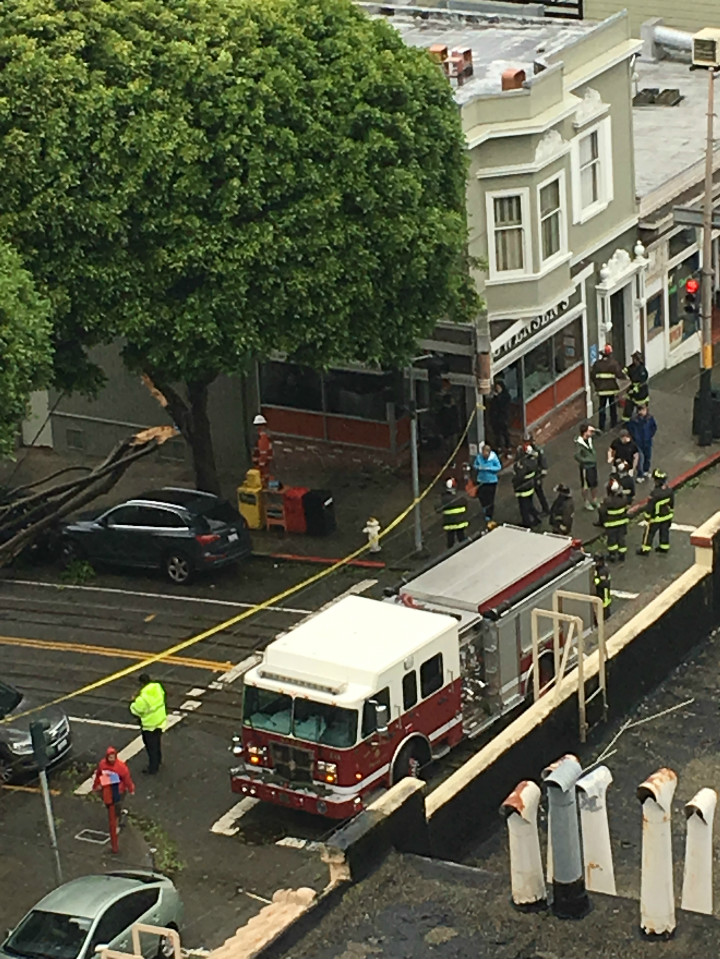 More downed trees have been reported at Brazil & Athens in the Excelsior, 22nd & Folsom in the Mission, Golden Gate and Kittredge Terrace, and at both 73 Gladys St. and Precita Avenue (at Precita Park) in Bernal.
@sffdpio @SF_emergency also precita Ave in bernal closed between Harrison and Folsom- downed tree across roadway pic.twitter.com/AmIJHtyo7i

— Mark Lujan (@redinmyneck) January 8, 2017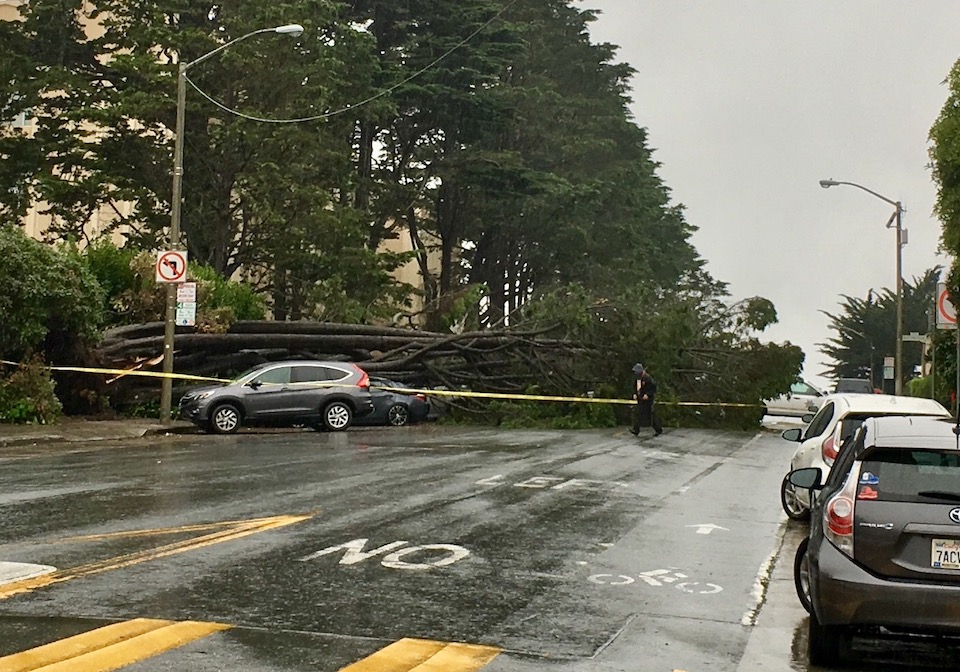 Meanwhile, power outages have been reported around the city, with 66 outages affecting 9,188 customers as of 11am. To check the status and possible cause of any outage near you, check PG&E's outage map, which is updated every 15 minutes.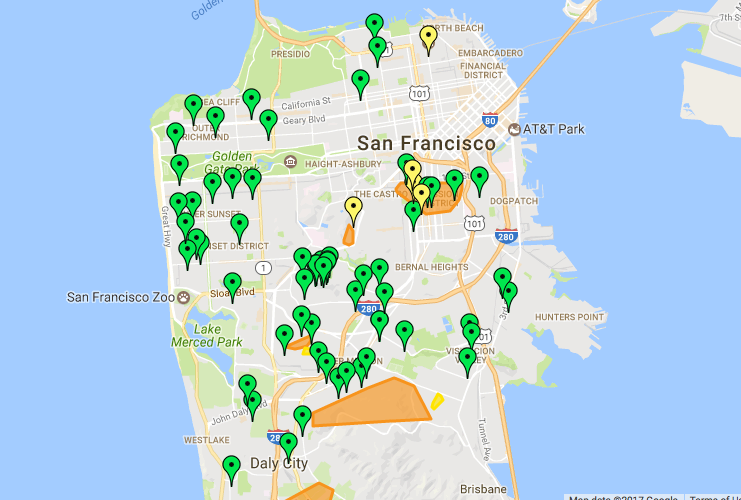 The Chronicle reports that weather-related issues, including outages and debris on the tracks, have caused major delays on BART between Balboa Park and Daly City this morning.
And there are flooding and lane closures reported along the Embarcadero. (Traffic reopened along Embarcadero around 11am.)
Whoa! This is the Embarcadero right now! #CAstorm pic.twitter.com/ZJeDbjjy8x

— SFGate (@SFGate) January 8, 2017
Flooding on SF Embarcadero, lanes closed. #ABC7now #StormWatch pic.twitter.com/eQeJ4YU0Um

— Cbarnard (@CornellBarnard) January 8, 2017
We'll continue updating this story as the day progresses.
To report non-emergency fallen trees, call 311. And if you see downed trees, flooding or other storm-related incidents around town, send them our way via [email protected], or text them to (415) 200-3233.