As we reported last month, champagne bar The Riddler opened recently in Hayes Valley at the former site of Momi Toby's Revolutionary Café.
While it doesn't have a full kitchen, patrons can order cheese, caviar, and charcuterie, along with other small dishes; the popcorn is complimentary.
We sat down with owner Jen Pelka to learn more about the recent addition to the neighborhood.
How did you find this space?
My fiancé and I are regulars of Domo, a Sushi bar across the street. We'd looked over here for years and loved this space. It was home to Momi Toby's for 27 years; in that period there were four different owners.
We bought the owner [Anthony Shou] out of this space. I got to know the team over a period of a year and worked closely with them to figure out the right time for the transition.
Any other reasons to open the bar in Hayes Valley?
We live in the neighborhood and my fiancé runs Souvla around the corner. We love Hayes Valley, it's my favorite neighborhood. I love this block because we are close to the Hayes Street foot traffic, but also a little bit off the beaten path.
This neighborhood is rich with amazing restaurants, beautiful boutiques, it's constantly growing and evolving. We are in the center of the city, there is also public transportation, and we are within walking distance to the opera, the Jazz Center.
Do people come here when they go to the opera?

Oh, yes! People come in for a glass of champagne, dressed to the nines.
What are the challenges in the neighborhood?

Parking is tough, but people figure out creative ways of getting here. Then the homeless challenges are always substantial, especially in this neighborhood.
Almost every morning we find that our trash cans have been gone through, and often we see someone sleeping on the stoop. We try to deal with it as respectfully as we can, but it's an ongoing challenge.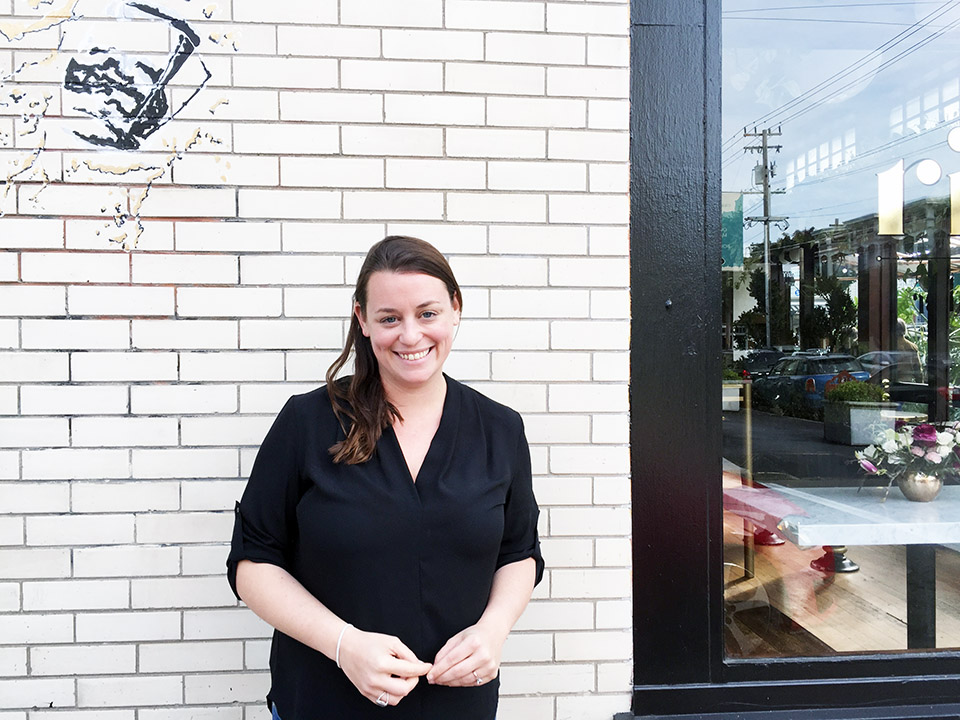 Is this your first bar?

Yes. I thought it would be a fun opportunity for people to get to experience champagne in a way that's not stuffy or intimidating. We really think of ourselves as a neighborhood bar that just happens to have an awesome sparkling list.
Who is your chef?
Zoe Deeg, she was with the Delfina group for about seven years. 
Can you tell me a bit more about the beverages?
We have over a hundred champagnes by the bottle and nine sparkling wines by the glass. With still wines, we do either Chardonnay or Pinot Noir. And then we have one beer.
One area that we are going to build out are our non-alcoholic options.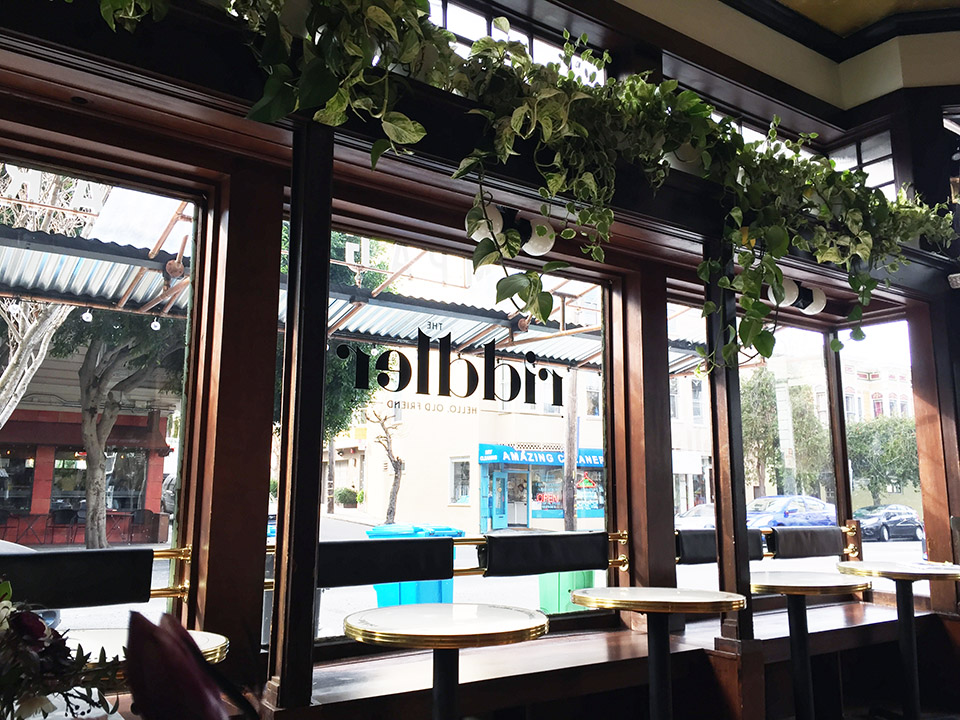 How did you redesign the space?
We gold-leafed the ceiling with over four thousand sheets of gold leaf. It took three people four days to do it. We also painted the exterior black and we will have tables and chairs out front. 
The table tops were made for us in France, and we kept the old Vienna café-style chairs. All of the woodwork is still original. It was more of a restoration, we didn't really redesign it.
Your PR agency's office is now in the basement?
Six people work down there now. In the past, the basement was used for storage. We cleaned it up, painted everything, and installed a big living wall and desks.
Any changes coming up?
We will definitely open for brunch on the weekends, starting at 11am, but that will be in a few months.
The Riddler is open from 4 –10pm Tuesday to Thursday and on Sunday. On Friday and Saturday, the restaurant is open until 11pm, closed Monday.