One person was killed and multiple people were rescued after a large fire tore through a West Oakland transitional housing facility this morning.
Three others suffered smoke inhalation in the blaze, which broke out at about 5:40am at the corner of San Pablo and Mead avenues.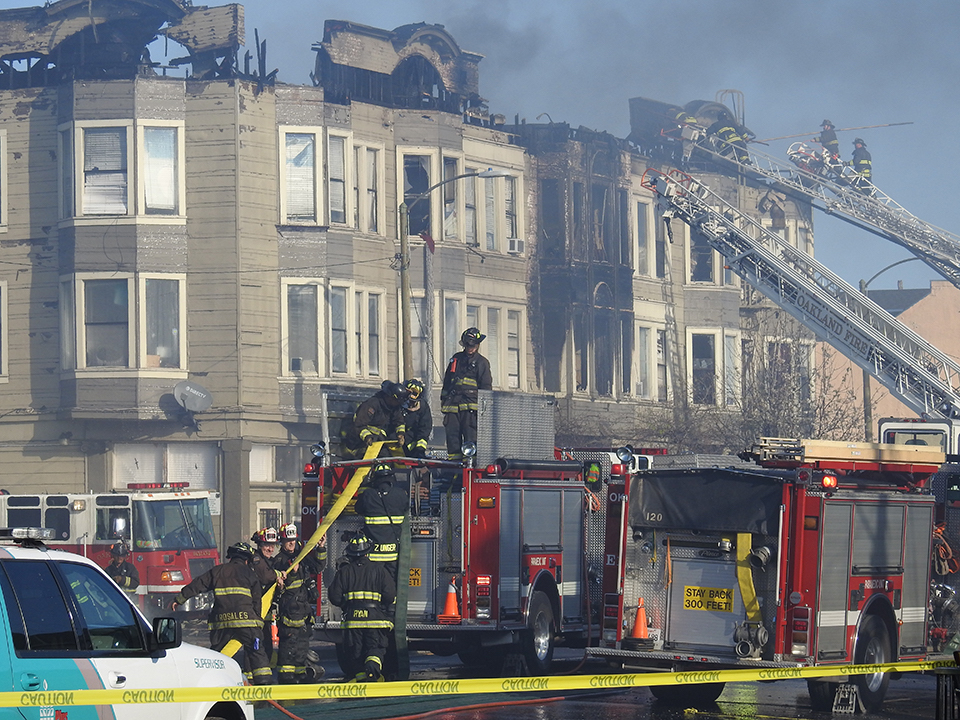 Oakland Fire Battalion Chief Erik Logan confirmed that one person was found dead in the second floor of the three-story building. He said seven people were rescued and three people were hospitalized.
According to James Cook, an attorney with clients who lived at the building, conditions inside were deteriorated, with leaks and exposed wires.
The building served as transitional housing for people suffering drug addiction, escaping homelessness, or recently released from prison. Cook said this morning that he was working with tenants there who were facing eviction.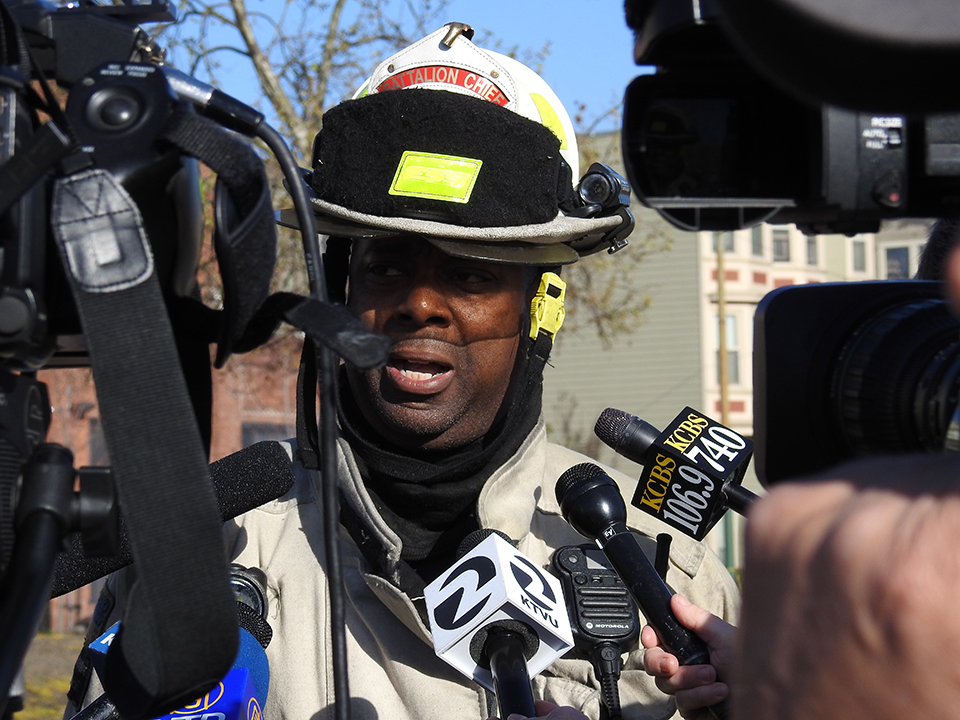 Logan said 86 people lived in the building. Firefighters remain at the scene this morning and expect to stay there into the afternoon searching for hot spots.

We'll continue to update this story as new information becomes available.
[Updated: 11:57am]
The building, which also provided housing for veterans, was completely gutted. Logan said there were heavy flames coming from the rear of the building when firefighters arrived.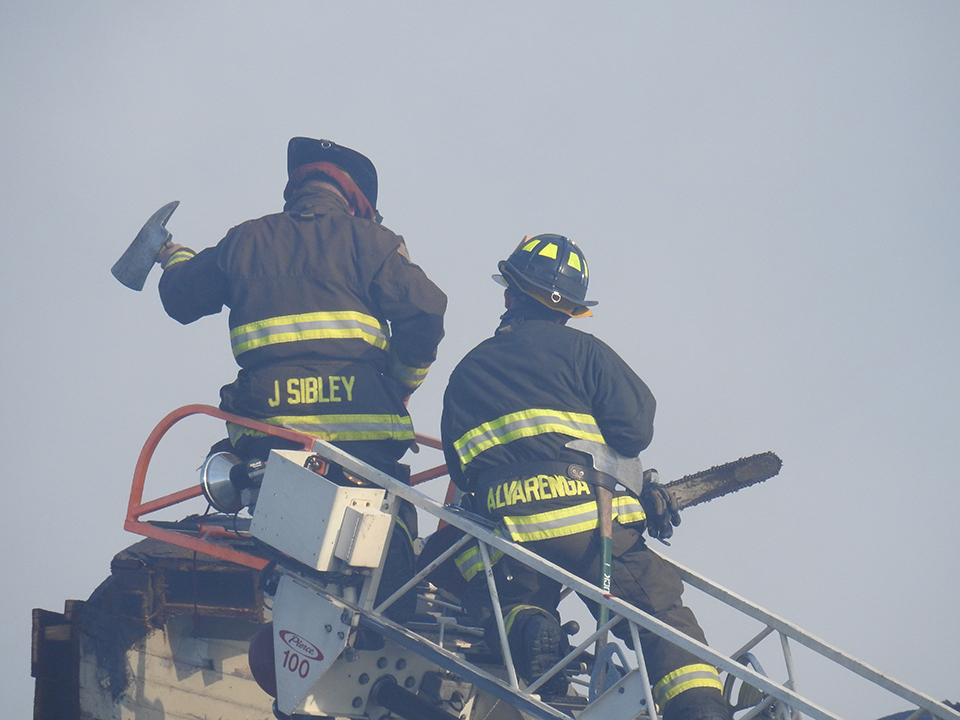 Most of the building's 86 occupants had gotten out, but firefighters had to rescue people that had become trapped on the second and third floors. Rescue crews had a difficult time reaching them inside because of the intense fire inside.
While Logan said the fire began in a unit on the second floor, the exact cause of the fire has yet to be determined.
James Cook, an attorney with the law offices of civil rights attorney John Burris, said he has been working with Urojas Community Services, a tenant in the facility that was operating drug rehabilitation facilities and veterans' services.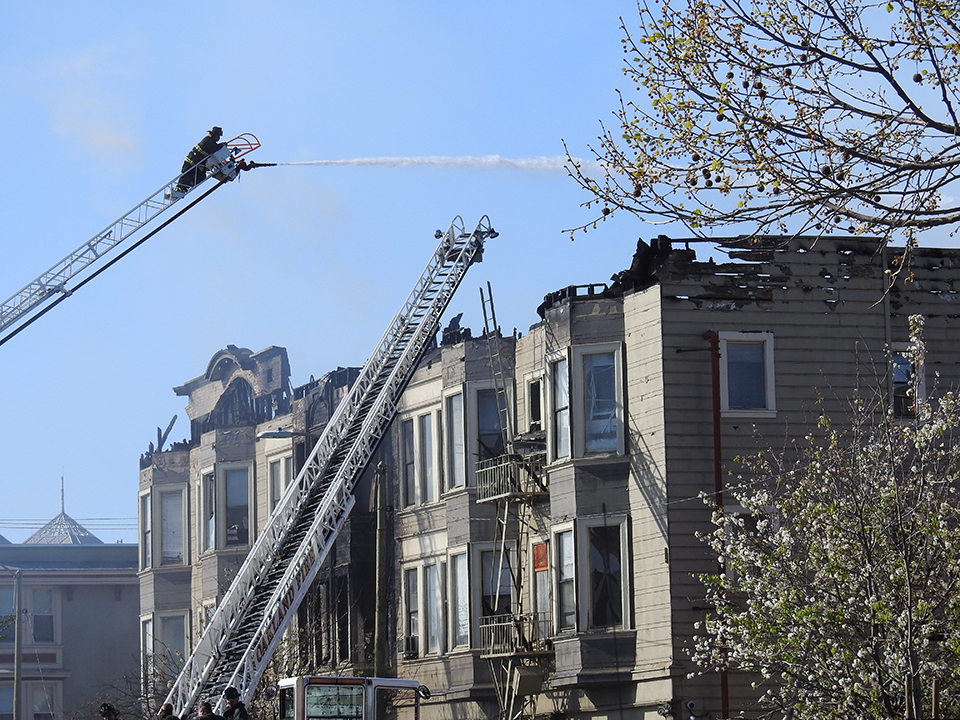 Cook said he had visited the building three times and the conditions inside were deplorable, with leaks and exposed wires. According to city records, Urojas filed a code complaint with the city on March 2 alleging deferred maintenance by the landlord.
There were several other complaints filed over the last year for blight and habitability compliance. According to the East Bay Times, the landlord, Keith Kim, had started eviction proceedings shortly after December's Ghost Ship fire after a dispute that started months ago with an unpaid water bill.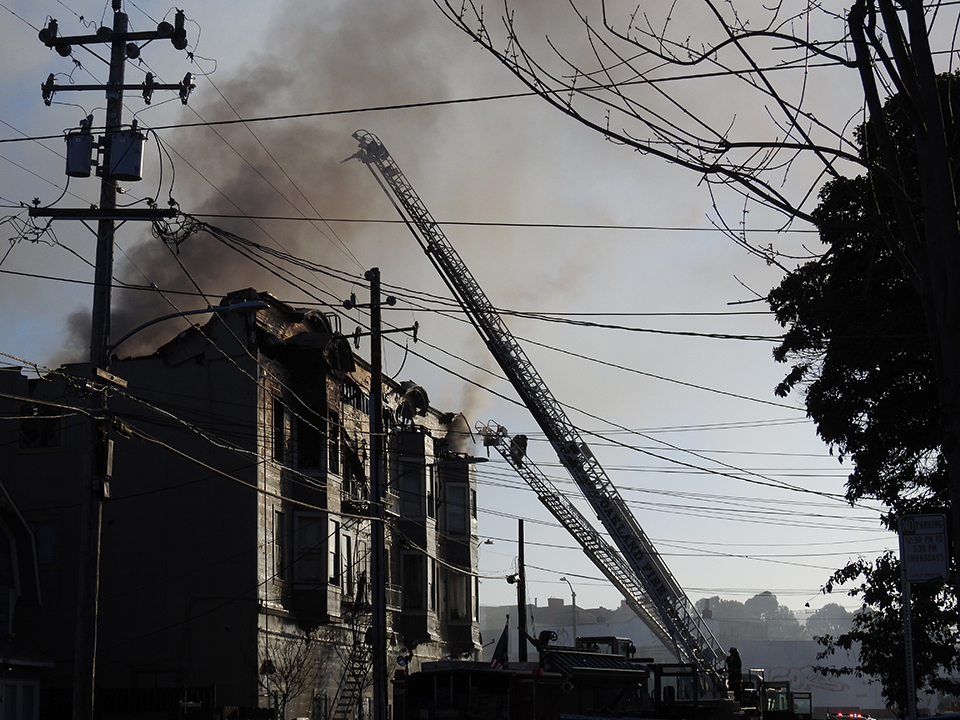 Cook said he had planned to fight the evictions and will likely file a lawsuit against the landlord on behalf of the person killed and the displaced tenants. Late this morning, American Red Cross volunteers were sending people temporarily to the First Presbyterian Church at 2619 Broadway but it was unclear where they will be able to stay long-term.
More than four hours after the fire started, firefighters remained in the area dousing smoke still emerging from the roof with water. Others stood high on ladders hacking at the charred upper floor. 
A YouCaring fire relief page has been set up to accept donations for those who were affected by today's blaze.
[Update: 5:52pm]

Battalion Chief Logan provided an update this afternoon, announcing that two bodies had been recovered from the building and two residents remain unaccounted for.
Crews and investigators continue to search the building, but the process is slow because all three floors collapsed in places and need shoring to be safe to enter.
Fifteen people or more needed to be rescued from the building, including several who were hanging from windows when firefighters arrived. Four people were taken to hospitals, two of them children.
As many as 100 people may have been inside the building when the fire broke out, Logan said.
"I want to offer my deepest sympathies to the families who have been hurt and displaced by this tragic fire and to the loved ones of the victims whose lives we know were lost," said Mayor Libby Schaaf, who thanked first responders.
Schaaf said donations on behalf of fire victims can also be made to the Red Cross at www.redcross.org by checking the option "Home Fire Relief" and noting in the comments that the gift is earmarked for services to support families impacted by the 2551 San Pablo Ave. fire in Oakland, CA.
[Update: 6:15pm]
The Alameda County Sheriff's office announced on Twitter that a third body has been found. The first victim to be identified is building resident Edwarn Anderson, 64.
We can confirm 3 deceased fire victims from West Oakland building. Looking for a 4th person who is missing.

— Alameda Co. Sheriff (@ACSOSheriffs) March 28, 2017