A local immigration nonprofit network has re-launched a hotline allowing San Francisco residents to report Immigration and Customs Enforcement (ICE) sweeps and dragnets in their communities.
Operated by the San Francisco Immigrant Legal & Education Network (SFILEN), the hotline can be reached by calling (415) 200-1548 in English, Spanish, Arabic, Mandarin or Cantonese. When calls about suspected ICE actions come in, the organization sends members of its Rapid Response Network to the scene to canvass the area, inform community members of their legal rights, and provide legal support to intervene in deportation proceedings if necessary.
The Rapid Response team asks "folks to be as specific as possible when they call the hotline," says Marisela Esparza, program manager for SFILEN. "We ask if they can give us the exact location of where they see ICE officers, the number of officers, badges, license plates." The team also encourages witnesses to "take pictures from a safe distance."
If the Rapid Response Network is able to collect concrete proof that ICE conducted a raid or detained individuals, the organization will try to connect with family members to obtain specific identifying information for each person detained.
"That's when we call the attorney," Esparza said. The attorney goes to the San Francisco immigration processing center, located at 630 Sansome Street, to claim the case. The San Francisco Immigrant Legal Defense Collaborative also helps dispatch attorneys.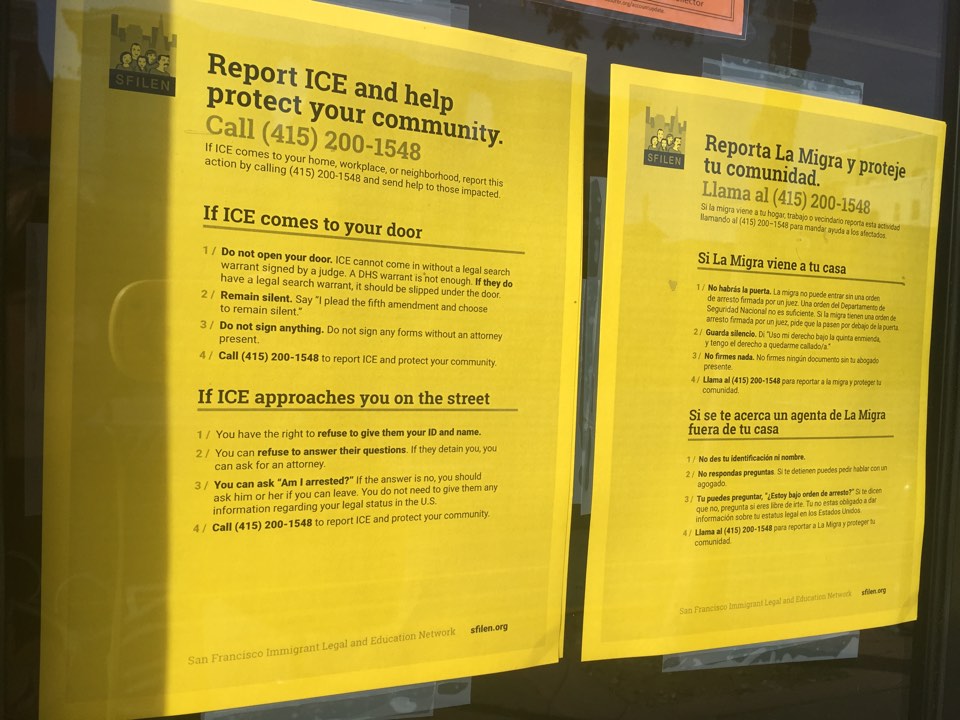 In addition to supporting individuals targeted by immigration raids, the Rapid Response Network aims to dispel rumors. One of the first questions team members ask when they arrive on scene is, "Why do you think it's ICE?," Esparza said. Witnesses have been known to report activities by other law enforcement officials, such as Muni officers.
Given that "rumors create fear and panic in the community," Esparza asks community members not to share pictures of suspected raids on Facebook. As tempting as it may be, she urges witnesses to call the hotline instead.
SFILEN—which is housed by Dolores Street Community Services on Valencia Street and funded by the Community Development Division of the Mayor's Office of Housing—works with 13 partner organizations to provide free legal assistance and education to low-income immigrants in 20 different languages and dialects.

While the network re-introduced to the hotline to the community February 10th, it's far from new. The SFILEN first launched this hotline in 2008 in response to a wave of immigration enforcement actions by the U.S. government—including "the "Balazo raids," in which ICE agents raided 11 El Balazo restaurants around the Bay Area and arrested 63 illegal immigrants.
"We needed a way to connect and figure out when it happens, so we could be there and to provide attorney representation," Esparza said.
The hotline has been active ever since, but fresh funding from the city has helped the organization reinvest in the program. "We felt it was going to be needed in this time of heightened enforcement activities," Esparza said.
Since early February, the hotline has received more than 450 calls.
As the Rapid Response Network hotline is a free service, Esparza points out that community members are never charged for calling in potential immigration actions, raid verification services or attorney interventions. And if the SFILEN is unable to take a case, staff will refer it to a partner organization.
Community members can learn more about the hotline on the SFILEN website or donate to support the program here.