By
Hoodline
- Published on July 20, 2017.
With abundant donut options across America's cities and towns, it's not hard to find a satisfying treat near you. But when was the last time you had a truly mind-blowing donut?

Hoodline crunched the numbers to find the top 50 donut shops around the country, using Yelp data and our own special sauce to produce a data-driven breakdown of where donuts reign supreme in the US—and how San Francisco stacks up.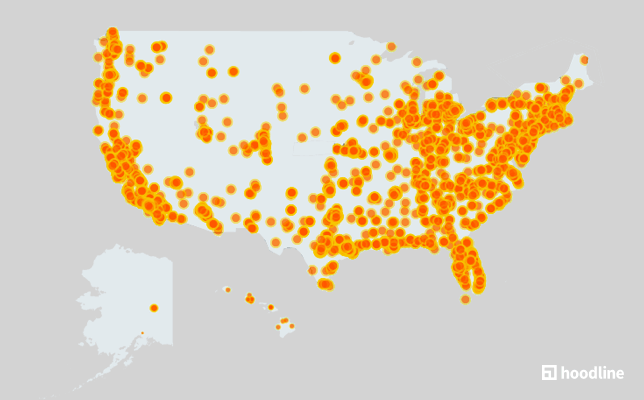 As it turns out, the Bay Area is definitely pulling its weight, with three of the country's best donut emporiums. The highest-ranking spot, at #6, is Bob's Donut & Pastry Shop, a Polk Street staple since 1959, that has an impressive 4.5 star average with 2309 reviews. 
What makes Bob's special? Its long-running operation, traditional donut styles, and specialties like extra-large donut sizes all probably contribute to its popularity. But there appears to be another factor, based on our analysis: its 24-7 operation. Only 5 percent of the 17,000 donut shops on Yelp in the US are open all the time. But 28 percent of the top 50 are, including four of the five places that beat out Bob's nationally. 
Next on the list at #36, you'll find Trish's Mini Donuts, a Fisherman's Wharf attraction that serves bite-sized versions of the rotund favorite—tempting even locals. It is the only place on the top 50 list that specializes in the mini-donut bucket style, and has an 4.5- star average with 669 reviews.
Rounding out San Francisco's top donut locations, the new-school creations of the Mission's Dynamo Donut & Coffee put it at #45 nationwide. It's not the only place in the country specializing in creative flavors, like its popular maple bacon donut. But while it has a lower, 4.0-star average, it has accumulated a relatively large number of reviews at 1,711 — weighting it more favorably than most other shops in that tier.

Want to know where to score the sweetest, fluffiest donuts the country has to offer? Here's the rundown of the 50 American donut shops to knock off your bucket list: