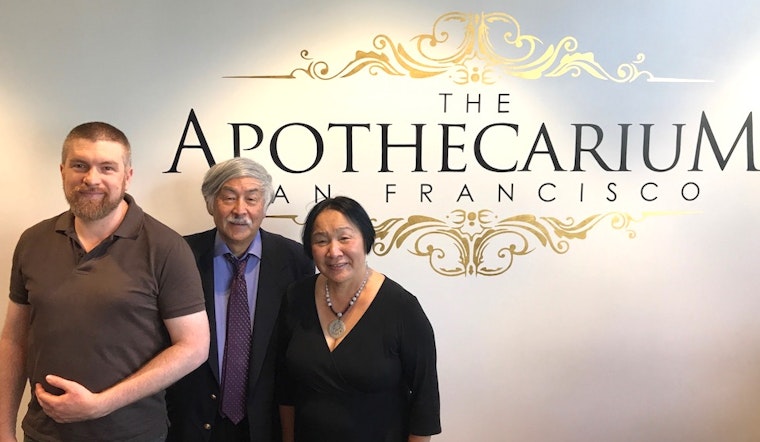 Published on July 14, 2017
Thursday night, the Planning Commission voted 5–1 to approve plans to open the west side's first medical cannabis dispensary [MCD] at 2505 Noriega St.
After hours of public comment, commissioners granted a conditional use permit that clears the way for a partnership between Castro-based Apothecarium, former Oakland Mayor Jean Quan, and her husband, Dr. Floyd Huen, to open a dispensary on the site of a former pharmacy.
Before the decision, more opponents than supporters crowded into the hearing room and a hallway, with many cannabis rejectors sharing concerns that a dispensary would destroy neighborhood character and usher in criminal activity.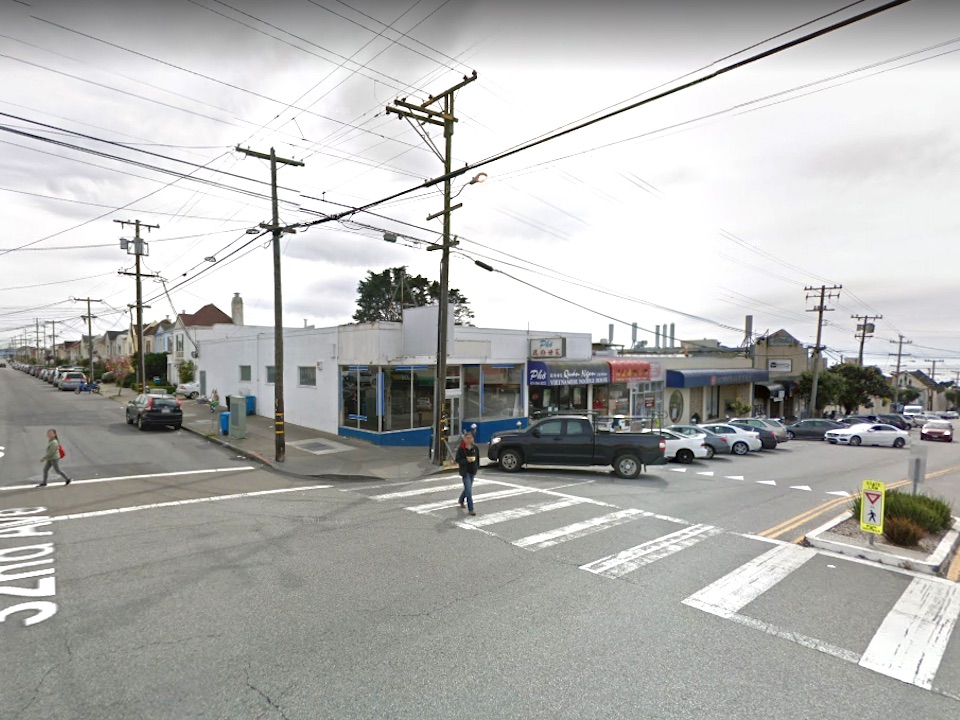 As a member of Oakland's City Council, Quan crafted rules for the city's dispensaries. Huen, an internist who has prescribed cannabis since Prop 215 made it legal in 1996, said many of his patients use topical preparations, as well as high-CBD strains that have minimal psychoactive effects.
"This is my husband's project," Quan said, "but my Chinese is better than his."
Although west side medical marijuana users can receive home delivery, no dispensaries are located in the Inner or Outer Sunset. The closest are two miles away, one in Ingleside, and another in the Inner Richmond.
In an interview last month with Quan, Huen and Apothecarium communications director Eliot Dobris, the partners said the dispensary already has more than 3,000 patients who would patronize the new location on Noriega Street.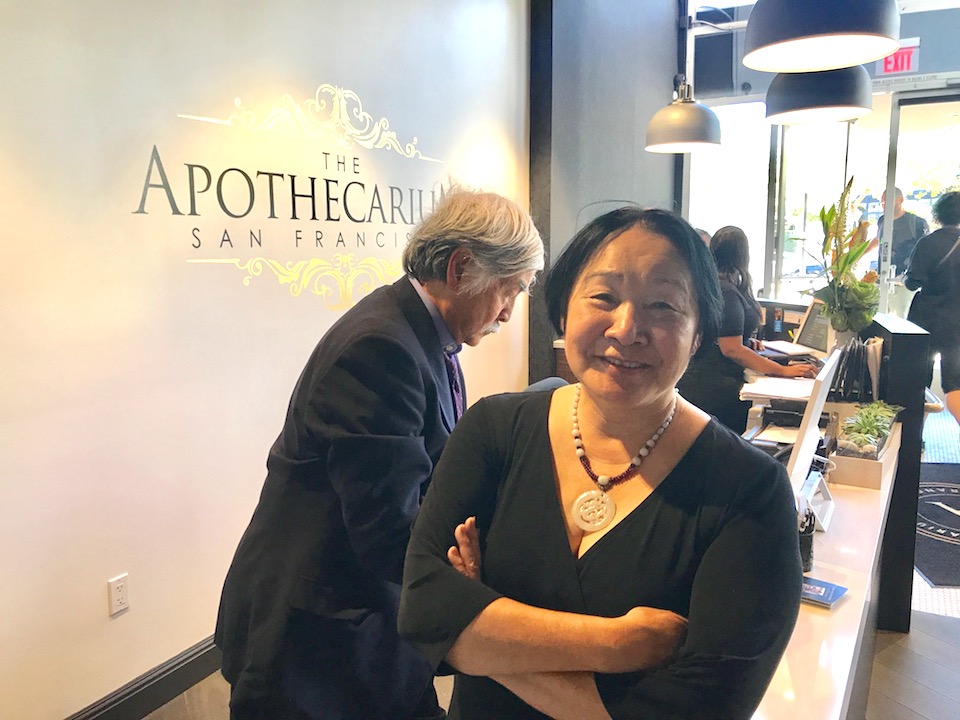 Huen—also an Apothecarium medical advisor—said he knows many doctors with Chinese-American patients who use cannabis, but all of the city's dispensaries are English-only.
"There's a huge underserved community," agreed Dobris, who noted that the Noriega Street Apothecarium will be staffed with patient consultants who speak Cantonese and "work in tandem with traditional Asian medicine."
Even though many neighbors support opening an dispensary on Noriega, Quan said Pacific Justice Institute, a religious freedom group known for promoting anti-LGBT laws—and trying to block a urinal in Dolores Park—is spreading misinformation targeted at the area's Chinese-American community.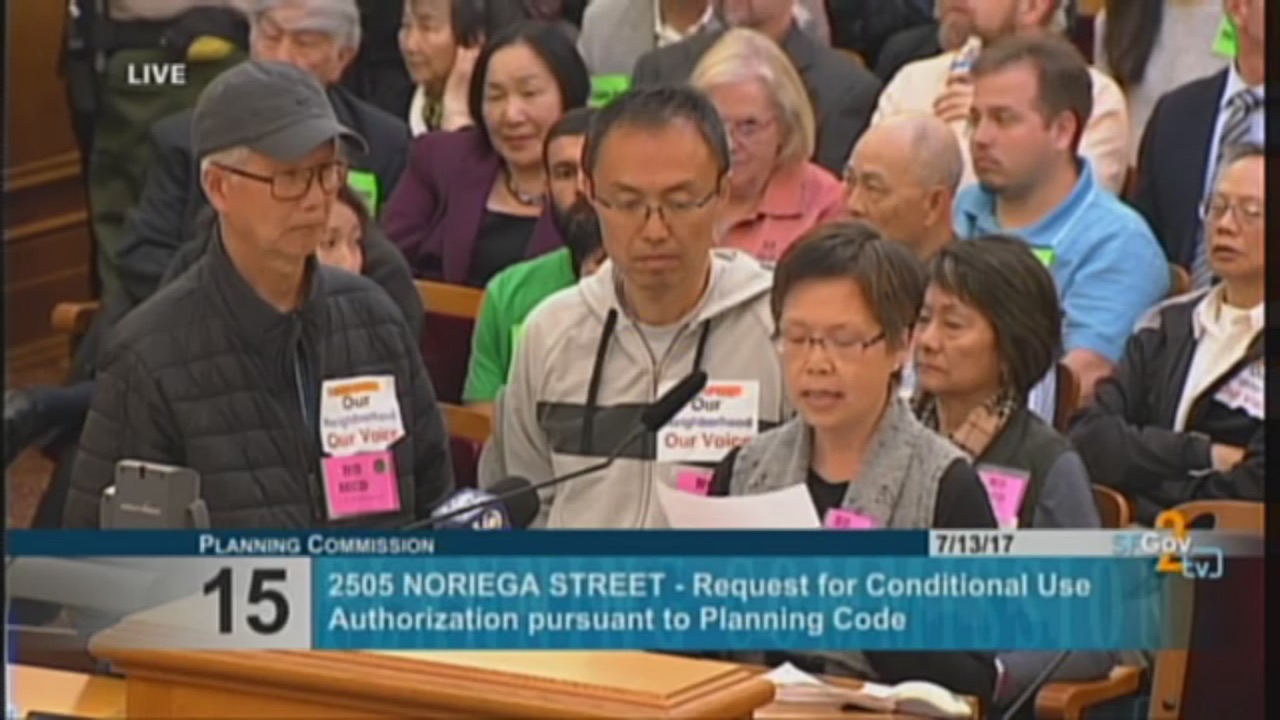 In a phone interview with Hoodline on Thursday, PJI President and founder Brad Dacus flatly denied those allegations. 
"We were contacted by concerned citizens in the community that had serious questions and objections to this proposed project," said Dacus, who added that his organization doesn't oppose or support medical marijuana.
"Specifically, the concern is simply compliance with the state restrictions regarding the proper implementation," he said, adding that 2505 Noriega Street is "too close" to areas that are accessible to children.
Crowd is getting unruly! Accusations of pushing. Line jumping. One escorted out. pic.twitter.com/j4oKV1CUW8

— Lisa Amin Gulezian (@LisaAminABC7) July 14, 2017
In an executive summary, however, the Planning Department found that the location "complies with all relevant Planning Code requirements." Ark of Hope, the Christian preschool PJI represents, "does not meet the Planning Code definition of a school," the summary found.
Dacus said state law can define churches, schools and parks as places that serve as "children's facilities," which means Planning is improperly enforcing the law.
"If these dispensaries were placed in areas that respected the voice of the voters, then there would not be an issue here," he said.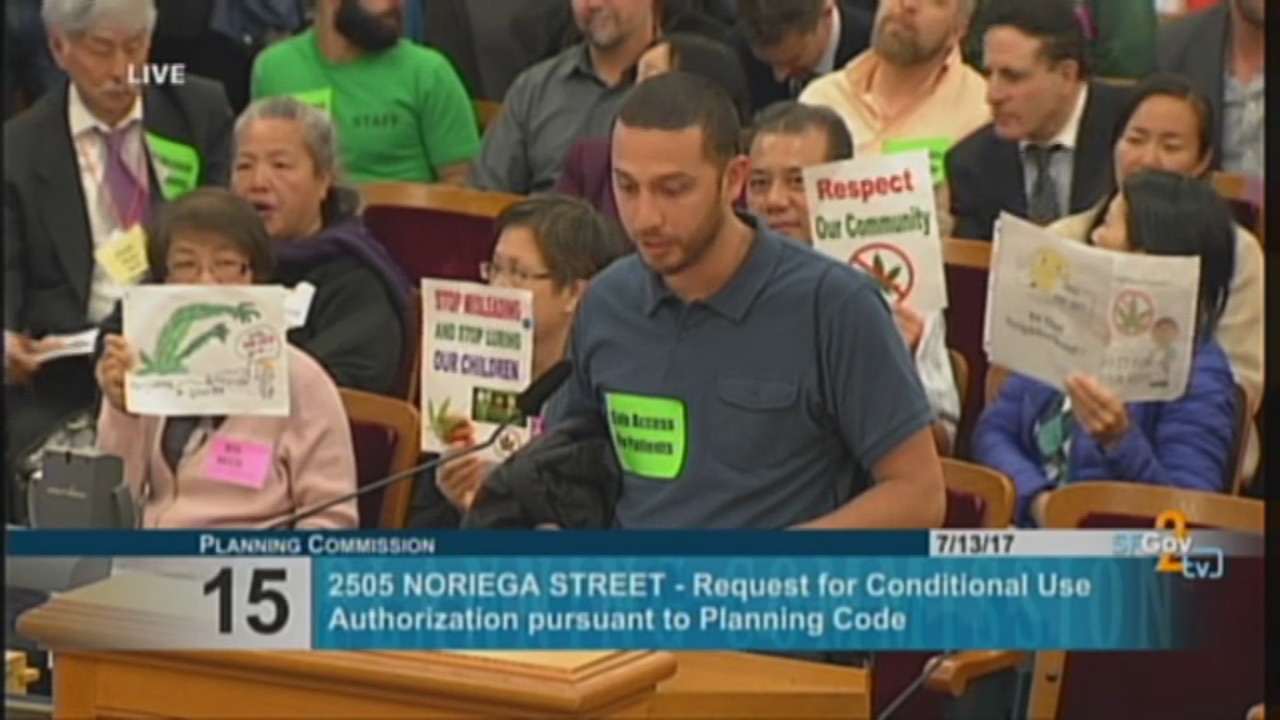 Huen said many members of the immigrant community believe that medical marijuana is illegal. "They are so divorced from body politic that [Prop] 215 went right past them," he said.
Quan told Hoodline that PJI staff "whipped up this fear that I've never seen" over medical cannabis. Chinese-speaking residents have "been told that what we're trying to do is illegal, that people have died from marijuana and that we're going to sell to children," she said.
"I would say that the Sunset is a pro-marijuana neighborhood," said Dobrim, noting that Prop 215 was supported by 66 percent of District 4 voters. "This past November, recreational [Prop 64] passed by 58 percent. That's 20,014 votes in the Sunset for expanded access to marijuana sales in the last 12 months."

Apothecarium presented Planning with more than 1200 letters of support, with more than half coming from Sunset residents. By going door to door, Quan said her partners gathered more than 600 letters from Sunset residents, with 111 coming from people who live within 1000 feet of the project site.
All of these people are waiting to speak @ #SF Planning Commission hearing tonight pic.twitter.com/Fl0XuLdHTt

— Lisa Amin Gulezian (@LisaAminABC7) July 14, 2017
Opponents submitted 5,875 signatures and letters, of which 3,217 were submitted by District 4 residents.
Some voiced concerns about exposing young and elderly residents to secondhand smoke, but others said a dispensary would bring crime, increased traffic and quality of life problems like persistent marijuana odor and public intoxication.
Approving an MCD would promote drug use to neighborhood children, said one woman during the hours-long public comment period. "They will see it, smell it and hear it," she said. "You will plant a marijuana seed in their heart."
In the hearing, Quan discussed neighborhood outreach efforts, which included talking to doctors from North East Medical Services and other healthcare providers in the area. "We know doctors who will send patients to the Apothecarium," she said.
At approximately 11:40pm, the commission voted to approve the permit with the condition that Apothecarium offer bilingual services and perform cultural outreach.
Before the vote, District 4 Supervisor Katy Tang said via email that she hasn't taken a public position because an appeal of Thursday's decision would go before the full Board of Supervisors.
"At that time, if the decision is before me, and I have previously taken a position, I may have to recuse myself from a vote at the Board," she said.