San Francisco will get five new liquor licenses this year, but they'll be limited to specific neighborhoods and will come with new eligibility restrictions.
The California Department of Alcoholic Beverage Control this week announced it has created a new Type 87 liquor license for San Francisco only. It authorized five of these neighborhood-restricted liquor licenses for on-site sales of beer, wine and spirits.
To be eligible for the new Type 87 licenses, an applicant must operate or intend to open a restaurant in specific census tracts within the Portola, Bayview, Ocean Avenue, Excelsior, Outer Sunset, Parkside and Visitation Valley neighborhoods.
The new licenses are a result of a law passed last year authored by then-Senator Mark Leno.
Prior to SB 1285's passage—and still for most neighborhoods in the city—the only way to get a liquor license is on the secondary market, where they can cost as much as $300,000, according to the Office of Economic and Workforce Development.
"Craft cocktails in a full-service restaurant is currently not an available option in the immediate area, and could attract a lot of new business," said Andrea Ferruci, one of the owners of The Dark Horse Inn.  Dark Horse, located on Geneva Avenue in the Excelsior, will celebrate its sixth year in business in November, but it only currently has a beer and wine license. "The prices that people ask for [full] licenses is so far out of our ability that we never even considered it," Ferruci said. 
Type 87 licenses will not be able to be transferred to any other premise once they are awarded. If a bar with one of the licenses closes or moves, its license would be cancelled and the ABC could create another to replace it. The new license would only again be eligible to businesses opening in those specific specific census tracts.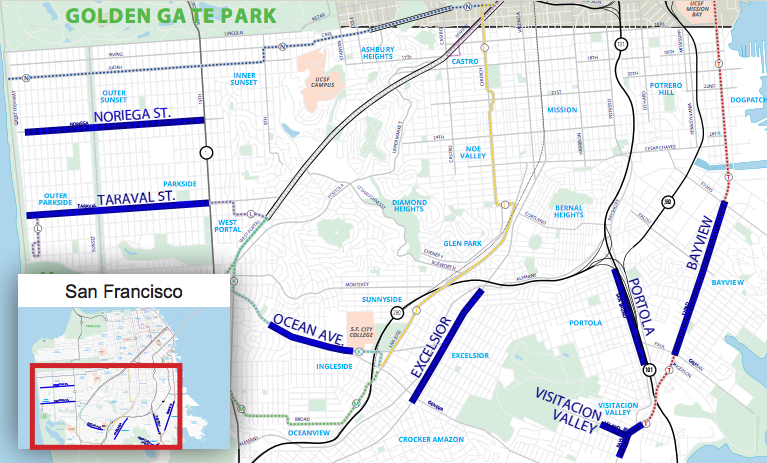 ABC will accept applications for the first five licenses between September 11th and September 17th. Similar to other liquor license types, it will cost $13,800 to apply. 
If more than five applications are filed, a drawing will be held on October 12th, and the chosen applicants  will be announced on or after October 30th. Any applicant who doesn't receive a license through the drawing would have their application fee returned, minus a $100 processing fee.
Assemblymember Phil Ting is aiming to expand the neighborhood-specific license program to provide five new ones each year for the next five years, for a total of 30. His bill passed the Assembly in May and is awaiting consideration by the Senate Appropriations Committee. 
The OEWD is working with its Invest in Neighborhoods programs and doing one-on-one outreach to businesses in the neighborhoods, to let them know the Type 87 licenses are available, Ben Van Houten, OEWD's business development manager for the nightlife and entertainment sectors.
"We fully expect more than five businesses will be interested in getting these new liquor licenses, so it's great that Assemblymember Ting is pushing for additional ones," he added.